Medicare Part B is the component of Medicare that covers your preventative care and doctor visits. Outpatient surgery, laboratory work, and medical equipment also fall under the Part B umbrella.
If you're not dealing with an immediate medical emergency or buying prescription drugs, then your health issues will probably involve Part B.
Medicare Part B (along with Medicare Part A) makes up "Original Medicare", the two primary building blocks of Medicare. Most doctors take Part B, and nearly all eligible American seniors are enrolled in Original Medicare.
Terms to Know
Outpatient Care: You're an outpatient when you use medical services without being admitted to a hospital.
Original Medicare: Some people call Part A "hospital insurance", and Part B "medical insurance". Together with Part A, your Part B insurance is the combined product known as Original Medicare. This is the program run by the government since 1966 which provides excellent healthcare to disabled Americans and people ages 65 and older.
You'll need to have Original Medicare in order to receive private Medicare Advantage and Medicare Supplement benefits.
Assignment: When a doctor accepts "assignment", they've agreed to provide a service at the price Medicare has determined is fair.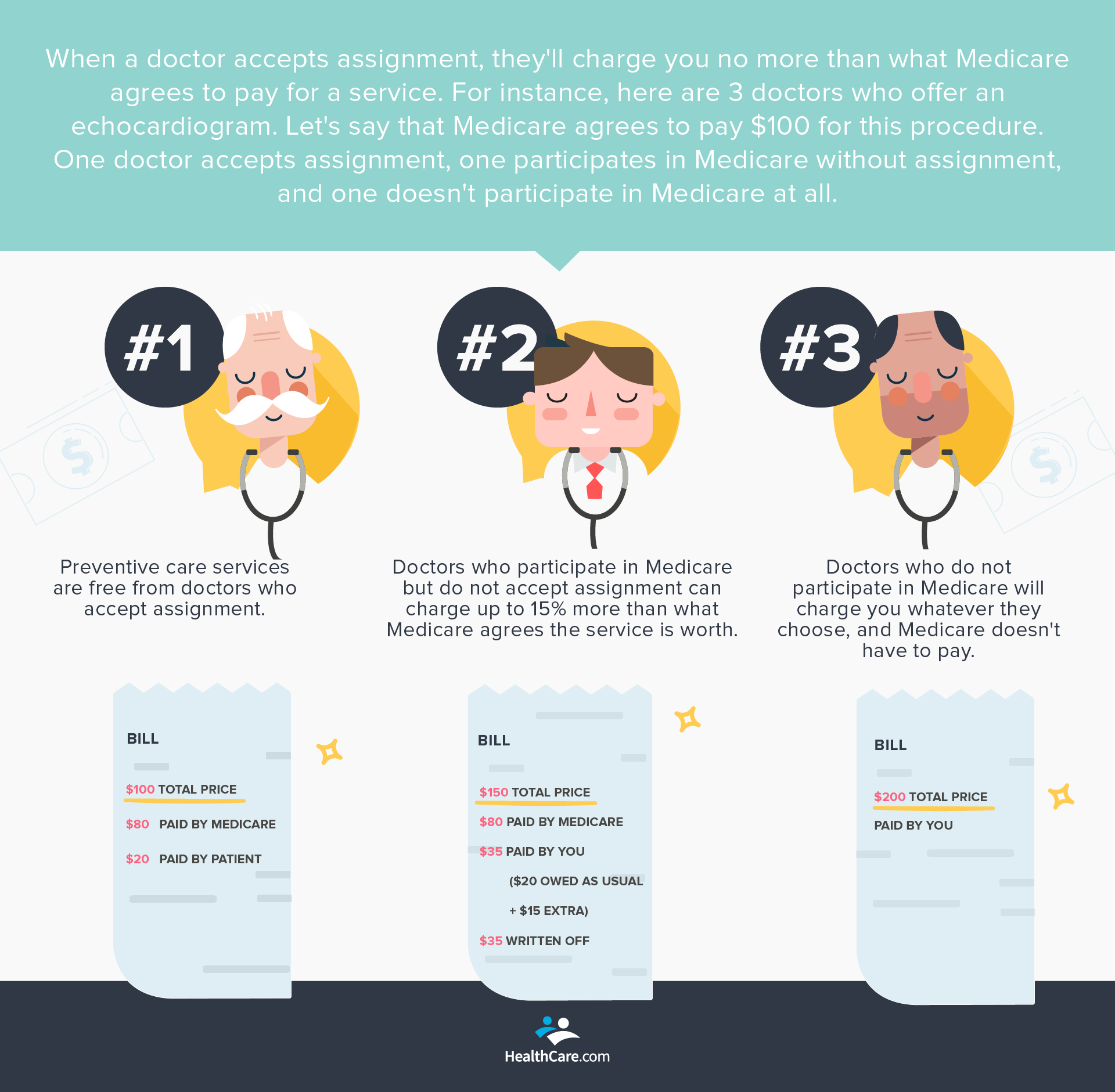 The Four "Parts" Of Medicare
Medicare is divided into four different parts, designated by letters A, B, C, and D.
Medicare Part A is hospital insurance. It covers hospital stays and services provided by skilled nursing facilities.
Medicare Part B is outpatient medical insurance. Part B coverage applies whenever you see your doctor or obtain preventative care.
Medicare Part C, known as "Medicare Advantage," provides coverage to seniors through private insurance companies, contracted by the federal government.
Medicare Part D provides prescription drug coverage.
What Does Medicare Part B Cover?
You'll rely on Medicare Part B for your basic medical needs – including doctor's visits, laboratory tests, and medical equipment.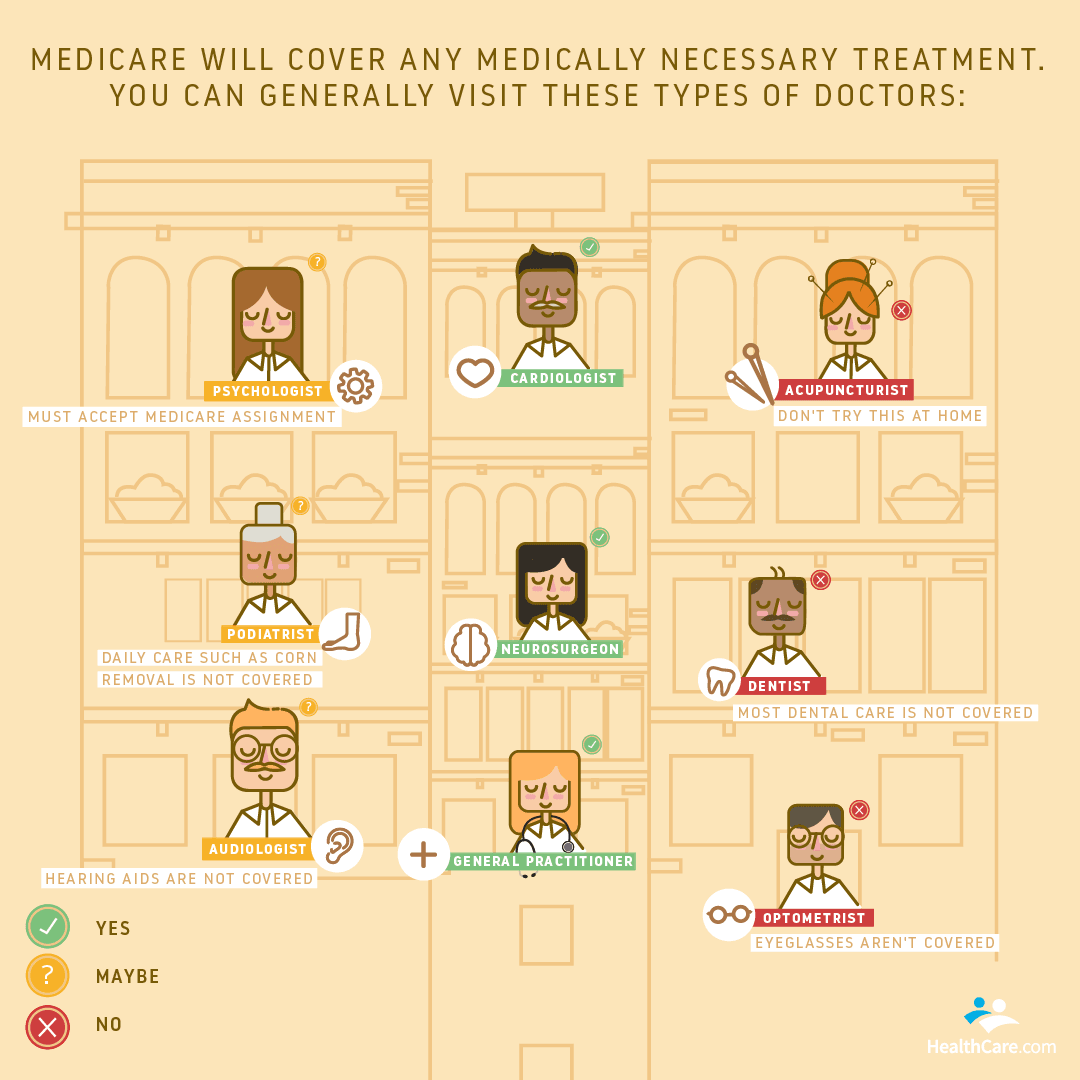 1. You Can See A Doctor:
Meet Your Physician: Doctor visits are generally covered by Part B. You don't need to choose a single primary care physician like you may be used to in traditional health insurance plans. Of course, you can see the same doctor regularly if you like. Whether or not they call themselves a GP, internist, family doctor, or physician, there's no limit to the number of medically necessary visits you can schedule.
Lab Tests: If your outpatient doctor prescribes a medically necessary diagnostic test for you, it will be covered. Part B includes x-rays, urine samples, and blood work.
Second Opinions: If you'd like to learn more about a medical issue, Part B will cover the costs of a second (or third) opinion from a different doctor. If your new doctor needs to run tests to make an independent diagnosis, those tests will also be covered by Part B.
You Can See a Specialist: You can generally visit any medical professional without a referral, as long as they participate in Medicare. Part B covers dermatologists, neurologists, rheumatologists, and any other specialist from A to Z.
Surgery: Same-day surgeries are covered by Part B (longer hospital stays are covered by Part A). It's still a Part B expense if you're kept at a hospital overnight for observation (instead of a full-fledged inpatient stay). Common medical supplies that you'll get after surgery, such as crutches, are also covered by Part B.
2. Preventative Care: Part B typically only covers the following preventative services if they're from a medical provider who accepts assignment.
Screenings: Part B covers the entire cost of screening visits for dozens of common medical conditions. You're also entitled to receive a full wellness checkup once per year, free of charge.
Flu Shots and Vaccines: Flu shots, pneumococcal shots and hepatitis B shots are covered by Part B with no co-pay. Other vaccines that are tied to the treatment of another condition will generally be covered by Part B.
3. Some Prescriptions: While you can't rely on Part B to cover most prescription drugs outside of the hospital, certain lifesaving drugs for the maintenance of chronic conditions are covered by Part B. Some medications for diabetes, hemophilia, organ transplants, and other conditions will also be covered by Part B depending on your specific condition.
4. Mental Health:
Counseling Services: Counseling and therapy sessions are covered by Part B. Treatment can be provided by a psychologist, social worker, doctor, or nurse specialist, as long as the provider accepts assignment.
Day Services: Group therapy and outpatient services in a hospital or community mental health center are also covered by Part B. Additionally, Part B covers structured programs of partial hospitalization.
Diagnostic Services: Preventive screening and psychiatric medication management visits are covered by Part B as well.
5. Medical Equipment: Durable medical equipment (DME) will be covered by Part B if it comes with a doctor's prescription. Part B can pay for canes, commode chairs, glucose monitors, hospital bed, walkers, or other homecare devices.
6. Ambulance Services: Part B will cover your ambulance costs when you've had a sudden medical emergency or cannot be transported safely by other means. However, Part B does not cover medical transportation for routine care
7. Clinical Research Studies: Part B will cover doctor and drug costs for you to participate in medically relevant medical trials. It will also cover the costs of any complications if they arise.
What Is Not Covered by Medicare Part B?
1. Long-term Care: Services that help you perform basic tasks, whether through a caregiver or a stay in a nursing home, are generally not covered by Original Medicare.
2. Hearing Aids: Hearing aids and most audiology services are not covered by Original Medicare.
3. Dental Care: Part A will pay for emergency dental issues. However, the vast majority of dental care – including cleanings, fillings, dentures, and tooth removal – is not covered by Original Medicare.
4. Glasses: Original Medicare will not pay for your glasses or related eye exam. Cataract surgery and other vision care expenses are generally covered by Part B.
5. Less Common Medical Services: Less common expenses that some health plans cover – such as acupuncture, cosmetic surgery, corn removal, and travel between appointments – are also not included in Part B coverage.
How Much Does Medicare Part B Cost?
Premium (cost per month): The standard Medicare Part B premium in 2019 is $135.50 per month for new enrollees.
Medicare sends a bill every 3 months. If you elect to pay premiums directly from your Social Security benefits, federal guidelines may lower the cost of your monthly premiums over time.
Medicare will use your tax return from 2 years ago to calculate your monthly bill. If your income as reported two years ago was over $85,000 ($170,000 if filing jointly), then you'll pay a little more this year.
Deductible: Part B enrollees contribute a once-a-year deductible of $185 before Part B pays for services.
Coinsurance: Without a Medicare Advantage or Medicare Supplement plan, you'll generally be responsible for 20 percent of your Part B costs after your deductible is reached.
Medicare Part B Premium Costs (2020)
If your individual tax return income in 2018 was:
If your joint tax return income in 2018 was:
If you're "Married filing separately" tax return income was:
Then your monthly premium is:
$87,000 or less
$174,000 or less
$87,000 or less
$144.60
between $87,000 and $109,000
between $174,000 and $218,000
Not applicable
$202.40
between $109,000 up to $136,000
between $218,000 and $272,000
Not applicable
$289.20
between $136,000 up to $163,000
between $272,000 and $326,000
Not applicable
$376.00
between $163,000 and $500,000
between $326,000 and $750,000
between $87,000 and $413,000
$462.70
above $500,000
above $750,000
above $413,000
$491.60
Source: U.S. Centers for Medicare & Medicaid Services
Late Enrollment Penalty: You'll want to enroll in Part B as soon as possible, unless you're insured by group health coverage through you or your spouse. Otherwise, if you wait to enroll, your premiums will rise by 10% per year that you skip enrollment, for the life of the plan.
How Does Medicare Part B Interact with Other Medicare Programs?
Part B and Medicare Supplement (Medigap):
Medicare Supplement plans add extra benefits to your existing Original Medicare coverage. The plans have generous benefits that are overseen by the government but run by private companies. Certain plans will even cover your Part B deductible and copay! If you'd like to buy Medigap, it's important to apply as soon as possible.
You may have heard about Medigap plans, including "Medicare Plan B". Part B is different from Plan B. A "part" involves the federal program, while a "plan" is one of several Medigap options.
Part B and Medicare Advantage (Part C):
Part C (Medicare Advantage) was created in 1997 as a privately-run replacement for Original Medicare (Part A & Part B). You cannot have Part B & C at the same time, and it's difficult to switch back and forth. Part C typically costs less than Original Medicare, and it may cover additional services, but has special rules and smaller doctor networks.
Part B and Part D (Prescription drug coverage):
You can have both a Part B plan and Part D insurance to cover your prescription drugs. Depending on your medication needs, a Part D plan may be an important extension of your Original Medicare coverage. New Medicare Supplement plans no longer cover prescription drugs, although many Part C plans do.
Who Is Eligible for Medicare Part B Coverage?
For those 65 Years and Older
The main group for which Medicare was set up. To qualify, you'll need to fulfill two requirements:
You must have been a U.S. citizen or permanent resident for more than 5 years, AND
You must have paid Medicare taxes for at least 10 years.
For those 65 Years and Younger
There are few cases where people under the age of 65 are eligible to get Medicare benefits. To qualify, you'll need to belong to one of three groups:
You're permanently disabled and you've received Social Security Disability Insurance (SSDI) for at least the last two years; OR
You're suffering from end-stage renal disease (ESRD)/end-stage kidney disease and need to undergo continuous dialysis or need a kidney transplant; OR
You receive Social Security disability benefits for amyotrophic lateral sclerosis (ALS)/Lou Gehrig's disease.
In most cases, you are eligible for Medicare Part B if:
You are 65 years old or older, and

you are an American citizen or permanent resident;
you have been admitted for permanent residence, and have lived in the U.S. for the past 5 years;

You are under 65 years old have received Social Security Disability Insurance (SSDI) for the past 24 months.

Those diagnosed with end-stage renal disease (ESRD) and amyotrophic lateral sclerosis (ALS) are eligible for Medicare without a waiting period.
How Do I Enroll in Medicare Part B?
To get on Medicare Part B, check to see if you will be automatically enrolled in Original Medicare.
If you're not automatically enrolled, you can go on Medicare Part A and Part B with the help of the federal government.
Special Part B Enrollment Circumstances:
If you live in Puerto Rico and you're already receiving Social Security or disability benefits when you turn 65 years old, you will only be enrolled in Part A automatically. You will need to apply for Part B coverage on your own.
If you aren't receiving Social Security when you turn 65 years old, your enrollment in Medicare isn't automatic – you will need to apply for Part A and B coverage.
Enrollment Periods: When Can I Sign Up for Medicare Part B?
Initial Enrollment Period
If you aren't receiving Social Security and don't have health insurance through an employer (either your own or your spouse's) upon turning 65 — you must enroll in Medicare during your Initial Enrollment Period (IEP).
The IEP is a seven-month period; the fourth month being the one in which you turn 65.
You can enroll in Medicare starting up to three months before your 65th birthday and your window to sign up ends three months following your 65th birthday. (eg. If your 65th birthday is April 20, your IEP begins January 20 and ends July 20)

Your Part B coverage will be delayed if you wait until the month you turn 65, or later, to enroll.
Special Enrollment Period
If you delayed Medicare enrollment after turning 65 because you were insured through an employer for whom you or your spouse was still actively working — you need to sign up for Medicare during a Special Enrollment Period (SEP).
The SEP allows you to sign up for Medicare starting at any point before your or your spouse's employment draws to an end, up until eight months following your (or your spouse's) retirement.
If you are younger than 65 and lose your employer-sponsored health coverage when your older spouse retires and signs up for Medicare, you will need to find separate coverage for yourself.
General Enrollment Period
If you declined to enroll in Part A and/or Part B when you were first eligible, then you can sign up during a General Enrollment Period.
The General Enrollment Period lasts from January 1 through March 31.
You'll sign up using the same process as a first time Medicare enrollee, but you may have to pay higher premiums for delaying coverage.
Taking the Next Steps
If you're looking for a little more coverage, consider adding a Medicare Supplement plan to your Medicare coverage, or using Medicare Advantage instead. These can help ease your remaining out-of-pocket medical costs.
For More Reading: