You can save money on Medicare Part D by simply making sure to shop around for a new plan year-to-year.
For many older Americans – especially for those with multiple chronic conditions – the healthcare costs spent on prescription drugs alone can oftentimes be overwhelming. There's really only one way to get the lowest possible prescription prices. And, while it's easy, most people don't do it. The trick? You need to find the Medicare Part D plan that covers your particular prescriptions, at your favorite pharmacy, at the best available prices – and to do this every year.
There are many Medicare-approved Part D prescription plans for sale; however, the plans don't all cover the same drugs. And, in cases when they do, the plans don't all have identical prices on the same drugs. The prices of drugs will vary widely among Part D plans – sometimes to an incredible amount.
The easiest way to do this is to compare the prices of six of the most common prescription drugs used by seniors. (Of course, you should customize per the drugs that you're actually taking, but these six provide a good baseline for example's sake).
Our Rx Shopping List
The six prescription drugs we compare are commonly prescribed medications used for common ailments among seniors:
Fosamax (increases bone strength)
Celebrex (relieves arthritis pain)
Plavix (works as a blood thinner)
Synthroid (a simple thyroid hormone)
Prevacid (prevents acid stomach)
Lopressor (lowers blood pressure)
Use Medicare.gov to Compare Prices
The Medicare.gov website gives you prices for all Part D plans and each plan's prices on prescriptions. Since we're part-way through 2017, the cost figures shown on the website will be for June through December of this calendar year. Keep in mind that all Medicare Part D plans are not available in every county and ZIP code throughout the nation. Meaning: the plan your relative or friend has in another state might not be the best plan for you.
Step-by-Step Comparison Guide
Let's use ZIP Code 30076, which is a suburb in Atlanta, Georgia.
Go to Medicare.gov. Of the eight tabs, click the 4th one from the left, the one that says "Drug Coverage (Part D)." From the 6 options, click the last one that says "Find Health and Drug Plans."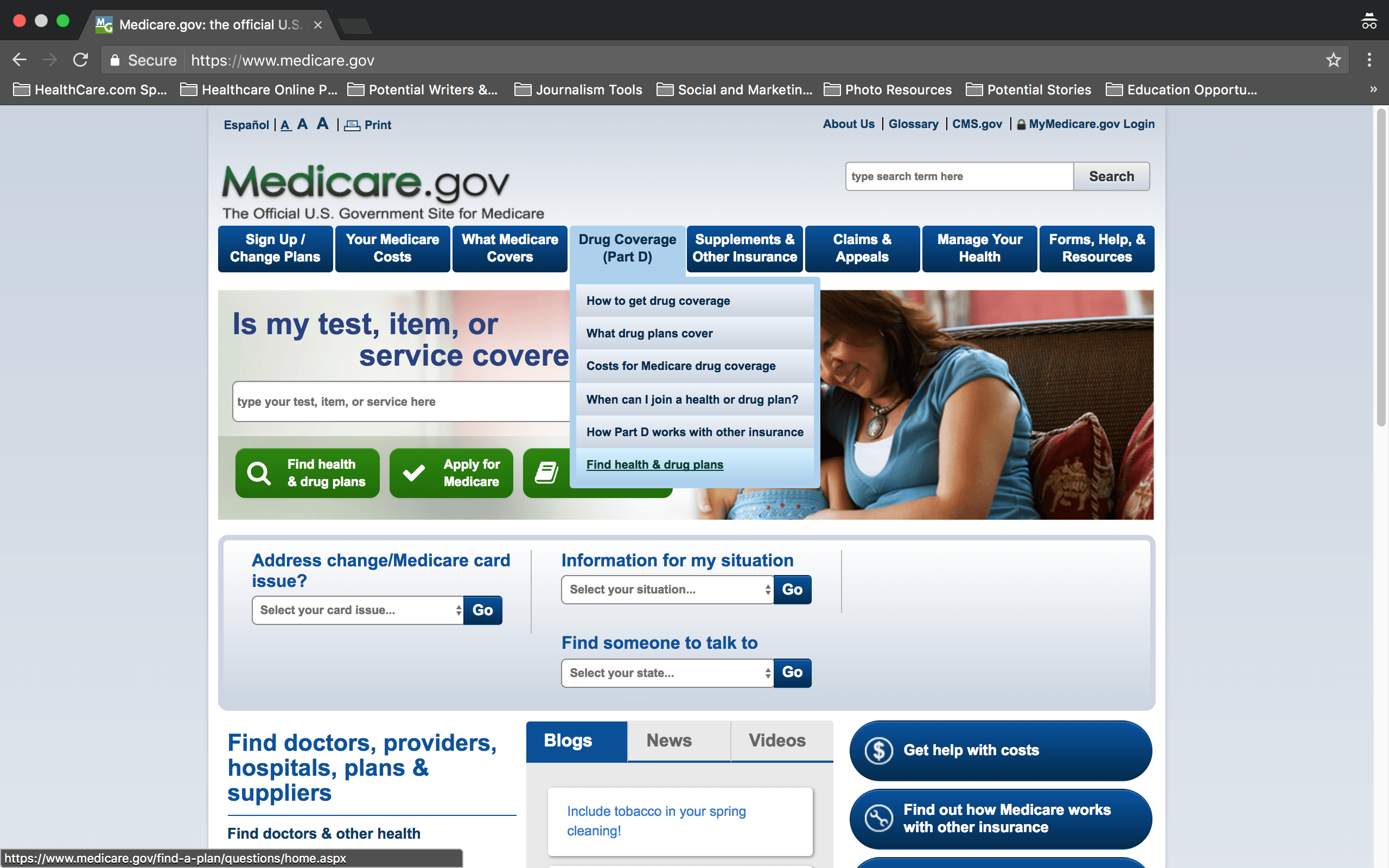 Enter your Zip Code. For this example we used 30076.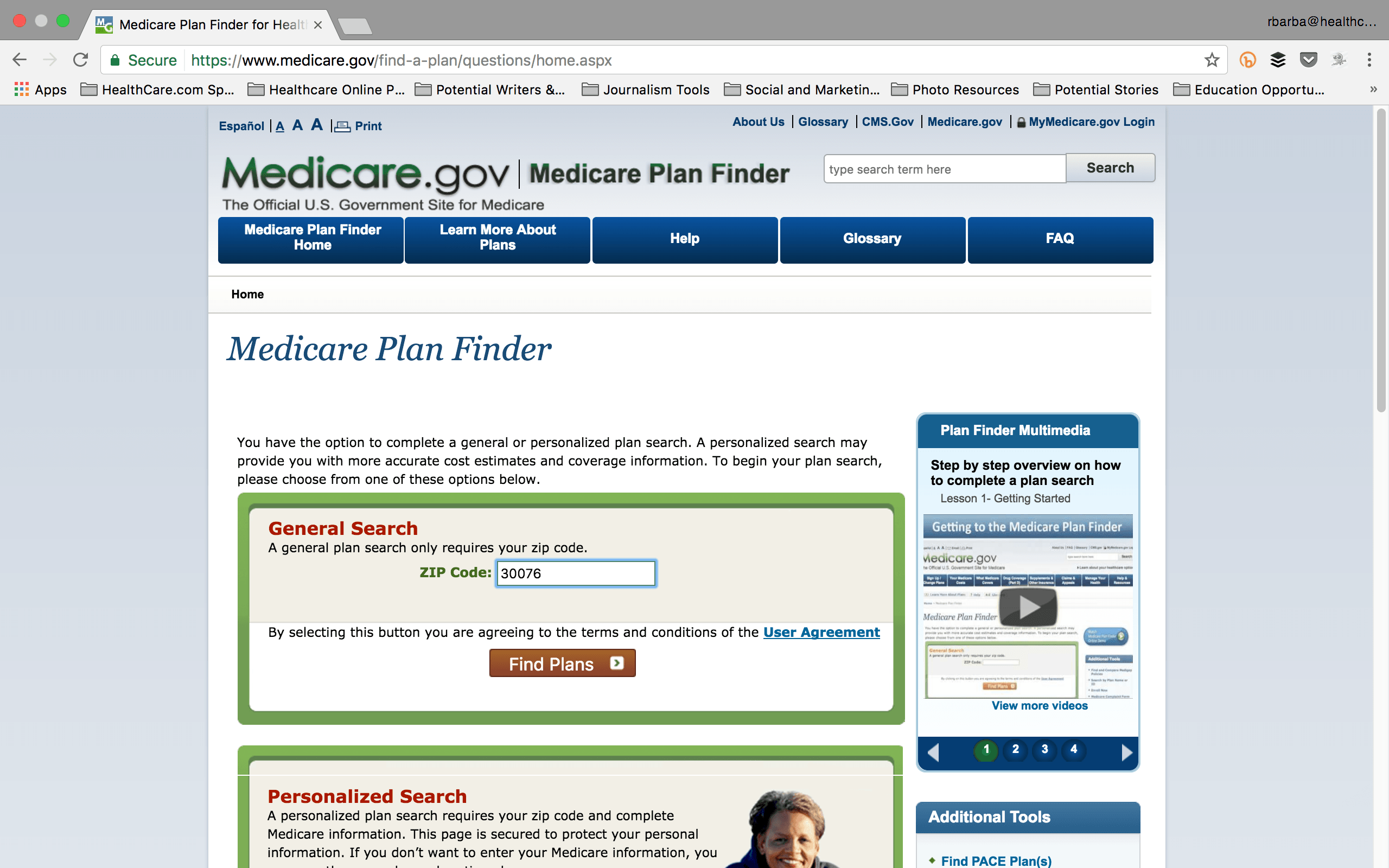 When prompted, enter your individual prescriptions (This step is very important, because you are shopping for prices on your particular prescriptions.) We used the six prescription drugs above.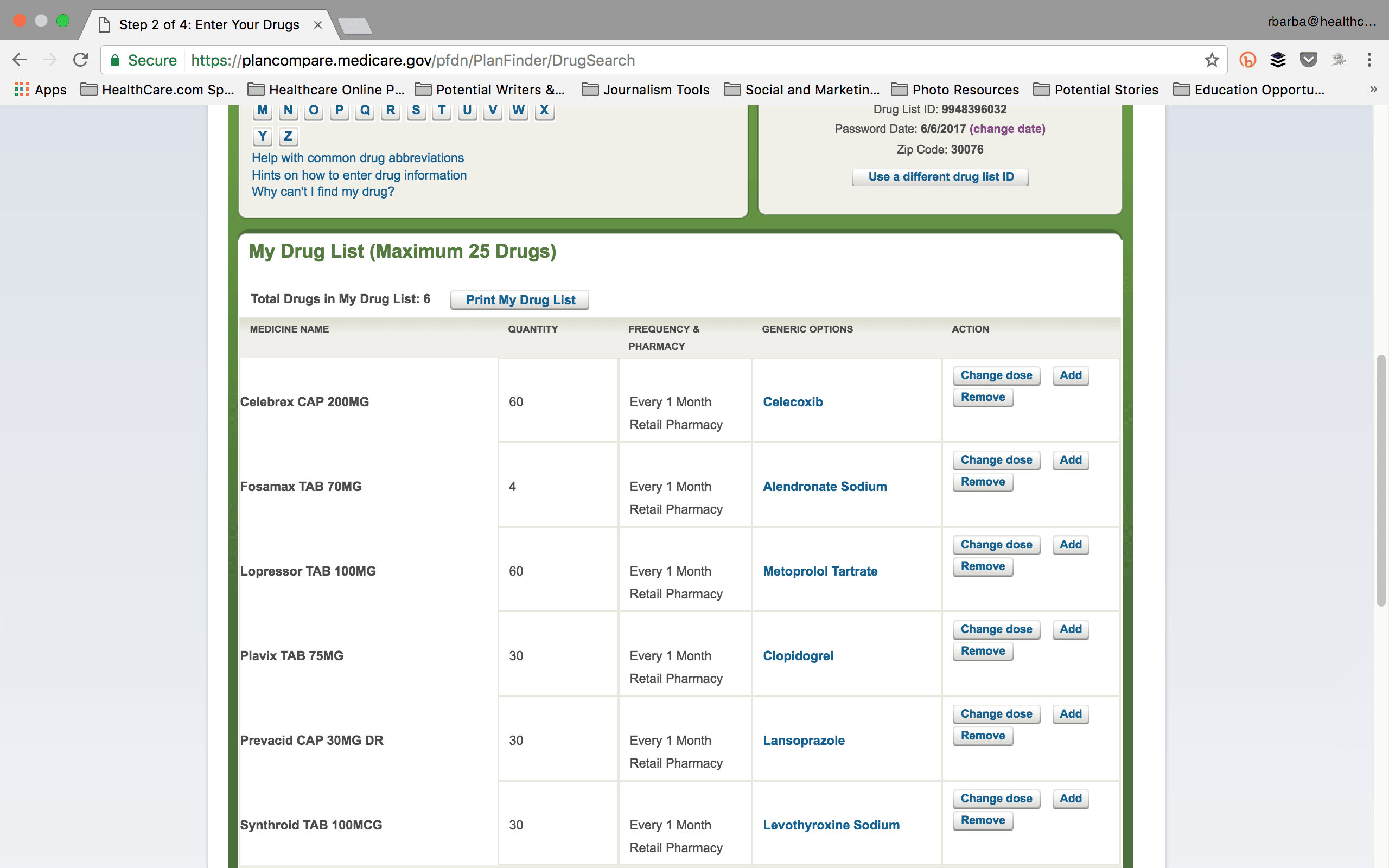 Next, from the list of pharmacies close to you, select your favorite one.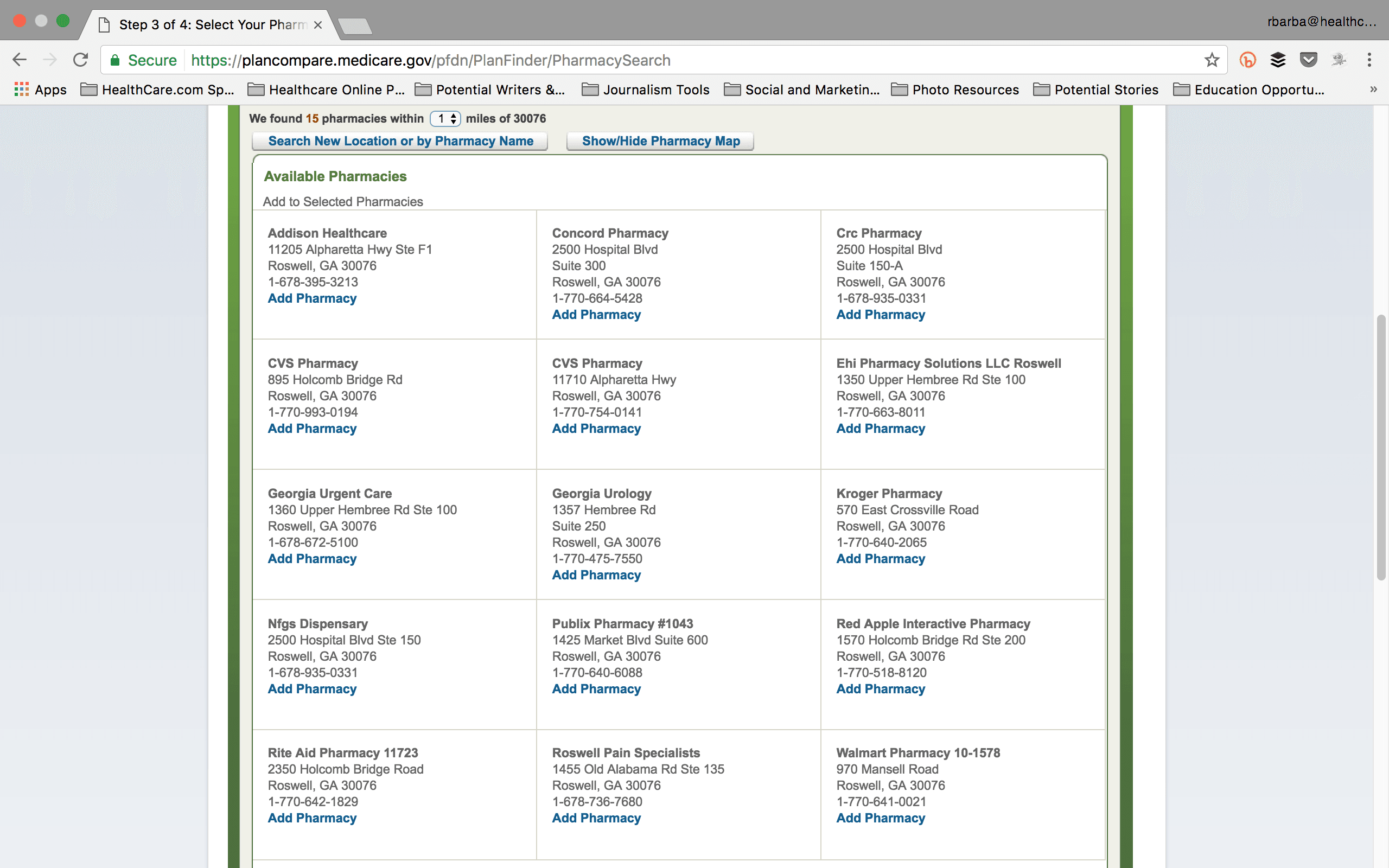 When prompted, click the box for "Prescription Drug Plans (With Original Medicare)."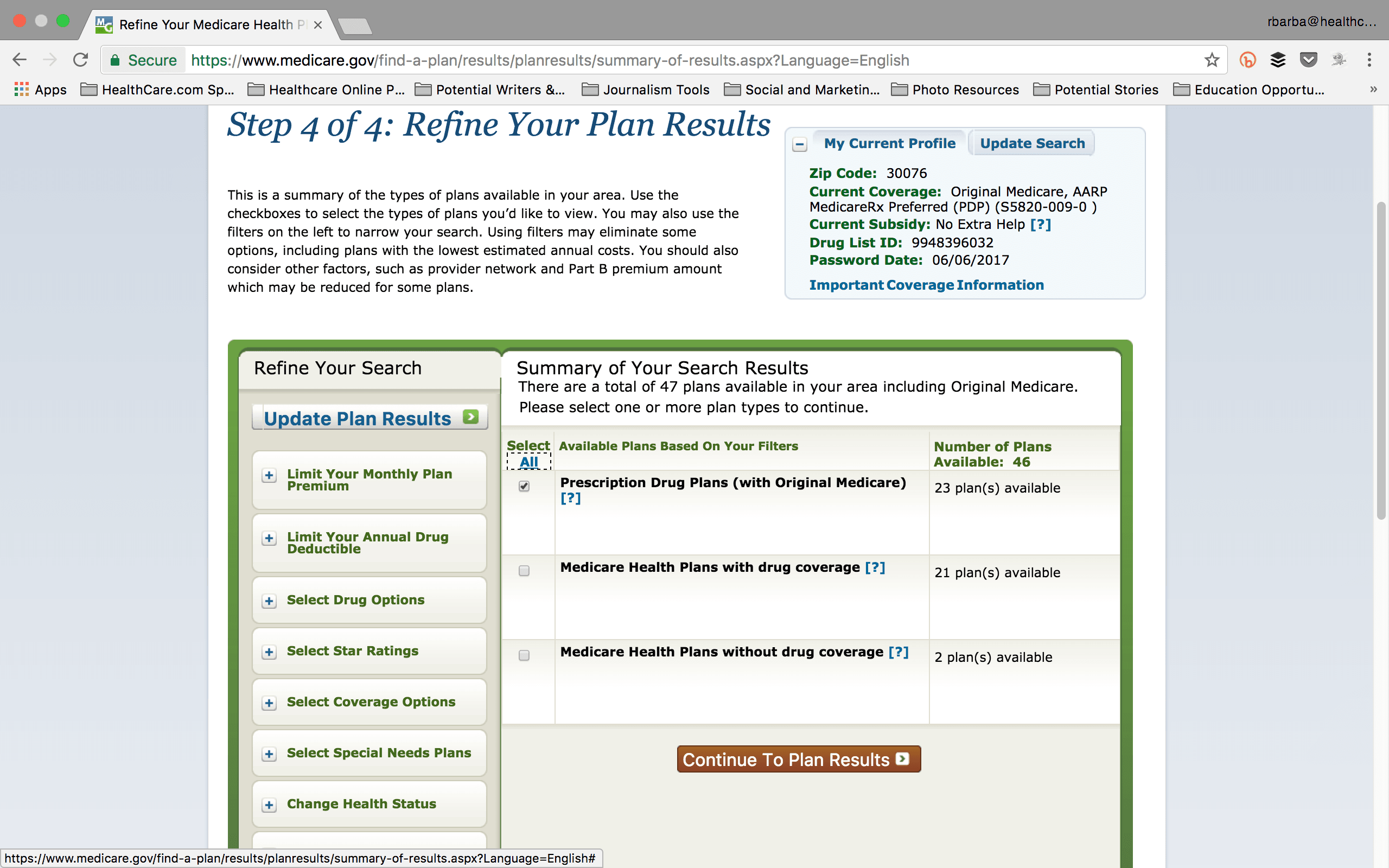 You will see that:
There are 23 Part D plans for sale in this zip code for 2017.
The lowest possible cost for those drugs for seven months (June through December) (including the cost of the Part-D plan itself) is $760.
The highest possible cost for those drugs for seven months, with a different Part-D plan, is $6,304.
That's a cost difference of $5,544 between the least expensive and most expensive plan for this set of six prescription drugs. What would you do with an extra $5,544?
The cost of the six prescriptions in the other 21 plans falls within these two extremes. Keep in mind all 23 Part D plans are good, and many people own them, but as we said, all the plans don't cover identical drugs at the same prices, to say the least.
What This Means to You
Shop wisely to save money on Medicare Part D plans. Compare prices on the exact medications you take. The prices of the plans themselves are irrelevant and pales in comparison to how much the prices of your drugs vary among those plans.
Compare Rx Prices for Medicare Advantage Plans the Same Way
Millions of people don't have separate Part D plans, but have some kind of Medicare Advantage (or Medicare Part C) plan which includes drug coverage. The process is almost identical to comparing drug prices for Medicare Part D.
Annual Enrollment Is Your Chance to Save Big Money
Typically, you can only choose a new Medicare Part D plan or Medicare Advantage plan every October 15th through December 7th (with your new plan taking effect on the following January 1st). Don't get stuck for 12 months with the wrong plan. Learn to compare the prices on your prescription medications to save money on Medicare Part D or Medicare Advantage plans.