Here's a helpful guide with tips on what to do when you find a surprise medical bill or have medical debt.
It's fiscally responsible for taking care of doctor, hospital, and outpatient bills once you have reviewed your explanation of benefits for services received. However, that's easier said than done for many people. If your bills are beyond your budget, you'll want to try to negotiate your medical debt down, so you pay less.
It's important to remember that you can typically negotiate to price or alert a hospital that you will need to be placed on a payment plan before services are rendered, like when you have a baby or are getting an elective surgery. Set the price and payment terms upfront, so there are fewer surprises when you do ultimately get your final medical bill.
Here are six can't-miss tips you'll need to cut your medical bills and put together a fair payment solution.
Tip #1 Understand Your Explanation of Benefits (EOB)
Tip #2 Discover Who's Billing You – Your Doctor or a Third Party?
Tip #3 Get Everyone – Bill Collectors, Insurance, and Your Doctor – on the Same Page
Tip #4 Check Out Hospital and Government Resources
Tip #5 Offer to Work out a Discount Plan
Tip #6 Find Steep Discounts If Your Prescription Drugs Aren't Covered
1. Understand Your Explanation of Benefits (EOB)
Two to four weeks after you've seen a doctor, you should expect an explanation of benefits (EOB) in the mail or email inbox. An explanation of benefits is an itemized list that outlines how much you will be charged for your care.
If you don't receive an explanation of benefits from your insurance provider, call and ask for one (the exception is Medicare Part A and Part B beneficiaries, who don't get an Explanation of Benefits. Medicare Advantage and Medicare Part D enrollees do get EOBs.)
EOBs Aren't Bills: A billing statement and an explanation of benefits are not the same thing. You don't pay an EOB – it's like a receipt, even if you haven't paid yet. The explanation of benefits comes from your insurance company. You may get multiple EOBs from different specialists you saw during the same visit.
Compare EOBs to Your Bill: Ask your medical provider to make sure that your EOBs are accurate and include a detailed description and a cost amount. Compare bills to what's listed on your EOB. Medical coding mistakes are common, and even properly coded bills can be impossible to understand without an explanation from your provider.
Your First Medical Bill May Not Reflect Payment from Your Insurance Company: Depending on how complex your bill is, it may take 30 days for your insurance company to mail you an EOB with updated charges and payments. Your EOB will show how much your insurer has paid and what your responsibility is.
You should start asking about reducing your bill or making payment arrangements early – don't wait until you receive your last bill.
2. Discover Who's Billing You – Your Doctor or a Third Party?
Check to see who created your bill. Your bill won't necessarily come from your medical provider. You don't want to let that complicate things.
Third-Party Billing Companies: Your provider may have outsourced their bill collection to a medical billing company. Medical billing companies aren't collection agencies, but they handle doctors' financial affairs. Care for complex chronic illnesses like cancer frequently involves multiple specialists who don't bill on their own but instead outsource to a third-party medical billing company.
Internal Billing Department: Your bill may also have been handled directly by your provider. Providers with their own billing departments have a better reputation than third-party billing agencies since internal billers are more engaged with the provider, while third parties represent multiple medical offices.
3. Get Everyone – Bill Collectors, Insurance, and Your Doctor – on the Same Page
Once you have your insurer's explanation of benefits and you understand where it's coming from, you'll want to let everyone know that you're actively figuring out payment arrangements. You'll need to contact all of the following parties to make sure that everyone's on the same page:
The billing department (internal or a third party);

Know the source of your bills (hospital, outpatient facility, or doctor)

Any charity care provider you're working with, if separate from whoever's billing you;
Your insurance company ensures your care is covered to the fullest possible amount.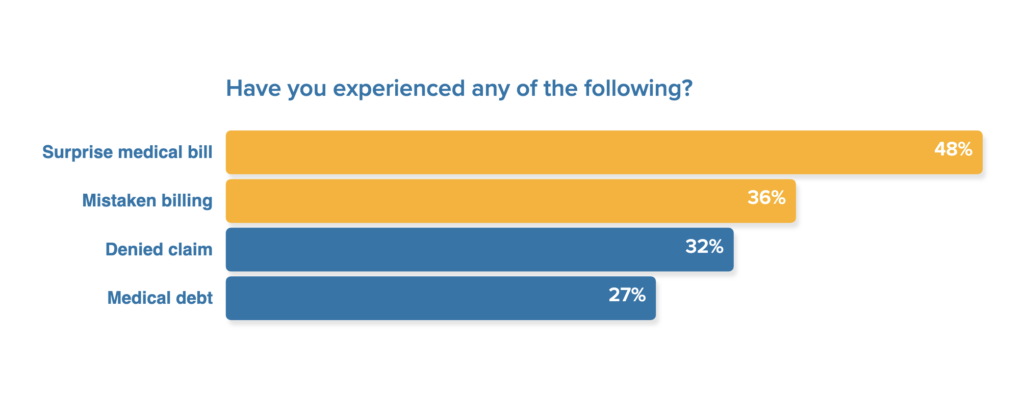 4. Check Hospital and Government Resources
The good news: is if you seek assistance, you could have a percentage of your bill paid or your debt erased. Organizations that help consumers reduce or eliminate their medical debt include:
See If You Qualify for Medicaid: Medicaid, the federal insurance program for low-income Americans, can pay for all of your medical bills for up to three months before the month you applied. You're eligible for this emergency coverage if you could have received Medicaid when you generated the original charges (except in Arkansas, Indiana, Iowa, and New Hampshire).
Even if you wouldn't have qualified in the past, Medicaid can help you in the future. Medicaid policies last for one year and pay your bills in full or nearly in full, depending on the state you live in. Check with your state's Medicaid program to learn more.
Search for Charity Care: Your hospital may have an active financial assistance program. Sometimes, this program is called charity care. Not-for-profit hospitals are required to provide charity care to patients with qualifying income thresholds. This is mandated by the Affordable Care Act (ACA) and the Internal Revenue Code.
A formal charity care service will coordinate with your billing agency (whether or not the billing department is connected to your doctor or hospital). Your charity care program can adjust the amount you owe, even if the bill has already been sent to a billing agency.
Remember the Negotiated Rate: The negotiated rate is a discounted price for medical services that's offered to big insurance companies. If your insurance company doesn't cover you, or if you're uninsured, the hospital should be able to offer you the same negotiated rate insurers pay or the rate reimbursed by Medicare. You shouldn't be charged more simply for not having insurance.
Find A Foundation: Illness-related non-profit groups frequently operate their own charity programs to help those with a specific disease. For instance, the Leukemia & Lymphoma Society helps patients with leukemia and lymphoma pay medical bills.
Community-Based Financial Help May Be Available: It's okay to ask for help by explaining your situation to your community. When you come home with big medical bills, you can look for financial assistance from outside the hospital. Your city, county, or state likely has a small emergency grant program.
Community grants may help cover a variety of expenses, from food to utilities to medications, which provide savings that can be used to pay medical bills. For instance, if you have to go back and forth to the hospital, your county may help you pay for transportation so that you can keep making medical appointments.
5. Offer to Work out a Discount Plan
If you pay cash or can pay over time, additional options may become available.
Your Bill Reduction Depends On Your Income: Billing departments, charity care, and patient advocates will typically consider your income when negotiating your medical debt.
Use the Salary That's Current: Your income and financial situation may have changed since getting sick or receiving care. If you're making less than you were before your illness, you have the right to request eligibility be based on your new, lower income.
For instance, your income last year with full-time employment may have been $80,000. But after a year of surgery, treatment, radiation, and therapy, you could be living on long-term disability.
Billing Periods Typically Last 12 Months: When you work out a payment plan, expect to split your payments into around 12 monthly installments. It's possible to have more or fewer payments, depending on the size of your bills. If you establish a history of successfully making payments, it's possible to extend this schedule significantly beyond 12 months.
Very Small Payments Postpone the Collection Process: As long as you're adhering to the billing process that charity care or billing agency has set up, they cannot initiate the full collections process.
if you can demonstrate financial need while pursuing charity care or a full write-off, you want to keep paying down your bill. This should help keep you out of collections for the full amount.
6. Find Steep Discounts If Your Prescription Drugs Aren't Covered
You can visit Needymeds.org, a registered nonprofit, to see if your drug manufacturer has a charity care program. Applying to your drug manufacturer could be a quick solution.
It's also possible to safely order drugs online. Another nonprofit, PharmacyChecker.com, verifies the safety of international pharmacies. These companies legally ship American drugs back into the country at a fraction of their U.S. cost.
For immediate drug savings, download a discount savings card and show it to your pharmacist every time you pick up a prescription.
Taking the Next Steps
Make sure you have the right copy of your Explanation of Benefits before assessing your bill.
If your income is low, you may have access to heavily discounted healthcare options, including subsidies, on Healthcare.com.
Communication with your community and billing department is key. Help is available.