Medicare Part D, often referred to as the prescription drug plan, is a voluntary private insurance program that helps cover the cost of prescription drugs for seniors enrolled in Original Medicare.
How Does It Work?
You pay a monthly premium (which varies based on your plan and also income if you high earner), and then when you fill a prescription at a participating pharmacy, your insurance provider will cover part or all of the cost.
Some plans even offer additional benefits such as discounts on generic medications, mail-order pharmacy services, and more. Additionally, depending on your income level, you may be eligible for assistance with paying your premiums and other out-of-pocket costs associated with using this program.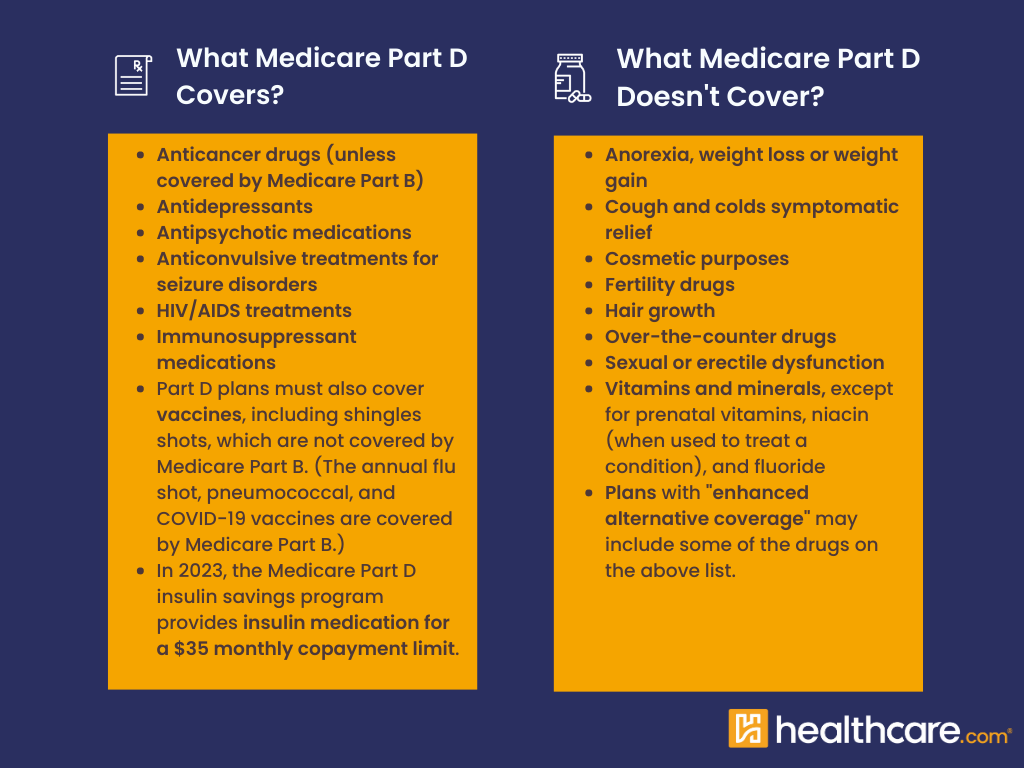 How Much Does it Cost?
Premiums
Monthly premium prices vary from plan to plan and depend on your income. Those with higher incomes will pay more. In 2023, single filers with income over $97,000 and couples over $194,000 will pay more. Adjustments ranging from $12.20 to $76.40 a month may be added to your premium.
Deductible
A deductible is an amount you have to spend before the plan starts paying its share. Some drug plans do not have deductibles. The maximum permitted deductible for 2023 is $505.
Copayment/Coinsurance
A drug plan may have either copayments (a set amount you pay for medications in each tier) or coinsurance, a percentage that you pay for the price of the drug.
How To Enroll:
During the Initial Enrollment Period, people who turn 65 and are newly eligible for Medicare can elect a Part D stand-alone drug plan or choose a Medicare Advantage plan with medication coverage.
Those who get Medicare before the age of 65 have the option to sign up for Part D coverage when they first become eligible. Even if the enrollee isn't currently on prescription drugs, it's important to enroll in Part D drug coverage to avoid a penalty.
The Annual Open Enrollment Period is from October 15th to December 7th and allows people to change their prescription drug coverage for the following year starting on January 1st.
Additionally, there is a Medicare Advantage Open Enrollment Period from January 1st to March 31st that allows individuals to switch from a Medicare Advantage plan to Original Medicare and join a Part D drug plan, and they can also switch Medicare Advantage plans (with or without drug coverage).
What Are The Benefits Of Joining?
One of the biggest benefits of enrolling in Medicare Part D is that it can reduce your out-of-pocket expenses related to medications. This could mean saving hundreds (or even thousands) each year, depending on how many prescriptions you are taking and what type they are.
Additionally, since many plans offer discounts on generic medications, joining can also be a great way to get access to much-needed medication at lower prices than what would normally be available without insurance coverage. Furthermore, if you do qualify for assistance with premiums and other out-of-pocket costs through one of the programs offered by CMS or private insurers, those savings could be even greater.
Next Steps
If you're enrolled in Original Medicare and take prescription drugs regularly, then there's no doubt that signing up for Part D could save you in both short-term and long-term costs—not to mention the peace of mind of knowing that you have access to discounted medication when needed.
So before making any decisions about which plan might be best for you, make sure to first see if enrolling in Medicare Part D could work for your situation.