Medicare Advantage (Part C) is private health insurance that replaces your Original Medicare (Part A and B) coverage with added benefits such as vision, dental, hearing, and more.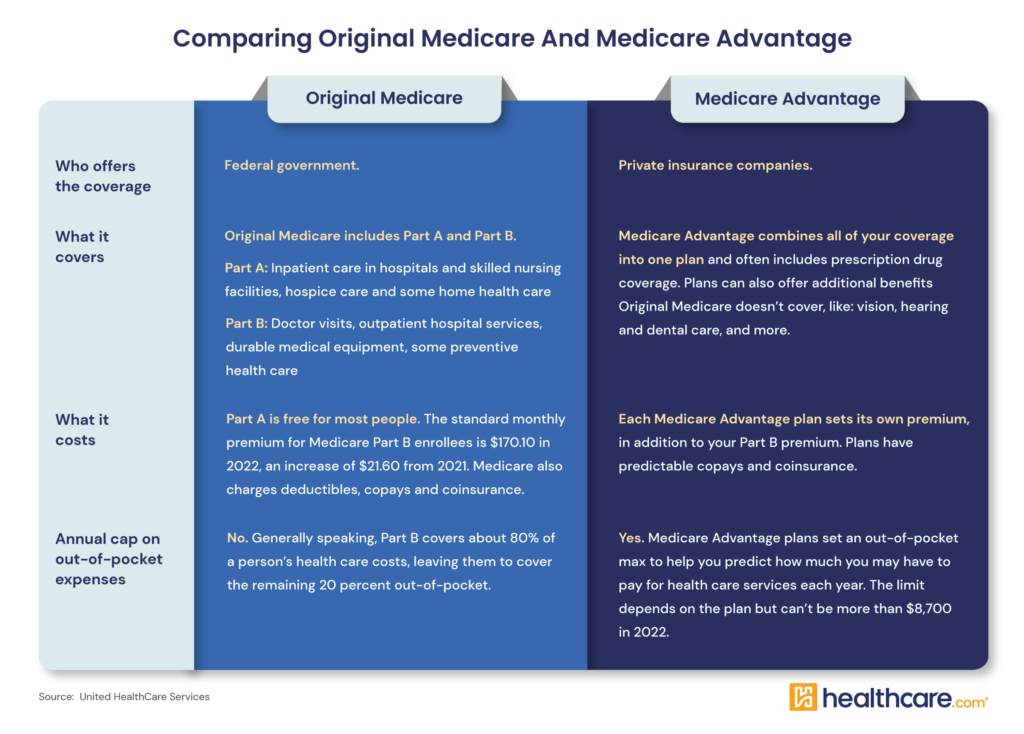 How do you sign up?
First, you'll need to enroll in Original Medicare (Parts A & B). Explore our Medicare basics article for more details.
Once you've enrolled in Original Medicare, you can choose a Medicare Advantage plan using Healthcare.com's plan selector.
If you're already enrolled in Medicare, there are other enrollment periods during the year.
The fall Annual Enrollment Period for Medicare Advantage runs from October 15 through December 7.
You can change your Medicare Advantage coverage during the General Enrollment Period (GEP), which runs from January 1 to March 31 each year.
How much does it cost?
Each month, enrollees pay a premium. The government projects the average premium to be $18 in 2023.
The plan can also set its own copayments and deductibles up to the annual out-of-pocket maximum of $8,300.
The out-of-pocket maximum is the most you'll be asked to spend on care in a year before your Medicare Advantage plan takes over all costs.
Next Steps
Once you have registered for Medicare Part A and Part B, you should seek out the guidance of a reliable advisor to learn more about your options with Medicare Advantage. After responding to some questions, you will get a full catalog of plans available in your area, as well as premiums, deductibles, copays, and out-of-pocket limits.
By working with a certified Medicare representative, you can compare and contrast plans while understanding the coverage and drug benefits they provide. It is also wise to check out the star ratings, which provide an evaluation of the quality and performance of plans, health care providers, and the contentment of the members based on surveys. Ratings can range from one to five stars, with five stars being considered remarkable.
The best way to select the best Medicare Advantage plan for you is to focus on the plans that have the features you need, an affordable cost, and a high star rating.