When estimating health care costs, it's essential to consider out-of-pocket expenses. Even if you have health insurance, you will likely pay for some of your care. Out-of-pocket costs represent your share of the hospital or doctor's bill.
Here's what you need to know about them as part of your health insurance coverage.
What are Out-of-Pocket Costs?
Out-of-pocket costs represent what health insurance doesn't cover. They include:
Deductibles
Coinsurance
Copays
Services that aren't covered by your plan
In addition to your premium, consider your out-of-pocket expenses. Understand which services are covered, as well as which providers are in-network. Out-of-network care can increase your out-of-pocket costs since these are services not generally covered by your plan.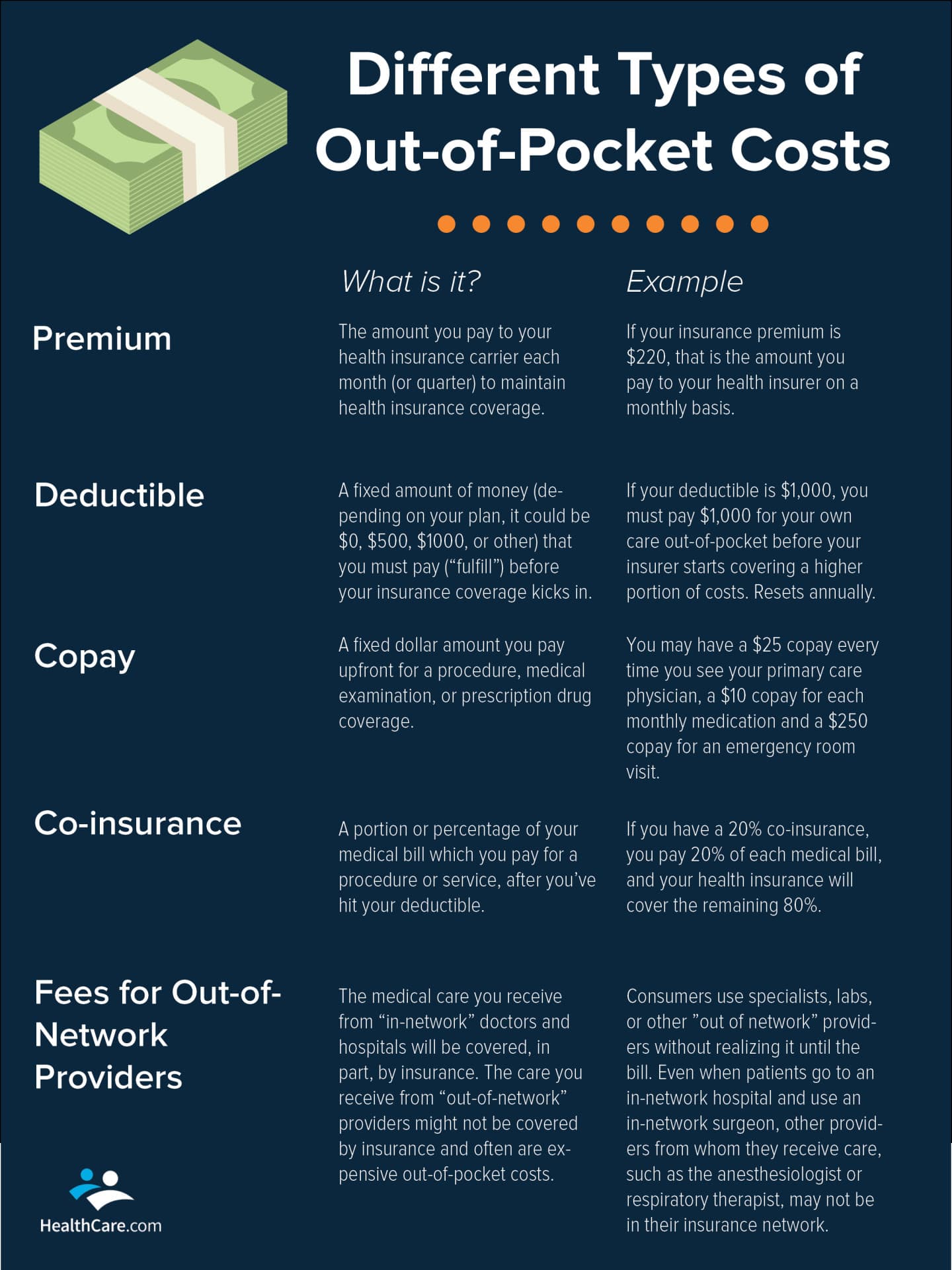 Are There Out-of-Pocket Maximums?
Health insurance plans usually cap how much you spend on out-of-pocket expenses or out-of-pocket maximum. Under the Affordable Care Act (ACA), out-of-pocket maximums are established for plans sold on state marketplaces. For the 2023 plan year, the ceiling for out-of-pocket services is $9,100 for individuals and $18,400 for families.1
It's important to note, however, that exceptions exist. So, even with an out-of-pocket limit, you could still be on the hook for additional expenses. Here are some of the things that don't "count" toward your out-of-pocket maximum:
Premiums
Out-of-network care
Services not covered by your plan
Provider charges beyond the amount allowed for a service
Review your plan to see limitations on services and coverage. If you go beyond those benefits, any expenses incurred may not factor into your out-of-pocket maximum.
How Different Costs Affect Your Out-of-Pocket Expenses
When budgeting for healthcare, here's what you need to know about how they influence your out-of-pocket costs and maximums.
Premium
Your monthly premium is what you pay for coverage.
Even though the money is coming out of your pocket, it doesn't "count" toward your maximum. The out-of-pocket maximum with a marketplace plan is $9,100, so if you add a $450 monthly premium to that amount, you could potentially pay up to $14,500 during the year. However, that's only if you don't have other excluded costs.
If you end up with out-of-network care, or if you want extra healthcare services not covered by your plan, you're on the hook for those costs entirely, no matter the out-of-pocket cap.
Deductible
The deductible is the amount you agree to pay for your care each year before your health insurance coverage kicks in. For example, if you have a deductible of $1,500, you're expected to pay all of that before the insurance company pays its share. Insurers keep a running total of what you pay for various services. Once you've reached your deductible, the insurance company will start sharing costs with you.
Your deductible does "count" toward your out-of-pocket maximum, moving you closer to that cap. 
Copayment
Your copayment is a set fee for healthcare services. For example, you may be required to pay $30 each time you visit your doctor and $250 if you visit the emergency room. Depending on your insurer's policy, and the service, you may still have to share costs. 
Your copay does "count" toward the out-of-pocket maximum. If you see a lot of doctors and specialists or have lab work done, that amount can add up. Once you reach the out-of-pocket maximum for your plan, you may not have to make copays for subsequent visits.
Coinsurance
This is the amount of your healthcare bill that you're responsible for — after you reach your deductible. The amount you pay in coinsurance is considered an out-of-pocket maximum. So, if you end up with a more expensive procedure later, you may not have to pay for it if you get beyond the cap.
For example, if you have 20% coinsurance and have met your deductible, you pay 20% of the bill while the insurer pays the remainder. So, if you have a procedure that costs $3,000, you're on the hook for $600.
But what happens if you haven't met your deductible? Well, the math changes. First, you pay $1,500 to reach the deductible. Then, you split the balance ($1,500) with your insurer and pay coinsurance of 20%, or $300. So, your total comes to $1,800.
Out-of-Network Healthcare
One of the biggest costs to watch out for is out-of-network care. Depending on your plan, your insurer may not cover any costs associated with out-of-network care. You may also have a different out-of-pocket maximum. While the marketplace plans have their own cap, it only applies to in-network care. For example, your health insurance policy may have a separate out-of-network cap of $50,000.
Don't forget that a hospital may be in-network but have out-of-network doctors. If you receive services from an out-of-network provider, you could end up with higher out-of-pocket expenses.
How to Make Out-of-Pocket Expenses More Manageable
There are some things you can do to manage out-of-pocket expenses better. 
Premium Tax Credit
If you buy health insurance on the Health Insurance Marketplace, you may qualify for a premium tax credit. If you meet income requirements, your premiums cost less, reducing how much you pay each month for health coverage.
Cost-Sharing Reduction
Marketplace plans also have cost-sharing reductions for those who meet specific income criteria. It affects your deductible, copay, and out-of-pocket maximum. Check into your options if you have trouble paying your out-of-pocket expenses.
Emergency Fund
To qualify for a lower premium, you can increase your deductible. However, a high-deductible plan leads to more responsibility for costs upfront. It's possible to build an emergency fund large enough to cover your deductible. Then, if you don't need the insurance for services, you've saved money on premiums.
Tax-Advantaged Accounts
Another option is to use a flexible savings account (for employer plans) or a health savings account. Both of these accounts come with tax deductions. With a higher deductible, you can put your premium savings into an account and use them later for out-of-pocket costs. Just remember that money in a flexible savings account has to be used each year, or you lose it. A health savings account, though, rolls over each year.
Catastrophic Plan
If you meet the qualifications for a catastrophic plan, you can save quite a bit in premiums. Again, though, you may be responsible for other out-of-pocket costs. This type of plan works for someone who is relatively healthy and isn't likely to need much ongoing medical care. But an emergency fund or health savings account is important for backup.
Bottom Line
Healthcare costs continue to take a chunk out of Americans' budgets. U.S. residents with the lowest incomes spend about 10% of their income on premiums and out-of-pocket expenses, according to the Kaiser Family Foundation.2 And that's if everyone covered by the insurance policy is healthy. Understanding out-of-pocket expenses and how they impact your wallet is an important part of managing your budget.
Sources
1. U.S. Government Website for the Federal Health Insurance Marketplace. "Out-of-pocket maximum/limit." healthcare.gov (accessed January 27, 2023).2. Claxton, Gary, Bradly Sawyer and Cynthia Cox. "How affordability of health care varies by income among people with employer coverage." healthsystemtracker.org (accessed February 28, 2020).