What Is Telehealth?
Telehealth allows you to visit healthcare professionals electronically. Thanks to cell phones, computers, and wearable medical devices, you can receive quality care at your convenience. This is because telehealth services allow you to speak with a professional or even get a diagnosis through reliable video chat.
You won't have to plan for transportation when an unexpected illness or injury arises with telehealth. Some telehealth providers also offer services 24 hours a day. Affordable and convenient, real-time telemedicine lets you to improve your health wherever you are.
Will Your Health Insurance Plan Cover Telemedicine?
Many health insurers understand the benefits of telehealth. From early detection to wellness check-ins, telehealth can promote overall health, reducing medical costs down the road.
[bctt tweet="Health insurance plans continue to add video-based coverage and benefits as more telehealth services come online." username="HealthCareInc"]
In 30 states and Washington D.C., private insurance is required to reimburse you for telehealth services under the law. This means you'll still pay a copayment or coinsurance when you speak with a doctor, similar to a face-to-face doctor's visit.
Employer plans often include telehealth as a benefit. Double check with your health insurer to see if telemedicine is covered in your plan.
Separate Telehealth Companies: While some health plans include telehealth services, there are many online companies that provide telemedicine to everyone. They won't interfere with your insurance and oftentimes offer their own payment plans.
You should double check the quality of an online telehealth service before seeking care. Be sure that professionals are fully licensed to practice medicine in the U.S. and live in the States as well. Spend extra time to find a reputable and reliable company that you can trust with your medical records.
Medicare and Telehealth: Currently, Medicare Part B covers real-time telemedicine for patients who live in rural areas. Restrictions on reimbursements depends on the state you live in – if distance puts you at a disadvantage to receive traditional care, you can count on Medicare to help you pay for costs.
The CHRONIC Care Act has expanded telehealth services for individuals with Medicare. By doing so, healthcare providers hope to offer extended care without the hassle of going to the doctor.
Telehealth vs. Telemedicine: While telehealth refers to the broader scope of healthcare, telemedicine is specific to physicians who offer clinical services. Most patient-physician communication can occur through live video conferencing. This is known as real-time or synchronous telemedicine.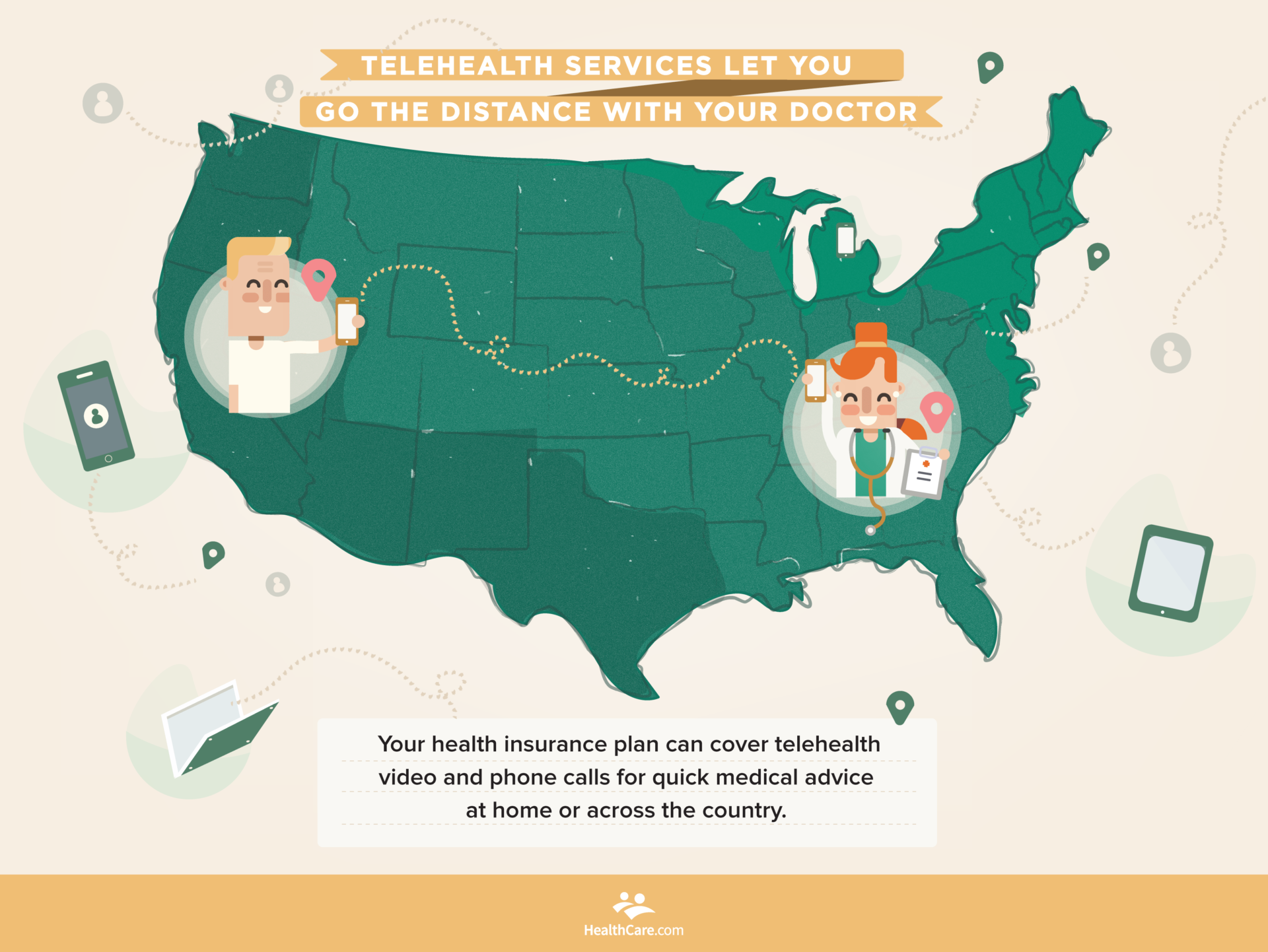 Common Medical Services Offered Through Telehealth
Physical and occupational therapy
Chronic disease management
Mental health counseling
Dermatology exams for burns, rashes, and moles
Physical exams for bruises and sprains
Health and symptom monitoring, such as blood glucose levels, blood pressure, and heart rate
General medical diagnoses, such as eye infections, cold and flu, and allergies.
With advancements in cameras and microphones, a doctor or nurse will be able to clearly see and hear you to give you an accurate diagnosis. He or she may be able to prescribe you medications, depending on your condition and their credentials.
Benefits of Telehealth Services
Telehealth and telemedicine can help individuals with specific conditions that affect their mobility – they can manage their illnesses from home. They also serve as a resource for those living in remote areas of the country, where access to healthcare may be difficult.
Medical professionals, such as surgeons, can use telehealth to check in with their patients after an operation. If you have any complications or concerns, you'll be able to get in touch with him or her to follow up.
You should not use telehealth services for emergency situations. Depending on the situation, a doctor on the phone may arrange an in-person visit for you.
Common Scenarios To Use Telehealth Services:
A patient with diabetes, a chronic illness, uses a glucose monitor to check blood sugar levels a few times a day. This information is electrically sent to their doctor for monitoring. If the physician notices an abnormal pattern or spike, he or she can speak with the patient to check in.
You accidentally twist your ankle and are unsure what to do or where to go. Telemedicine can help avoid an unnecessary and expensive trip to the emergency room. Instead, a video conference can help a doctor examine the extent of the injury and direct you from there.
A psychologist counsels people throughout the country with live video conferencing. If a patient is unable to seek in-person treatments, he or she can communicate with a licensed mental health professional over the phone, email, or video.
If your doctor has a online patient portal, you may be able to communicate and message with a nurse or primary care physician. You can likely request prescription refills as well as review your visit history as well as test results.
The Future of Telehealth
Telehealth continues to evolve and improve the delivery of information and quality of interaction. As the industry grows, patients can expect insurance companies to offer more coverage and benefits for services conducted virtually.
More doctors, nurses, and therapists are now learning how to help patients through digital platforms. Communication is key to a successful appointment with a doctor over video conferencing. Depending on your insurance plan and health condition, telemedicine can save you time and money while keeping you healthy.