The many dollar signs on a Medicare Summary Notice (MSN) might stand out to you – but there's no need to reach for your checkbook. Medicare Summary Notices are not bills. A Medicare Summary Notice is a detailed receipt for services you've already received.
MSN letters list all the care that Original Medicare covered for you over a 3-month period. MSNs will tell you what Medicare paid. They'll also list the maximum amount you may still owe.
Medicare Summary Notices are one of the most common types of Medicare mail you'll get. You'll receive separate MSNs for Medicare Part A, Medicare Part B, and durable medical equipment.
If you didn't file any Medicare claims for 3 months, then you won't receive an MSN for that time period. This goes for Part A or Part B MSNs.
How Do You Read A Medicare Summary Notice?
An MSN letter will include basic information about your recent claims.
Medicare Summary Notices will include the primary doctors and medical providers who attended to you. They will give you a precise update on the status of your annual Part B deductible or periodic Part A deductible. They'll also list whether your claims were approved (hopefully!) or denied.
If you have a Medicare Supplement or Part D drug plan that works with Medicare, your MSN will note that as well.
MSNs are similar to Explanation of Benefits (EOB) letters that are common on health insurance plans for people who still rely on Medicare Advantage or other private health insurance. They establish a record of your care, separate from billing purposes.
Do You Have To Do Anything Once You Get A Medicare Summary Notice?
You don't have to take action when you receive an MSN. Does this make them junk mail? Not in our opinion.
It's a good idea to check your MSN for errors. If your list of services doesn't match up with the care you remember receiving, then it may be time to follow up with the Medicare program.
Rejected Claims: If any of your claims were denied, an MSN will provide a jumping off point. Appeals forms are included with each letter. You'll also be able to show the letter to your doctor to ask for an explanation.
Can You Get Medicare Summary Notices Electronically?
MyMedicare.gov is the place to go for paperless Medicare Summary Notices. If you lose your MSN, you can reprint additional copies on MyMedicare.gov to your heart's content. "Going green" for eMSNs has the added benefit of freeing up your file cabinet.
[bctt tweet="Electronic Medicare Summary Notices ensure your coverage details will always be available." username="HealthCareInc"]
You can also sign up for email delivery of eMSNs that will replace your MSNs from the postal service. Electronic delivery will process your eMSNs each month instead of every 3 months.
Electronic delivery is a particularly important option for people who are concerned about fraud. Bad actors won't be able to get MSNs out of your mailbox, and you'll have quicker access to check your bill.
Here's How You Sign Up for Electronic Medicare Summary Notices:
Log into your account on MyMedicare.gov (if you don't have an account, you can create one).
Select "My Account" from the main menu.
Find the "User information" tab.
Click "Email and Correspondence Settings."
Find the "Electronic Medicare Summary Notices (eMSNs)" area, then select "Edit."
Select "Yes" and then "Submit."
How Do You Know a Medicare Summary Notice Is Real?
Check the Medicare logo on your envelope. Sometimes, your regional Medicare administrator (a private company) will be responsible for sending your MSN instead. There are scammers out there, but a Medicare Summary Notice is a weird thing to fake.
Example Medicare Summary Notices: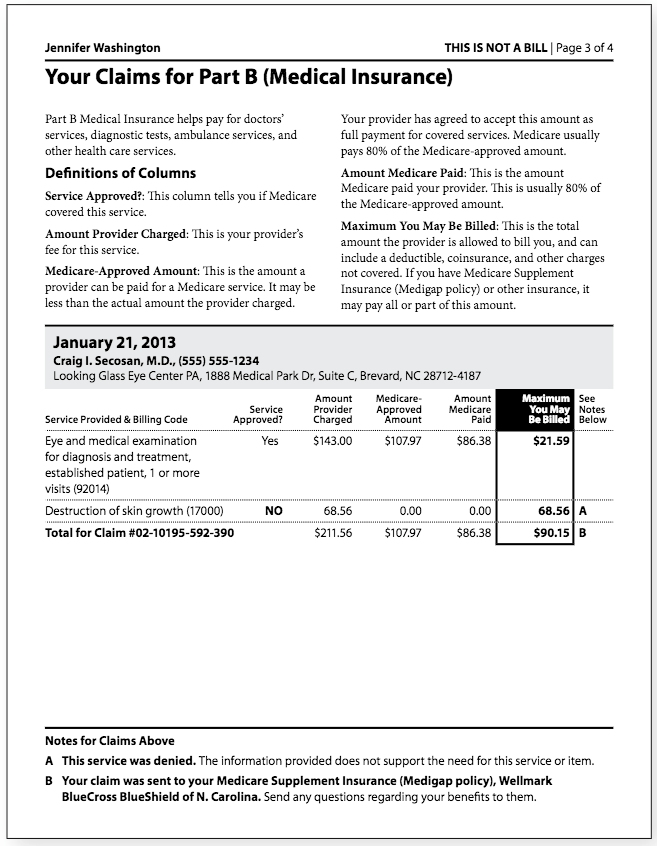 Supplemental Coverage and Medicare Summary Notices
Medicare Advantage (Part C): If you have a Medicare Advantage plan, then all your care (doctors, hospitals and RX) should be combined on one notice, called an Explanation of Benefits. This notice will be provided directly by your insurance company, but it will still arrive every three months. If you buy prescription medications on a monthly basis, it may come monthly instead.
Medicare Part D: Your Medicare Part D prescription drug plan will send you an Explanation of Benefits. EOBs are essentially the private equivalent of an MSN.
Medicare Supplement (Medigap): Per the example MSNs, Medicare will know that you have a Medicare Supplement plan, and will note it on your letter. That plan will be ready to pay your bills before you're ever charged.
How Long Should You Keep Medicare Summary Notices?
There's no "official" rule as to how long you should keep MSNs.
You're not required to retain them, so you can recycle your MSN as soon as you get it. Fortunately, it's also easy to get copies online.
For those of us who are a little more careful about keeping their records, there are three schools of thought: what Medicare says, what taxes say, and what you need to understand your own medical history.
Medicare

generally recommends that you keep notices for 1 to 3 years. It's extremely unusual that Medicare would follow up on anything older than that. And in any case, Medicare ought to have copies of your records.

Tax purposes

are generally a good index for document retention. In most cases, the IRS can't audit you after 3 years have passed. In rare cases, you may need to document deductions or keep records on file for up to 7 years. That's really the maximum.

For your own sake

, do what you're comfortable with. Anything that helps track your doctor visits and hospital procedures can be helpful. Keep MSNs for as long as you feel it's necessary to remember your medical history.
If you change your address, you visit Social Security or call 1-800-772-1213 to make sure that MSNs keep coming your way.