Medigap plans – otherwise known as Medicare Supplement insurance plans – are a valuable part of your complete Medicare coverage. These plans pay for the coverage "gaps" that Original Medicare (Medicare Part A and Medicare Part B) doesn't take care of, at a low monthly cost. Unlike Original Medicare, which comes from the federal government, Medigap plans are purchased through private insurers.
Get a Free Medicare Quote
Get an instant quote for Medicare plans
Compare prices from over 70 carriers
Find a plan that fits your budget
How Do I Decide Which Medigap Plan Is Right for Me?
It is important to compare the different types of Medigap plans. There are 10 types of Medigap plans, each with benefits defined by the federal government.
It's a good idea to compare as many plans as possible. You should learn about which plan you're most comfortable with using a search tool like HealthCare.com's plan selector.
Medicare plans are accepted by most medical professionals. Each plan will have pricing and plan documentation available that you can compare.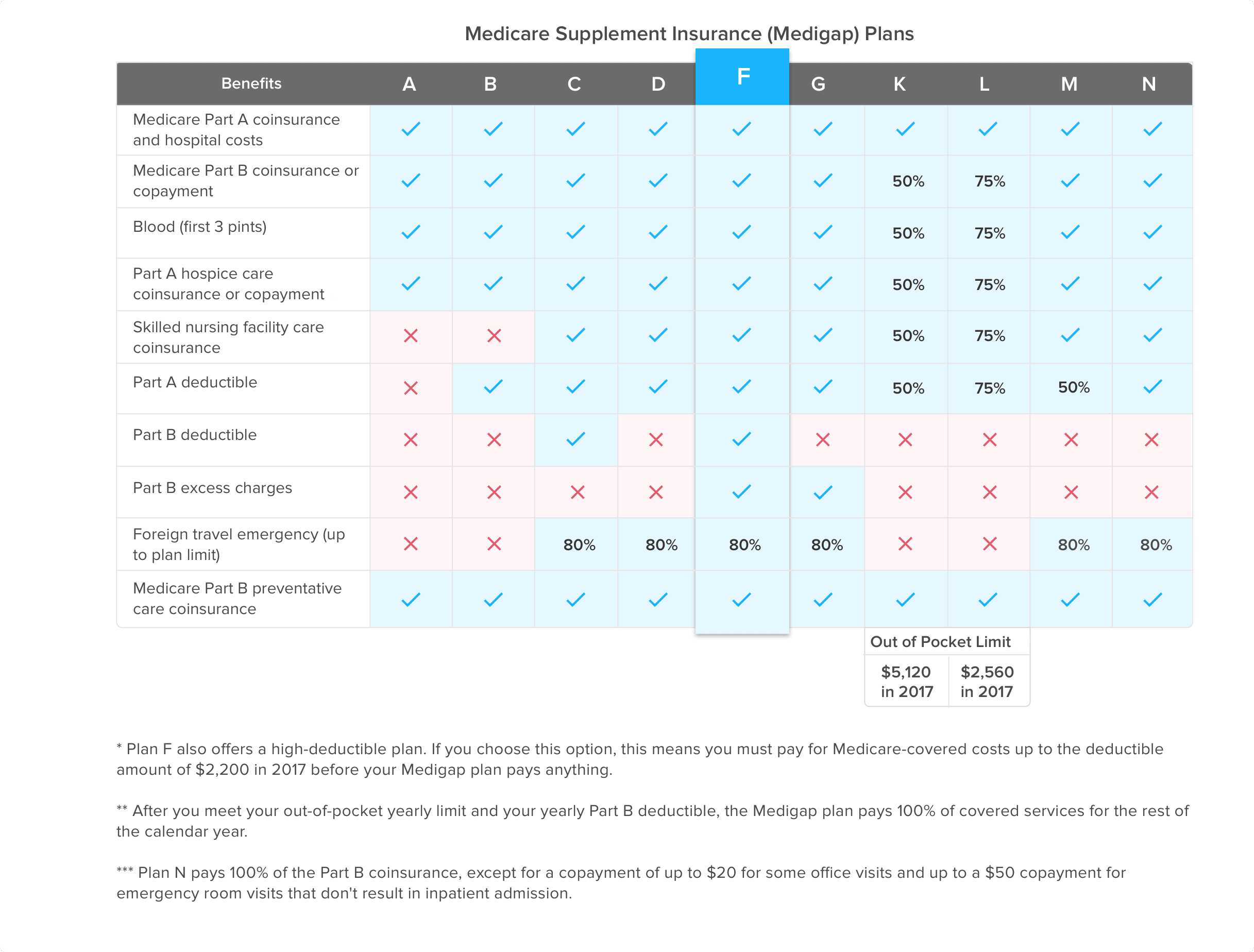 When Is the Best Time to Apply for Medicare Supplement?
You Must Apply During Open Enrollment
Regulators make it difficult to enroll in a Medicare Supplement plan if you don't apply during the 6-month window known as an Open Enrollment Period. To protect yourself from uncontrollable medical expenses, it's important to apply for a Medigap plan as soon as possible. While Medigap plans are operated by private insurance companies, the Open Enrollment Period is mandated by the federal government. If you wait too long, insurance companies will no longer be required to cover you.
You Can Still Get Coverage Outside Open Enrollment, but at Higher Costs
If you do happen to miss the open enrollment deadline, many insurers will still offer you coverage; however, insurers will be free to deny you or charge you higher monthly payments. Applying early makes the difference between having affordable Medigap coverage for life, or being unable to get coverage in the future.
Do I Need to Apply for Medigap Every Year?
If you pay your premiums continuously, you do not need to renew your Medigap coverage every year.
Get a Free Medicare Quote
Get an instant quote for Medicare plans
Compare prices from over 70 carriers
Find a plan that fits your budget
When Is Medicare Supplement Open Enrollment?
During open enrollment, Medigap insurers are required to sell you any plan they offer at the most favorable terms. This means that insurers must charge you the lowest available rate without regard to your pre-existing health conditions.
Your Medigap Open Enrollment Period Starts When You Are:
1)    65 years or older AND
2)    covered under Medicare Part B.
Your Open Enrollment Period Lasts for Six Months:
Your Medicare Supplement Open Enrollment Period lasts for six months, starting from the 1st day of the month when you're both 65 and join Medicare Part B.
If you get Medicare Part B before you turn 65, then your Medigap Open Enrollment Period starts the first day of the month you turn 65.
Example: You enroll in Medicare Part B when you're still 64-years-old. Your birthday is on August 8th. This means that your Medigap Open Enrollment Period starts August 1st (the first day of the month when you turn 65) and lasts until January 31st.
If you wait until you turn 65 to enroll in Medicare Part B, then your Medigap Open Enrollment Period starts once you enroll in Part B. This is where things can get complicated because the Open Enrollment Period must begin on the first day of the month.
Example A: You're already 65 and you sign-up for Medicare Part B on June 1st. This means that your Medigap Open Enrollment Period is from June 1st to November 30th.
Example B: You're already 65 and you sign-up for Medicare Part B on June 14th. This means that your Medigap Open Enrollment Period doesn't start until July 1st and it lasts until December 31st.
If you only meet one of the above open enrollment conditions, then you don't have to worry about Open Enrollment just yet. For example – if you're 66-years-old but have never enrolled in Medicare Part B because you are currently covered by a group health plan, then your Open Enrollment Period will only begin once you leave the group plan and enroll in Medicare Part B.
*Remember, Part B is not the same thing as Plan B. Part B is Original Medicare – managed by the federal government – while Plan B is a type of private Medigap plan.
Medigap Open Enrollment Happens Only Once:
You may be used to re-applying for health coverage every year if you bought private health insurance before enrolling in Original Medicare. Your Medicare Supplement Open Enrollment Period only comes once per person. Don't miss out!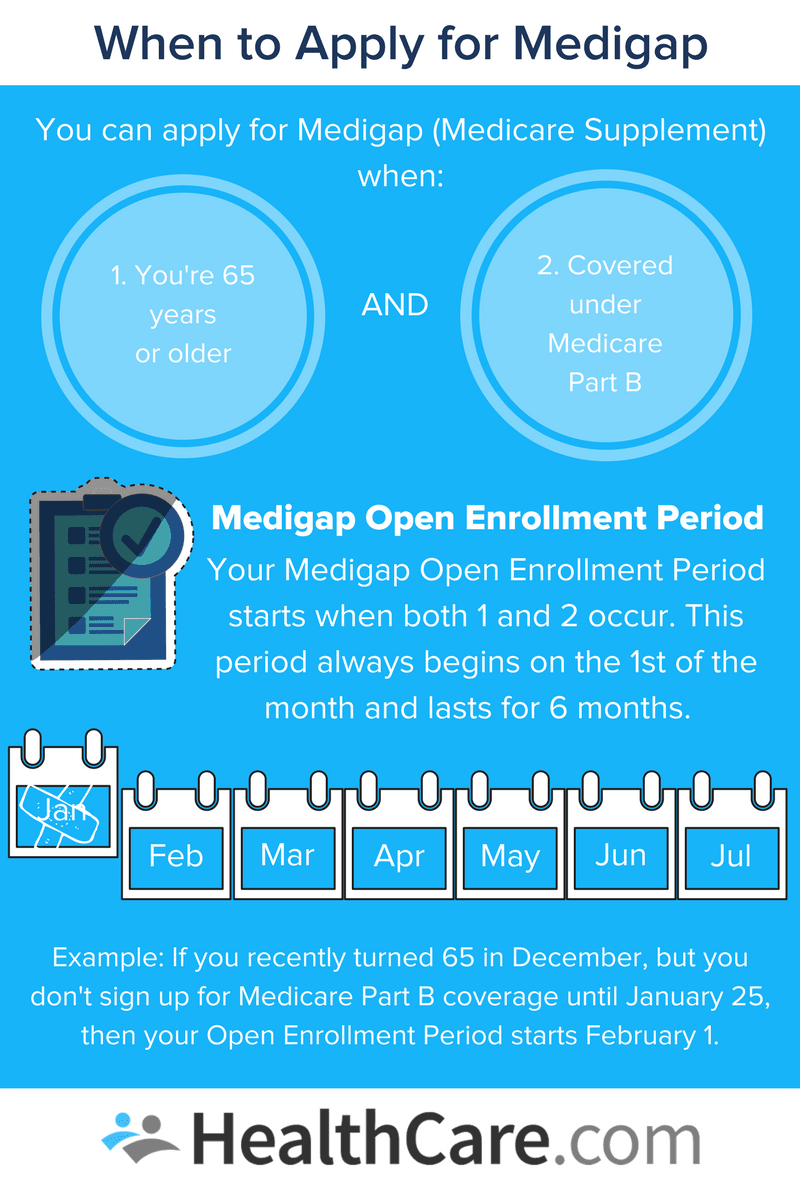 Should I Wait to Apply for Medigap?
You apply once your Medicare Supplement Open Enrollment Period begins. The actual application process is short and easy, but you don't want to rush into a decision.
Enroll as soon as possible to avoid running into any issues closely tied to your health. While your Medicare Supplement plan can't pick and choose which health issues to cover, your plan can delay coverage for conditions that were diagnosed or treated during the six months before you enroll, for up to six months after you enroll.
You may be healthy when considering whether to enroll, but it's important to be ready for coverage in case your previous health issues flare up. However, your plan cannot delay coverage for pre-existing conditions if you had continuous and comprehensive "creditable coverage" for the 6 months before you enrolled.
*If you or your partner has group health coverage through a union or employer – and you want to keep that coverage for now – then you will not be penalized for waiting to apply to Medigap. You will have to check with your benefits manager to see if your plan conflicts with open enrollment.
What If I Can't Afford Medigap at This Time?
As we age, it's increasingly likely that we will incur very high medical bills. Medigap plans ease this by covering up to 100 percent of common medical expenses – including coinsurance, deductibles, hospice care, and excess charges. On top of providing a benefit to your health coverage, buying a Medicare Supplement plan is a sound financial decision.
All Medicare Supplement Plans except for Plan A are far less costly than they appear, as they cover the payment for your Medicare Part A deductible. Plans C & F cover your Part B deductible as well.
Monthly Premiums Are Far Less Costly Than Paying Out-Of-Pocket for an Unexpected Medical Issue
Of course, no one likes paying monthly premiums, but Medigap benefits are extremely generous. In fact, half of Medicare Supplement enrollees make less than $30,000 per year. To give a better idea of how much you could save on out-of-pocket costs by purchasing a Medigap plan, here are a few hypothetical situations:
Example A: You accidentally fracture your hip (90 percent of hip fractures happen to people over the age of 65).
The hospital you visit ensures that every one of your doctors and caregivers participates in Medicare. With Original Medicare, you'd be responsible for paying your deductible, plus 20 percent of the $65,000 average cost. Including an ambulance, surgery, physical therapy, and medical equipment, you would owe at least $13,000.
With Medigap Plan F, you'd simply pay an average of $2,400 per year in premiums, no matter how high the cost of treatment becomes.
Example B: You have unusual chest pain and make the smart choice to rush to the emergency room. You're admitted to your local nonprofit hospital and observed for two days.
It turns out to be nothing, but the bills for your inpatient care are off-putting: $4,578 on average. With just Original Medicare, you would have been on the hook for $1,062 ($879 for 20 percent of the cost, plus a $183 deductible for each stay). Under some Medigap plans, your hospital stay would cost you nothing.
What Are "Guaranteed Issue Rights"?
When you have guaranteed issue rights (also called "Medigap protections"), your Medicare Supplement insurance providers are required to offer you a policy. They cannot deny coverage for pre-existing conditions or charge you higher rates. Everyone is granted guaranteed issue rights during their Medigap Open Enrollment Period.
There are also special circumstances where guaranteed issue rights re-apply, such as:
Residency in California, Connecticut, Maine, Missouri, New York, or Oregon during certain times of the year;
Issues with your existing Medigap plan, including service area changes or plan closure;
Misleading information sent from your Medicare Supplement issuer; and
Deciding to cancel a Medicare Advantage or Medicare SELECT plan after less than one year.
Guaranteed Issue Rights When Your Medigap Plan Ends: If you act within two months of losing your Medicare Supplement coverage through no fault of your own, you probably have a guaranteed issue right to purchase new Medigap coverage. It's like a second Open Enrollment Period, without regard to your age or health conditions.
How Long Does the Medigap Application Process Take?
You will need basic personal information about yourself and your existing Medicare coverage to apply for Medigap. Medigap policies can only be sold by licensed insurance agents. These agents are trained to make the process as easy as possible, on the phone or online.
Once you select a specific Medicare Supplement plan, the application process should take less than an hour. It would be a mistake, though, to wait until the last minute to select a plan.
Can I Apply for Medigap If I Receive Medicare and Am Under 65 Years Old?
Not all states require Medigap plans to cover persons under 65 years old. According to the Centers for Medicare & Medicaid Services, 31 states require insurance companies to offer plans to people under age 65 who otherwise qualify for Medicare.
Can I Get Medigap If I Have Medicare Advantage?
Medicare Advantage is a private program that combines Medicare Part A & Medicare Part B coverage with some Medigap-like benefits. You cannot have both Medigap and Medicare Advantage coverage at once.
You can switch from Medicare Advantage to Original Medicare during the Annual Election Period, which lasts from October 15 through December 7.
In some circumstances, if you have tried Medicare Advantage for less than a year and would prefer to switch to Original Medicare with a Medigap plan, you have guaranteed issue rights. You can then purchase any Medigap plan in your state on the most favorable terms.
Can My Spouse Get Coverage Under My Medigap Policy?
Unlike health insurance for people under the age of 65, Medicare Supplement plans will not cover your spouse or other individuals in your household. They will need to apply on their own for Medigap coverage.
How Do I Know If I'm Covered?
Once you enroll in a Medigap plan, your insurer will mail you materials. If you have an email account, you may receive immediate confirmation of your coverage.
Consider your health needs when deciding which Medicare Supplement plan is right for you. Then, call a broker via HealthCare.com to get more information about plans in your area.
For More Reading:
To Get Medicare Supplement Quotes:
Learn more about local Medicare Supplement providers using HealthCare.com's Medigap comparison engine.
Get a Free Medicare Quote
Get an instant quote for Medicare plans
Compare prices from over 70 carriers
Find a plan that fits your budget