Researched by licensed + unbiased insurance experts. Learn More
Medicare, the federal insurance plan for seniors, provides healthcare coverage for Americans 65 and older. Although it's the most widely-used health insurance plan in the United States, Medicare never fails to confuse many pre-retirees who are approaching their 65th birthday.
If you find yourself in a situation where you need to be hospitalized, Part A should take care of most of the costs associated with your hospital stay. Medicare Part A (along with Part B) makes up "Original Medicare", which is provided by the federal government. Most doctors take Part A, and nearly all eligible American seniors are enrolled in Original Medicare.
The Four "Parts" Of Medicare
Medicare is divided into four different parts, designated with letters A, B, C, and D.

Medicare Part A is hospital insurance. It covers hospital stays and services provided by skilled nursing facilities.
Medicare Part B is outpatient medical insurance. Part B coverage applies whenever you see your doctor or obtain preventative care.
Medicare Part C, known as "Medicare Advantage," provides coverage to seniors through private insurance companies, contracted by the federal government.
Medicare Part D provides prescription drug coverage.
Important Terms to Know
Original Medicare: Referring to Medicare Part A and Part B altogether.
Benefit Period: The time period during which a patient is hospitalized for an extended stay. Also referred to as "spell of illness." A benefit period starts on the day you are admitted to the hospital. A benefit periods ends when you have been out of the hospital for 60 days in a row and and didn't receive any Medicare-covered skilled care throughout all 60 days. There is no limit to the number of benefit periods you can have. There is also no limit to how long a benefit period can last)
Part A Deductible: Instead of operating in yearly cycles, Part A deductibles apply to each benefit period.
Who Is Eligible for Medicare Part A Coverage?
If You're 65 Years and Older:
The main group for which Medicare was set up. To qualify, you'll need to fulfill two requirements:
You must have been a U.S. citizen or permanent resident for more than 5 years, AND
You must have paid Medicare taxes for at least 10 years.
If You're Younger and 65 Years Old:
There are few cases where people under the age of 65 are eligible to get Medicare benefits. To qualify, you'll need to belong to one of three groups:
You're permanently disabled and you've received Social Security Disability Insurance (SSDI) for at least the last two years; OR
You're suffering from end-stage renal disease (ESRD)/end-stage kidney disease and need to undergo continuous dialysis or need a kidney transplant; OR
You receive Social Security disability benefits for amyotrophic lateral sclerosis (ALS)/Lou Gehrig's disease.
What Does Medicare Part A Cover?
Inpatient Hospital Care
Medicare Part A coverage includes inpatient hospital care at any of the following types of facilities:
General hospitals;
Long-term care hospitals;
Acute care or critical access hospitals;
Rehabilitation facilities (inpatient); and
Psychiatric hospitals.
Hospital coverage includes: Semi-private rooms; meals; general nursing care, medications administered during your hospital stay, additional hospital services or supplies that are medically necessary for your care.
Skilled Nursing or Rehabilitation Facilities
Part A coverage for a temporary stay in a skilled nursing facility (SNF) is subject to strict criteria: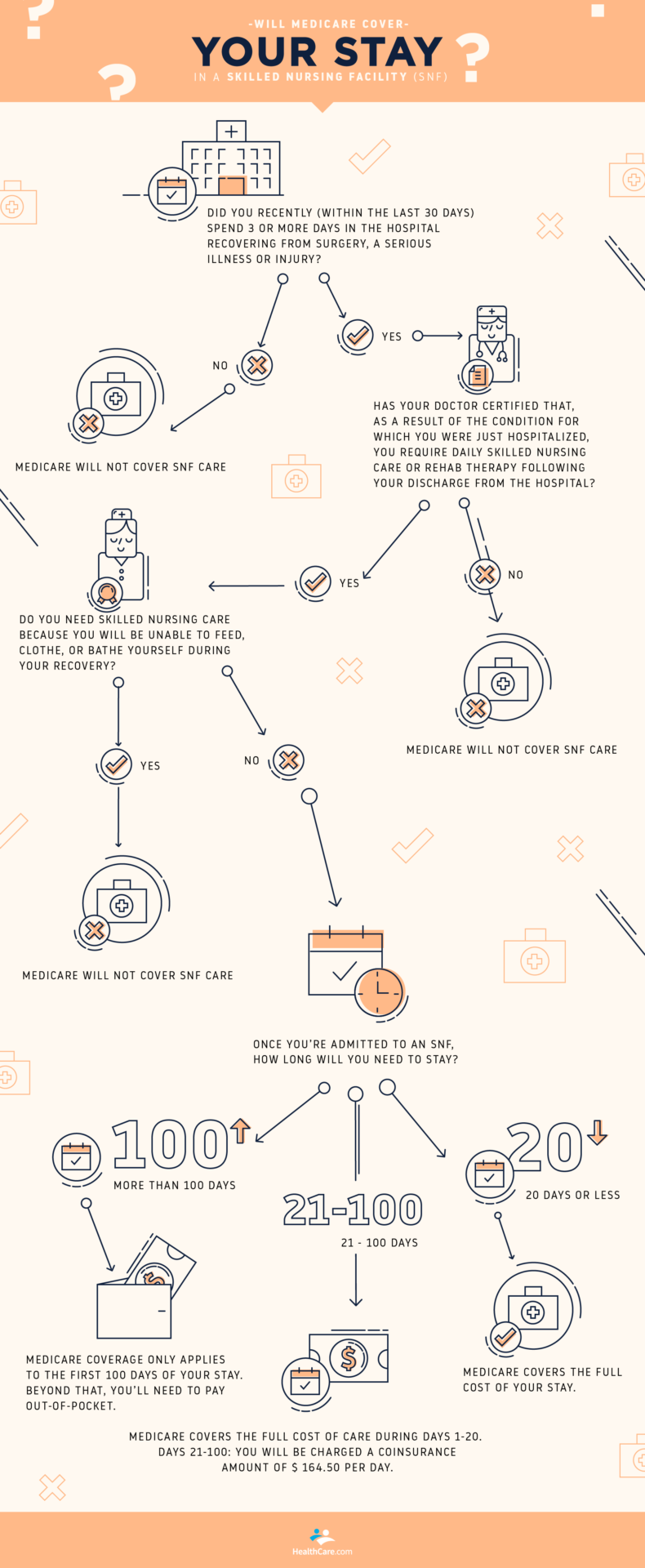 Your stay at the SNF must come within 30 days of a hospital visit AND that hospital visit should have lasted at least three days. (For example, if you were admitted into a hospital on July 1st, you would have had to stay at that hospital until at least July 4th. If you're required to go to a skilled nursing facility afterwards, Medicare will cover your nursing home costs only if you check-in to an SNF between July 4th and August 3rd).
The first 20 days are fully covered, but days 21 to 100 require that you pay $164.50 in coinsurance.
You're covered for up to the first 100 days of your stay at a skilled nursing facility, but ONLY if you require a "skilled need" or skilled nursing care – on average, Medicare covers about 20 days. (For example, if you need injections or physical therapy for a period of time, Medicare will contribute to your costs at an SNF but only up until you need skilled nursing care and as long as it's less than 100 days).
Hospice Care
Part A covers hospice services for terminally-ill patients, which can be administered at home or in an inpatient hospice facility. You are eligible for Part A hospice coverage if:
You have a terminal illness (with a life expectancy of six months or less) or
You agree to accept hospice care in lieu of other Medicare-covered treatments.
There is no deductible or copayment for hospice care; medications are subject to a flat-fee copay.
Home Health Services
Medicare Part A covers short-term home health services, including:
Physical therapy,
Occupational therapy,
Speech therapy, and
Intermittent skilled nursing care if you are homebound.
What Is Not Covered by Medicare Part A?
Part A covers many procedures and services during hospitalization, but it doesn't cover:
Eye examinations related to prescribing glasses;
Dentures;
Cosmetic surgery;
Acupuncture; and
Hearing aids and related exams.
How Much Does Medicare Part A Cost?
Premium (Cost Per Month)
Monthly premiums for Part A are $0 for people who have worked long enough to qualify for Social Security benefits (people who paid Medicare taxes for at least 10 years). People who don't qualify for Social Security (those people who didn't pay Medicare taxes) pay a monthly premium for their Part A coverage.
Deductible
For each hospital stay, Medicare Part A beneficiaries need to fulfill a Part A deductible (a fixed amount paid out-of-pocket) before Medicare begins to cover the cost of that hospital bill. For benefits associated with skilled nursing facilities, home health services, or hospice care, Medicare beneficiaries do not have to pay a deductible.
Coinsurance
The percentage of a hospital bill which the patient pays his or herself. For a $400 hospital bill with 10 percent coinsurance, the patient would pay $40 and the patient's insurance plan would pay $360.
How Does Medicare Part A Interact with Other Medicare Programs?
Part A and Part B:
Part A and Part B are a standard part of every Medicare Plan. Original Medicare – Part A (hospital insurance) and Part B (medical insurance) – are complimentary. Parts A and B coverage do not overlap.
Since Medicare Part B comes with a monthly premium cost, some people choose to delay enrollment in Part B. There is no penalty for delaying enrollment in Medicare Part B if you or your spouse have other coverage through an employer.
If you enrolled in Part A and delayed signing up for Part B, you can enroll in Part B during a Special Enrollment Period (SEP). Your SEP begins at any point before you or your spouse stops working and ends eight months after you or your spouse retires, and your coverage through your job discontinues.
Part A and Medicare Supplement (Medigap):
Part A and Medicare Advantage (Part C):
Medicare Part C is not a separate benefit; rather, it's an alternative to Original Medicare. Part C enables private health insurance companies to provide Medicare benefits through what are known as Medicare Advantage plans. That is, you can choose to get your Medicare coverage via a Medicare Advantage Plan instead of through Original Medicare.
Medicare Advantage Plans must offer at least the same benefits as Original Medicare (those covered under Parts A and B), but may stipulate different rules, costs, and coverage restrictions.
Part A and Part D (Prescription Drug Coverage):
If you have Original Medicare (Part A and Part B), Medicare Part D isn't automatically included. You obtain Part D coverage by enrolling in a stand-alone Medicare Part D Prescription Drug Plan that works alongside your Original Medicare benefits.
How Do I Enroll in Medicare Part A?
If you're under 65 years old and have received Social Security Disability Insurance (SSDI) for the past 24 months:
You will be automatically enrolled in Medicare Parts A and B at the beginning of your 25th consecutive month on SSDI.

If you are immediately eligible due to ALS or ESRD, you will be automatically enrolled in Part A & B once your benefits begin.

Your Medicare ID card should arrive in the mail around 90 days before your Medicare start date.
If you're already receiving Social Security or disability benefits when you become eligible for Medicare (i.e. upon turning 65 years old):
You will be automatically enrolled in Medicare Parts A and B, and coverage takes effect on the first day of the month you turn 65. An exception to this occurs if your birthday falls on the 1st of the month. In that case, your Medicare coverage will start one month prior to your birthday (i.e. if you turn 65 on May 1st, your Medicare coverage will start April 1st).
Your Medicare ID card should arrive in the mail ~90 days prior to your Medicare start date.
If you aren't receiving Social Security when you become eligible for Medicare (i.e. upon turning 65 years old):
If you don't currently receive Social Security benefits, don't expect to be notified when it's time for you to sign up. Your enrollment in Medicare isn't automatic–you will need to apply for Part A coverage.
You can apply online on the Social Security website, or over the phone by calling the Social Security Administration at +1 (800) 772-1213.
Enrollment Periods: When Can I Sign Up for Medicare Part A?
Initial Enrollment Period
If you aren't receiving Social Security and don't have health insurance through an employer (either your own or your spouse's) upon turning 65 — you must enroll in Medicare during your Initial Enrollment Period (IEP).
The IEP is a seven-month period; the fourth month being the one in which you turn 65.
You can enroll in Medicare starting up to three months before your 65th birthday and your window to sign up ends three months following your 65th birthday. (eg. If your 65th birthday is April 20, your IEP begins January 1 and ends July 31)
Special Enrollment Period
If you delayed Medicare enrollment after turning 65 because you were insured through an employer for whom you or your spouse was still actively working — you need to sign up for Medicare during a Special Enrollment Period (SEP).
The SEP allows you to sign up for Medicare starting at any point before your or your spouse's employment draws to an end, up until eight months following your (or your spouse's) retirement.
If you are younger than 65 and lose your employer-sponsored health coverage when your older spouse retires and signs up for Medicare, you will need to find separate coverage for yourself.
General Enrollment Period
If you declined to enroll in Part A and/or Part B when you were first eligible, then you can sign up during a General Enrollment Period.
The General Enrollment Period lasts from January 1 through March 31.
You'll sign up using the same process as a first time Medicare enrollee, but you may have to pay higher premiums for delaying coverage.
Taking the Next Steps
If you're looking for a little more coverage, consider adding a Medicare Supplement plan to your Medicare coverage. Medigap can help with costs like the Medicare Part A deductible and coinsurance.
For More Reading: