Researched by licensed + unbiased insurance experts. Learn More
Medicare is a federal social insurance program that provides health insurance for senior citizens and some disabled individuals. Unlike Medicaid, which is backed by a joint effort between federal and state governments, Medicare is exclusively backed by the federal government. Because of this, the eligibility requirements and policies are the same for people regardless of where they live in the United States.
What Are the Different Parts of Medicare?
There are four different parts to Medicare, ranging from Part A to Part D. But to make better sense of it, it's more helpful to break them down into three different groups: Original Medicare (Part A and Part B), Medicare Advantage (Part C), and Part D. "Original Medicare", which is comprised of Parts A and B, were established together, preceding the later additions of Parts C and D.

Who Is Eligible for Medicare?
People who qualify can be separated into two age groups:
65 Years and Older
This is the main group for which Medicare was set up. In order to qualify, though, you'll need to fulfill two requirements:
You must have been a U.S. citizen or permanent resident for more than 5 years, and
You must have paid Medicare taxes for at least 10 years.
Under 65 Years and Under
In limited cases, some groups under the age of 65 are eligible to get Medicare benefits. In order to qualify, you'll need to fall under one of these three groups:
You're permanently disabled and you've received Social Security Disability Insurance (SSDI) for at least the last two years; or
You're suffering from end-stage renal disease (ESRD)/end-stage kidney disease and need to undergo continuous dialysis or need a kidney transplant; or
You receive Social Security disability benefits for amyotrophic lateral sclerosis (ALS)/Lou Gehrig's disease.
Medicare Part A: Hospital Insurance
Medicare Part A Covers:
Inpatient hospital care;
Stays in hospitals and skilled nursing facilities (there are limits on time);
Home healthcare services (like home health visits);
Hospice care; and
Any necessary medical supplies and drugs administered during your stay.
Things That Part A Doesn't Cover:
Any doctors fees associated with the care you receive during your hospital stay;
Hospital fees deemed medically unnecessary (personal care items, private duty nursing, or having a TV or phone in your room); and
Prescription medication (and supplies).
Costs:
Each of the benefits under Part A are subject to costs either in the form of a deductible or co-pay/co-insurance depending on the length of your inpatient care.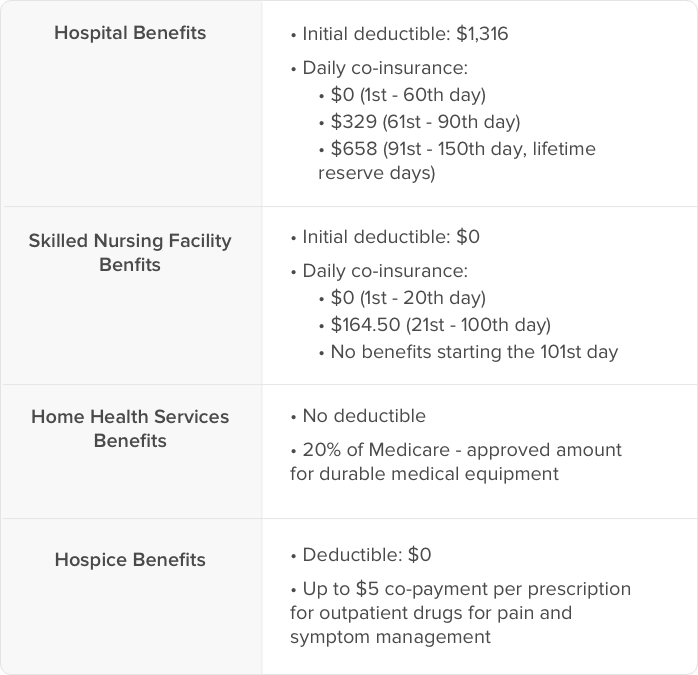 Additionally, if you haven't worked at least 10 years in the United States (and paid Social Security taxes along the way), then you'll have to pay a monthly premium for Part A.
Medicare Part B: Medical Insurance
Medicare Part B Covers:
Outpatient medical services;
Coverage for physician services and routine doctor visits;
Preventive care and services (like flu shots and mammograms);
Home health visits;
Equipment or tests administered during outpatient services; and
Medication administered during outpatient visits.
Things That Part B Doesn't Cover:
Prescription medication (and supplies).
Costs:
There are three different costs associated with Part B:
Monthly Premium: Ranges from $134 to $428.60 depending on your level of income;
Annual Deductible: $183; and
Co-Insurance/Co-Pay: 20% of covered medical services.
Medicare Part C: Medicare Advantage
Medicare Part C was established in 1997 and, for the first time, gave folks the choice to opt out of government-provided Original Medicare (Parts A and B). People with Medicare Part C instead choose a Medicare-approved private insurer to give them the benefits that Parts A and B provide, plus some additional coverage.
Essentially, Part C gives consumers an option: either go with Original Medicare or go with Medicare Advantage. Some people choose Part C because they see Original Medicare as having too many coverage gaps.
Another option to consider, though, is to purchase a Medigap plan on top of Parts A and B. To sort out which is the best option for you, read more about the differences between Medicare Advantage and Medigap.
Medicare Part C Covers:
Everything covered by Parts A and B;
Likely will cover prescription drug coverage; and
Possibly additional benefits or services (like hearing, vision, and dental services) depending on the private health plan you choose.
Things Part C Doesn't Cover:
Coverage will vary depending on the private health plan, so you'll need to review the coverage details per your specific insurer.
Costs:
Because Medicare Advantage plans are provided by private insurers, costs will vary between plans. The federal government pays these insurers a fixed amount per month, but consumers still have to pay the following:
Part B Monthly Premium: $134 to $428.60 depending on your level of income;
Additional Monthly Premium: this cost varies depending on the private health plan you have;
Annual Part B Deductible: $183;
Additional Annual Deductible: Some plans may charge an additional annual deductible, but only few plans do this; and
Co-Insurance/Co-Pay: Varies plan-to-plan depending on the coverage.
Medicare Part D: Prescription Drug Coverage
Medicare Part D is voluntary and is actually a separate policy that you can buy from a Medicare-approved private insurer. Part D provides coverage for the most common generic and brand name prescription plans, but because it's through your choice of private insurer, the list of which medications are covered can vary from one plan to the next.
Medicare Part D Covers:
Outpatient prescription drug coverage.
Things Part D Doesn't Cover:
Everything else under Parts A and B.
Costs:
In a word: complicated. We'll go into this into a separate post, but there are a few primary costs to Part D:
Monthly Premium: This varies depending on the private health plan you've chosen;
Annual Deductible: Again, this amount depends on the private insurance you've chosen to purchase;
Co-Insurance/Co-Pay: Often 25% of the costs of your drugs, but can vary depending on your private health insurance plan; and
Costs in the Coverage Gap/"Donut Hole": This is where things get complicated. Once you've spent $3,700 on prescription medication covered under your private insurer, you get into a coverage gap where you're responsible for a higher percentage of a drug coverage costs.
Enrolling In and Paying for Medicare
How Do You Enroll in Medicare?
Enrollment in Original Medicare is automatic once you turn 65 (and have already been getting benefits from Social Security). If you have ALS or some disability where you get disability benefits, you're automatically enrolled in Parts A and B once your disability benefits begin. In most other cases you have to enroll through Social Security.
Medicare is funded by the federal government through the Social Security Administration. In addition, you yourself pay for the premiums for Part B and optional costs if you decide to enroll in Part D.
Mark your calendar for enrollment in Medicare, and for enrollment in add-ons like Medicare Supplement or Medicare Advantage.
For More Reading: