Researched by licensed + unbiased insurance experts. Learn More
Deciding to enroll in Original Medicare – Part A and Part B – is an easy choice for most Americans. Usually, your next step will be to select a secondary insurance policy that covers out-of-pocket copayments and other gaps in your Original Medicare coverage. Often, this comes down to choosing between Medicare Advantage or Medicare Supplement.
Among all Medicare beneficiaries, 86 percent have some kind of supplemental coverage. There are two main types of supplemental insurance. The time-tested and widely-available model for Medicare beneficiaries is Medicare Supplement, also known as Medigap. A newer and more flexible option called Medicare Advantage – formally known as Medicare Part C – is increasingly popular. You have to decide which one is right for you.
Comparing the Plans: Medicare Advantage Vs Medigap
Both Medicare Part C and Medigap plans will complement your Medicare coverage in different ways.
Medicare Supplement (Medigap) plans are offered by private insurers, but their rules and benefits are set by the government. These plans pay more of your Medicare bills, but do not replace your Original Medicare. There are 10 types of Medigap plans, which are standardized so that plans within each level provide the same exact coverage. For example, all Plan L policies – regardless of which company offers them – must provide the same exact benefits.
Medicare Part C (Medicare Advantage) plans operate more like traditional health insurance than Original Medicare. They're also run by private companies, and they may create their own premiums, deductibles, copayments, and physician referral systems. At a minimum, Part C plans must cover everything that Medicare Part A & B does. If you choose to enroll in Medicare Part C, it will replace your Part A & B coverage.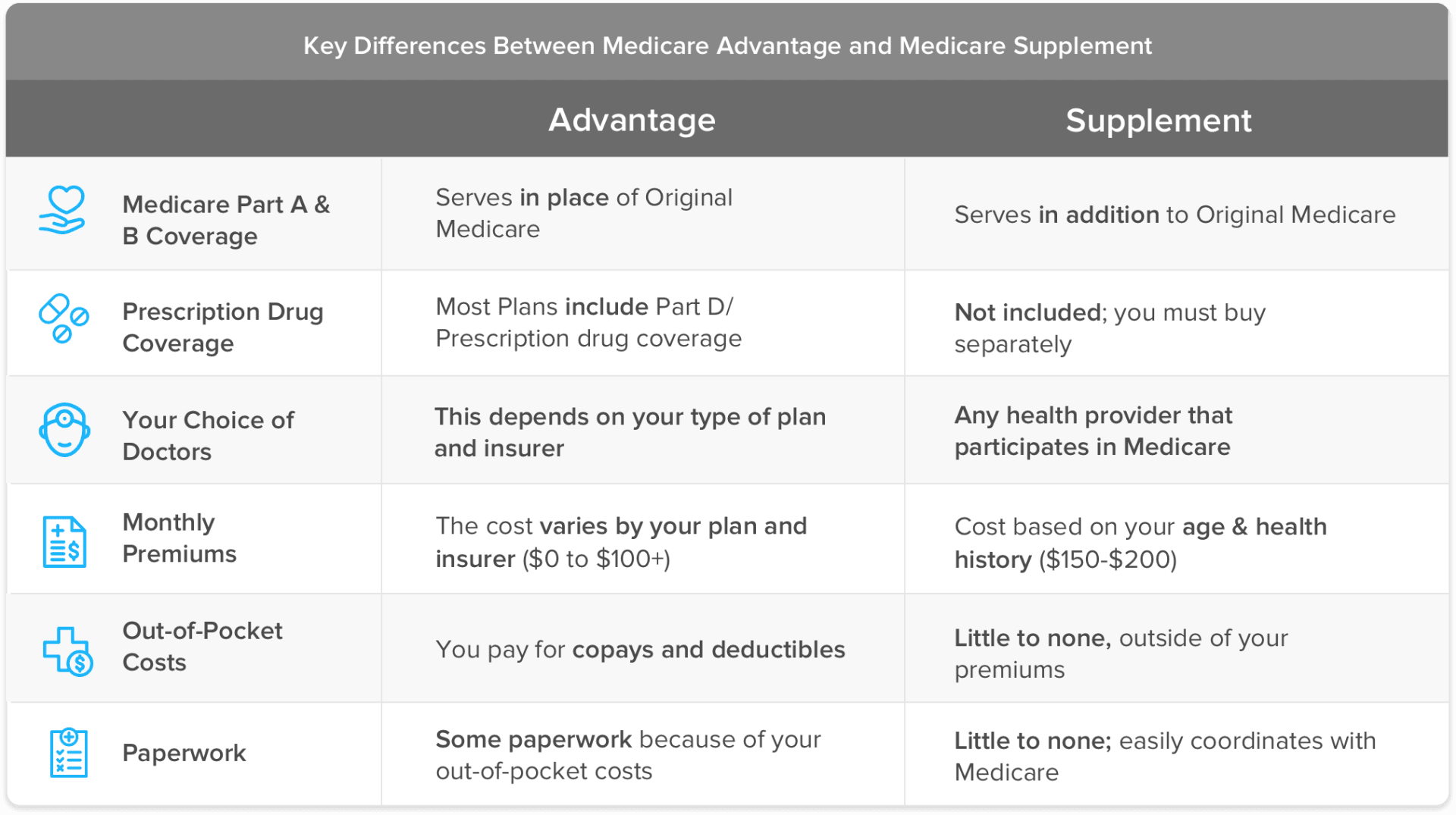 Medigap or Medicare Advantage: 5 Factors to Consider
Cost
You have to decide between the lower upfront costs typically offered by Medicare Advantage, or the lower out-of-pocket limits and copayment relief typically offered by Medigap. Both plan types share your cost of care in different ways.
Medigap: The average cost of Medigap Plan F – the most expensive and most common Medicare Supplement plan, which covers over 50 percent of Medicare Supplement enrollees – is $236 per month. With Plan F, you aren't liable for deductibles, copayments, or excess charges. When you don't need frequent or regular medical care, these costs can seem like a tough pill to swallow.
Medicare Advantage: The average cost of a Medicare Advantage plan is $65 per month, and it's possible to enroll in a Medicare Advantage plan with no monthly premiums. Part C plans hold you responsible for copayments and deductibles as in traditional insurance, and medical bills will be paid according to the specific rules of your plan. Your out-of-pocket costs for care (not including prescription drugs) under any Medicare Advantage plan will be limited to $6,700 per year as of 2017. Some plans adopt even lower out-of-pocket limits.
Coverage and Benefits
Would you rather see any doctor who accepts Medicare, or have a smaller selection of doctors with additional specialties that Original Medicare doesn't cover?
Medicare Advantage: Medicare Advantage plans are subject to smaller doctor networks. Some Part C plans let you choose any doctor that accepts the plan's payment rate, while some offer you a network of doctors. However, fewer doctors are accessible through a Medicare Advantage plan compared to Medigap.
The most basic Part C plans cover your Original Medicare benefits and simply apply an out-of-pocket limit. More expensive Part C plans generally give you benefits that Medigap can't provide. These Medicare Advantage plans may cover hearing aids, dental care, glasses, fitness center memberships, and other health-related needs for an additional premium.
Medigap: In contrast, Medigap plans won't include extra bells and whistles. Medicare Supplement insurers are focused on paying excess Medicare costs, and can't add extra services to their coverage.
The most basic Medigap plan (Plan A) covers your Original Medicare copayments and little else. The most comprehensive plan (Plan F) covers virtually all out-of-pocket costs associated with your Medicare-covered treatment. All doctors who accept Medicare are covered by Medigap plans.
With either Medigap or Medicare Advantage, you can still make your own arrangements to see health providers if they're outside the scope of your coverage.
Prescription Drug Coverage
Medicare Advantage: Most Medicare Advantage insurers bundle Part D prescription drug benefits into their plans, although the costs of prescription drugs don't count against your out-of-pocket maximum.
Medigap: If you have a Medicare Supplement plan and want Part D prescription drug coverage, you need to purchase Part D coverage separately.
Ease of Use
You need to consider how many bills you're comfortable taking care of at the end of each month. You also have to think about how much research you're able to put into your coverage.
Medigap: Medigap plans work seamlessly with doctors who take Medicare. You need to present these doctors with your Medicare Supplement and Original Medicare cards. When seeking care that Medicare doesn't cover, you still have to coordinate it on your own.
Medicare Advantage: Medicare Advantage plans require you to investigate if a doctor takes your insurance. These plans also give you more responsibility for coordinating out-of-pocket costs. Your Part C plan may consolidate your medical concerns into fewer bills. Some plans may enable you to see all types of doctors using just one card.
Long-Term Care
If you expect to join an assisted living facility or nursing home, it can be hard to find help for long-term care.
Medicare Advantage: Some Medicare Advantage plans provide discounts to these communities as one of their coverage benefits.
Medigap: Medigap plans will not cover this benefit.
Your Current & Expected Medical Needs Should Guide Your Decision
A major consideration when comparing Medicare Advantage vs Medigap plans will be the type of conditions you expect in the future. 68 percent of adults over the age of 65 will have multiple chronic conditions, and 80 percent have at least one.
You need to think carefully about which plan provides the best support for chronic conditions. Ongoing care for chronic conditions, such as heart problems or multiple sclerosis, can be costly.
Since it's hard to switch between Medigap and Medicare Advantage, consider your possible long term needs. A plan that saves you money one year may wind up providing too little coverage over your lifetime.
Let's look at a few examples that compare typical Medigap and Medicare Advantage plans.
Example 1: Minimal Use of Healthcare: Paul has no major medical issues. Without health insurance, Paul would have been charged in full for $1,500 of medical bills this year.
Paul could pay for Medigap Plan F. At an average cost of $2,832 per year, Paul's care would be fully covered without paying anything else out-of-pocket. However, Paul will only use $1,500 worth of care, 80 percent of which would have been covered by Original Medicare. His Medigap plan will contribute $300.
Paul could also purchase a $0 premium Medicare Advantage plan to save on costs. He'll pay nothing each month, but he'll be subject to high copayments and a deductible. With his Part C, Paul will pay a considerable amount out of pocket – around $1,000 per year. He'll also be covered for emergencies and prepared for long term costs.
What Paul Might Spend for $1,500 of Care This Year:
| | | | |
| --- | --- | --- | --- |
| No Insurance | Original Medicare Only | Medicare Supplement Plan F | Zero-Premium Medicare Advantage |
| $1,500 | $1,200 | $2,832 | $1000 |
*In all circumstances except having no insurance, typical Medicare beneficiaries will also pay $1,608 in yearly Part B premiums.
Example 2: Chronic Conditions: Donna has high blood pressure (hypertension) and diabetes. Her average cost for diabetes care is $7,900 per year, coupled with costs of $733 per year for hypertension. Donna encounters further miscellaneous medical costs of $6,017 this year. Donna would have $14,650 of medical bills without health insurance.
Donna's Medicare Advantage plan would share the cost of care with her until the plan's $6,700 annual out-of-pocket limit is reached. With a zero-premium plan, she could be on the hook for several thousand dollars, and possibly her full out-of-pocket limit.
With Plan F, the most extensive Medicare Supplement plan, Donna would pay $2,832 per year in premiums with no additional out of pocket expenses.
If Donna signed up for a less comprehensive Medigap plan – Plan K – she'd pay around $1,800 in premiums. Her 10 percent copayment for care would be an additional $1,465, for a total of $3,265.
What Donna Might Spend for $14,650 of Care This Year:
| | | | |
| --- | --- | --- | --- |
| Original Medicare Only | Medicare Supplement Plan F | Medicare Supplement Plan K | Medicare Advantage |
| $2,930 | $2,832 | $3,265 | $6,700 |
Example 3: Acute Condition: Gary is injured in a hit-and-run, the average cost of which is $78,900. He'll face short-term home care, a rehabilitation facility stay, and hospital costs. Medicare Advantage and Medicare Supplement plans would share the costs of this injury with him.
With a Medicare Advantage plan, Gary would pay his premiums and likely pay his full $6,700 annual out-of-pocket limit. Once Gary reached his out-of-pocket limit, his plan would pay for the rest of his care.
Gary's premiums would be around $2,832 per year if he had Medigap Plan F, but the full costs of his care would be covered.
If Gary selected a less-generous plan like Plan K, he would owe $1,800 in premiums along with an out-of-pocket maximum of $5,120.
What Gary Might Spend for $78,900 of Care This Year:
| | | | |
| --- | --- | --- | --- |
| Original Medicare Only | Medicare Supplement Plan F | Medicare Supplement Plan K | Medicare Advantage |
| $15,780 | $2,832 | $5,120 | $6,700 |
Maintaining Your Plan
A final consideration for supplemental insurance is deciding between trust in your standardized Medigap benefits and faith in your Medicare Advantage insurer.
It's Easier to Compare Medicare Supplement Plans: Once you decide which type of insurance to purchase, you still have to select a plan and an insurance carrier. Medicare Supplement plans require less research than Medicare Advantage plans, since you only need to compare prices. Medicare Advantage plans have a wider variety of options, but you have to actively investigate the plans on offer.
Easier to Switch from Medigap to Medicare Advantage: You can switch from a Medicare Supplement plan to a Medicare Advantage plan during Medicare Open Enrollment (October 15 through December 7). If it's your first time switching between plans, you can switch back within one year if you prefer.
Otherwise, it's difficult to switch from Medicare Advantage to Medicare Supplement. Although you have the right to switch at any time, Medicare Supplement issuers will charge you higher premiums based on your health issues and can even deny you coverage altogether (which they wouldn't have been able to do when you were first eligible).
Keeping an Eye on Your Medicare Advantage Plan: With Medicare Advantage plans, there's a financial incentive to keeping an eye on your plan. Although plans don't come and go every year, your plan's doctor network or benefits could change. Enrollees who re-evaluate and switch their Medicare Advantage plan save over $17.50 on their monthly premiums and $400 on their out-of-pocket limits on average.
16 percent of Medicare Advantage enrollees switch to a different Medicare Advantage plan each year. An additional two percent of enrollees per year return to traditional Medicare. That's not much compared to the 43 percent of individual marketplace enrollees who switch their plan each year.
Medicare Advantage plans also come with "star rankings." Each year, Part C plans are rated on several quality metrics. You can switch from a lower-ranked plan to a plan with the highest rating, if one is available in your area.
Keeping an Eye on Your Medicare Supplement Plan: With Medicare Supplement plans, your main concern will be price and plan type. Since plans are standardized and pay for all doctors who accept Medicare, there's little room for variation between insurance carriers. If you do change your plan, it will likely be due to price increases. Most states limit your ability to switch between Medigap plans and carriers without penalty.
Can I Get Medigap or Medicare Advantage If I'm Under 65?
It's difficult but rewarding to gain Medicare coverage if you're under 65 years old. Once you do enroll in Medicare Part A and Medicare Part B, you can sign up for supplemental coverage.
Medicare Advantage plans are available to most Medicare beneficiaries under the age of 65, except for those who qualified for Medicare based on a diagnosis of end-stage renal disease (ESRD).
Medigap plans can choose whether or not to offer you coverage until your 65th birthday. It's a good idea to seek quotes from multiple insurers. Medigap insurers can use your health conditions to set your premiums until you turn 65.
Once you turn 65, you're eligible for both types of supplemental coverage, even if you were previously rejected or had them for years before.
Where Can I Find Medigap and Medicare Advantage Plans?
If your preferred plan type doesn't offer coverage in your area, this guide won't help you much. There's a surprising amount of local differences in plans that are available. Not all plans are offered in all places.
Taking the Next Steps
HealthCare.com can connect you with a professional to see which Medicare Supplement and Medicare Advantage plans are available to you. A broker can give you quotes from multiple plans free of charge.
For More Reading: