Researched by licensed + unbiased insurance experts. Learn More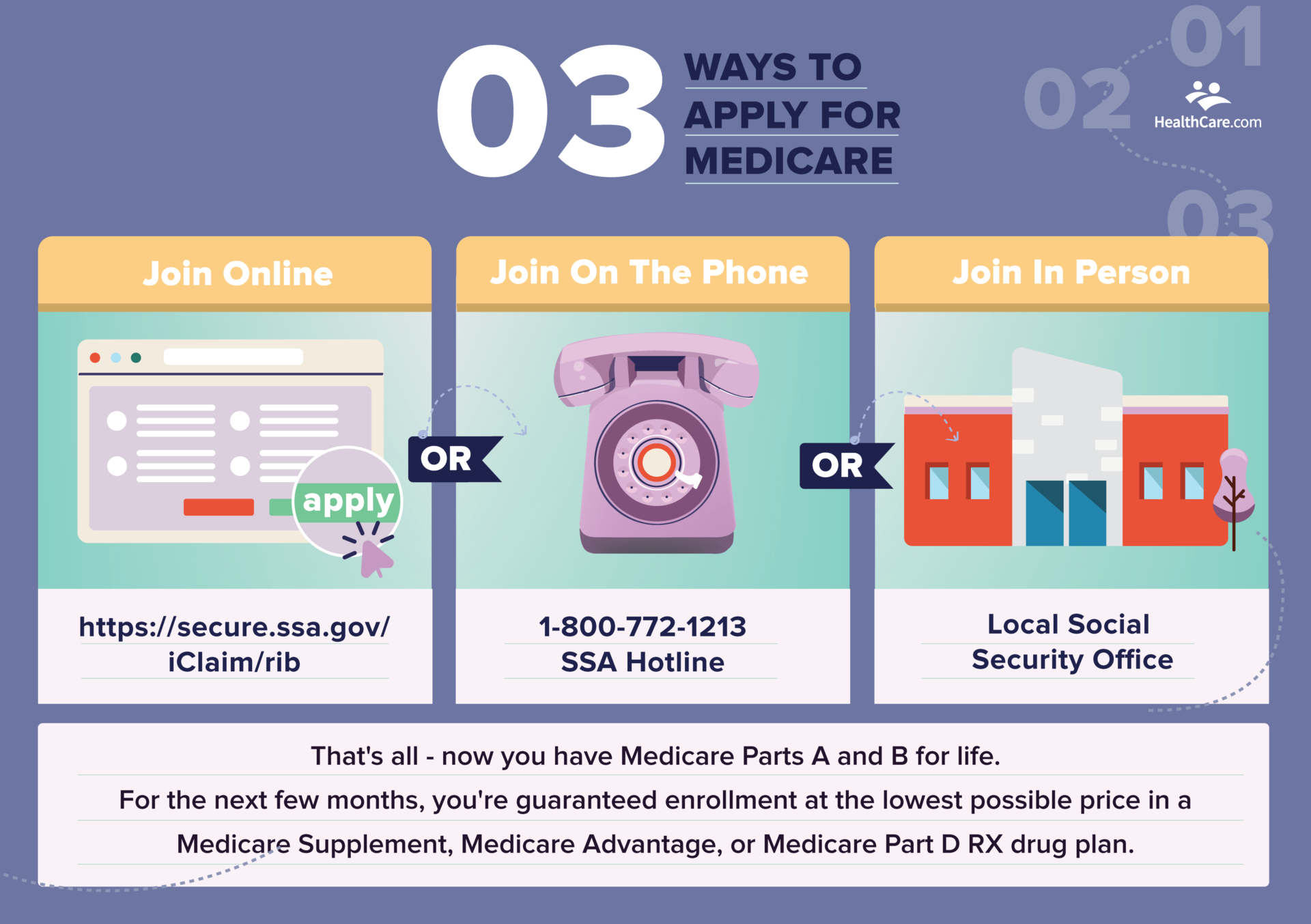 Join Online | Join Over the Phone | Join In Person | Application FAQs
If you're nearing the age of 65 or collecting disability income, your Medicare health coverage starts soon. Congratulations! Signing up is a piece of cake.
If your Medicare doesn't start automatically, then you'll have to register for Medicare in 1 of 3 ways below.
Join Online | Join Over the Phone | Join In Person | Application FAQs
How To Sign Up for Medicare Online

More people than ever are enrolling in Medicare Part A and Part B online. To enroll online, click on "Start a New Application" on Social Security's website.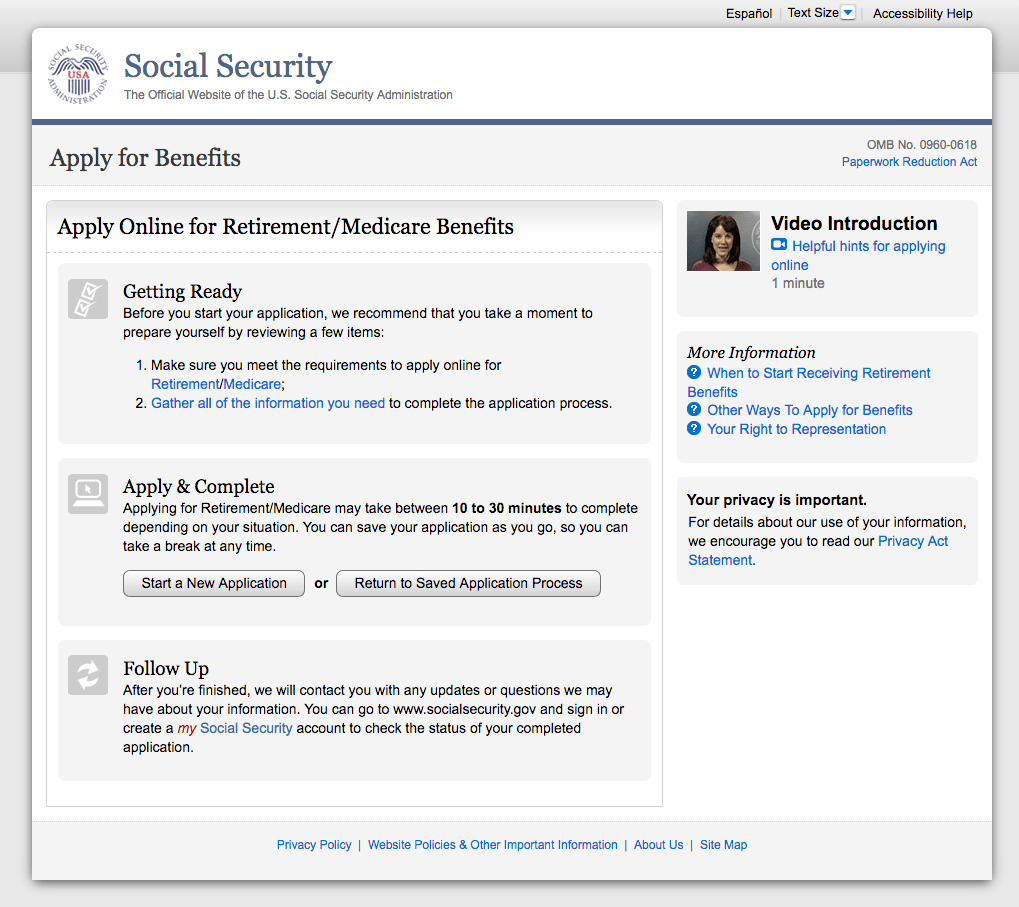 The first page in your application will let you confirm whether you're filling out the forms, or if you've found someone else to help you.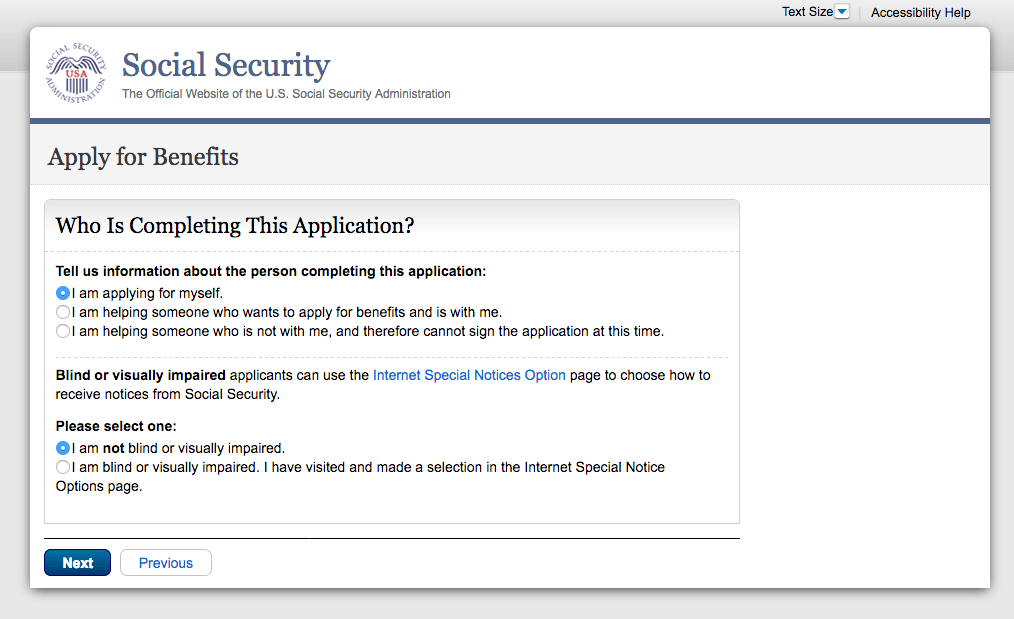 The next page starts your application in earnest. Once you submit your most basic personal information, Social Security will confirm that you're eligible for Medicare.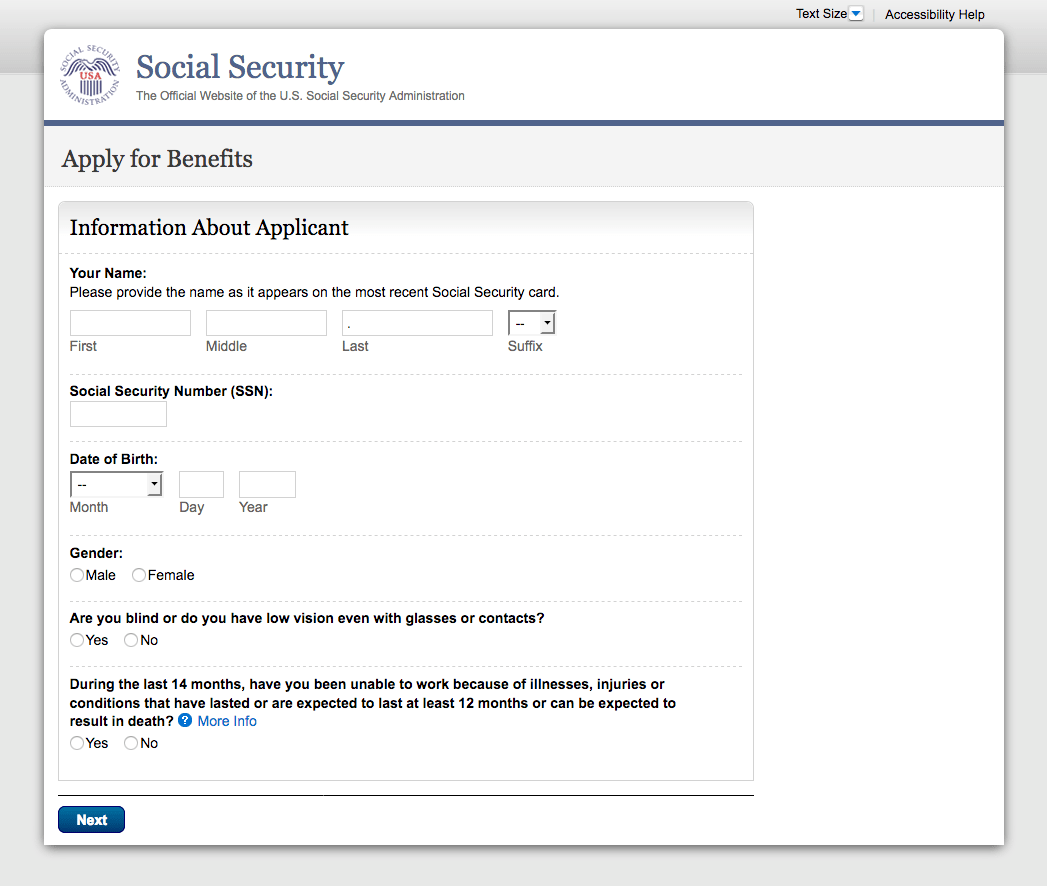 After you've gotten your application going, you'll be provided a "re-entry number". Keep this number handy to check on the status of your completed application, or to save your application if you'd like to finish it later.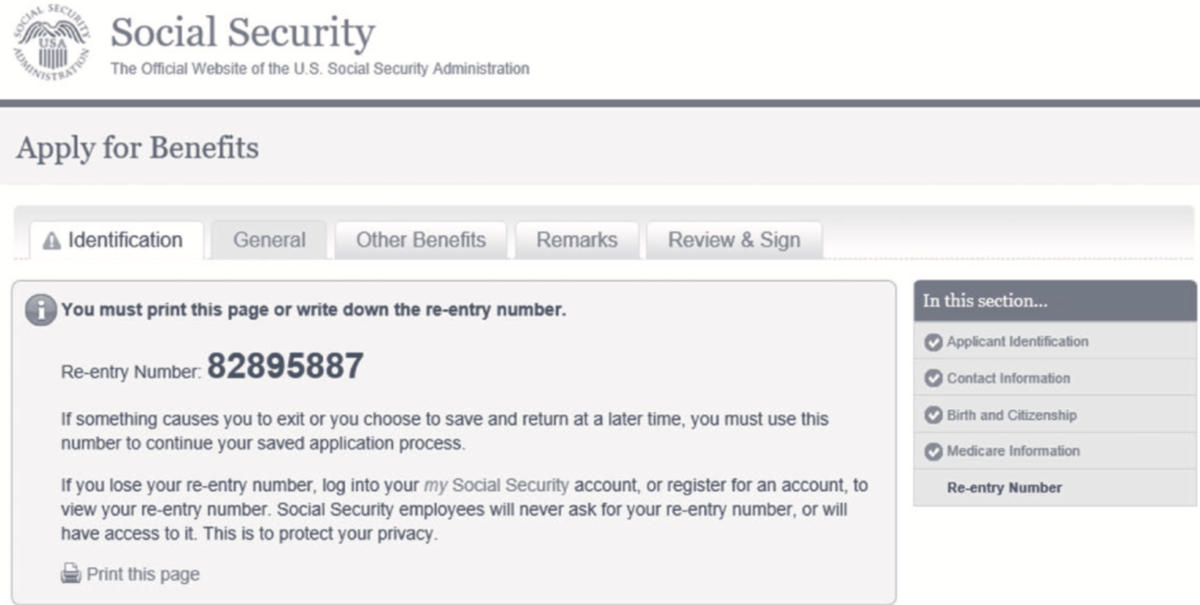 Since you're already here, you may choose to sign up for Social Security retirement benefits at this time as well.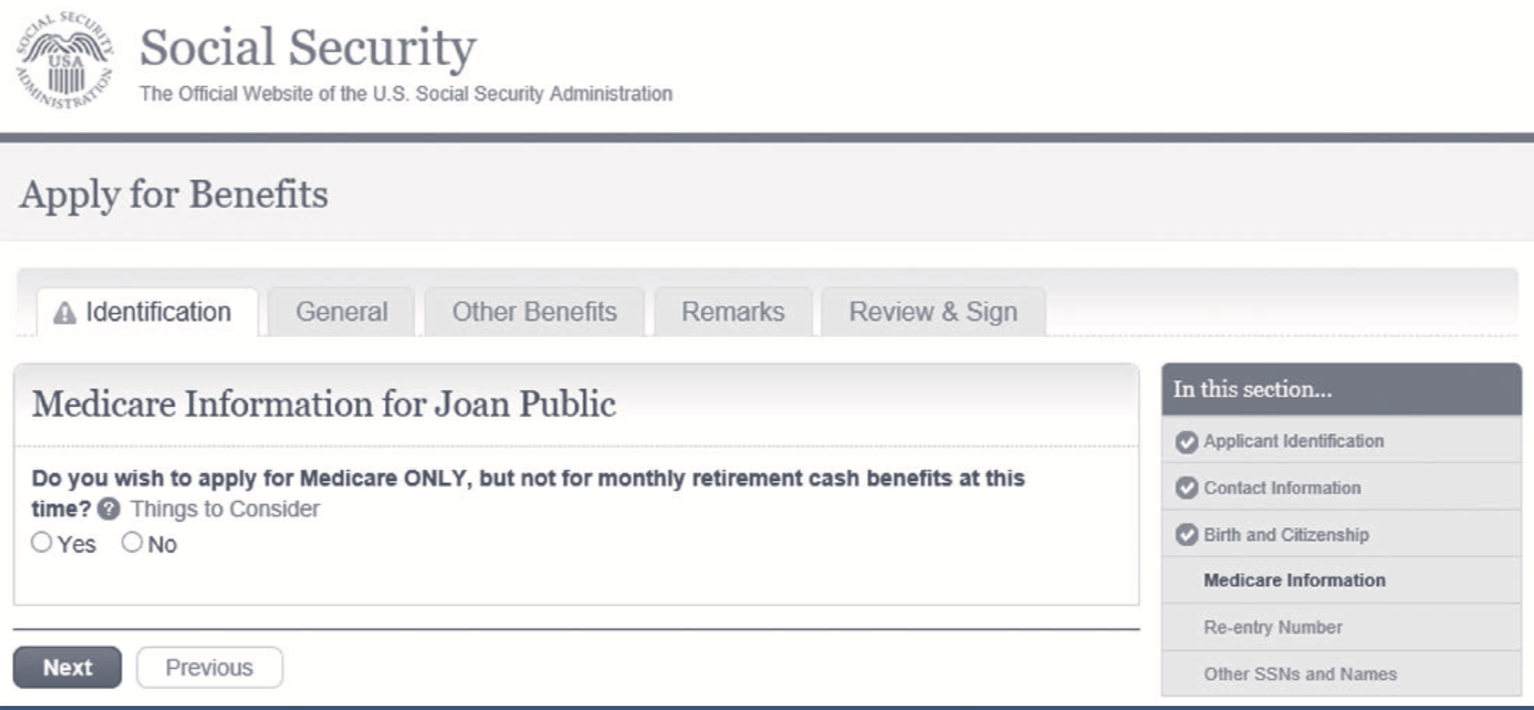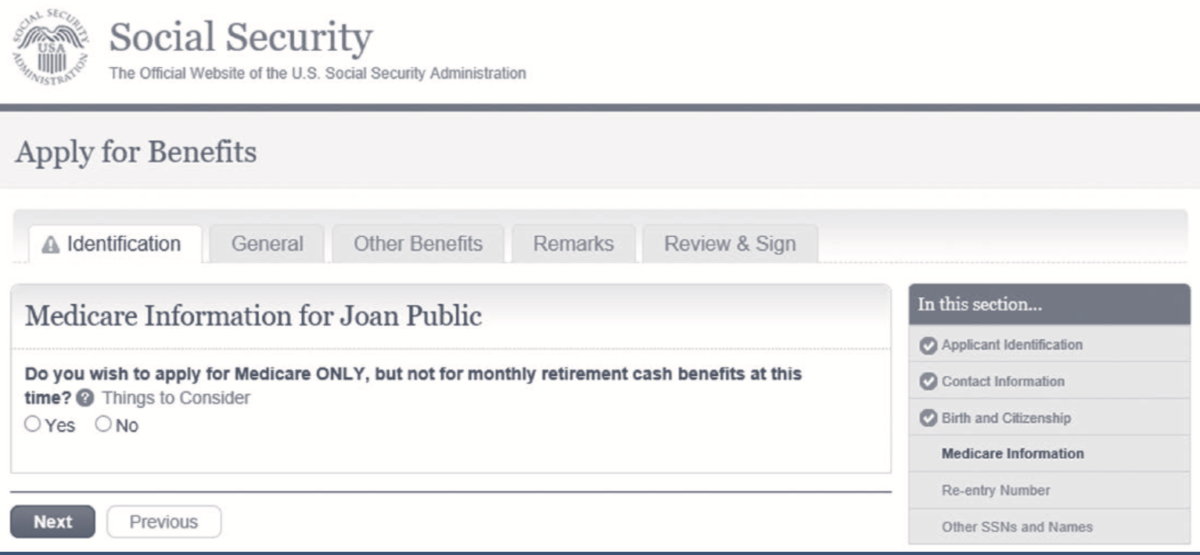 Later on in the process, you'll be asked to provide some employment and health insurance information to confirm that you're eligible for Medicare.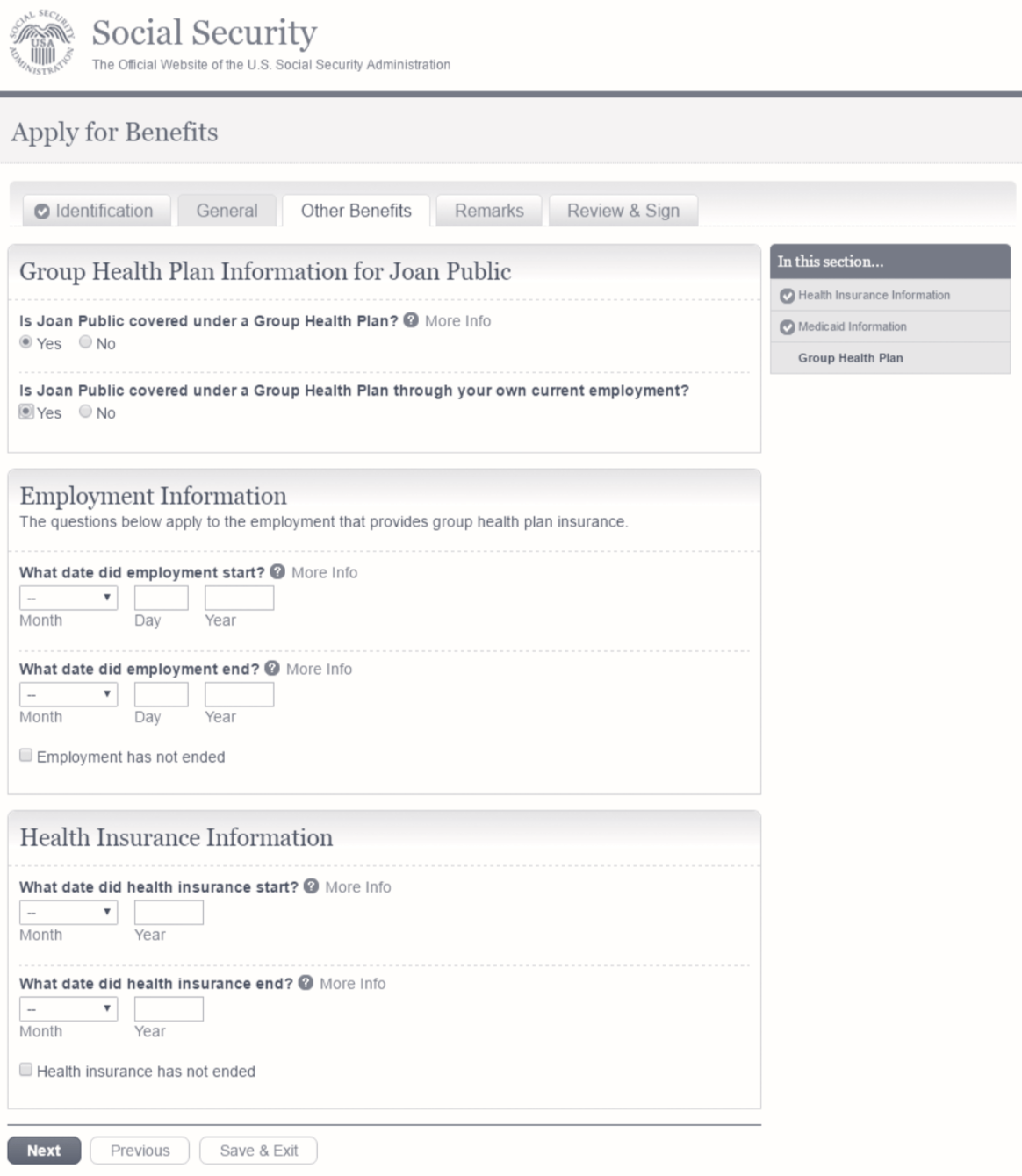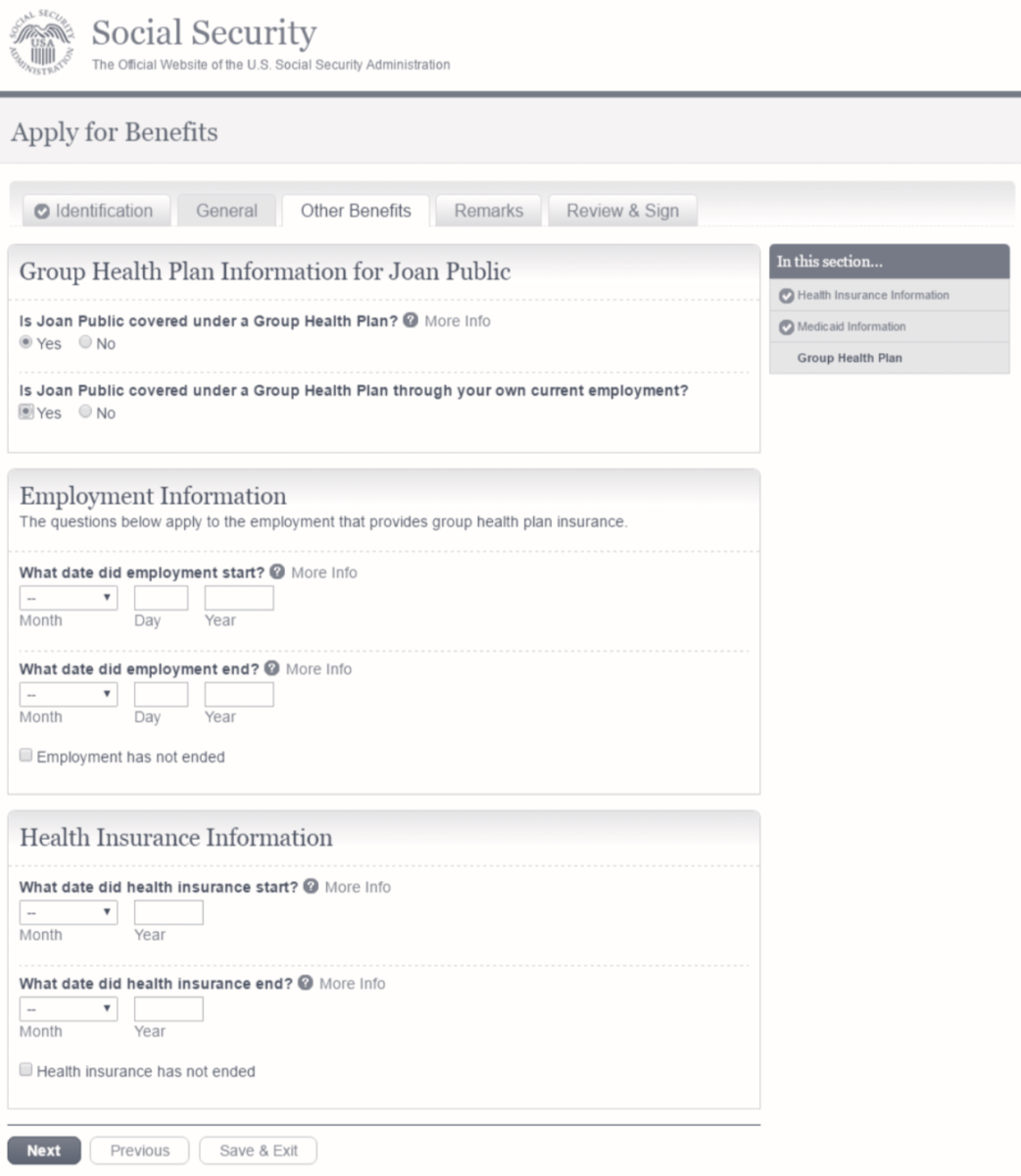 At the end of the online process, you'll have a chance to review a summary of your application. Once it's finished, you'll be given a receipt to prove that it was submitted.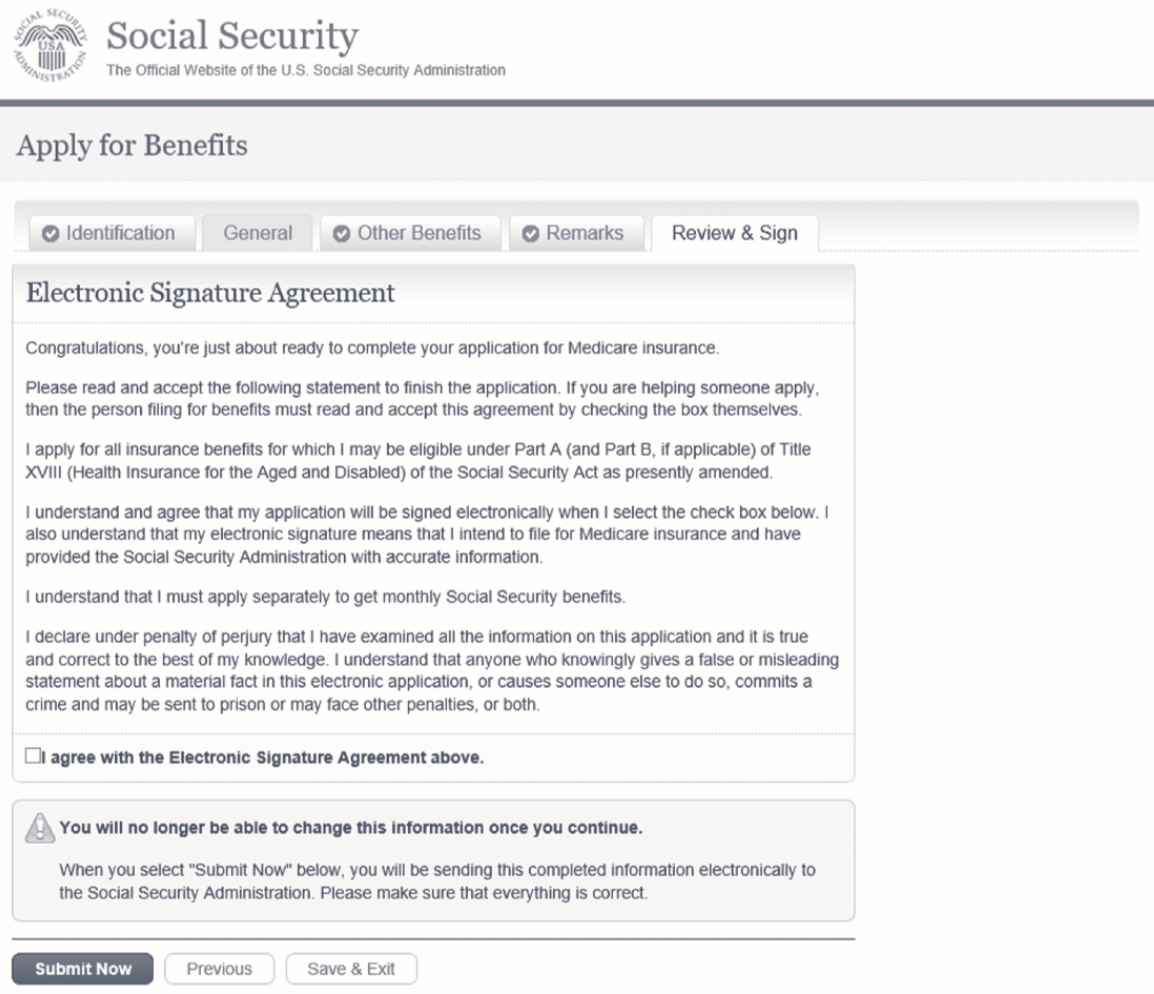 Once you click "submit", it's like dropping your Medicare application in the mailbox. Your enrollment form is locked and on its way.
How To Apply for Medicare Over the Phone

Believe it or not, you can make Medicare happen over the phone. Just call Social Security's longstanding Medicare 800 number at 1-800-772-1213 and talk it out.
This option will take more time than signing up online, but less time than visiting a Social Security office.
Phone Calls Can Take Months To Process: Note that phone applications can take over a month to finish. If Social Security is fielding a high number of calls, you may be given a phone appointment at a later date. Additionally, phone enrollments may require you to wait for forms in the mail; to sign and mail back those forms; and to wait for your completed paperwork to be processed. This can cause your application to take additional time.
How To Apply for Medicare In Person

The classic way to apply for Medicare is to visit your local Social Security Office and take a number. You'll have a 1-on-1 session with a federal employee who will process your application.
Make sure to ask request a printed confirmation of your Medicare enrollment before you leave the office. You'll need this if you want to apply for extra coverage.
Which Social Security Office Do You Visit? If you don't know where your local Social Security office is located, use the SSA office locator to find one nearby. You can visit any Social Security office, not just the closest one to you.

Medicare Application FAQs

What Information Do You Need to Complete Your Medicare Application?
It's helpful to have the following documentation on hand before you begin filling out your Medicare application forms:
*Your Social Security claim number
*Your current address and phone number
If you're signing up after you turn 65 because you were relying on employer coverage, you will also need:
*Request for Employment Information Form CMS-L564 (your employer fills this out)
Retirement Benefits: Social Security has produced a detailed printout of everything you might need to apply for both Social Security benefits and Medicare at once.
Which Is The Best Way To Sign Up For Medicare – Phone, Online, or In Person?
There's no best way to sign up for Medicare.
If you have a complicated situation – say you're receiving Medicare eligibility through a deceased spouse, and you personally haven't been in the country very long – then in-person is probably the way to go. For most folks, online signups will work just fine.

Will Your Medicare Coverage Begin Automatically?
Depending on your situation, you may not even have to apply for Medicare – your coverage could simply 'kick in'.
Qualifying at Age 65: Generally speaking, if you've received Social Security or Railroad Retirement benefits for the 4 months before your 65th birthday, then you'll be automatically enrolled in Original Medicare (Part A and Part B) without needing to take any action.
Qualifying Due to Disability: If you've collected SSDI for 25 months, you'll be automatically enrolled at that time as well.
Is This The Right Time To Sign Up?
If your Original Medicare coverage won't start automatically, then it's important to know precisely when and how to enroll in Medicare Parts A and B. At minimum, most seniors aged 65 and older can sign up for Medicare Part A.
How to Enroll in Medicare during your Initial Enrollment Period (signing up ASAP): Your Initial Enrollment Period will last for seven months. This Initial Enrollment Period begins three months before the month of your 65th birthday, and ends three months after your birthday month. If you fail to enroll before your birthday month, your coverage will be delayed.
How to Enroll in Medicare during your General Enrollment Period (waiting to enroll, with a penalty): You'll have to sign up during the General Enrollment Period – which falls between January 1 and March 30 every year – if you didn't sign up during your Initial Enrollment Period. At this point, you'll be charged a late enrollment penalty. Your premiums for Part B will be permanently increased by 10 percent for each year that you neglected to sign up for Part B, and your monthly premiums for Part A will temporarily increase by 10 percent. Your coverage will start three months after the General Enrollment Period ends.
How to Enroll in Medicare during a Special Enrollment Period (waiting to enroll, without a penalty): If you have health insurance through your job, you can sign up for Medicare without incurring penalty during a Special Enrollment Period. This Special Enrollment Period will last for eight months after you leave your employer. It's a good idea to sign up two months before leaving work, so that your Medicare coverage will be ready once your employer-sponsored healthcare ends.
Not Sure What Medicare Is?
You'll get the hang of Medicare in no time.
Medicare Part A comes from the federal government and covers most of the costs associated with inpatient care, like hospitals.
Medicare Part B comes from the federal government and covers most of the costs associated with outpatient medical care like doctors' visits.
Together, Parts A and B are called Original Medicare. You'll learn more about Medicare as you start to enroll in it and use it.
Once you're enrolled in Medicare Parts A & B, you have three optional Medicare programs to consider:
Medicare Part C is called Medicare Advantage, and it's an optional replacement for Original Medicare with different benefits (but you need to pay for Part A and B first).
Medicare Part D, also optional, helps pay for prescription drug costs.
Medicare Supplement plans look similar to Medicare – for instance, Medicare Supplement

Plan

A instead of Medicare

Part

A. These plans are add-ons to Original Medicare which help pay the out-of-pocket bills that Medicare leaves to you.
For most Americans nearing the age of 65, signing up for Medicare Parts A and B (together known as "Original Medicare") is an important first step in laying out their healthcare options.
Do You Need to Sign Up for Medicare Part A and Part B if You Plan on Replacing It With Medicare Advantage (Medicare Part C)?
You always need to have both Medicare Part A and Part B – "Original Medicare" – if you want to sign up for extra coverage like Medicare Advantage or Medicare Supplement.
You'll still need to pay Part B premiums even if you sign up for a "zero premium" supplemental plan.
How Much Will Medicare Cost?
You'll pay a Medicare Part B premium. If you ask to have the Part B premium taken out of your Social Security benefits, you may be protected from increases over time. Very few people must pay monthly premiums for Medicare Part A.
Medicare pays most of your medical bills, but it will only pay a few of them in full. You can plan around this list of different Medicare insurance costs.
Most people with Medicare also have some form of supplemental coverage that helps them pay medical bills, and avoid payment loopholes.
When Does Medicare Start Working?
You can and probably should sign up for both Original Medicare (Part A and Part B) and supplemental coverage before you turn 65. However, your coverage won't take effect until your 65th birthday.
You'll probably receive a Medicare insurance card within a month of applying for Medicare.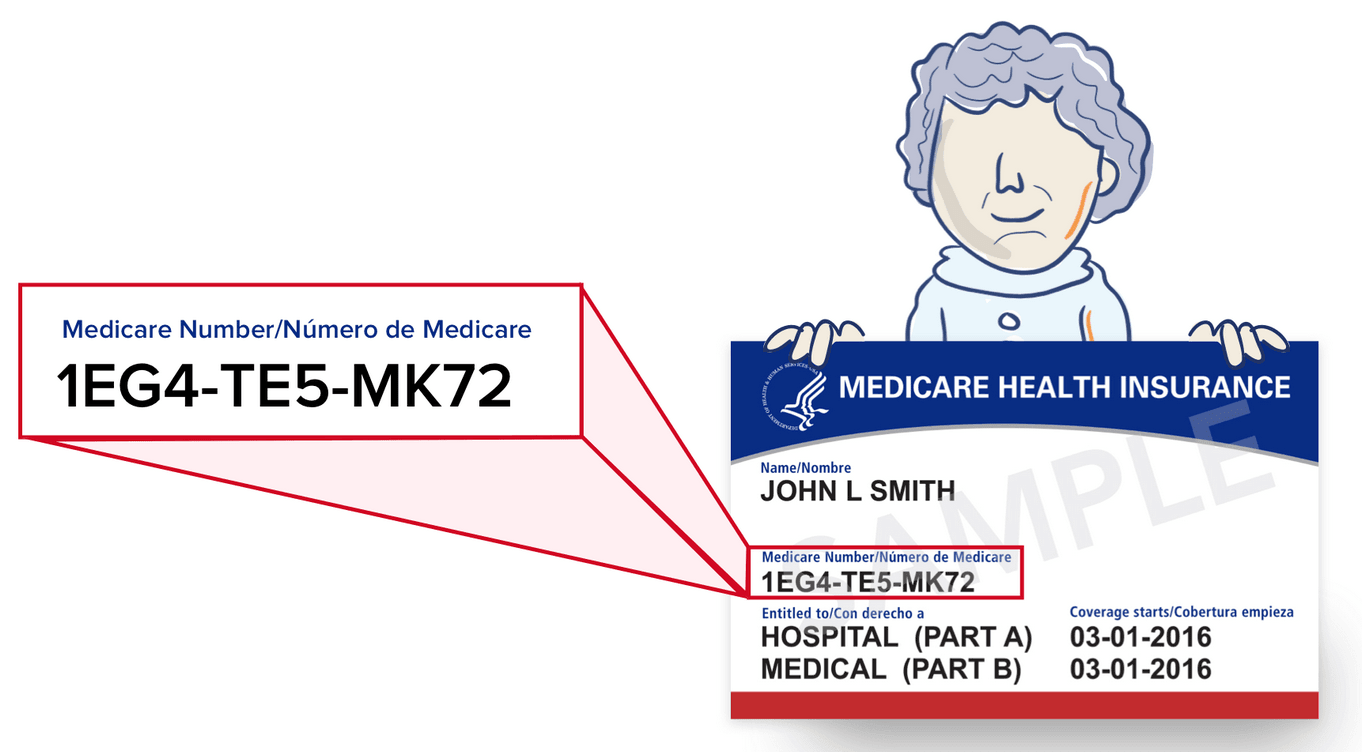 Still Employed?
There are additional rules to consider if you're not ready to retire at 65.
Are There Penalties For Signing Up Late, or Getting the Application Wrong?
It's important to sign up as soon as you're eligible for Medicare. Enrollment in Medicare Part B is optional, but if you don't sign up for Part B when you are first eligible, Part B coverage may cost more if you decide to sign up at a later date. You'll also pay more for supplemental coverage if you don't sign up for it when you're first eligible.
If you make a mistake on your submitted application, you can contact Social Security for help.
Does The Railroad Retirement Board Sound Familiar To You?
If you get your retirement benefits through the RRB instead of Social Security, then the RRB will be in charge of your Medicare benefits. Otherwise, your Medicare will be exactly the same. You'll want to contact the RRB to apply for Medicare instead of Social Security.
Are There Other Medicare Benefits To Apply For?
People use the term "Medicare benefits" loosely. McDonald's gives discount coffee to people with Medicare, but we're not allowed to call that a Medicare benefit.
Some folks might confuse Social Security retirement payments or different types of supplemental Medicare coverage as Medicare benefits. These items have much in common with Medicare Part A and Part B, but they're not the same thing.
How Often Do You Have To Apply For Medicare?

You only need to apply for Medicare Part A and Part B one time. Once you have Medicare, you'll keep it for life.
Optional extra coverage, like Medicare Advantage and Medicare Part D, are also guaranteed for life once you've enrolled. Extra coverage will renew automatically each year, but you'll also have the option to leave these plans if they no longer suit your needs.
Is The Medicare Application Process The Same All Over?
The Medicare application process is the same all over the U.S – from Texas to New York. If you live in Puerto Rico, then you need to sign up on your own (unlike the rest of the U.S. and its territories, Puerto Rico has no automatic enrollment).
What Other Coverage Do You Need?
It's the right time to start thinking about supplemental plans. Like Original Medicare, these add-ons or replacements are also renewable for life.
Get comfortable using HealthCare.com's price comparison tool to select plans on your own. You can choose to contact the company of your choice, or you can connect to a licensed insurance broker once you've learned more about typical prices. We don't sell plans ourselves.
Make sure to bookmark us at HealthCare.com/info. You'll want to quickly find answers about your new Medicare coverage – and focus on feeling great.
Conclusion
About 10,000 people sign up for Medicare every day. Actually getting your Medicare coverage is easy, as long as you meet the basic requirements to apply.
You shouldn't wait until your 65th birthday to sign up for Medicare. Simply choose one of three options – online, phone, or in-person – and you'll get the most out of Medicare with no delay.