Researched by licensed + unbiased insurance experts. Learn More
Odds are that your doctor accepts Medicare – especially if they want to stay in business. According to a University of Michigan study, 60 percent of your healthcare spending takes place once you're eligible for Medicare on your 65th birthday.
A whopping 93 percent of primary care physicians accept Medicare – just as many who take private insurance. As a Medicare beneficiary, your only concern with accessing care will be finding doctors that are open to new patients.
Over three quarters of primary care physicians take new Medicare patients, a figure nearly equal to the number of doctors who accept new patients paying in cash. As long as your doctor has room in their schedule, your Medicare coverage probably won't be an issue.

How Can I Find Doctors Who Accept Medicare?
It should be fairly easy to find a doctor who accepts Medicare (the harder task is deciding on the right doctor). There are four things you can do to help find a doctor:
Check with your health plan;
Ask your current doctor, who likely accepts Medicare;
Call your friends, family and coworkers for recommendations; or
Browse an online directory like Zocdoc or Yelp. Online directories will let you search specifically for doctors who take Medicare.
Look for a Doctor That's Been in Practice Longer: It's a good idea to look for medical providers who have been practicing for some time. Older doctors tend to accept older patients, treating a higher proportion of Medicare beneficiaries than their peers.
Specialists Are Harder to Find: Specialists will limit their availability more than general practitioners do. If you're having trouble finding a specialist, ask your physician to make an introduction – doctors like to help each other out.
How Do Doctors Interact with Different Parts Of Medicare?
Medical providers who accept Original Medicare will take your insurance whenever it's presented to them. Once a doctor accepts you as a patient, they can't they can't selectively apply your Medicare coverage. For instance, your doctor will work with both Part B and Medigap if you have them.
Your doctor can't decline to work with specific Medicare Regional Offices or Medigap insurers. They can't make up additional fees that drive up the cost of Medicare-covered services.
If You Have Only Medicare Part A OR Medicare Part B: If you have only Medicare Part A coverage or Part B coverage, your provider network remains the same; under Medicare, your provider network is the same regardless of whether you have both Parts A and B or you have only one of those parts. Your Medicare-enrolled doctor will still accept your Part A or Part B if the treatment is covered by the part you do have.
If You Have Medicare Supplement ("Medigap"): Supplemental insurance covers the cost of your care after Medicare has paid its share. Your doctor must arrange payments with Medicare and Medicare Supplement. They can't decline one and accept the other.
A doctor who accepts Medicare will be paid via Original Medicare. Your Medicare Supplement coverage will kick in afterwards. It won't replace that Medicare payment.
If You Have Medicare Part C ("Medicare Advantage"): Many medical providers who accept Medicare will not take Part C, and they're under no obligation to do so. Part C providers keep their premiums low by operating smaller doctor networks than Original Medicare.
You'll be used to looking for in-network care if you have Medicare Advantage. Unlike Original Medicare, Part C insurers enter into separate contracts with doctors and healthcare networks.
If You Have Medicare Part D (Prescription Drug Benefit): If you have Medicare Part D, you should be able to fill prescriptions from any Medicare doctor. As long as your medical professional is allowed to write prescriptions, their prescription will be processed under the rules of your Part D coverage.
Your Part D coverage will cover prescriptions from any doctor, whether or not you paid for that doctor using Medicare. Even if your doctor doesn't accept Medicare at all, Medicare Part D will still cover the drugs they prescribe. You won't have to pay additional fees when filling a prescription from a doctor who isn't enrolled in Medicare.
A Few Doctors Won't Be Covered by Part D in the Future: Starting in 2019, Medicare Part D will only cover drugs from doctors who accept Medicare beneficiaries. Once Part D's rules change, doctors who don't take Medicare payments will only be able to have drugs covered by Part D if they've made special arrangements in advance.
Right now, Part D will cover prescriptions from a medical professional that you paid privately. As of January 1, 2019, you'll need to confirm with your doctor that they can write Part D prescriptions. Essentially: if you want to keep getting your prescription drugs covered, they must be prescribed by only doctors who accept Medicare.
Will All Doctors Who Take Medicare Cost the Same Amount?
Not all Medicare doctors charge the same amount for certain medical costs; fortunately, though, most Medicare doctors do. When a doctor accepts "assignment", they've agreed to provide a service at the price Medicare has determined is fair. Most doctors who accept Medicare use Medicare's approved rates. These par-ticipating doctors are called PAR providers. A few doctors known as non-PAR providers don't accept assignment.
If your doctor regularly sees Medicare patients, then they probably accept assignment. Before you're treated, your doctor will inform you if they don't accept assignment.
If your doctor doesn't accept assignment:
They may ask for payment at once, and,
You'll have to pay an additional 15 percent of the Medicare rate out-of-pocket, in addition to your existing copayment (some Medicare Supplement plans cover all of these costs).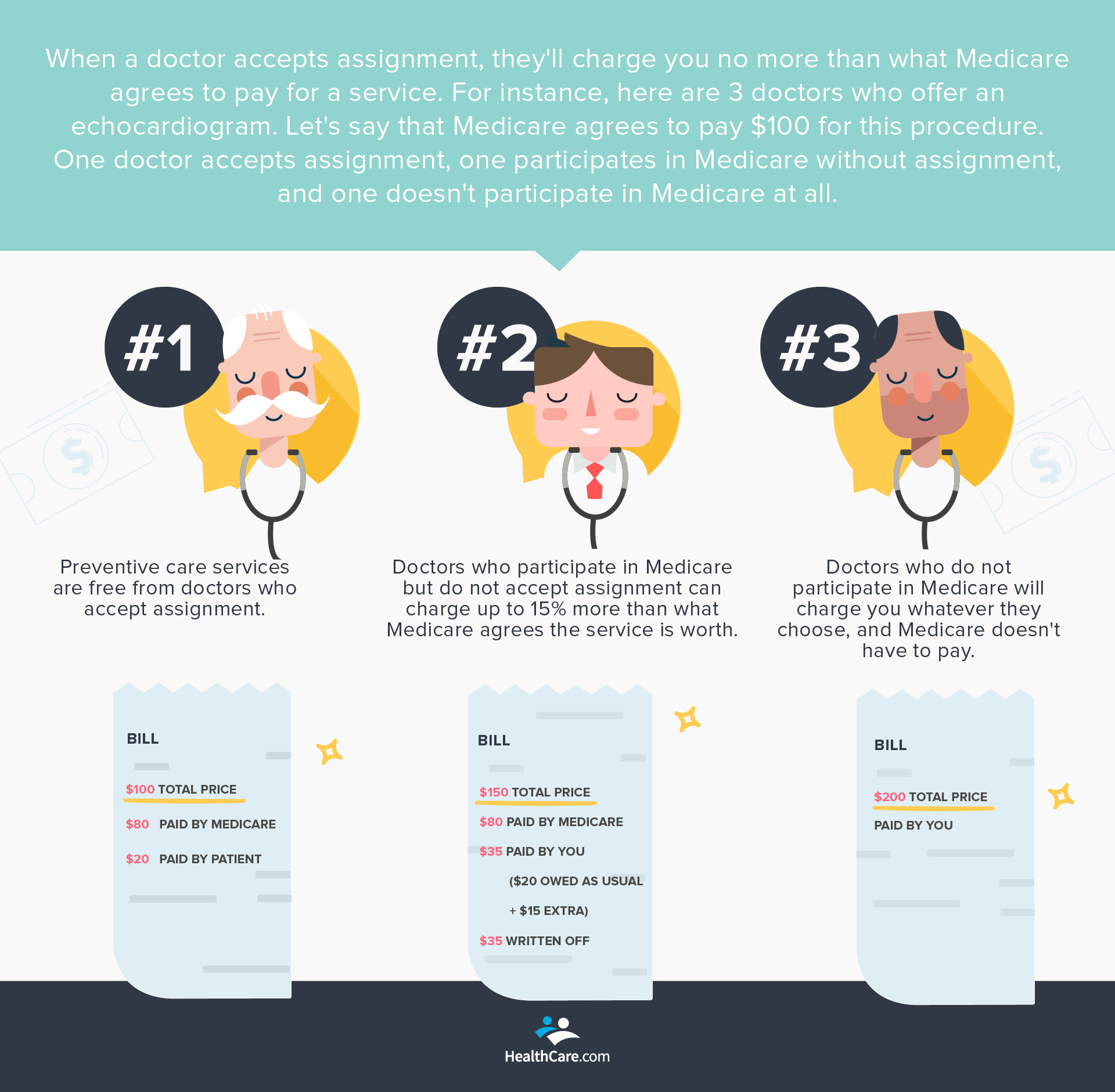 Is It Typically Hard to Find a Medicare Doctor?
You're not tied to a specific doctor with Original Medicare, so you can switch providers at any time.
You might find that the doctor you want has simply stopped accepting new patients, just like you'd encounter with private insurance. Medicare is great, but it can't magically solve healthcare problems.
A significant minority of Medicare beneficiaries have had to shop around for a doctor who accepts new Medicare patients. It's always a good idea to ask around and learn who your friends or coworkers see. You may have to call more than one doctor to find care, but there should always be a qualified doctor available for you.
Do Doctors Have to Accept Medicare?
Doctors aren't required to accept Medicare in order to practice medicine. That said, it's rare to find a medical provider who hasn't been registered with the Medicare program at some time.
All practicing doctors must register with the Centers for Medicare and Medicaid Services regardless of their Medicare enrollment status, so your doctor will have had some contact with the Medicare program. In fact, if a medical practitioner decides to stop accepting Medicare, they'll have to send notice to the government every two years to opt out.
What If I See a Doctor Who Doesn't Accept Medicare?
You're always allowed to obtain care outside of the Medicare system if you prefer.
If you're seeking a treatment that Medicare covers from a doctor who doesn't accept Medicare: Your medical provider needs to show the federal government that they're not taking advantage of you. Your doctor will give you a contract to sign; on that contract, it'll state that you understand your doctor won't be paid by Medicare. In other words: you will be responsible for the full bill. The contract will have to be re-signed every two years if you keep receiving treatment.
If you're seeking a medical service that isn't a part of your Medicare coverage: For instance, if you're meeting with an audiologist to test your hearing and get a hearing aid, then you won't have to sign a special contract. You will have to make payment arrangements on your own to cover the full cost of the medical service.
What If a Doctor Refuses My Medicare Card?
If you're having billing issues, relax and make sure you're using the right card. The card you need to use will depend on your plan and the care you're seeking. If you have supplementary coverage, you may need more than one card.
Medicare cards are generally just used to verify your eligibility and billing information. You may not need to provide them after you visit a doctor for the first time.
If your card is faded from use, you can replace your card by:
Logging into your Social Security account at ssa.gov,
Calling 800-772-1213, or by
Visiting your local Social Security office.
Taking the Next Steps
Seek out one of the many doctors who take Medicare. Make sure that your health coverage, including a Medicare supplementary policy, aligns with the care that you'd like to receive.
For More Reading:
To Get Medicare Supplement or Medicare Advantage Quotes:
We can connect you to a Medigap or Medicare Advantage broker on the phone or through an online quote. You're invited to look through our online guides for more information.