Researched by licensed + unbiased insurance experts. Learn More
There are ten Medigap plans you can buy today, but you wouldn't know it by surveying enrollees. When it comes to filling out the coverage gaps in Medicare, over half of Medicare Supplement participants choose just one option – Plan F. For many Medicare beneficiaries, the more difficult choice may come down to deciding between regular Plan F or high-deductible Plan F.
Cheaper Medicare Plan F Option: High-Deductible Plan F (HDPF)
Unique among Medigap plans, you can choose a version of Plan F with lower monthly payments. This cheaper Medicare Plan F option, known as a high-deductible Plan F (HDPF), generally costs $50 per month or less in premiums. In any case, you should expect to pay a fraction of what you'd pay per month for the standard Plan F.
You may be used to high-deductible health plans (HDHPs) from your employer, or when buying short-term health coverage. High-Deductible Plan F works in a similar fashion. HDPF offers extremely generous coverage once you've paid a certain amount of out-of-pocket costs. Once you've spent enough on your own to reach the deductible, then your plan will pay for 100 percent of covered services for the rest of the calendar year.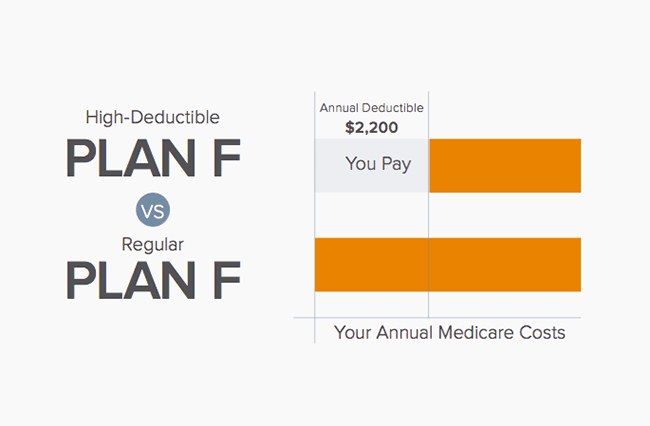 For 2018, the out-of-pocket cost before coverage kicks in for High-Deductible Plan F is $2,240. This deductible rises slightly every year – it was $2,220 in 2017 and $2,180 in 2016.
High-Deductible Plan F will run you a considerable amount of money out-of-pocket, but it won't be a guaranteed monthly burden on your wallet. If you have high medical costs every so often, you won't be financially hurt by accessing comprehensive medical care.
Why Is Plan F the Most Popular Medicare Supplement Plan?
There's good reason behind Plan F's status as the most popular Medicare Supplement plan. Largely, it provides the most comprehensive coverage of any Medigap plan. Once Medicare pays its share of covered charges for care in the US, Plan F will cover the rest of your costs in full. Plan F is a great form of "first dollar" coverage, meaning that you won't have to pay any medical costs apart from your premiums. Even your deductible is wiped away by Plan F. With Plan F, your total out-of-pocket cost for hospitals and doctors who participate in Medicare should be $0.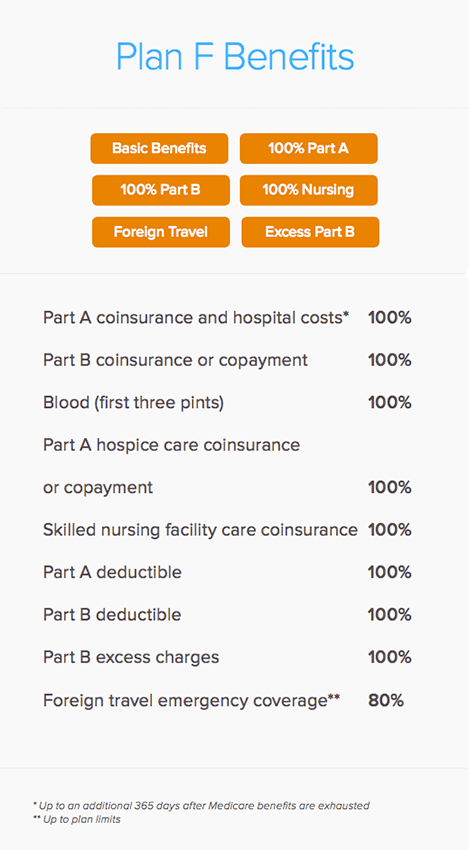 Medigap Plan F's Drawback: High Cost
Of course, as with all Medicare and Medicare Supplement coverage, you're still responsible for your Original Medicare and Medigap premiums. The drawback to Plan F is its high upfront cost compared to other available Medicare Supplement plans. The average Plan F premium was $190 per month in 2015, and premiums above $400 in urban areas are not unheard of.
In one Brooklyn, New York zip code, the cheapest Plan F available to a 65-year-old on HealthCare.com's plan selector is $405 per month. Insurers offer Plan A in Brooklyn for between $260 and $290 per month.
In less expensive regions, you may find smaller differences between monthly premiums. Plan F is available in rural Hawaii for monthly premiums of just $150, while Plan A is sold for $113.
Whatever the cost, you can safely assume that Plan F's monthly premium is higher than any other plan in your area. Over time, Plan F premiums certainly add up.
Comparing Plan F and High-Deductible Plan F
Let's imagine your care for the next few years.
Example 1: For instance, if you only accumulated $1,250 of costs in doctor's bills and other Part B coverage during your first full year on Medicare, then you would owe $396.40 and perhaps $600 in HDPF premiums for $996.40 overall (a $183 Part B deductible; $213.40 for 20% of the remaining costs). With regular Plan F, you'd pay no deductible or medical costs, but you'd owe $2400 or more in premiums.
The next year, you may have an injury causing you to be billed $50,000 for care. With HDPF, you'd pay $2,200 and $600 in premiums for a total of $2,800. Your Part F would still cost $2,400. In two years, you'd have spent $3796 vs $4800. As you age, HDPF may continue to save money if your bills are high.
Example 2: If you regularly reach your deductible, HDPF's cost-sharing would be an unnecessary burden. This will happen if you occasionally have surgery.
Let's say you only accumulate around $2,500 of costs per year from doctor's visits, but you also get $12,000 worth of surgery annually. Each year, HDPF would cost you $2800 ($600 in premiums, along with the full $2,2200 deductible).
With a regular Plan F, you'd simply owe around $2400 in premiums per year while your plan pays every covered bill. If you can find a regular Plan F with monthly premiums even lower than average, then HDPF's $2200 deductible definitely won't make sense.
Billing Notes: Medicare Part B will still pay 80% of your costs as it would without any Medicare Supplement. Anything you pay towards your Part A deductible ($1,316 in 2017) and Part B deductible ($183) will also count towards your HDPF deductible.
Remember that you'll need to personally spend $2,200 to reach your HDPF deductible. The portion of your bills that are paid by Medicare Part A and Part B won't count.
Common Concerns with High-Deductible Plan F
High Deductible: Some people may be happy with HDPF, but it's not for everyone. Obviously, the biggest concern for those considering high-deductible Plan F is, well, the high deductible. You'll need to have the ability to pay for the first $2,200 of coverage every year for life without stressing your personal finances.
No "First Dollar" Benefit: Without the "first dollar" benefit that you can get from a regular Medigap Plan F policy, HDPF may discourage you from seeking helpful or even medically necessary care.
You'll Need to Keep Track of Your Medical Expenses: Because an HDPF will cover your costs only once you've reached your deductible, it's important that you keep track of your medical spending. It will be your responsibility to ensure your plan remembers to pick up the bill once you reach your deductible; your plan should follow the rules on its own, but there are cases where they fail to keep track. Checking your medical costs will also help you strategize when you receive care so that you can realize the greatest savings.
Starting Off with Plan F May Be Better Than Starting with Plan A
You have a 6-month Medigap Open Enrollment Period during which you can sign up for a Medicare Supplement plan. Unless you're granted a Medigap Special Enrollment Period, the only way you can switch your Medigap plan is during that same Open Enrollment Period.
Some states make it easy to downgrade Medigap plans, but difficult to upgrade to better coverage outside of open enrollment. Joining Plan F ensures that you never have to be concerned with finding better care.
Plan F Is Going Away
Policymakers feel that Plan F is so generous that they're preventing new enrollees after 2020. If you have Plan F by that time, you can keep it (and even switch between competing carriers) after that date. Whether you choose a standard Plan F or a High-Deductible Plan F, you can expect to be very satisfied with your new coverage.
Next Best Available Option: Plan G
If you won't qualify for Medicare coverage until after 2020, then enrolling in Plan F prior to its end date won't be a possibility for you. The next best option is Plan G. Fortunately, Plan G is nearly identical to Plan F.
Plans F and G are the only two Medigap plans which cover your Part B excess charges. The only difference between Plans F and G is that Plan G does not cover your small Part B annual deductible ($183 as of 2018).
Plan F Is Great, But May Not Be the Best Fit for Your Needs
Depending on your needs, you might not want something as all-encompassing as Plan F. Most other Medigap plans pay your Part B copayments, which can make routine Original Medicare services seem free.
If you plan to avoid excess charges by carefully researching your doctors, you can achieve peace of mind through the lower monthly premiums of an option like Plan M or N. Even if Plan F is unavailable to you, other Medigap plans can still offer a great deal of help.
Taking the Next Steps
To get a better idea of your choices, check local prices for High-Deductible Plan F!
For More Reading: