Researched by licensed + unbiased insurance experts. Learn More
Texas outdoes the rest of the country in Medicare Supplement plans, as Texas does with everything else. No fewer than 51 companies offer Medicare Supplement insurance in the Lone Star state. All in all, there are numerous Texas Medicare Supplement plans to choose from. Texans can compare some of the lowest-costing plans in the country.
How Much Do Texas Medicare Supplement Plans Cost?
Multiple companies offer the exact same Medicare Supplement plan type. HealthCare.com analyzed the price ranges for plans in Houston as of September 2017: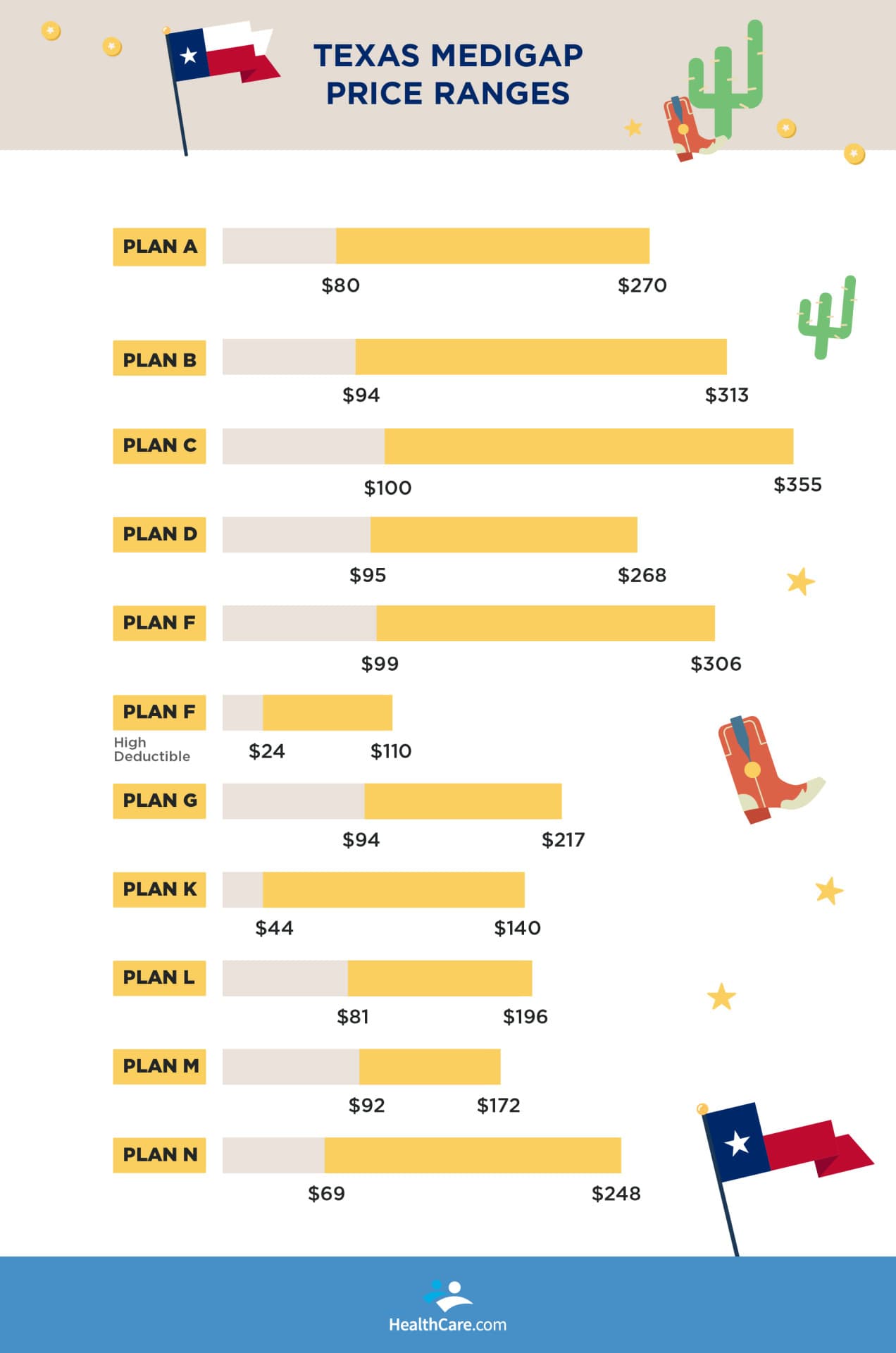 More than 775,000 Texans are enrolled in Medicare Supplement plans (that's more than any other state besides Florida). Incredibly, Texans can also buy some of the cheapest Medicare Supplement plans in the nation. Texans' average monthly premiums for Medigap Plan F – the most generous and popular Medigap plan – are significantly lower than Plan F costs in other large states like New York and Florida.
Most plans in Texas are attained-age-rated, meaning that your monthly premium will increase as you age. A few plans in Texas choose to be community-rated, meaning that everyone in the plan pays the same amount. Your gender and ZIP code also have some effect on your monthly price.
It's important to remember that all Medicare Supplement plans are standardized, so there's no "best" Plan F. Your Plan F will offer the exact same benefits no matter who you buy it from or how much you pay for it.
Medicare Supplement in Texas could run you as low as $24 for a high-deductible Plan F, or $69 for Plan N. The most expensive Plan C issuer could charge $300 or more.
Who Offers Texas Medicare Supplement?
The three largest Medigap issuers in the state sell over half of all Medicare Supplement plans in Texas. They are:
UnitedHealthcare / AARP,
Blue Cross Blue Shield of Texas / HCSC, and
Mutual of Omaha.
Other sizable insurers include:
Cigna / Loyal American,
Manhattan Life,
Continental Life,
USAA,
New Era Life Insurance,
State Farm, and
Christian Fidelity.
Most carriers don't offer every Medigap plan (that is to say, Plans A to N). Some carriers no longer offer plans, or only offer them in limited areas. Houston, Austin, San Antonio, and Dallas will have the most choices for Medicare Supplement policies, but everyone in Texas can access coverage.
According to the Texas Department of Insurance, smaller carriers include Aetna, Admiral, American National, American Republic, American Retirement, Americo, Amerigroup, Assured Life, Bankers Fidelity, Catholic Life Insurance, Central States, Colonial Penn, Combined, Coventry, Equitable, Family Life, Forethought Life, First Health, Gerber Life, Globe Life, GPM Life, Guarantee Trust, Heartland National, Humana, Individual Assurance, Liberty National, Constitution/Marquette/Universal American, Madison, Medico, Old Surety, Oxford, Pekin, Physicians Mutual, Reserve National, Royal Neighbors, Sentinel Security, Standard Life and Casualty, State Mutual, Sterling, Thrivent, Transamerica, Unified Life, United American, United Commercial Travelers, United National, and Universal Fidelity.
How Many Texans Join Each Medigap Plan?
According to AHIP, a health insurance trade association, there are approximately 725,000 Texans with Medicare Supplement plans as of January 2017. The number of Texans in each plan are as follows:
Plan A: 9,000 enrollees
Plan B: 5,000
Plan C: 19,000
Plan D: 9,000
Plan E: 1,000
Plan F: 470,000
Plan G: 159,000
Plan H: 1,000
Plan I: 5,000
Plan J: 29,000
Plan K: 6,000
Plan L: 4,000
Plan M: 34 (that's a real number. Down from 42 last year. Look, some people are a bit different.)
Plan N: 52,000
Which Medicare Supplement Plans in Texas Are Available?
Every Texas Medicare Supplement carrier must sell Plan A. If a company wants to offer more than Plan A – and most do – then they have to offer Plans C and F as well. Medigap issuers can offer any of the other seven Medicare Supplement plans once they make Plans A, C, and F available. Most Texans decide to buy Plans F or G.
Why Is Medicare Supplement a Good Choice for Texans?
Better Benefits: Medigap plan benefits are the same in every state, but the monthly premiums are not. Accordingly, the comprehensive coverage offered by policies like Plan F makes more financial sense for Texans than residents of other states. In urban areas like New York, generous Medicare Supplement plans could cost 2-3 times as much while providing the same benefits, forcing you to buy a cheaper plan with skimpier coverage as you wait to reach your deductible.
Location, Location, Location: Texas is a massive state. Good thing that Medicare Supplement policies work everywhere. Medicare Advantage plans, by contrast, will disenroll you if you leave their service area.
If You're Under Age 65: Unlike some states, Texas makes sure that Medigap plans are available to Medicare Part B enrollees under the age of 65. All carriers must offer Plan A to persons under 65 years old, although they're entitled to charge more for it.
What Is Medicare Supplement, and When Do You Apply?
Medigap plans – otherwise known as Medicare Supplement insurance plans – are a valuable part of your complete Medicare coverage. These plans pay for the coverage "gaps" that Original Medicare (Medicare Part A and Medicare Part B) doesn't take care of, at a low monthly cost. Unlike Original Medicare, which comes from the federal government, Medigap plans are purchased through private insurers.
Once you enroll in Medigap, you're automatically re-enrolled every year unless you want out. Your Medicare Supplement insurer also has to guarantee that you can renew your plan every year, no matter what. Medicare Supplement plans in Texas are regulated by the Texas Department of Insurance.
Remember that Part A and Plan A are different. A "Part" refers to the Medicare program, while a lettered "Plan" is a type of Medicare Supplement policy.
Sample Texas Medicare Supplement Scenarios:
Gary, 65-Year-Old Male In Dallas could choose Medicare Supplement Plan G for something like $200 per month. Gary would spend $2,400 on his yearly premiums, and owe no out-of-pocket costs for his Medicare coverage beyond his yearly $185 Part B deductible – no matter how much care he used.
Gary could also accept an offer for Plan N at just $103 per month. Plan N charges $20 for each doctor visit. If he saw a doctor every month, he'd spend $1,236 in premiums and $240 in charges for a total of $1,476 in medical costs during the year that aren't covered by Medicare.
Janice, a 70-Year-Old Woman In San Antonio choosing a high-deductible Plan F could spend as little as $43 per month on her Medicare Supplement.
With high-deductible Plan F, she would be responsible for the first $2,200 of her costs that aren't covered by Medicare.
In a year without a medical emergency: Janice could expect to spend $185 on her Part B deductible and $1,000 in Medicare copayments. Her high-deductible Plan F wouldn't need to kick in to cover emergency costs. Including her high-deductible Plan F premiums, she'd spend $1,699 total that year on medical costs.
In a year with a medical emergency: If Janice had an expensive medical emergency, she wouldn't spend more than $2,200 along with her $516 annual premium. Thankfully, her high-deductible plan would pay her share of any Medicare-covered services after she reached her deductible.
Taking the Next Steps
You can compare your Texas Medigap coverage options, get personalized quotes and speak to an agent licensed and appointed in Texas to sell Medigap insurance. HealthCare.com can show you plans or connect you to a local agent.
For More Reading: