Researched by licensed + unbiased insurance experts. Learn More
When you're shopping for Medicare Supplement ("Medigap"), it's smart to take a close look at the two most popular Medicare Supplement choices: Plan F and Plan G.
There are ten standardized Medigap plans available across the country, lettered A through N*. This standardization means that many insurance companies can offer Medigap lettered plans, but same-lettered plans must provide the same basic benefits, no matter which company sells it.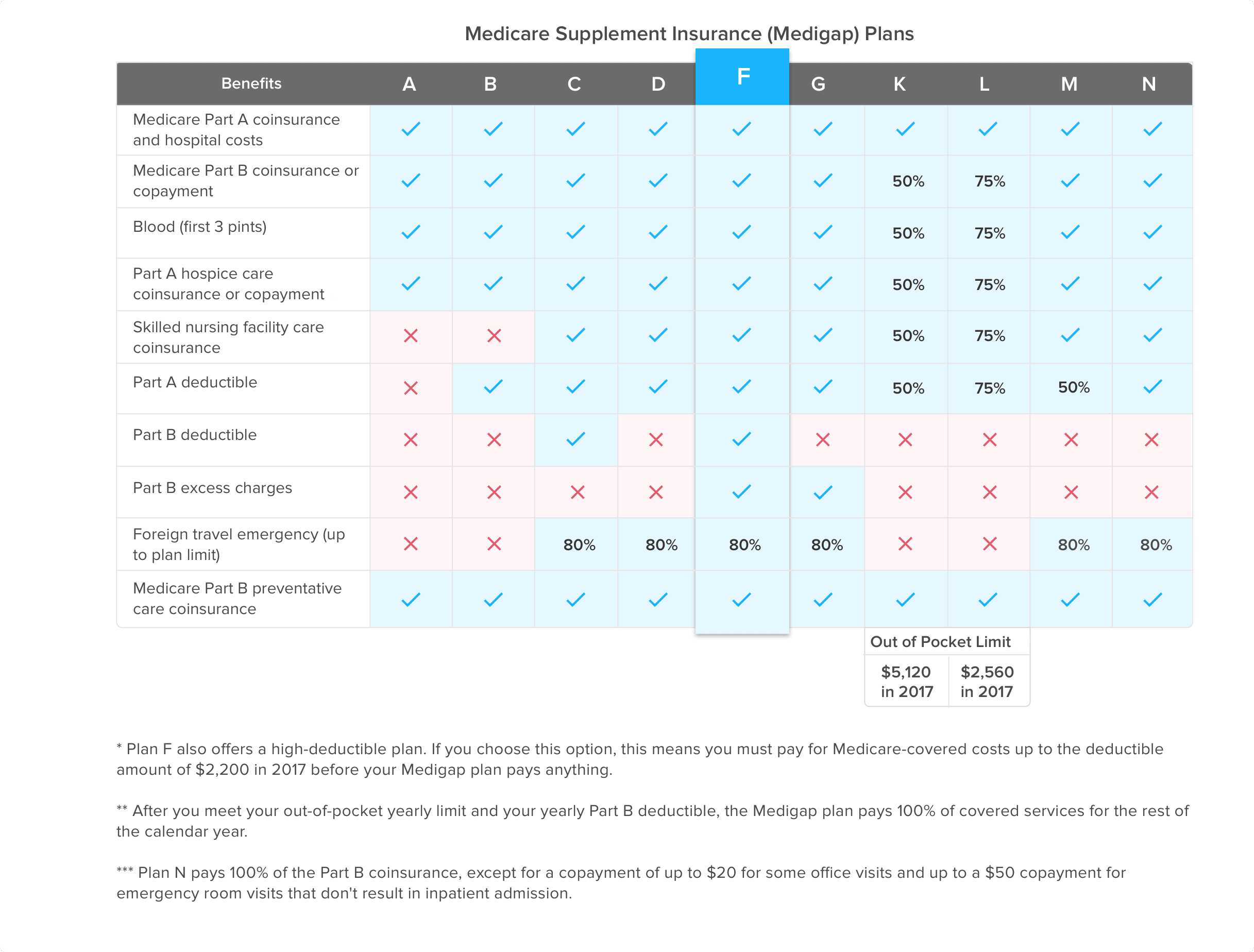 What Does Medicare Supplement Plan F Cover?
Medicare Supplement Plan F and Medicare Supplement Plan G policies will offer the following basic benefits anywhere you can find them. Plan F is considered the most comprehensive Medicare Supplement plan, since it covers all of the additional benefits that Medigap plans offer (however, keep in mind that with the maximum coverage generally comes a greater cost).
Medigap Plan F specifically covers a variety of Medicare Part A, Medicare Part B, and additional costs not covered through Original Medicare:
Medicare Part A costs:

Coinsurance and hospital costs up to an additional 365 days after Original Medicare benefits run out
Hospice care coinsurance or copayment
Plan deductible

Medicare Part B costs:

Coinsurance or copayment costs
Excess charges (if your doctor charges more than the Medicare-approved amount for a service)
Plan deductible

Additional Coverage:

First three pints of blood used in a medical procedure
Skilled Nursing Facility (SNF) care coinsurance
80% of the cost of foreign travel emergency (up to plan limits)
Some insurance companies in some states also offer a high-deductible Medigap Plan F, which would mean you would have to pay for Medicare-covered costs (deductibles, coinsurance, and copayments) up to the deductible amount before your policy begins paying.
What Does Medicare Supplement Plan G Cover?
Medicare Supplement Plan G is very similar to Plan F. Plan G covers all the same benefits as Medigap Plan F except for the Medicare Part B deductible.
Medicare Supplement Plan F closes to new members in 2020, making it expensive for those who will stay on the plan. Medicare Supplement Plan G is the most popular Plan F replacement.
What Do Medigap Plan F and Medigap Plan G Not Cover?
It is a common misconception that Medigap plans cover additional services and supplies that they do not. It is important to note that Medigap Plan F and/or Medigap Plan G do not cover the costs of any Medicare Advantage plans, stand-along Prescription Drug Plans, Medicaid, Department of Veterans Affairs (VA) benefits, or TRICARE. Medigap Plan F and Medigap Plan G also do not cover the costs of long-term care (such as in a nursing home), hearing aids, eyeglasses, vision or dental care.
While Medigap Plan F and Medigap Plan G both offer similar coverage, the costs and availability of these plans could vary. Be sure to compare plans offered in your area based on their premiums (and the method they use to set these premiums, as prices could go up over time), deductibles, and other out-of-pocket costs. You can use online comparison tools to find which plans are available in your area and to choose the right one for your specific needs.
*It is important to note that Massachusetts, Minnesota, and Wisconsin standardize their Medigap plans in a different way.
Taking the Next Steps
Consider your health needs, and the price of available coverage, when deciding which Medicare Supplement plan is right for you.
For More Reading: