Researched by licensed + unbiased insurance experts. Learn More
Both Medicare Supplement ("Medigap") insurance and Medicare Advantage plans offer private-market medical coverage for Medicare beneficiaries. For many on Medicare (or for those deciding to get on Medicare), the decision often comes down to Medicare Advantage vs. Medigap combined with Original Medicare.
If you're considering this Medicare Advantage vs Medigap question, take a look at some of the key differences between the two:
Differences Between Medigap and Medicare Advantage
| | | |
| --- | --- | --- |
|  Topic | Medigap (Medicare Supplement Insurance) | Medicare Advantage |
| How it relates to Original Medicare Parts A & B | Private supplemental coverage that pays all or most Part A & B out-of-pocket costs. | Private health plan that provides Part A & B benefits directly in place of Original Medicare. |
| Premium | Average of about $150 to $200 a month. Can vary by age, health history, or both. | $0 to more than $100 a month depending on the plan. All plan enrollees pay the same regardless of age or health history. |
| Out-of-pocket costs | Low to none (not counting premium). | In-network medical deductibles and copays of up to $3,400 to $6,700 a year, depending on the plan. |
| Choice of doctors and hospitals | Any that participate in Medicare. | HMOs: Plan providers only.PPOs: Any provider, but out-of-network providers cost more. |
| When you can buy | First six months after you sign up for Part B and are at least 65 years old is your Medicare Supplement Open Enrollment Period. After that, in most states you can be turned down or charged extra for pre-existing conditions. | When you first enroll in both Medicare A and B and annually thereafter during the Annual Election Period (Oct. 15-Dec. 7). |
| Part D (drug) coverage | Not included. You must buy a separate Part D plan for this. | Most plans include Part D coverage. |
| Travel extra | Better solution for those who travel often or maintain two homes. | If you travel often, you may out of network and pay. |
| Quality information available | No. There are no standardized ratings for Medigap plans. | Yes. The government publishes star ratings (5 stars are the best). Consumer Reports has Medicare Advantage quality rankings from NCQA. |
| Do benefits change each year | Not usually. | Once a year. It is important to review your coverage. |
| Cards in your purse or wallet | Three. 1. Red, white, and blue Medicare card. 2. Medigap card. 3. Part D card. | Usually just one Medicare Advantage card. The red, white, and blue Medicare card can stay in your desk drawer. |
| Paperwork | Little to none. Medigap almost always automatically cuts a check to providers after Medicare pays its share. | Some, because you pay deductibles and copays directly to providers. |
The Different Paths of Medicare Coverage
The choice between Medicare Advantage and Medigap starts with the question of how the Medicare beneficiary wants to receive their Original Medicare benefits that cover among other things, hospitalizations and doctor visits.
Door #1 is to receive Original Medicare, by enrolling for the federal programs for Medicare Part A and Part B. If you opt for this path (depicted on the left side of the chart below), then you have the option to supplement that coverage with a Medigap policy. (If you have the means to do so, Medigap coverage provides important coverage to costs that Original Medicare doesn't cover, which you would otherwise need to pay on your own.)
Door #2 is to receive your Medicare benefits through private insurance companies with a Medicare Part C (also called Medicare Advantage).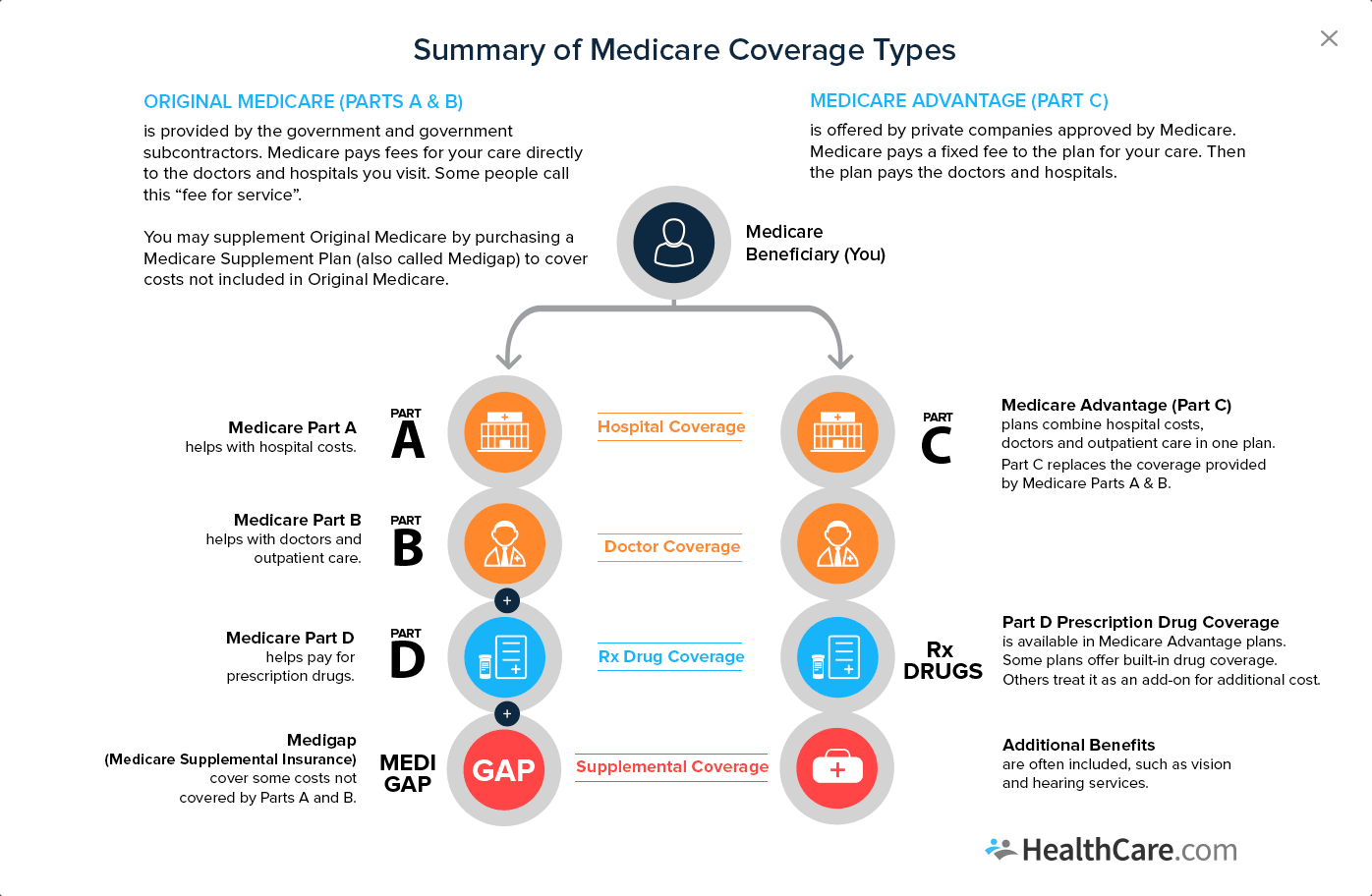 Taking the Next Steps
Consider when you can apply for Medicare Supplement or Medicare Advantage. Mark your calendar or search plans on HealthCare.com today!
For More Reading: