When life changes, health insurance should be at the top of the priority list to review, just as you would with your auto or homeowners policy. While changes to your healthcare policy can only be made during the health insurance open enrollment period, specific life circumstances can trigger a Special Enrollment Period. A situation like this is considered a health insurance qualifying life event.
Changes in life happen every day. People get married, have a baby, lose their job, lose a loved one – the list goes on. Many times when these life events occur, an individual's health insurance plan is the last thought on their mind. However, not having any health insurance protection or not enough insurance coverage can cause financial setbacks should the unexpected accident or illness occur.
Special enrollment is available to Americans who have a directional change occur in their lives. This is commonly referred to a health insurance qualifying life event (QLE). If you encounter a QLE, you are able to either enroll in a new health insurance plan or change your existing healthcare coverage.
Qualifying Life Event Situations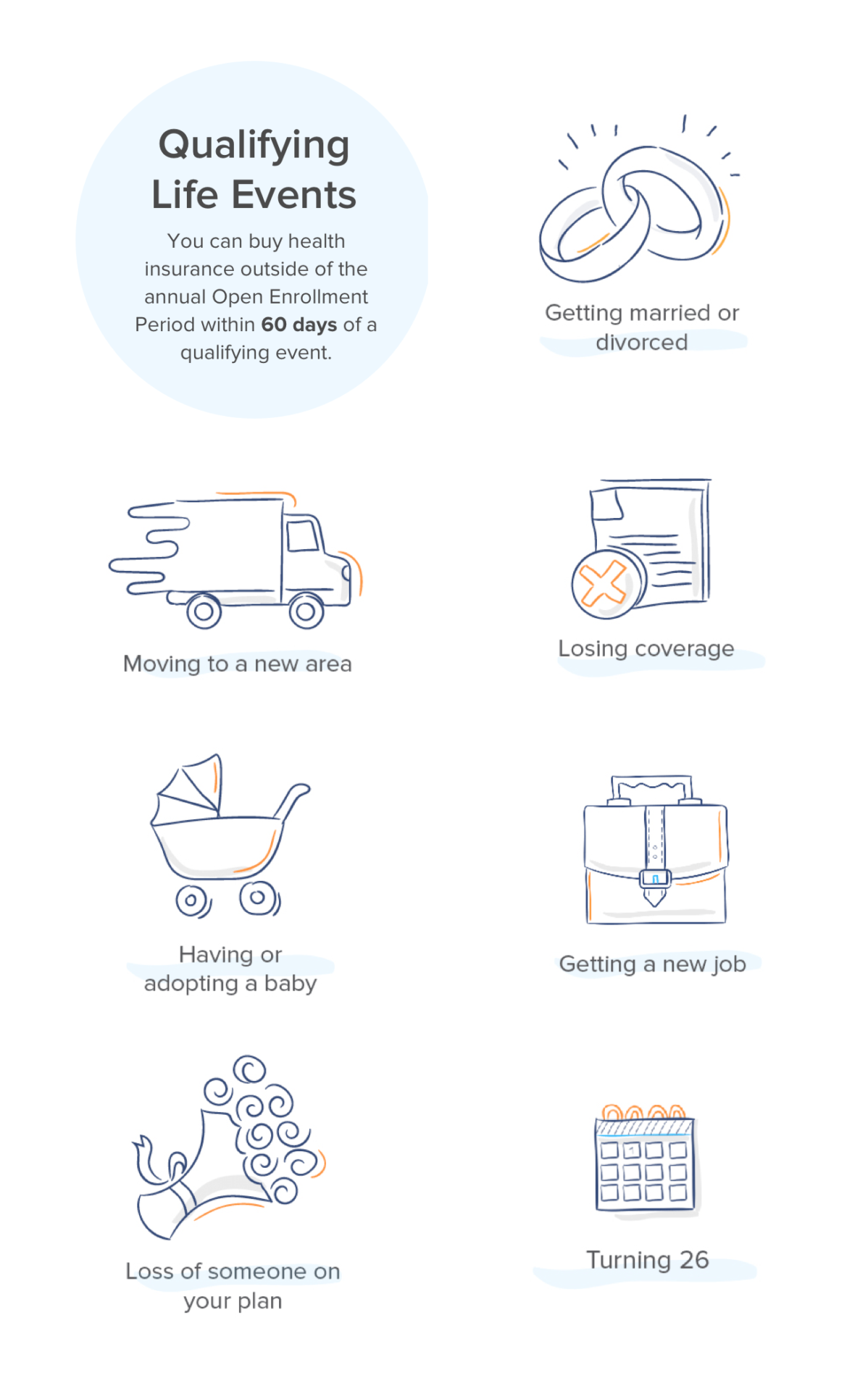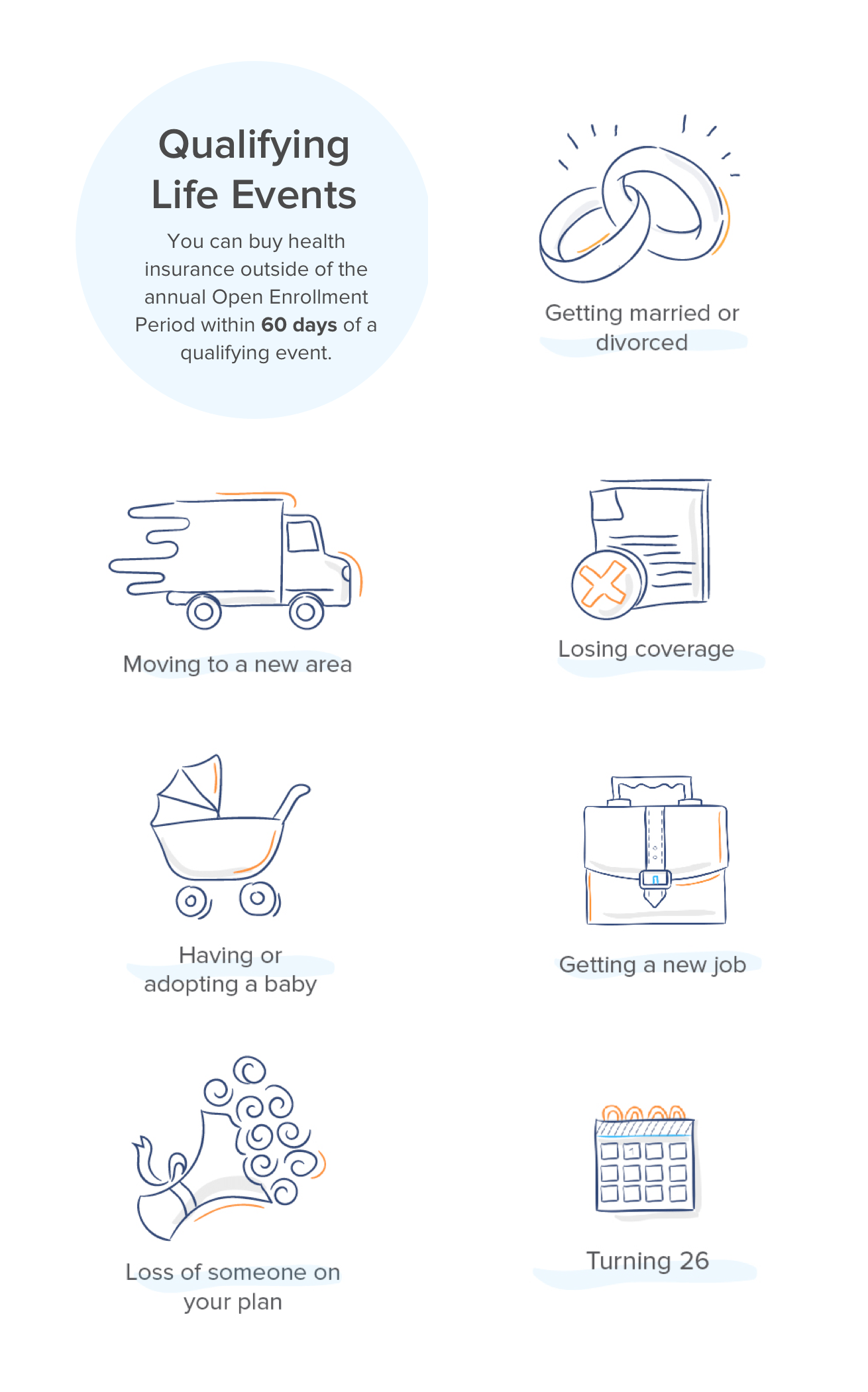 Health insurance qualifying life events include:
You get married;
You get divorced;
You have a baby;
You adopt a child;
The death of an individual living in your home reduces your reported household size;
You experience any change of household size that impacts what you report to the government for your household tax subsidy;
You move to a different ZIP code;
You lose your employer health insurance coverage;
Your COBRA coverage expires;
You turn 26 years old and can no longer stay on your parent's healthcare plan;
You have an increase in income and no longer qualifying for Medicaid;
You have a change in income (either an increase or decrease) and need to adjust reported income to the federal; government or your state exchange to adjust your tax subsidy;
You are released from jail;
You are discharged from the Armed Forces; and
When applying for health insurance, an error is made, either human error or technical error, which results in you not obtaining coverage.
Qualifying life events such as these open the gateway for making adjustments to your health insurance coverage. However, you have limited time to make changes. You must enroll in a healthcare plan within 60 days of your qualifying life event. For example, if you have a baby on April 30, you must enroll in or update your existing health insurance plan before the end of June. If you quit your job to form your own business, you have 60 days from the last day of employment to get new healthcare coverage.
If You Lose Coverage, Don't Wait to Replace It
Putting off health insurance coverage because of change is also a mistake. With the passing of the Affordable Care Act, also known as Obamacare, Americans are now required to carry a health insurance policy, just like they are required to carry auto insurance in most states. With this federal mandate, individuals are subject to a fine if they do not have a healthcare plan.
In 2016, the penalty is $695 per adult ($347.50 per child) or 2.5 percent of your income, whichever is greater. The penalty is calculated and paid when you file your income taxes.
Change can be scary and exciting at the same time. Make sure changing your health insurance policy does nothing but bring you peace of mind.
Taking the Next Steps
It's important to know all your healthcare options before deciding on your health insurance coverage.
For More Reading:
Get a Free Health Insurance Quote
Get an instant quote for health insurance plans
Compare prices from over 300 carriers
Find a plan that fits your budget