Researched by licensed + unbiased insurance experts. Learn More
In a perfect world, your soon-to-be ex will allow you to stay on their healthcare plan until the next Open Enrollment Period, so getting health insurance after your divorce will be easy. If things aren't as friendly, your ex could choose to drop you from his or her company's health insurance plan almost immediately.
Step one is to talk to your ex and determine if he or she is willing to keep you on their health insurance plan until the end of the current calendar year or at least keep your coverage current until your divorce is final. This will buy you time to research your options, which you should begin to do immediately. If your relationship falls somewhere between hostile and downright Nastyville, it's best to take control of your healthcare coverage ASAP. Below are a few options you may have for health insurance after divorce: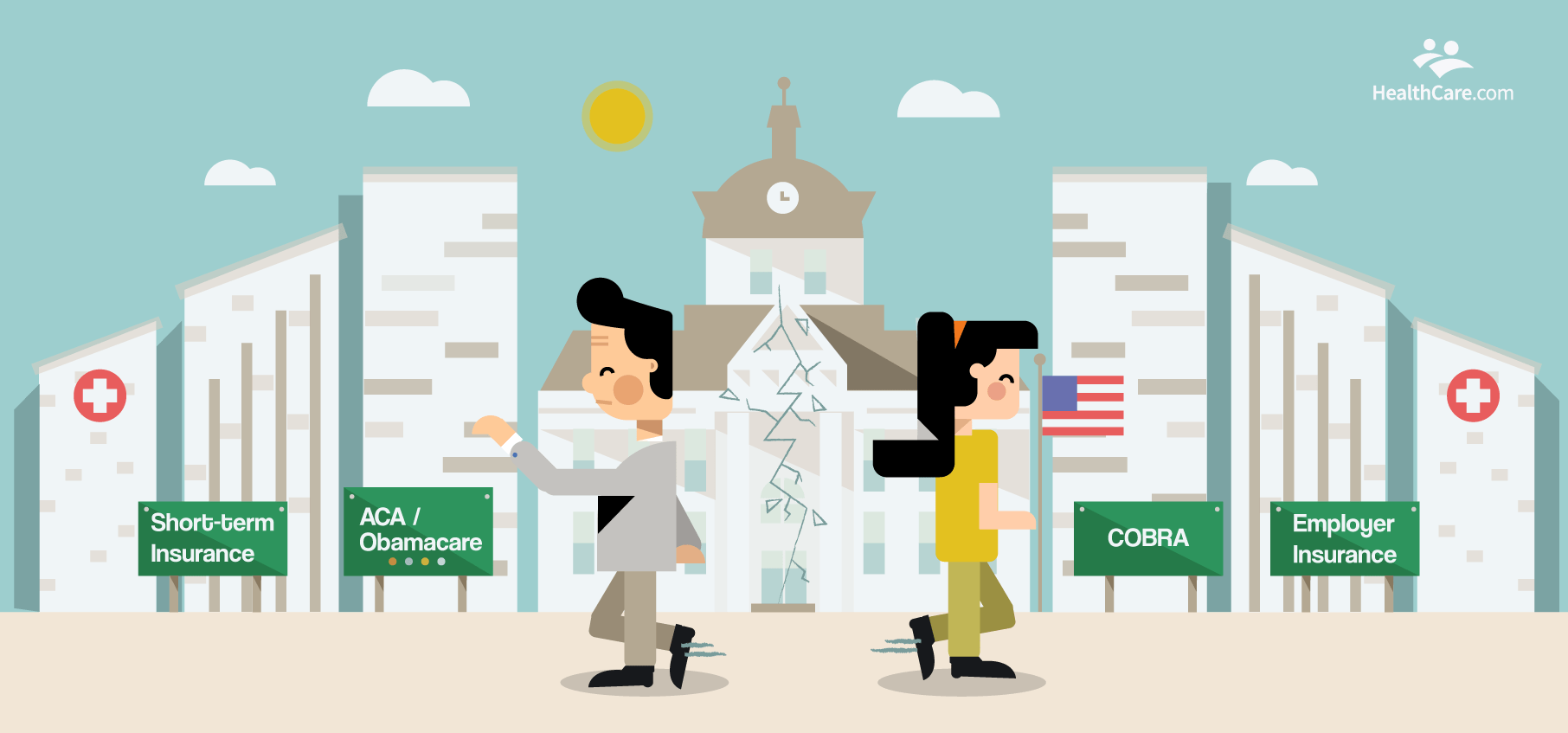 1. COBRA
Divorce can leave you without your spouse's company health insurance plan. However, you will be eligible for COBRA health insurance coverage just like any employee who loses coverage. Your ex will need to work for a company with more than 20 employees to qualify for COBRA. That said, most states have "mini-COBRA" opportunities for those associated with a small business which has under 20 employees.
Once your current health insurance policy is terminated, you must apply for COBRA coverage within 60 days of the event, which reinstates you on the same plan as an individual policyholder. You have to pay the entire cost of the health insurance policy, and do not receive cost-sharing from your ex's employer as you had previously. This can be the most expensive healthcare plan option, which is why it's important to price shop health insurance rather taking this route without researching.
2. Employer Health Insurance Plan
If you are eligible for health insurance through your own employer, talk to your human resources department about your options. This can be more cost efficient than COBRA and keeps you out of your ex's company plan. Although you generally have to wait for certain times of the year to join employer health insurance, getting a divorce lets you join a plan at any time.
3. ACA / Obamacare Health Plan
If you do not have employer health insurance coverage available, you are eligible for Obamacare health insurance on the state exchange, the federal marketplace or in the private marketplace. You have 60 days following your divorce to get coverage during what is known as a Special Enrollment Period. After the 60 days pass, you will have to wait until the regular open enrollment period to sign up for a health insurance plan. The regular enrollment period typically runs at the end of the year.
Shopping for a health insurance plan on your own for the first time can feel overwhelming, but if you remember five things to review when researching your health insurance options, you will make a more informed choice.
Metal level – Obamacare health insurance plans are structured by metal level, either Bronze, Silver, Gold or Platinum. Bronze plans are the most affordable, with traditionally a large deductible and/or smaller doctor network. As the plans progress, the benefits get richer, deductibles become lower, and the monthly cost for the plans becomes higher. A Platinum plan pays approximately 90% of medical costs, and a Bronze plan pays 60% of medical costs.
Network – If you are committed to your doctor or a particular facility where you like to receive care, make sure they are in the health insurance company network of the plan you are most interested in. The customer service number of the health insurance company can let you know if your doctor is in their provider network.
Deductible – A health insurance deductible is the dollar amount you must meet before the health insurance company begins paying for your medical care. Take a look at the policy's deductible and make sure you have the savings to pay for that gap in coverage should unexpected medical bills arise. If not, you also have the option to purchase supplemental health insurance, which pays cash for accidents and illnesses to help cover your deductible.
Price – Monthly budget shouldn't be the only deciding factor, but you need to make sure you can afford the monthly payments, otherwise, your health insurance plan will be cancelled.
Penalty – In some states, you will face a fine if you decide to skip buying health insurance altogether. If health insurance is required by law, not carrying coverage will sting at tax time. You will owe the government a flat fee or a percentage of your income, whichever is greater, when you pay your income taxes. This nationwide requirement expired in most states in 2019.
A majority of Americans qualify for some type of financial subsidy to help lower the cost of their health insurance plan. This financial assistance is also known as a tax subsidy. When you begin shopping for health insurance, calculate what your Obamacare tax subsidy might be in advance of making a decision on which plan you intend to purchase.
4. Short-Term Health Insurance
If an Obamacare plan doesn't match your budget or you believe you will obtain health insurance from an employer in the near future, short-term health insurance is an affordable alternative option. There are a few things to know about these temporary health insurance plans:
You don't have to worry about in-network doctors or facilities. Short term insurance plans have discount networks or you can see the doctor of your choice.
You cannot have certain pre-existing conditions. If you have a pre-existing condition, an Obamacare care or employer plan is your best option.
Coverage can start in as quickly as 24-hours.
Temporary insurance can last for up to six months or up to 12 months, depending on your state of residence.
Divorce is a life changing event, but finding health insurance after divorce shouldn't be too difficult once you know your options. Make sure your wellness is protected so the next chapter of life is healthy and happy.
Legal Situations That May Affect Your Health Insurance After Divorce
What if You're Separated but Not Divorced? You can stay on your spouse's insurance if you're not living together. There's no rule against this. Keep in mind that your spouse may receive your health records in the mail.
One spouse generally can't remove their partner from their shared health insurance plan until after the divorce is final. The primary spouse on your health insurance plan may be able to enter health insurance coverage on their own once the plan expires, however.
If you and your spouse undergo a legal separation (or a "limited divorce"), the laws will differ based on your state and insurance company. Your plan may or may not view this as the same thing as a divorce. It's best to talk to your insurance company or attorney for more information.
Health Insurance In A Divorce Settlement: You can absolutely discuss health insurance in a divorce settlement. This can involve the option to contribute to a spouse's health insurance; the obligation to keep a spouse on an existing plan; or details about coverage for your children.
If You're Divorced But Don't Lose Your Health Insurance: If you don't lose your health insurance when legal separation occurs – perhaps because you were the primary insured – then you may not have guaranteed rights to choose a new ACA plan. However, you could qualify to choose a new plan simply because someone else left your existing plan, or because your household income changed.
Can a Judge Order Changes to Your Health Coverage? It's possible, but not required, for a court to order one spouse to keep the other on their existing health insurance plan.
For More Reading: