South Carolina is the third most popular state to retire to — and with good reason. Warm weather, a low cost of living, and Medicare Supplement plans with below-average prices make it a great place to spend your golden years.
How Much Does Medicare Supplement Cost in South Carolina?
Although Medicare Supplement plans are standardized (meaning the same letter plan must provide the same benefits), prices vary by carrier. Factors such as your age, gender, and the area you live in can also influence how much Medicare Supplement plans cost.
HealthCare.com analyzed monthly premiums in Charleston to give you a general idea of the cost for each plan. Prices are as of March 2019: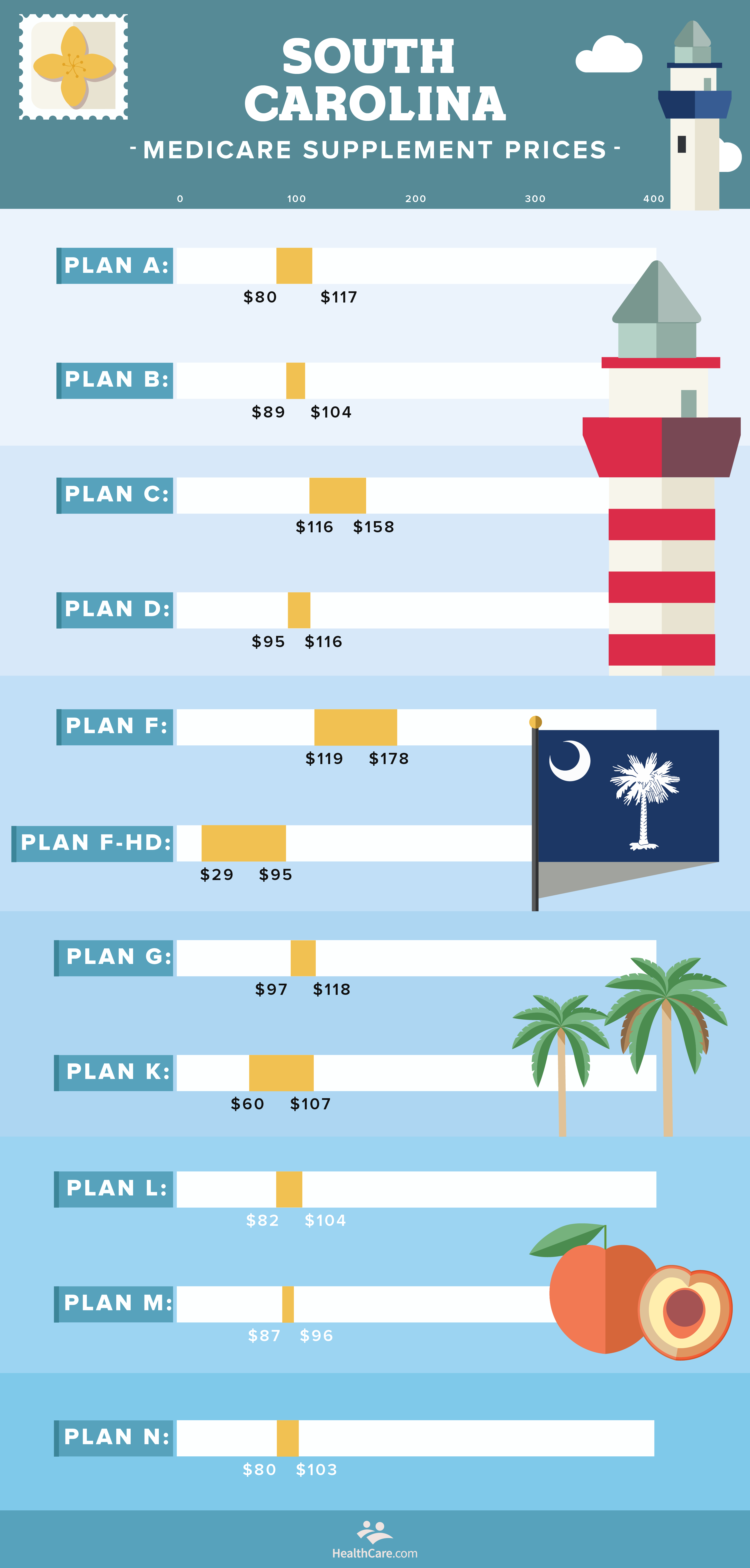 Plans that offer comprehensive coverage such as Plan C, Plan F, and Plan G typically have the highest premiums. Budget-friendly plans (Plan A, Plan B, Plan K, and Plan L) have lower monthly premiums, but provide fewer benefits.
How Many South Carolinians Join Each Medigap Plan?
The Palmetto State boasted over 250,300 Medigap enrollees in 2016, according to an AHIP report. Below is a breakdown for each plan statewide:
Plan A: 3,904
Plan B: 2,848
Plan C: 7,285
Plan D: 15,174
Plan F: 149,522
Plan G: 37,626
Plan K: 1,145
Plan L: 897
Plan M: 4 (darn tootin')
Plan N: 21,689
Medigap Plan F, with its comprehensive benefits and no dollar coverage (no deductibles, copayments or coinsurance), is currently the most popular plan in South Carolina, but that will change in 2020 when it's no longer offered to new members.
Medigap Plan G and Plan N rank second and third, respectively, thanks to similar affordable coverage. Plan M comes in dead last, with only four enrollees in the state.
Which Medicare Supplement Plans Are Available in South Carolina ?
All 10 standardized Medicare Supplement plans are available in South Carolina. While all South Carolina Medigap issuers must offer Plan A, they aren't required to offer the other nine plans.
Most #MedicareSupplement carriers in South Carolina offer several lettered plans, letting you compare price by both plan type and company.
Click To Tweet
Medicare SELECT is also prevalent in South Carolina. This is a type of a standard Medigap plan that typically requires enrollees to choose a doctor from the plan's network of preferred providers for routine care.
If you're under age 65: South Carolina provides two guaranteed-issue Medicare Supplement policies for those under the age of 65 who are enrolled in Medicare due to disability. Coverage is issued through the South Carolina Health Insurance Pool (SCHIP). SCHIP was created by state government, and is currently administered by Blue Cross Blue Shield of South Carolina (although these aren't "Blue Cross plans").
According to the South Carolina Department of Insurance, SCHIP plans and costs for all ages effective January 1, 2018, are:
Plan A: $940.05 per month
Plan C: $1,994.83 per month (closes to new members on January 1, 2020)
Which Companies Offer South Carolina Medicare Supplement?
The 8 largest Medicare Supplement issuers in South Carolina are:
UnitedHealthCare Insurance / AARP
BlueCross BlueShield of South Carolina
Omaha Insurance / United of Omaha Life Insurance
Cigna / American Retirement Life Insurance
Aetna Health & Life Insurance / American Continental Insurance
New Era Life Insurance
Humana
United World Life Insurance
Issuers with a smaller presence include: American National Life Insurance Company, Americo, Assured Life Insurance Association, Bankers Fidelity Life Insurance, Colonial Penn, Continental Life Insurance, Equitable Life Insurance, Everest Reinsurance Company, GPM Health and Life Insurance Company, Greek Catholic Union of the USA, Guarantee Trust Life Insurance, IAC, LCBA, Massachusetts Mutual Life Insurance, Medico Insurance Company, Members Health Insurance Company, National General, PacifiCare Life and Health Insurance Company / Secure Horizons, Pan-American Life Insurance Company, Philadelphia American Life Insurance Company, Physicians Mutual, Renaissance Life & Health Insurance, Reserve National Insurance Company, Shenandoah Life Insurance Company, United Life Insurance, United Teachers Associates Insurance Company, USAA Life Insurance Company, and Western United Life Insurance Company.
No matter which carrier you choose, your letter plan benefits will be the same. However, some insurance companies offer additional benefits and programs to members.

What Is Medicare Supplement and When Can You Apply?
Medicare Supplement (also known as Medigap) is an add-on to Original Medicare that covers the out-of-pocket gaps in your Medicare coverage. Medicare Supplement plans pay for healthcare costs such as deductibles, coinsurance, and copayments.
Starting on the first day of the month that you turn 65 or older and are enrolled in Medicare Part B, you'll have a six month open enrollment window to buy a Medigap plan. During this time, you're guaranteed coverage at the lowest possible rate and can't be turned down due to health issues. You can apply after this window, but issuers can deny you coverage or charge more due to your age or health.
Why is Medicare Supplement a Good Choice for South Carolinians?
Medicare SELECT: Medicare SELECT is a type of Medigap policy that generally has lower premiums. It's still a standard Medicare Supplement plan (A through N), but it that typically requires you to visit doctors that are in the plan's network for routine care. If you use an out-of-network provider, you'll need to pay a larger portion of the costs (although Medicare will still pay its share of approved charges).
If you have a Medicare SELECT plan, you can switch to a regular Medigap plan that is sold by the same company at any time. However, the plan you choose must have equal or less coverage than the Medicare SELECT policy.
Sample South Carolina Medicare Supplement Scenarios
George, a 68-year-old man in Greenville could buy Medicare Supplement Plan G via HealthCare.com for around $104 per month.
Plan G offers some of the most comprehensive benefits. It covers basic Medicare benefits, 100 percent of the Medicare Part A deductible, 100 percent of skilled nursing coinsurance, and 80 percent of travel emergency costs outside the country. George would still need to pay an annual Medicare Part B deductible of $185, and his current Medicare premiums, but nothing more for care. His annual premium would cost $1,248.
Marilyn, a 65-year-old woman in Myrtle Beach could buy a Medicare Supplement Plan D via HealthCare.com for around $95 per month.
Medigap Plan D coverage includes the Part A deductible, hospital coinsurance and costs, hospice coinsurance or copayment, Part B copayment or coinsurance, skilled nursing care, and 80 percent of emergency foreign travel costs. This plan is similar to Plan C, but premiums are lower because it doesn't include Medicare Part B deductible coverage. She would spend $1,140 per year in premiums on coverage.
Note that Medicare Supplement Plan D is different from Medicare Part D, which helps pay for prescription drugs. Thankfully, Marilyn chose to buy both once she aged into Medicare at the lowest possible rate!
How to Compare Medigap Plans in South Carolina
Ready to find Medicare Supplement plan that's right for you? Enter your ZIP code in the box below to get free quotes from multiple carriers. Just be sure to make an apples to apples comparison when you look at prices (e.g. Plan N from Cigna and Plan N from Humana).