Ohio doesn't lack options when it comes to Medicare Supplement plans. The Buckeye State boasts over 40 different carriers that are ready to help. Best of all, Ohioans enjoy lower than average prices in the Great Lakes region, so coverage won't hurt your wallet.


What Are the Average Prices for Ohio Medicare Supplement Plans?
Medicare Supplement plans have standardized benefits. That means each plan with the same letter name has the same benefits — no matter which company you chose. Only the prices can vary.
So, how much does Medicare Supplement cost in Ohio? To give you an idea, HealthCare.com analyzed the monthly price ranges for Medigap in the metropolitan Cleveland area during March 2019: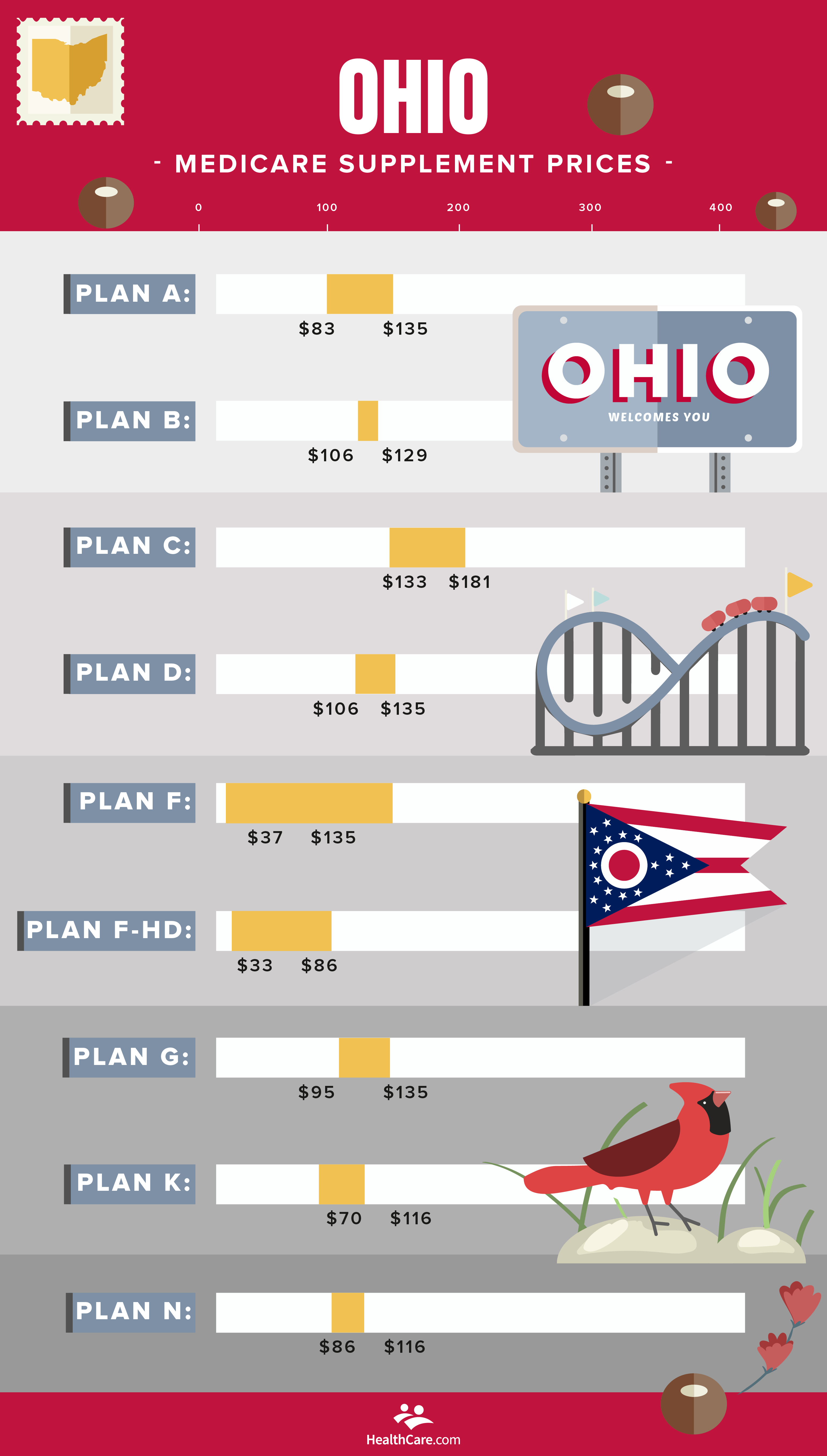 Your personal price quotes will vary due to factors such as your age, gender, and ZIP code.
How Many Ohioans Join Each Medigap Plan?
More than 613,000 Ohioans were enrolled in a Medicare Supplement plan in 2018, according to AHIP health insurance research. Here's a breakdown of enrollment in each plan:
Plan A: 4,036
Plan B: 4,454
Plan C: 57,362
Plan D: 8,636
Plan F: 333,732
Plan G: 63,323
Plan K: 2,763
Plan L: 7,216
Plan M: 23
Plan N: 100,484
Who Offers Ohio Medicare Supplement?
Medicare Supplement issuers like
UnitedHealthcare/AARP,
Community Insurance Co./Anthem Blue Cross Blue Shield, and
Humana
sell over half of the Medicare Supplement plans in Ohio.
Some Ohio Medigap companies have more fans than others.
Click To Tweet
You may also have an easy time finding plans from Medical Health Insuring Corp of Ohio, Aetna Health & Life Insurance, Omaha Insurance Co., Medical Mutual of Ohio, United of Ohio Life Insurance Co., United World Life Insurance Co., and Forethought Life Insurance Co. These companies round out the 10 largest providers in Ohio.
Companies with a smaller presence in Ohio include: American National Life Insurance Company, Americo,, Assured Life Association, Bankers Fidelity, Cigna, Colonial Penn, Companion Life Insurance, Equitable National Life Insurance, Everest Reinsurance Company, GPM Health and Life Insurance Company, Greek Catholic Union of the USA, Guarantee Trust Life Insurance, Guarantee Trust Life Insurance, IAC Life, Manhattan Life Insurance Company, MassMutual, Medico, National General, Oxford Life Insurance, Pan American Life Insurance, Paramount Insurance Company, Pekin Life Insurance, Physician Mutual, Puritan Life Insurance, Renaissance Life & Health Insurance, Reserve National Life Insurance, S. USA Life Insurance Company, Shenandoah Life Insurance Company, Transamerica Premier Life Insurance Company, Unified Life Insurance, United American Insurance Company, United Commercial Travelers of America, and USAA Life Insurance Company.
If you're a resident of a metropolitan area such as Columbus, Cincinnati or Cleveland, you'll generally see more carriers. Yet each plan letter will provide the same benefits no matter where you live.
What Is Medicare Supplement and When Do You Apply?
Medicare Supplement is a private insurance policy that helps pay for healthcare costs not covered by Original Medicare such as: deductibles, copayments, and coinsurance. Also known as Medigap, it covers your out-of-pocket gaps in Medicare Part A and Part B.
If you're enrolled in Original Medicare, you're eligible to apply for Medicare Supplement on the first day of the month of your 65th birthday. Once you buy a plan, you'll be re-enrolled every year unless you choose to cancel your coverage.
If you're under 65: Ohio does not require Medigap carriers to enroll people under age 65 who qualify for Medicare due to disability. This effectively makes it impossible for people under 65 to join Medicare Supplement in Ohio.
If you're a younger Medicare beneficiary in Ohio, you may have an easier time enrolling in a Medicare Advantage (Medicare Part C) plan. You'll also be able to stay on Original Medicare.
Which Medicare Supplement Plans in Ohio Are Available?
As of 2019, every Medicare Supplement letter plan is offered in Ohio. Not all plans are available in all areas, and not all Medigap companies offer each plan.
Roughly 50 percent of Ohioans with Medicare Supplement are enrolled in Medigap Plan F, thanks to its first dollar coverage (meaning no copayments, co-insurance or deductibles). Medigap Plan F and Plan C will close to new members in 2020. But don't worry if you do have one. You'll be grandfathered in to keep it.
Plan G and Plan N, which are also popular, are the most popular alternatives to Plan F. Plan G offers the same exact coverage as Plan F, except it requires you to pay the Medicare Part B deductible.
Why is Medicare Supplement a Good Choice for Ohioans?
No Excess Charges. Ohio law prohibits excess charges to Medicare patients. An excess charge is when a doctor bills you up to 15 percent more than what Medicare allows. In most states, you would be responsible for the difference.
Although Medicare Supplement Plans G and F cover excess charges, but you won't need them to enjoy that benefit in Ohio. This brings down local costs for Plans G and F, while making cheaper options more compelling. Plans G and F purchased in Ohio will still cover excess charges incurred out of state.
Sample Ohio Medicare Supplement Scenarios
Linda, a 65-year-old woman in Dayton, could buy Plan N on HealthCare.com for around $85 per month.
Plan N covers your out-of-pocket costs for most Medicare benefits (leaving you with a $20 office copayment and a $50 emergency room copayment), 100 percent of the Medicare Part A deductible, 100 percent of skilled nursing coinsurance, and some travel benefits. And since Ohio law prohibits excess charges, Linda won't need to worry about these if she receives care in state. If Linda saw a doctor once per year and went to the hospital one time, she would spend $70 on care plus $1,020 on this coverage this year, for a total of $1,090 in medical costs.
Or, Linda could choose Plan G for around $100 per month. It provides all the same benefits, without requiring copayments for services plus, while covering excess charges for care out of state,. Since Linda thought about spending the winter months in Florida, it may be worthwhile for her to pay the extra $15 per month for a plan that costs $1,200 per year.
Roger, a 70-year-old man in Toledo, could buy Medicare Supplement Plan A on HealthCare.com for around $115 per month. This plan covers his share of basic benefits such as Medicare Part A hospital costs, Medicare Part B coinsurance and copayments, hospice care, and preventive care.
Plan A is the most basic Medigap plan. Yet it's not a bad option for someone like Roger, who only wants basic emergency coverage since he otherwise expects to pay out-of-pocket costs as they arise.
How to Get an Ohio Medigap Plan
Once you decide which Medicare Supplement plan in Ohio fits you best, you can compare offers from competing companies. Simply enter your ZIP code below to get free quotes from multiple carriers in your area.