From freshwater coastlines to a low cost of living, Michigan has much to keep you relaxed. Seniors in the state can also count on Michigan Medicare Supplement plans. The Great Lakes State has over 40 Medigap companies that are ready to get you covered.
What's the Cost of Medicare Supplement in Michigan?
The price of a Medicare Supplement plan can vary by carrier and the area you live in. Fortunately for Michiganders, local Medigap premiums are typically lower than the national average.
To give you an estimate of much Medicare Supplement plans go for in Michigan, HealthCare.com analyzed the price range per month for plans in Farmington Hills. As of March 2019, prices are: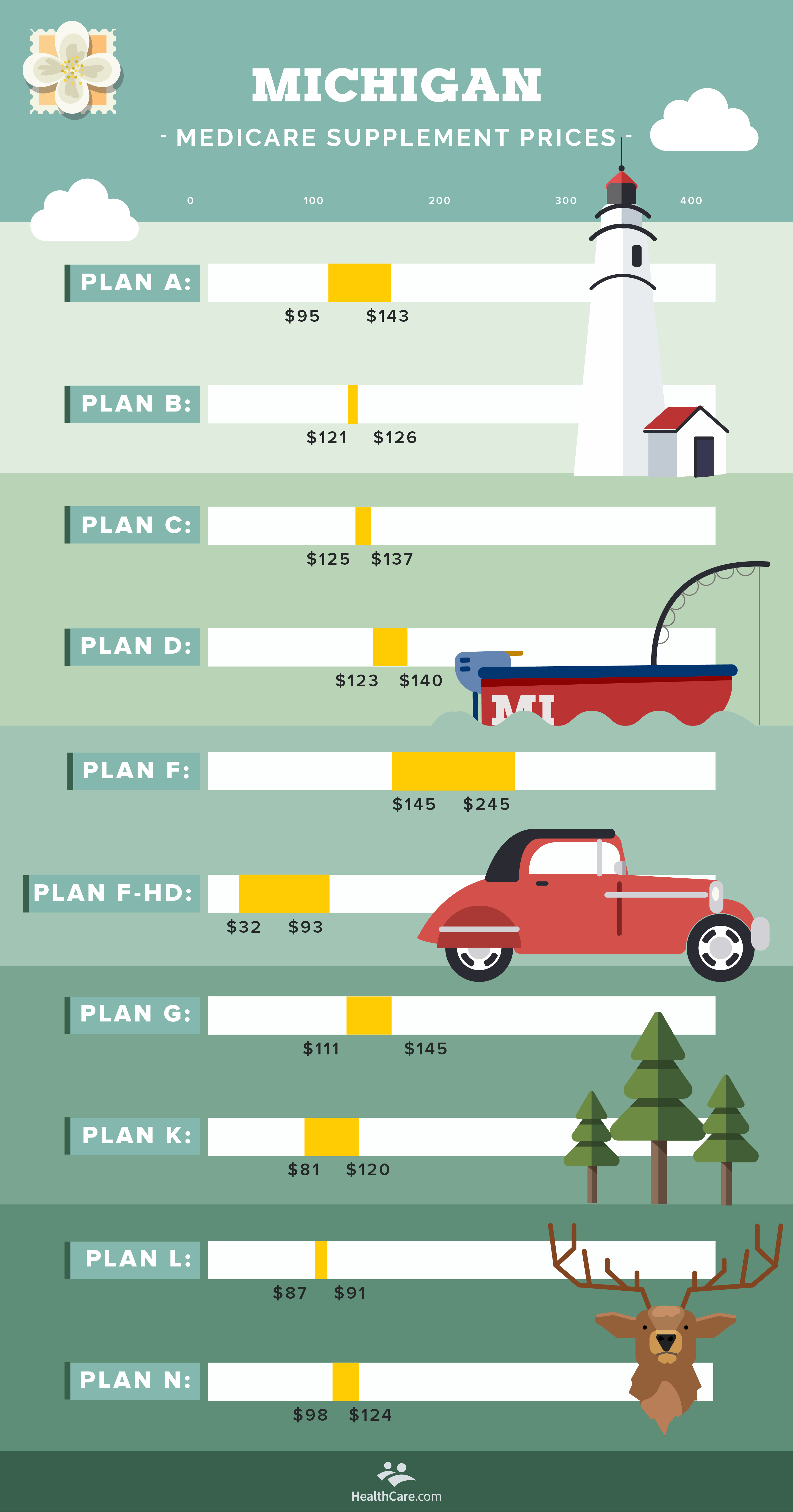 One thing to note, each letter plan has standardized benefits. This means a Plan N from Blue Cross Blue Shield must provide the same coverage as Plan N from Humana. Only prices can vary.
How Many Michiganders Join Each Medigap Plan?
About 420,900 Michiganians were enrolled in a Medicare Supplement plan in 2016, according to research from America's Health Insurance Plans. Here's a breakdown of enrollees in each MI Medigap plan:
Plan A: 13,970
Plan B: 1,073
Plan C: 174,505
Plan D: 1,322
Plan F: 122,169
Plan G: 43,103
Plan K: 1,796
Plan L: 780
Plan M: Just 7 people
Plan N: 43,410
Plan C is the most popular plan in the Great Lakes State, with nearly 175,000 enrollees. This plan, similar to the second most popular one (Plan F) include first dollar coverage. This means that the plan covers all of your deductibles, copayments, and coinsurance.
While over half of all Michigan Medigap enrollees have either Plan C or F, these plans will be closed to new members starting in 2020. At that time, people who are looking for the most comprehensive plan will choose Medicare Supplement Plan G. Plan G won't cover the annual Medicare Part B deductible ($185 in 2019), but otherwise has identical coverage to Plan F.

Who Offers Michigan Medicare Supplements?
Blue Cross Blue Shield of Michigan (BCBS MI) dominates the market. This hometown company is by far the most popular choice for Michiganders on Medicare, issuing over 45 percent of policies in the Great Lakes State at last count.
Other major issuers include:
UnitedHealthcare / AARP
American Intercontinental
Blue Care Network of Michigan (a nonprofit HMO subsidiary of BCBS MI)
United of Omaha Life Insurance/Omaha Insurance Co.
Priority Health
Colonial Penn
Medico Corp Life Insurance
TransAmerica Premier Life Insurance
Medicare Supplement companies with a smaller presence in Michigan include: Aetna Health & Life Insurance, American National Life Insurance Company, Americo, Assured Life Association, Bankers Fidelity, Cigna, Companion Life Insurance Company, Equitable National Life Insurance Company, Everest Reinsurance Company, GPM Health and Life Insurance Company, Greek Catholic Union of the USA, Guarantee Life Insurance Company, Health Alliance Plan of Michigan, Humana, Healthy Living, IAC, LCBA, Manhattan Life Insurance Company, Massachusetts Mutual Life Insurance Company, McLaren Health Plan Inc., National General, Pan-American Life Insurance Company, Pekin Life Insurance Company, Polish Falcons of America, Renaissance Life & Health Insurance Company, Reserve National Insurance Company, S. USA Life Insurance Company, Shenandoah Life Insurance Company, Unified Life Insurance Company, United American Insurance Company, United World Life, USAA Life Insurance Company, and Wisconsin Physicians Service Insurance Corporation.
Which Medicare Supplement Plans Are Available in Michigan?
The 10 standard Medicare Supplement plans (A, B, C, D, F, G, K, L, M, N) are available in Michigan. Yet not all plans are offered statewide. Keep this in mind as you look for Medigap coverage in your area.
Under Age 65: If you're under the age of 65 and enrolled in Medicare due to disability, your Medigap choices are typically limited to Plan A or Plan C. A limited number of carriers must offer these two policies to people under 65. However, these companies can charge those individuals more for coverage.
Why Is Medicare Supplement a Good Choice for Michiganders?
Michigan Medigap Subsidy: The Michigan Medigap Subsidy is a unique program that helps pay some of your Medigap enrollment bills. If you're eligible, the program pays a subsidy directly to your Medicare Supplement insurance company. The subsidy is subtracted from your monthly premium, and this lowers your monthly payment. The program is currently set to last until 2021.
If your household income is $26,730 or less for one person or $36,045 or less for twopeople and you have a Medigap plan with a participating insurance company, you may qualify for the subsidy.
Medicare SELECT Option: Michigan was one of the first 15 states permitted to offer SELECT plans. A Medicare SELECT plan is a standard Medigap policy (Plan A through N), but it operates like an HMO.
This means it typically requires you to visit providers that are within the plan's network for routine care. These plans generally have lower premiums due to an insurance carrier's agreement with their preferred medical providers.
What Is Medicare Supplement and When Do You Apply?
Medicare Supplement, also called Medigap, is a privately run, government-designed policy that helps pay for costs that aren't covered by Original Medicare. It does not replace your Original Medicare, and it works with any doctor who accepts Medicare. All plans must provide the following core benefits:
Medicare Part A coinsurance that pays your out-of-pocket inpatient  hospitalization costs, plus coverage for 365 days after any Medicare benefits end
Medicare Part B coinsurance that pays your 20 percent of out-of-pocket outpatient medical expenses
Comprehensive blood and hospice coverage under that would be out-of-pocket under Medicare Part A
Medigap Plan A (not to be confused with Medicare Part A) only includes these core benefits. Other plans offer additional coverage.
Your individual open enrollment period is the best time to buy a Medigap plan. It starts on the first day of the month in which you are both age 65 or older and enrolled in Medicare Part B. During this six month period, you won't have to pay more for coverage due to health reasons.
Typical Michigan Medicare Supplement Stories
Karen, a 65-year-old woman in Grand Rapids could buy a Medigap Plan F-High Deductible version on HealthCare.com for about $40 per month. She would also need to meet the $2,300 deductible in 2019 before her plan's coverage would take effect.
Since Karen would like a comprehensive plan in emergencies but can otherwise pay for routine medical costs on her own, this plan excels at meeting her needs. Karen would pay $1,000 during a typical year ($480 in premiums plus $520 in out-of-pocket Medicare costs that don't meet deductible). In a difficult year – say one where she'd otherwise rack up $10,000s of out-of-pocket costs – Karen would pay $2,780 for this coverage ($480 in premiums plus the $2,300 deductible), but wouldn't have other costs besides that.
John, a 67-year-old man in Ann Arbor could buy a Medigap Plan G on HealthCare.com for about $138 per month. This is one of the most comprehensive plans available. It covers the core benefits plus your out-of-pocket costs for the Medicare Part A deductible, skilled nursing facility care, and medically necessary emergency care in a foreign country. John would pay $1,500 per year in premiums.