Home to Johns Hopkins Hospital, Maryland is known for providing exceptional medical care. So, it should be no surprise that the Old Line State has 48 Medicare Supplement companies to help you see any Medicare-covered doctor.
What's the Price of Medicare Supplement in Maryland?
All Medicare Supplement plans are standardized by letter. For example, Medigap Plan G always provides the same benefits, regardless of the carrier you choose.
To give you an estimate of how much Maryland Medicare Supplement plans cost, HealthCare.com analyzed the price ranges for plans in Baltimore as of April 2019: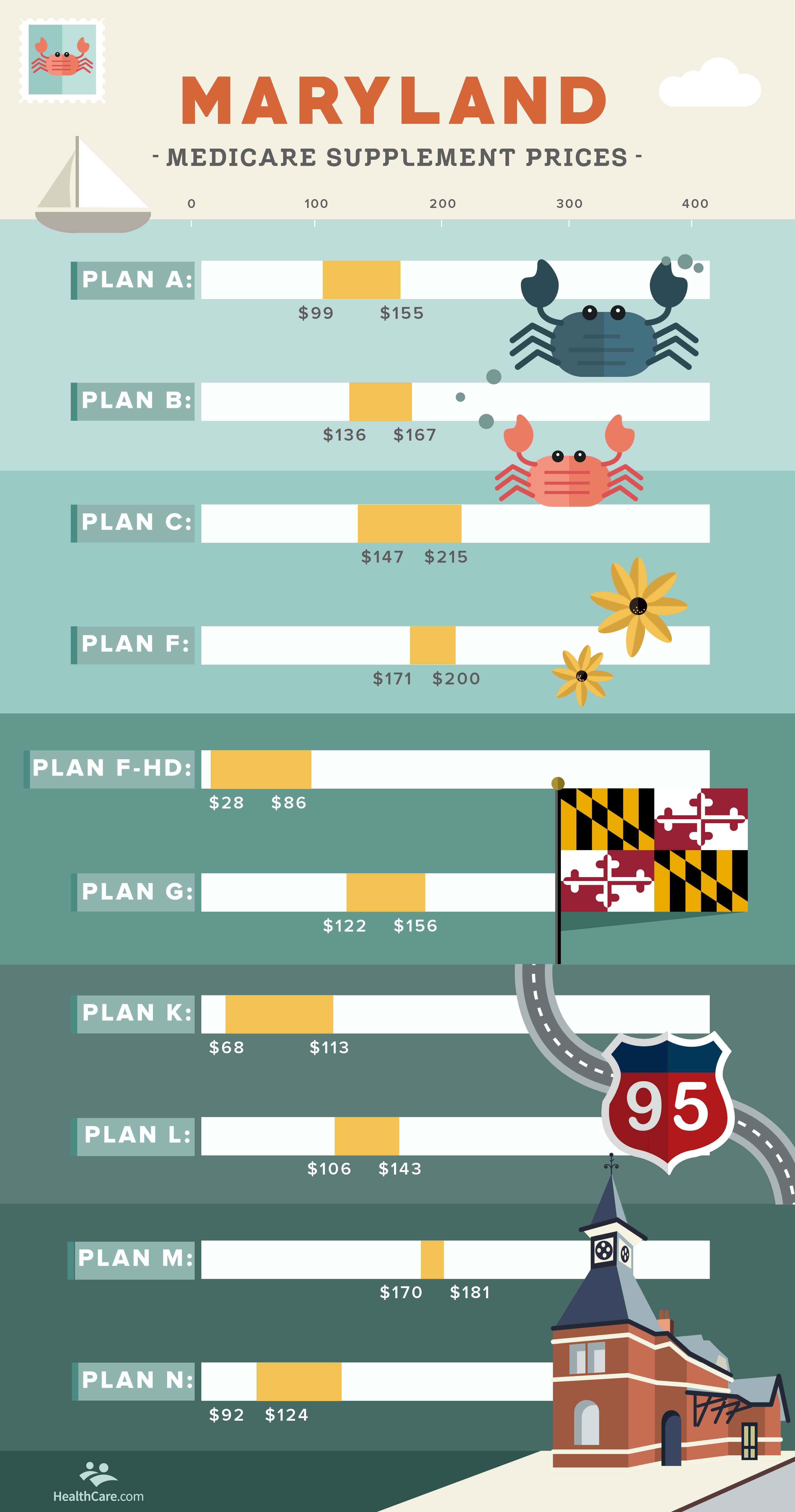 Prices in Maryland can vary based on factors such as your age, gender, tobacco use, and location.
How Many Marylanders Join Each Medigap Plan
As of 2016, 26 percent of Medicare beneficiaries in Maryland were enrolled in a Medigap plan. That's 228,689 Marylanders who are enjoying the benefits of extra coverage. Here is a breakdown for each letter:
Plan A: 5,999
Plan B: 4,567
Plan C: 16,453
Plan D: 2,187
Plan F: 125,926
Plan G: 25,547
Plan K: 2,105
Plan L: 1,038
Plan M: 33
Plan N: 28,221
Plan N and Plan G are two of the most popular plans in Maryland. These plans have also experienced the highest growth in enrollment nationwide.
However, Plan F remains the most popular for now due to the sheer number of Marylanders who previously joined it. In fact, 55 percent of all Medigap enrollees chose this plan. Despite its popularity, Plan F (along with Plan C) will be closed to new members starting in 2020.
Who Offers Maryland Medicare Supplement?
UnitedHealthcare
CareFirst of Maryland / Group Hospitalization & Medical Services), and
Continental Life Insurance Co. of Brentwood
are the three largest Medicare Supplement sellers in Maryland. Together, they handle nearly 75 percent of all Medigap policies in the Old Line State.
Additional Maryland Medigap providers include:
Colonial Penn
United World Life Insurance / Mutual of Omaha
United American Insurance Co.
USAA Life Insurance
First Care Inc.
Medicare Supplement companies with a smaller presence in Maryland include: Aetna, American National Life Insurance, Americo, Assured Life Association, Bankers Fidelity, Cigna, Equitable National Life Insurance, Erie National Life Insurance, Everence Association, First Life and Health Company, Gerber Life Insurance Company, Globe Life and Accident Insurance Company, GPM Health and Life Insurance Company, Greek Catholic Union of the USA, Guarantee Life Insurance Company, Heartland National Life Insurance Company, Humana, Individual Assurance (IAC), Loyal Christian Benefits Association (LCBA), Massachusetts Mutual Life Insurance Company, Medico, National General, Pan-American Life Insurance Company, Physicians Mutual Insurance Company, Puritan Life Insurance of America, Renaissance Life & Health Insurance Company, Reserve National Insurance Company, Sentinel Security Life Insurance Company, TransAmerica Premier Life Insurance, Unified Life Insurance Company, West Catholic Union, and Western United Life Assurance Company.
Which Medicare Supplement Plans in Maryland Are Available?
Like most states, Maryland offers 10 standardized Medicare Supplement plans. Please note that not all plans are available in all areas, nor are Medigap carriers required to offer all plans.
Factors like gender and tobacco use can influence your monthly premium at any age.
Under Age 65: Insurance companies that sell Medicare Supplement plans in Maryland must offer at least one plan to Medicare beneficiaries who are under age 65.
Insurers aren't allowed to charge more for Plan A premiums than the average charged to a policyholder over age 65. Some insurers also offer other plans, but may charge higher than average premiums.
Statewide price ranges for younger Medicare recipients as listed on a 2019 Maryland Insurance Administration report are below:
Plan A: $130 – $1,346
Plan C: $227 – $926
Most people under 65 can find Plan A or Plan C near the available lowest price. Unfortunately, Plan C will be closed to new members starting in 2020.
What Is Medicare Supplement and When Do You Apply?
Medicare Supplement is a government-backed, private insurance policy that helps cover the gaps in Original Medicare. Each plan has a letter name (A through N), which determines the benefits it provides. For example, Plan A provides only covers basic benefits such as:
Medicare Part A coinsurance and hospital costs,
Medicare Part B copayment and coinsurance, and
Medicare Part A hospice coinsurance or copayment.
Other plans, like Plan D, Plan G, and Plan N offer more comprehensive benefits.
Your Medigap Open Enrollment Period is the best time to buy a plan. It starts on the first day of the month you turn 65 and are enrolled in Medicare Part B. During this six month period, you can't be turned down or be charged higher premiums due to health issues.
Why Is Medicare Supplement a Good Choice for Marylanders?
Household Discount: Maryland allows Medigap issuers to give a household discount to plan members. This lets insurance companies offer a reduced price if you live with another person who is eligible and has enrolled in a Medigap plan from the same issuer. Discounts (typically 5 to 10 percent) and eligibility requirements are set by each carrier.
For example, if your spouse has already enrolled in a CareFirst Medigap plan and is eligible, you could receive a 10 percent discount on your monthly premiums.
Rating Flexibility: Some states only allow one type of pricing scheme. Instead, Maryland allows insurance companies to price their plans in each of the three most common ways: by the age of the policy, by your age when you enrolled, or by making sure everyone on the plan pays the same base amount. This increases the variety of options in the state, leading to lower prices and increased competition for new members.
Sample Maryland Medicare Supplement Scenarios
Marc, a 65-year-old in man Silver Spring could buy Medigap Plan G on HealthCare.com for $131 per month. This plan would cover all of Marc's out-of-pocket costs except for the yearly Medicare Part B deductible ($185 in 2019). He would pay no more than $1,757 per year, no matter how often he visited the doctor.
Anne, a 68-year-old woman in Frederick could buy Medigap Plan N on HealthCare.com for $102 per month. Plan N would cover most of her out-of-pocket expenses except for the Medicare Part B deductible ($185 per year) and a $20 copayment for each doctor's visit and a $50 copayment for most hospital visits.
Let's say Anne visits the doctor every month and never uses inpatient hospital care. She would pay $240 in copayments and $1,224 in yearly premiums, for a total of $1,649 that year.