There's generally a short health insurance waiting period between when you enroll in coverage and when your plan actually begins to cover you. Your waiting period will depend on the type of insurance you enroll in, and when you purchase it.
If you're not comfortable going without insurance for 90 days, it's possible to fill the gap in your coverage with a short-term insurance plan.
Obamacare Insurance Purchased During Open Enrollment or Special Enrollment: If you're buying health insurance on your own, your health insurance waiting period generally starts on the:
First day of the following month, if you've enrolled within 15 days of the start of the current month. For example, if you buy health insurance on November 14, your coverage can start December 1; or the
First day of the month after next month, if you've enrolled once 16 days or more have passed during the current month. For example, if you signed up for health insurance on November 27, your coverage will start on January 1.
Immediately, if you adopt or give birth to a child.
Certain states may shorten delays in coverage if you apply during the Open Enrollment Period.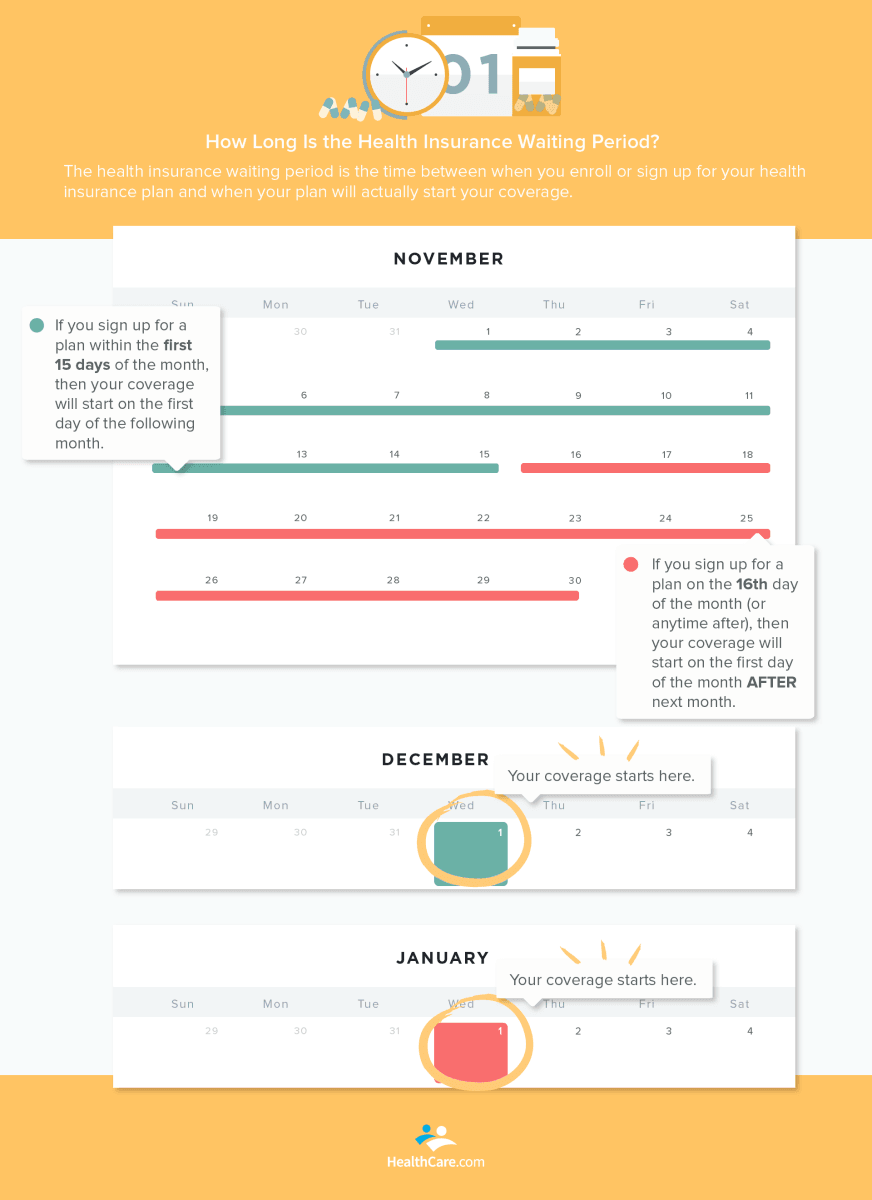 Employer-Based Health Insurance: If your company offers health insurance, they can postpone your coverage for up to 90 days after you begin work. However, coverage can start as soon as your first day on the job, depending on the plan your employer selects.
You can receive employer-based insurance even if you apply outside of the annual health insurance open enrollment period – starting a new job is a "qualifying life event" that allows you to purchase major medical health insurance. Similarly, if you have coverage elsewhere that ends after you've started work, you can sign up for employer-based insurance subject to the same health insurance waiting period.
Medicare: As long as you plan ahead, it's easy for Medicare and supplementary Medicare coverage to begin on the first day of the month that you turn 65 years old. There are a number of Medicare rules that determine whether you're automatically enrolled and when your coverage will begin.
Medicaid: If your application for Medicaid is approved, then coverage will begin on either the day that you applied or the first day of the month that you applied. The specific rules will depend on your state, and will be detailed in your application.
COBRA: Since you're continuing your health insurance when you elect to use COBRA, there's no health insurance waiting period to enroll.
Taking the Next Steps:
Whether you're looking for a few different Medicare coverage options or private health insurance, we can help you find it. Search our database of individual health insurance plans or look for a Medicare coverage option and find the right plan for you.