In California, ACA open enrollment lasts from October 15 to January 31, each year.
California opens the door for health insurance plans longer than any other state. Specifically, the open enrollment deadline to get a 2019 health insurance plan without hassle in California is January 31, 2019.
According to Covered California, "the average rate change for consumers who shop and switch to the lowest-cost plan in the same metal tier is -0.7 percent." In other words, "many Californians can pay the same rate as they do now in 2018, or a little less, if they shop and switch."
What Is Open Enrollment?
During Open Enrollment, everyone has the right to join a health insurance plan. These plans are sometimes called Obamacare, ACA, or major medical.
If you join a California health insurance plan between October 15 and December 20 (2020 only), it will last from January 1 through December 31. Normally, the period is between October 15 and December 15.
If you join between December 21 and January 31 (2020 only), it will last from February 1 through December 31. Normally, the period is between December 16 and January 31.
You won't have to pay more for health insurance even if you have pre-existing medical conditions. You can't be rejected by a health insurance company either.
In no other state does open enrollment begin before November. California's open enrollment lasts for a third of the year!

Getting Health Insurance During California Open Enrollment

You can join a plan on or off the state-run marketplace. You can select plans on your own, or get the help of a locally-licensed insurance agent.
HealthCare.com can connect you to independent insurance agents with no added cost at 833-962-2720.
Health Insurance Costs In California For 2019
Across the country, health insurance prices are slowing down after record highs. In some states, they're even falling.
Californians get to choose between more health insurance companies than most other states, including 11 that offer subsidies. Despite California's wealth of choices, monthly premium increases for people who don't get Obamacare subsidies will rise by about 8.7 percent over 2018 prices.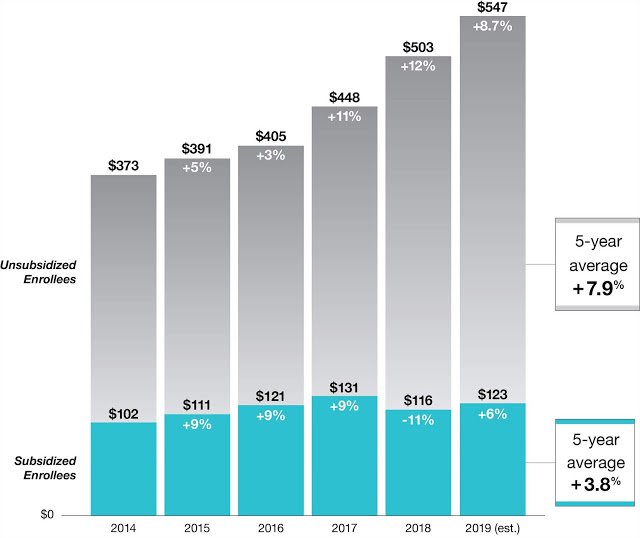 (source: coveredcanews.blogspot.com)
In Mono, Inyo, Imperial, Kings, Fresno, and Madera counties, rates will increase around 3.2 percent or less. Most other areas will see average price increases.
What Happens If You Miss Open Enrollment?
Special Enrollment Periods: You can automatically sign up for health insurance after you have a qualifying life event. Qualifying life events include moving to a new ZIP code, losing health coverage from an employer or Medicaid, and having a baby.
Direct Payments To Providers: Doctors accept cash. You can get services now, and look for payment help or negotiate bills later.
No Temporary Health Plans: No new short-term health insurance plans will be sold in California after 2018. However, this limited option is popular in other states.
What Is Obamacare?
Health insurance in the United States is largely built around the Affordable Care Act (also called the ACA or Obamacare). Obamacare sets minimum standards for private health insurance plans.
Most health insurance plans share the same basic design. They'll have monthly premiums, copayments, and deductibles. They'll have different plan types – like HMOs or PPOs – which determine how many doctors are on your plan.

How Did California Get A Longer Open Enrollment Period?
According to the U.S. Census Bureau, California's uninsured rate is 7.2 percent. That's lower than the national uninsured rate, but it's far from the lowest in the country. A longer Open Enrollment Period makes it easier for California residents to sign up for health insurance and easily get medical care.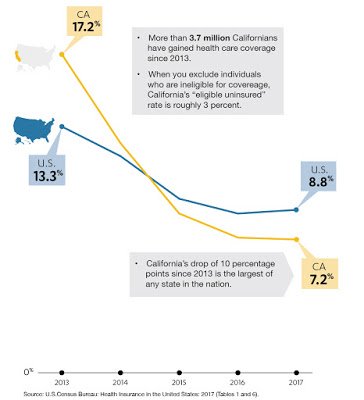 (source:coveredcanews.blogspot.com)
California is one of a few states to run its insurance website (Covered California) instead of relying on the federal government's healthcare.gov platform. This allows California to exercise far more control over local health insurance, including signup dates.
When Obamacare was first passed into law, the idea was to shorten open enrollment deadlines over time. Once more people were insured, it would slowly decrease from 26 weeks to 45 days over a period of years.
After the 2016 election, the federal government sped up the timeline for shorter open enrollment.
For 2018 open enrollment (which took place in 2017), 10 out of 12 states that controlled their enrollment website decided to enforce a longer open enrollment period. In 2018, California simply extended the final deadline to January 31.
AB-156: Assemblyman Jim Wood proposed a bill to permanently extend California's Open Enrollment Period even before the extent of post-2016 Obamacare changes became clear. This measure was first introduced in January 2017. It passed the California Assembly and Senate unanimously that summer. Governor Brown signed it into law on October 4, 2017.

Why Have Open Enrollment for Health Insurance Plans?
Were you healthy when you first bought health insurance? You pay your health insurer a little bit every month, and they give back a lot when you need care. If everyone waited until they were sick to buy insurance, then there would be no money for insurers to give back.
To solve this enrollment problem, the Affordable Care Act created the national Open Enrollment Period. During this annual period, everyone is supposed to buy or re-enroll in health insurance all at once.
Open enrollment is your best chance to:
Medicare Enrollment In California: The nationwide Medicare open enrollment, or Annual Election Period, coincidentally starts on October 15 each year. Unlike ACA enrollment, the Annual Election Period ends on December 7.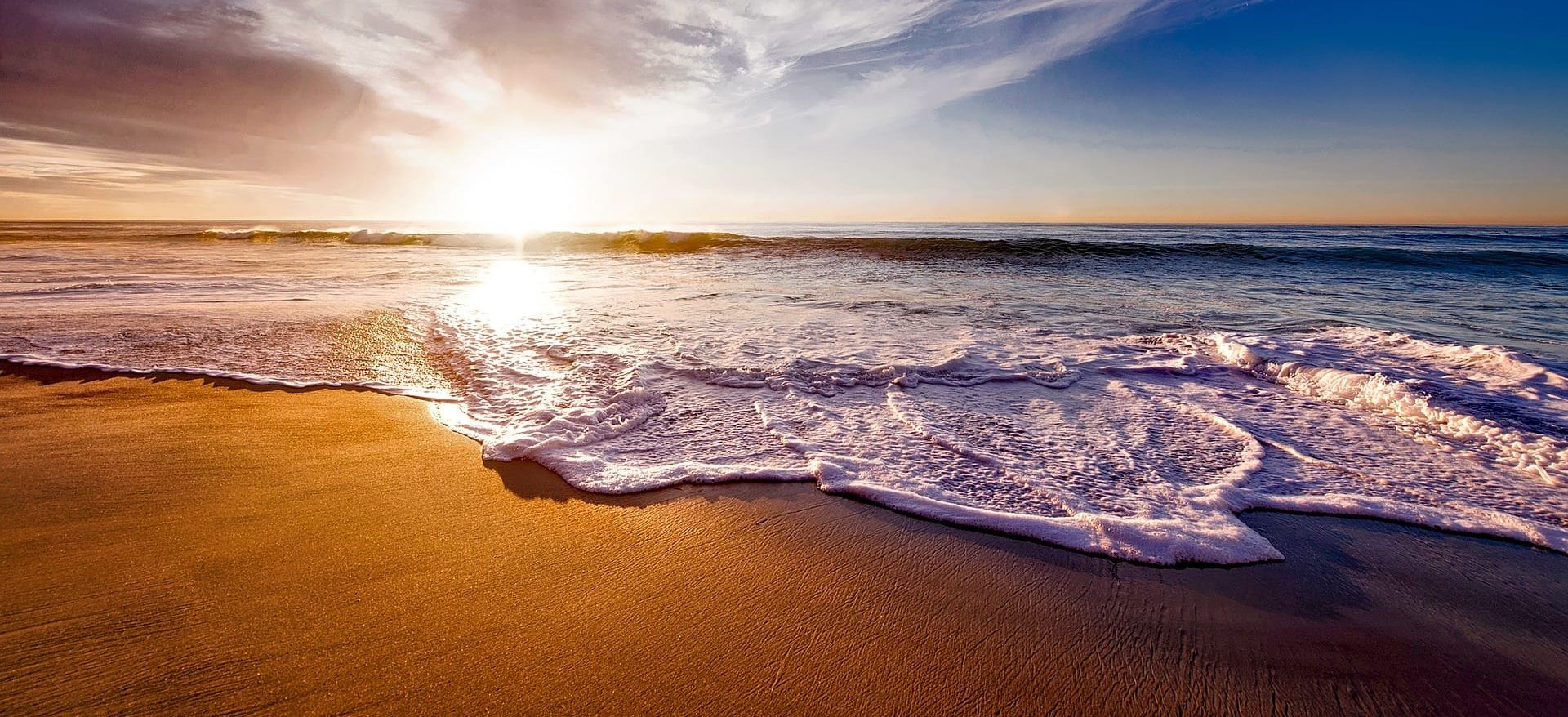 Health Insurance Subsidies and California

Signing up to automatically renew your plan is generally a bad idea, especially if your income changes.
If you don't qualify for an income-based subsidy, it's usually cheaper to search for a plan outside of the state marketplace. Off-exchange plans outside of Covered California don't have to pay low-income subsidies. This makes these plans cheaper versions of the ones on Covered California.
"Healthcare is local, and the price of coverage varies by health plan and region, so consumers will be encouraged to shop when they renew [in 2019]", urges Covered California director Peter Lee.
If you do qualify for a low-income subsidy that helps pay for your health insurance, you can still get the same subsidy by signing up with any trusted website.