What Is the Individual Mandate?
Starting in 2014, the Affordable Care Act (Obamacare) required all Americans to join a health insurance plan or pay a big tax penalty. Since this controversial law is a mandate, or requirement, for every person, it's also known as the individual mandate.
The National Health Insurance Penalty Disappears In 2019
Earlier this year, Congress passed a tax law repealing the individual mandate. This means that you will no longer have to pay a fine to the federal government if you choose to go without health insurance, starting in 2019. However, the Affordable Care Act and its many patient protections will continue to stand.
States With Their Own Individual Mandate…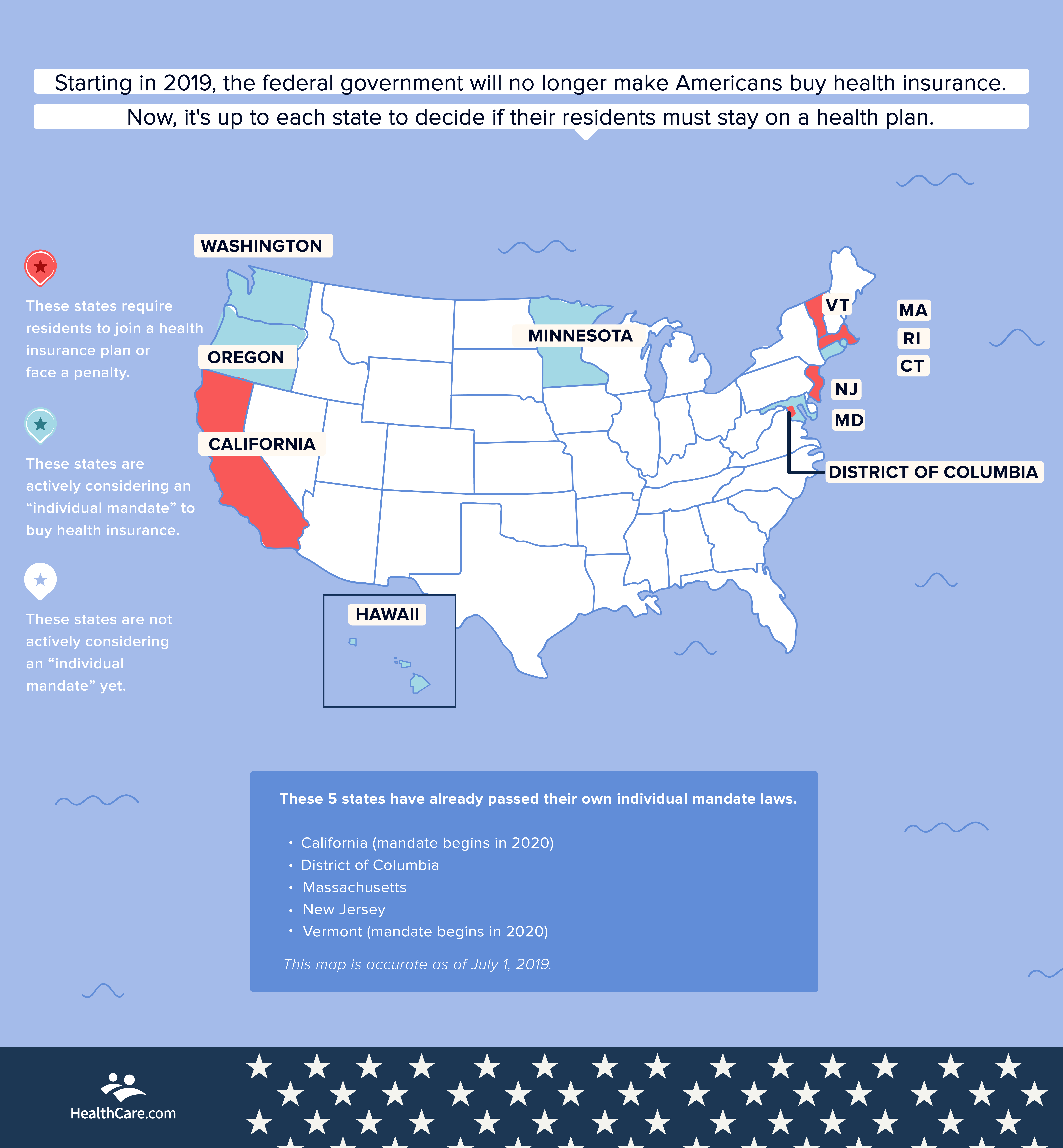 California (passed in 2019, so beginning in 2020),
Massachusetts,
New Jersey, and
Vermont (Vermont's mandate was not passed in time for 2019, and will begin in 2020).
Currently, the 5 states above have passed laws that locally restore a health insurance mandate. Even though the federal government no longer requires you to buy health insurance, residents of these states must continue to stay on a health plan of their choice.
…and States Considering An Individual Mandate
While 5 states have already decided on a legal requirement, others are in the midst of considering, drafting, and passing their own version of the individual mandate. Though all states are considering an individual mandate in some capacity, residents of these states are more likely to face a penalty if they do not have health insurance at some point after 2019.
Connecticut,
Hawaii,
Maryland,
Minnesota,
Oregon,
Rhode Island, and
Washington.
Each state is at different stages in implementing an individual mandate. They are facing unique obstacles in attempts to improve the legislation and promote well-being for the state's residents and economy. Their efforts have brought matters of healthcare from the federal government to state politics.
Why Are States Passing New Individual Mandate Laws?
Representatives from these states have explained that laws for individual mandate are designed to address not only a public healthcare concern but also the financial aftermath of the repeal. Premiums on individual market policies have been predicted to increase by 25 percent in 2019. From the patient to the provider, effects from the tax penalty elimination will change the healthcare system.
The individual market would descend into a death spiral if not for this (individual mandate) legislation. - Joe Vitale, NJ state senator
Click To Tweet
Stability in the market continues to be a major priority for states with their own mandates. Massachusetts, New Jersey, and Vermont are preemptively avoiding the inflation of monthly insurance premiums for residents after the national repeal takes effect. New state bills regarding the individual mandate resemble the federal policy's on tax penalty and exemptions.
How the Repeal May Affect the Healthcare System: The Affordable Care Act established a federal minimum standard for health insurance, encouraging Americans to purchase coverage. With the elimination of the federal individual mandate, some people who are young or in good health may stop carrying health insurance. The Congressional Budget Office has estimated that 13 million people nationwide will go uninsured without the individual mandate.
If individuals only enroll in health insurance when they fall ill, premium costs will increase for everyone, causing even fewer people to buy insurance. Analysts refer to this possible chain of events as the Obamacare "death spiral".
The Politics of the Tax Penalty
The Obamacare penalty has been politically divisive since its creation. Republicans generally argue that the law puts lower-income individuals at a financial disadvantage. Democrats typically insist that the mandate encourages all individuals – healthy or sick – to carry health insurance. National debate on the individual mandate continues to revolve around one word: constitutionality.
The repeal of the tax penalty in January was met with support from conservatives. However, some states – mostly Democratic – did not share the same reaction, acting to propose their own individual mandates.
Where Does Tax Penalty Money Go? In 2015, roughly 6.5 million Americans paid an average of $470 in tax penalties for not carrying health insurance. A common question from individuals is where money from the tax penalty ends up. From ACA subsidies to Medicare, this money is continuously invested back into healthcare spending for federal and state insurance programs.
The Future of American Health Insurance
Remember that the bill to eliminate the tax penalty does not go into effect until 2019. If you go without health insurance in 2018, you may still face consequences. For the past 2 years, the tax penalty for not carrying health insurance has been $695 per person or 2.5 percent of your total household income, whichever is greater.
You may be concerned about the effect of the repeal on your health insurance. Those with chronic illnesses, such as diabetes, cancer, and asthma, will likely have to continue on a health insurance plan no matter what.
Because the Affordable Care Act itself has not been repealed, insurance companies will continue to offer their existing plans. This ensures a degree of stability in the health insurance marketplace. Yet without the individual mandate, it will once again be a matter of personal responsibility to enroll in health insurance.