Health insurance in NYC costs more than healthcare in most other places of the country – can anything be done?
No one said surviving in New York City was easy. Even the Times Square Olive Garden charges us extra (not that we know anyone who's eaten there). Some things are cheaper in urban areas, but it takes a special effort to find affordable health insurance in NYC.
A quick comparison of plans on HealthCare.com's platform between NYC health insurance and plans in Miami reveal just how expensive it is to find coverage in this city. In Miami, the cheapest bronze plan that HealthCare.com found is $260 per month. In Brooklyn? It's $471.
NYC Health Insurance Companies: Who Offers It?
Fidelis Care
EmblemHealth
Healthfirst
MetroPlus Health Plan
Oscar
Empire BlueCross and Empire Blue Cross Blue Shield
United Healthcare
These plans offer Affordable Care Act (a.k.a. Obamacare) health insurance plans to individuals purchasing health insurance on their own. HealthCare.com hopes this list is a helpful guide, but does not guarantee the availability of plans from any insurance company.
What Kinds of Affordable Health Insurance Exist in New York?
Affordable Care Act Subsidies
Subsidies are automatic discounts that pay for part or all of your monthly premium costs. You will have to make between 140 percent and 400 percent of the federal poverty level to qualify for a subsidy. For an unmarried New York City resident, this means that your income for 2017 will generally need to be between $16,884 and $48,240 to get an Obamacare subsidy.
You can use subsidies to buy a health plan. New Yorkers with silver plans may be eligible for additional subsidies that lower the cost of individual doctor's visits.
Medicaid Benefits
New York is an "expanded Medicaid" state, and offers free health insurance to New York residents with annual incomes below $16,884. Other situations, such as having spent time in foster care, may also qualify you for Medicaid. We recommend calling New York State's Medicaid enrollment line at (855) 355-5777 to complete your application.
New York Essential Plan
New York City residents without access to Medicaid or Child Health Plus can purchase a unique state-run plan with no deductible, very low co-payments, free preventive care, and premiums of $20 per month or less. Single adults generally must make less than $23,540 per year to qualify. These plans are offered by a number of different private insurers.
Charity Care
New York City is busy enough to support multiple free or sliding-scale clinics. These services offer discount care to those in need. While not all clinics have availability at all hours, there are enough options in New York City to let you treat medical issues while you wait for comprehensive health insurance to kick in. Nonprofit medical bill counselors, some of whom work in groups that exclusively serve New York, can also help you take care of existing medical bills.
Alternative Coverage Choices
Christian health shares could be a low-cost solution for your medical bills. Unlike traditional insurance, these plans do not "insure" people, but rather "share" healthcare costs for certain procedures among their members. These plans are non-profit organizations organized for the benefit of their members, much like a credit union.
Faith-based health plans have religious restrictions – for instance, they don't cover birth control – but if you agree with the rules, you'll find that these member-run groups are quite affordable and responsive.
Members of faith-based plans generally live in the south and west. Just two percent of health share participants live in the northeastern US. Nevertheless, these plans operate across state lines, and their rules about sharing the cost of services between members may work in your favor when it comes to paying for expensive New York City care.
Relocate to Another State
If you're willing to tolerate traffic problems, you could always move across the Hudson. A bronze plan for a 30-year-old in Fort Lee, New Jersey costs $299 per month before subsidies apply, for a savings of $172 compared to Brooklyn.
Get Standalone Dental Coverage From:
Delta Dental Insurance Company
Dentcare
Dentegra Insurance Company
Empire BlueCross and Empire Blue Cross BlueShield
Guardian
Healthplex
Solstice
Find Coverage on New York's Insurance Marketplace:
New York State's official health insurance shopping portal is called NY State of Health. It's a little bare bones, but from here you can compare all of New York City's Obamacare plans that qualify for a monthly premium subsidy (that is, an income-based discount).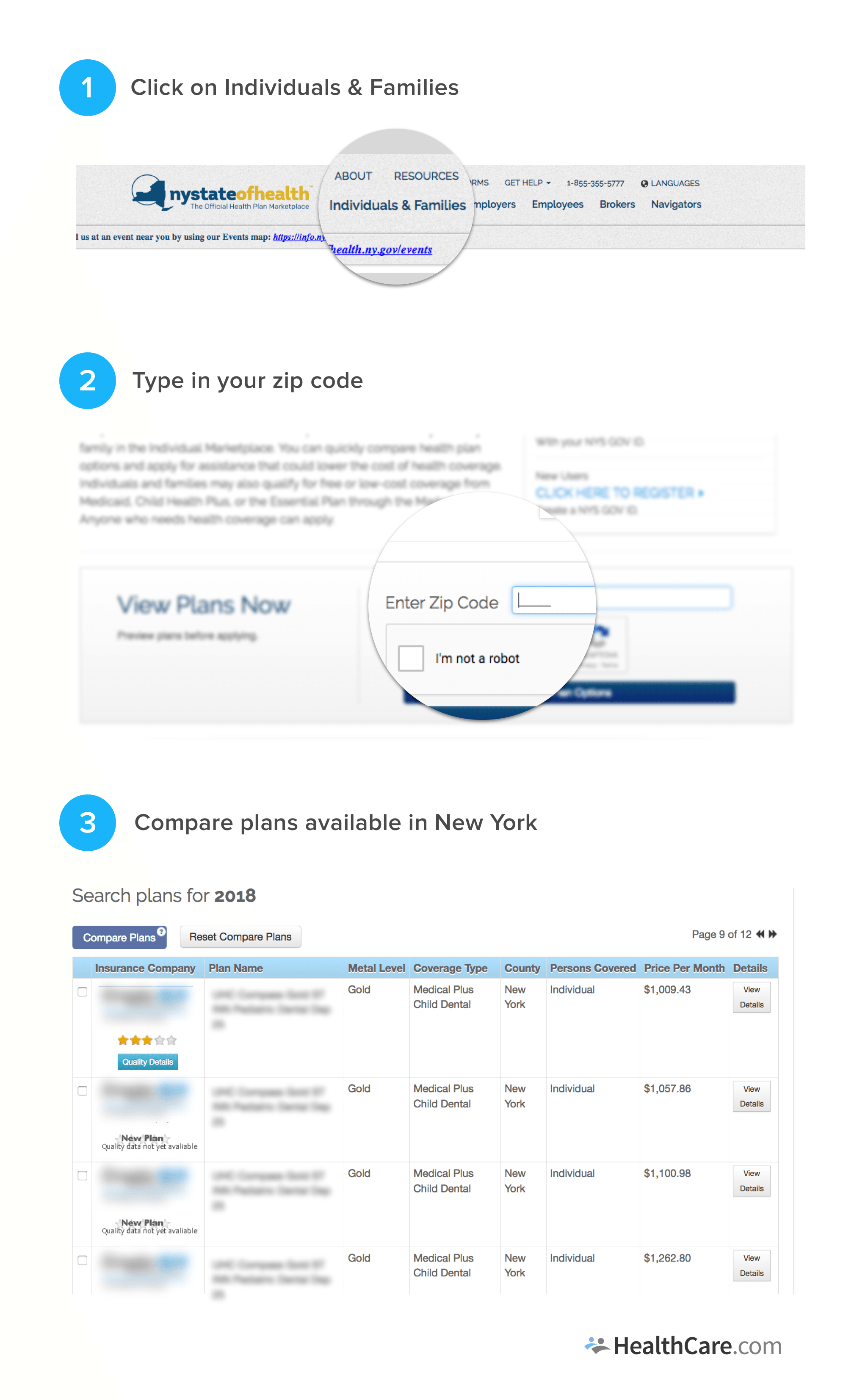 You can also use HealthCare.com's guided search tool to pick from a curated sample of New York City health plans. We're not affiliated with NY State of Health.
We're able to connect you with subsidy-eligible plans and "off-exchange" Obamacare plans that have lower costs. Off-exchange plans are not eligible for subsidies, nor offered on NY State of Health, but they are genuine Obamacare plans.
Why Is Health Insurance in NYC So Pricey?
Individual health insurance usually isn't a profitable business for health insurance companies. Unfortunately, conditions in the city make it even worse for insurers, forcing ever-higher rate increases.
For one thing, New York's diverse population prevents a one-size-fits-all solution. New Yorkers bring health issues from all over the world to the city. Some New Yorkers are wealthy and pay for care on their own; some residents have coverage through another country; and some folks are just passing through. Since NYC is also a hub for professionals in media and the arts – along with other groups that work as freelancers – coverage needs are hard for insurance companies to predict and absorb.
For seniors on Medicare, the disparity is even worse. Some supplemental plans that give you a discount on care make sense for just about everyone in the country except New Yorkers. Medigap costs in the city are so high that some discounts dwarfed by some monthly premiums.
1. "I'm Just Here So I Don't Get Fined"
Insurers are required to sell health insurance to individual New Yorkers in order to join the state's lucrative Medicaid and Child Health Plus markets. This rule has the positive effect of increasing choices for healthcare consumers, but insurers aren't necessarily fighting to sign New Yorkers up. Many insurance plans in the city aren't really interested in staying competitive.
Healthcare experts generally agree that other states should adopt this mandatory participation policy, but so far only New York has overcome political resistance to implement such a policy. Because of this, New York has more insurers that offer Affordable Care Act-compliant plans than any other state, even if insurers aren't happy about it.
2. High Medical Loss Ratio
A medical loss ratio (MLR) is the amount of money that insurers spend on medical costs, instead of corporate expenses and profits. Health insurers in New York are required to maintain an MLR of 82 percent, higher than the nationwide MLR of 80 percent. Although this rule prevents bad corporate behavior, consumers generally pay more when insurers have less control over designing their plans.
3. Everyone Pays the Same
New York has near-total restrictions on "medical underwriting". This means that insurance companies can't charge anyone higher prices due to their age, health status, tobacco use, gender, or occupation.
The Affordable Care Act extended some of these protections to the entire country – for instance, insurers can't charge their oldest customers more than three times as much as their youngest customers, nationwide. Without this rule, insurers would likely charge older enrollees six to eight times as much as their youngest members.
Plans in New York have even less flexibility. Insurers don't like to lose money covering any of their members, so they increase monthly premiums for all enrollees to comply with the law. Any insurers that hold out with lower monthly prices will likely have to declare bankruptcy soon after they enroll the sickest New Yorkers; this is one of the reasons that the popular nonprofit Health Republic of New York closed in 2015.
4. Location Costs Extra
Virtually the only way that insurers in New York can charge different prices is by location. New York City residents inevitably get stuck with the bill. Yes, doctors need more money to pay for a Manhattan space, salaries, and supplies.
5. Guaranteed Issue
Several years ago, New York required insurers to offer coverage at any time. As a result of the Affordable Care Act, states can now limit the time you can sign up for health insurance to as little as 45 days during the year.
New York's most recent open enrollment period remains twice as long as states that sharply limit the amount of time that an individual has to sign up. Insurance companies worry about people waiting until they get sick to sign up, and they price this risk into their plans. Many of the costly market dynamics for insurance companies under Obamacare existed for several decades in New York before they spread elsewhere.
6. Fewer Choices
There is an a inverse relationship between network size and insurer profitability. The more medical professionals that an insurance plan works with, the less money that insurance plan makes. It's difficult to strike a balance between offering the block-by-block choice that New Yorkers rightfully demand while still maintaining citywide coverage.
Some of New York City's local hospitals happen to be world-class, with prices to match. Yet, at the same time, they're also hospitals that serve the neighborhood, so health insurance plans are pressured to cover them.
Hospitals with comparably poor reputations can also be quite costly (for instance, Woodhull is more expensive than NewYork-Presbyterian). New York's chronically-underfunded public hospitals serve a number of uninsured patients, so they'll charge very high prices to those who do have the ability to pay.
Insurers who are already struggling to keep profitable are going to opt for narrower networks. This is why individual plans in New York City are generally designed as HMOs (which limit the doctors you can see) instead of PPOs (which give patients the flexibility to leave their doctor network).
7. No Short-Term Plans
New York is one of a handful of states that bans the sale of temporary health insurance plans. These plans have low prices and very limited coverage. This prevents people who would rather have cheap plans (critics call them too cheap) from buying anything but the most expensive insurance.
Taking the Next Steps
In New York state, you have until January 31, 2019 to sign up for 2019 health insurance.
If you make $48,240 or less as a single adult, you have access to heavily discounted healthcare options.
New York aggressively manages its health insurance market, forcing some insurers to stay on and keeping some off.
Health insurance search tools let you research and compare plans like a pro. Income-based discounts are available through HealthCare.com or New York's state website.
Oy vey. At least the subway is still $2.75.
Get a Recommendation and Free Health Insurance Quote
Get a personalized recommendation in minutes
Free, instant quote to compare over 300 carriers
Optional enrollment help if you need it