Approximately 6.5 million Medicare Supplement plans currently in the U.S. are a kind of Medigap Plan F policy, making it the most popular Medicare Supplement.
As you near 65 and begin to review the benefits offered by Original Medicare, you'll find that there are some gaps in coverage. Medicare Supplement (or Medigap) exists to solve that problem. If and when you decide to purchase a Medigap policy, it's likely that you'll consider Medigap Plan F, the most popular Medicare Supplement plan on the market.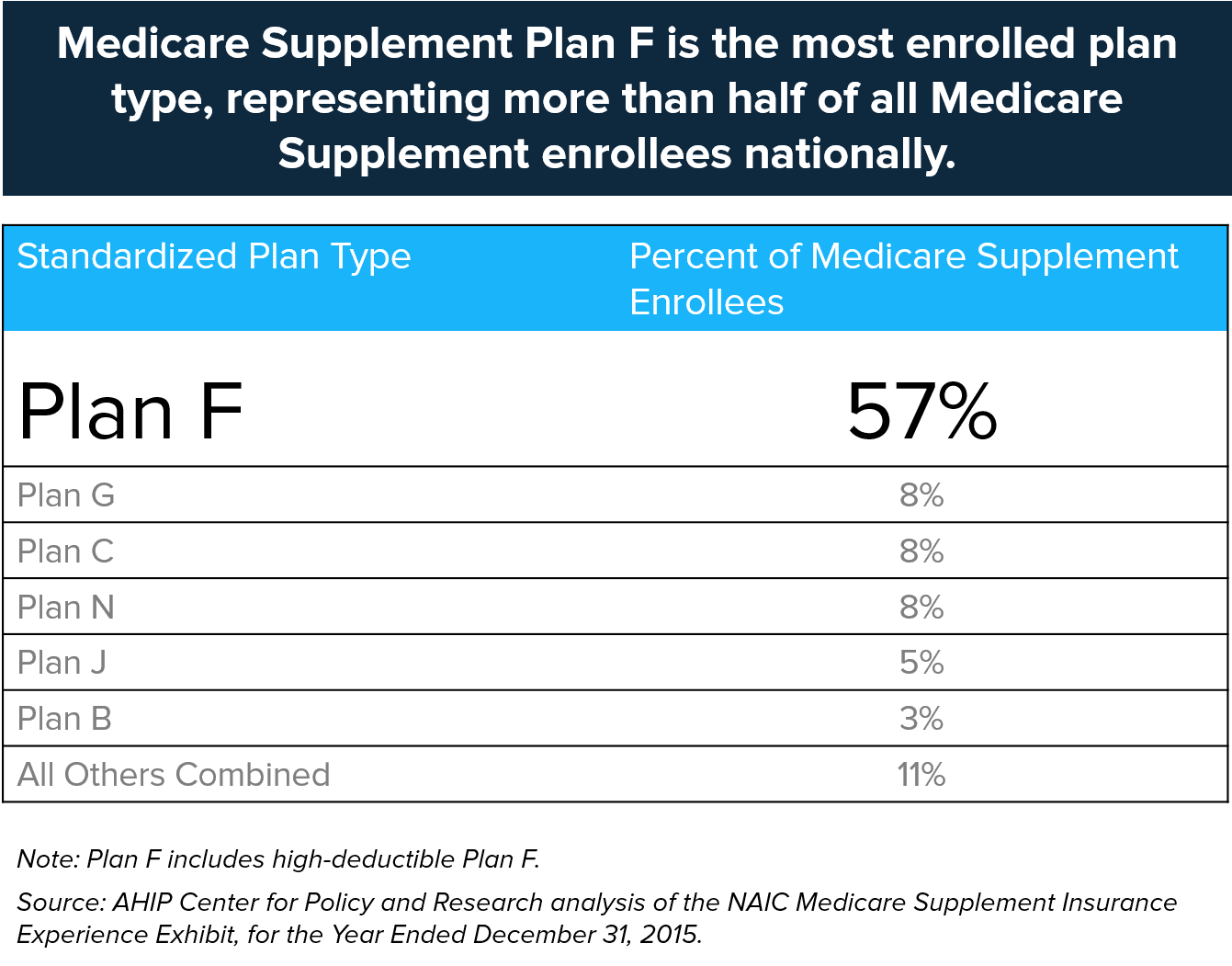 There are 10 different Medicare Supplement plans offered, lettered A through N, and they all cover basic core benefits like Medicare Part A coinsurance, Medicare Part B copayments, and hospice care. Beyond those basic benefits, however, the 10 plans offer different coverage levels for varying needs.
With about 6.5 million Plan F policies in force today (making up more than half of the nearly 12 million total Medicare Supplement policies today), it's the bestselling Medigap option – and here's why:
1. Medicare Part B Deductible
Plan F covers your Medicare Part B out-of-pocket costs. Medicare Part B covers only 80% of the cost of medical procedures – under Plan F, the remaining 20% of out-of-pocket costs are covered. That 20% coverage gap can add up quickly when you consider expensive surgeries, hospital stays, and follow-up.
2. Coverage While Traveling
Medigap Plan F will cover you if you have a medical emergency while traveling outside of the U.S., including on cruises. Emergency services and supplies are all 80% covered up to $50,000 after you meet your deductible.
3. No Doctor's Office Copays – Ever
Original Medicare pays for 80% of the costs of your doctor visits – you're left to foot the bill for the remaining 20% in addition to your copay. Plan F covers both of those fees. For seniors who require physical therapy (PT), this is a must. Only Medigap Plans F and C cover outpatient PT.
4. Pick Your Own Doctor
Choose from nearly 1 million physicians and see who you want, when you want. Without the hassle of referrals, you're also free to see any specialist you desire. Plan F allows you to choose any doctor, hospital, or provider who accepts Medicare within the United States. You don't have to worry about health provider networks.
5. Skilled Nursing Facility Coverage
Original Medicare covers the first 20 days of your stay in a skilled nursing facility, then you must pay $165 per day for the following 80 days. After 100 days, you then pay 100% of the costs out-of-pocket. With Plan F coverage, days 21-100 are covered completely.
6. No Excess Fee Charges
Physicians are free to set their own prices for office visits and procedures. However, Medicare will only reimburse them up to a certain dollar amount. Some doctors charge more than the Medicare-approved amount for services, and those excess fees become the responsibility of the patient. Under Medigap Plan F, you won't have to pay out-of-pocket for those fees.
7. Urgent Care Visits and Outpatient Surgeries
With Original Medicare, urgent care center visits fall under Part B's outpatient care coverage. Without Plan F coverage, a visit to your local urgent care would leave you paying 20% of the bill. The same goes for outpatient surgeries like cataract removal, lumpectomies, and abdominal hernia repairs.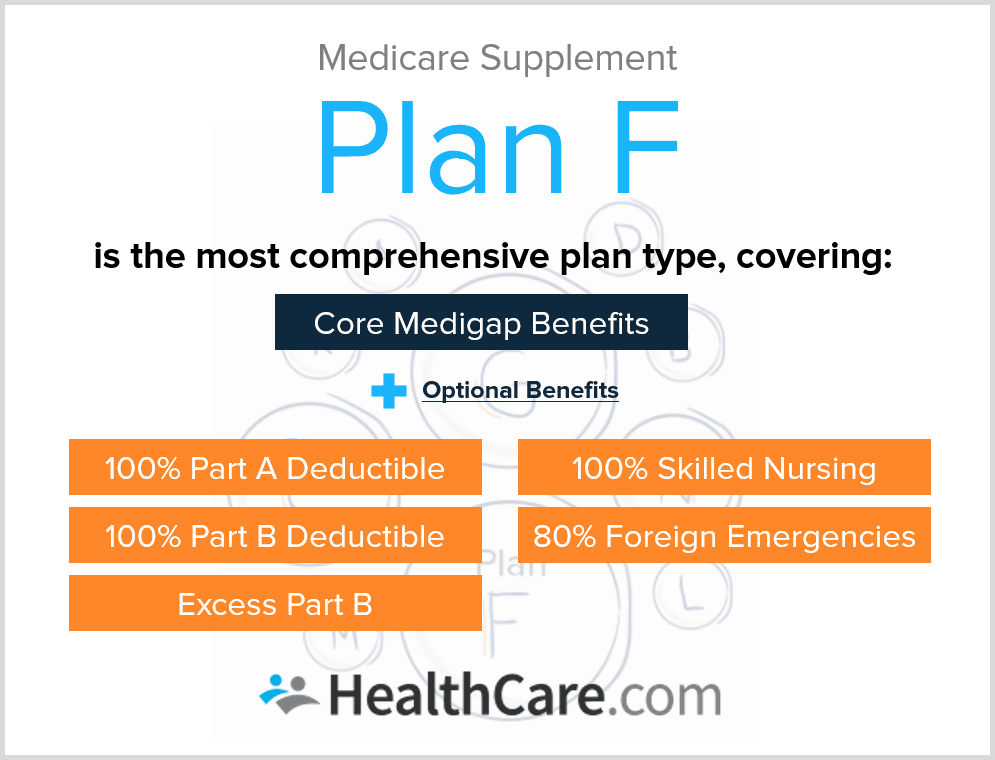 Just like enrolling in Medicare, enrolling in a Medigap policy begins shortly after you turn 65 and lasts for 6 months. During this 6-month grace period, a company may not charge you more or deny you coverage because of a pre-existing condition. Medigap policies are sold by private health insurance companies and prices vary based your age and location.

Plan F may be the most popular Medicare Supplement, but whichever Medigap policy you choose will seamlessly work side-by-side with your Medicare coverage to ensure your benefits are paid and that your costs are covered. Currently, there are no lifetime limits on coinsurance or copay expenses. With the added safety net of a Medigap Plan, like Plan F, in place, you can rest assured that you won't be taken aback by surprise medical costs.
Get a Free Medicare Quote
Get an instant quote for Medicare plans
Compare prices from over 70 carriers
Find a plan that fits your budget
Editor's Note: A previous version of this article stated that more than 10 million Medigap policyholders have Plan F; this has been corrected to reflect more accurate data.