Prior authorization is intended to save money for insurers, but many others argue that the system is broken or that reform needs to take place.
Prior authorization. Two words that cost physicians and nurses hours of their day, drive physicians and nurses crazy, save insurance providers money, and impact which medications you take.
Prior Authorization for Medication: Saves Money for Insurers
Prior authorization requires your physician to get approval from your insurance provider before he or she can prescribe you certain medications. As a cost-saving measure, prior authorization for medication can be effective. It's used in cases where a physician prescribes a more expensive drug when a cheaper alternative exists. Since physicians aren't typically as worried about costs, insurance providers step in to make sure the most cost-effective measures are being used.
For example, your physician might prescribe you an antidepressant that he or she most often prescribes for your particular circumstance. After filling out a prior authorization form and sending it to your provider, your insurer might advise your physician to instead prescribe you the generic version of the drug that is half the price of the original medication you were prescribed.
Prior Authorization Can Cost Time and Money
A 2009 study found that interactions with health plans costs around 20 hours per week for a standard medical practice. These interactions include time spent on administrative tasks such as completing prior authorization forms and communicating with insurers regarding the specifics of their formularies.
Providers spend a sizable portion of their time dealing with health plans:
Physicians, on average, spend about one hour per week;
Administrative staff spends around six hours per week on the issue; and
Nurses spend as much as thirteen hours.
Those hours are significant, especially considering the already-high costs of receiving healthcare. In the same Health Affairs study, the hours spent on prior authorization-related tasks (primarily interacting with health plans) equal a loss of $68,274 per physician every year. This means that every physician in the U.S., on average, wastes nearly $70,000 of their time every year on paperwork and phone calls instead of using that time to treat patients. Altogether, it's estimated that this overall waste is at least $23 billion (and up to $31 billion) every year.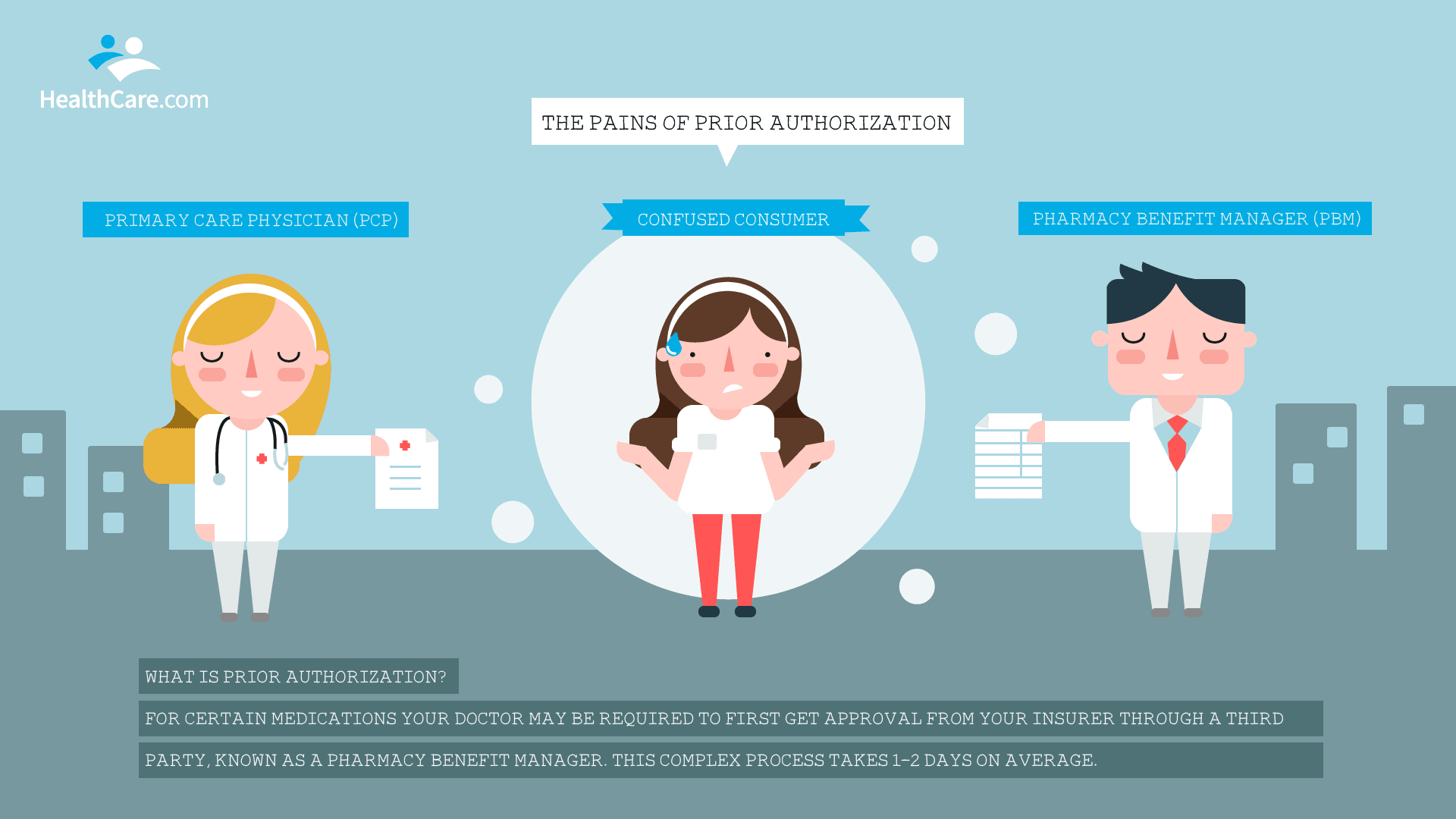 Insurers, PBMs Argue That Prior Authorization Protects Patients
Pharmacy benefit managers (PBMs) argue that not only does prior authorization for medication save money but it protects the patients too.  A pharmacy benefit manager serves as a middleman between pharmacies and health insurance companies. Primarily, their job is to manage eligibility for certain prescription drugs, negotiate rates between insurers and pharmacies, and minimize costs for insurers.
"Prior authorization can be used for drugs that have a high potential for misuse or inappropriate use," according to the Academy for Managed Care Pharmacy.
This can best be seen in the context of the opioid epidemic. Last year, insurance companies such as Cigna, Aetna and Blue Cross Blue Shield stated that they would use prior authorization to curb prescriptions for painkillers like oxycodone, hydrocodone and morphine which increase opioid addiction.
Not everyone agrees with the notion that insurance companies use prior authorization to protect patients. Some physicians contend that the claim that the practice is meant to protect patients is merely a "smoke and mirrors" attempt to save money.
"I don't believe it. Not one iota," says Dr. Danielle Ofri, a physician at Bellevue Hospital and an associate professor of medicine at NYU. "It's all about the money."
Step Therapy, Quantity Limits and Their Unintended Consequences
Step therapy and quantity limits are two tactics often used with prior authorization that may make sense on paper but can have unintended consequences. Step therapy is the practice of using the most affordable medication to start with and only using more expensive options if the cheaper choice(s) proves ineffective. Although well-intentioned, practice can be applied with too high a frequency. Former Rep. Mike Ferguson of New Jersey writes in The Hill:
"Insurance companies are applying step therapy and specialty tiers broadly – and in so doing, restricting physicians' discretion and interfering with the practice of medicine."
Insurers will also set quantity limits on certain medications that align with standards approved by the Federal Drug Administration (FDA). This prevents doctors from prescribing toxic levels of certain medications; however, this practice too has the potential be misused. FDA standards are not perfect and take years of costly research to change, so physicians often apply their own standards based on their wealth of experience and more recent data. As Dr. Ofri explains:
"In clinical practice, we often use doses higher than the 'standard.' I suspect that it's mostly based on clinical experience, but there are always newer data [sets]."
Dr. Ofri does offer a potential solution for this problem: "Let the MDs cite a reference that supports the use of a medication beyond the FDA standard."
The Prior Authorization Process Can Be Cumbersome
The chief complaint about prior authorization for medication among medical professionals is that the entire process is overly complex. Typically the entire process works like this:
Your physician prescribes you a medication;
You take that prescription to your local pharmacy;
If your prescription needs prior authorization or a formulary exception, your pharmacist lets you know;
If/when your prescription needs certification, then they'll get in touch with your physician/medical provider;
Your physician fills out required the forms and sends those forms to your insurer or a pharmacy benefit manager; and
From there, it's a matter of approval or denial based on the information provided on those forms.
Within a couple of days, you should know if the prescription has been approved. If it's approved, it still might need to be re-authorized in the future. If it's denied, you have the option of submitting an appeal.
"The whole process is so arduous. It ends up achieving providers' goal of limiting prescribing because it's just so hard to do," says Dr. Ofri. "It's more of a headache than anything else."
Electronic Prior Authorization Makes the Process Easier
Fortunately, insurers are making an active effort to streamline the prior authorization process through digitization. Electronic prior authorization (ePA) removes the need for physicians, nurses, and clerical staff to download forms to send to PBMs; instead, the entire process is done quickly online. (Although, ePA still requires some effort on behalf of medical staff).
"They still require you to make another account and to make a new log-in and password." says Dr. Ofri.
Express Scripts, the largest PBM in the US, tells HealthCare.com that the work they do with electronic prior authorization can save as much as 416 hours per year.
Medical Providers Propose Reforms
Most medical professionals understand that prior authorization is a frustrating but necessary part of their work. However, they do believe that the process can be reformed and improved with an increased focus on consumer care.
"Don't make it a nightmare for [doctors]," says Dr. Ofri.
Dr. Ofri suggests three major reforms that she would like to see:
There should be a strong, logical reason for making priority authorization for medication necessary;
Doctors should be provided with a clear list of cheaper, effective alternatives to the more expensive prescribed drugs; and
The entire process shouldn't be a pain to handle.
The American Medical Association (AMA) has proposed 21 principles that it would like see incorporated into the current prior authorization process. The AMA has even drafted a model bill that it would like to see enacted in order to reform the system legislatively.
Consumers Should Be Informed
At first glance, this issue presents itself as a conflict between insurance providers and physicians – with seemingly very little impact on your everyday life as a consumer. However, prior authorization can impact anyone who takes (or who may soon need to take) prescription medication.
To best prepare yourself as a consumer:
Make sure to read and understand your insurer's drug formulary before you go to the doctor so you know what will be covered;
If you're told that your prescription requires prior authorization, you can always pay for it out-of-pocket;
If not, then stay in contact with both your insurer and physician to see if there's any more action required on your part; and
Lastly, check back with your pharmacy within a few days to see if the prescription has been approved.