Consequences of the new GOP tax bill include fewer insured Americans and cuts to public programs like Medicaid and Medicare.
Earlier this week, House and Senate Republicans passed H.R.1, the most thorough overhaul of U.S. tax laws since 1986 (when our country's tax code last received a complete makeover). Because of how quickly the bill was pushed through Congress, you probably didn't hear much about how the new tax legislation will affect healthcare in the U.S.
The lack of robust discussion and debate is a missed opportunity, because the GOP tax plan is also the most consequential piece of healthcare legislation in this country since the Affordable Care Act (ACA) passed in 2010.
The GOP Tax Bill Affects Healthcare in Two Major Ways
The law eliminates

Obamacare's individual mandate

, which requires individuals without health insurance to pay a tax penalty;

The law's overall impact on the federal deficit — which will increase by an estimated $1.45 trillion — will drive efforts to reduce federal spending. Since Medicare and Medicaid comprise nearly 30 percent of the federal budget, these healthcare programs are likely targets for spending cuts.
Repeal of Individual Mandate May Drive Up Costs For Those Who Stay Insured
According to the non-partisan Congressional Budget Office, the repeal of the individual mandate will cause the number of uninsured Americans to balloon by about 13 million. While some Americans will choose not to buy insurance now that the tax penalty is gone, others – especially higher-income individuals who don't qualify for subsidies – will drop their insurance policies because higher premiums will make their coverage less affordable. These premium rate hikes stem from the repeal of the individual mandate, which will leave a sicker and more costly insurance pool behind in its wake.
Tax Bill Will Shake Up Healthcare Costs For Older Adults with Moderate Incomes
Older adults with modest incomes buying their own health insurance would likely face the biggest hits to their income. Although the steep tax cuts provided by the new law will shield wealthier Americans from premium increases triggered by the tax bill's individual mandate repeal, older adults with moderate incomes will not fare as well. In all likelihood, seniors earning less than $75,000 per year, who buy their own health coverage, could see the potential benefit of their tax cuts outweighed by higher healthcare costs.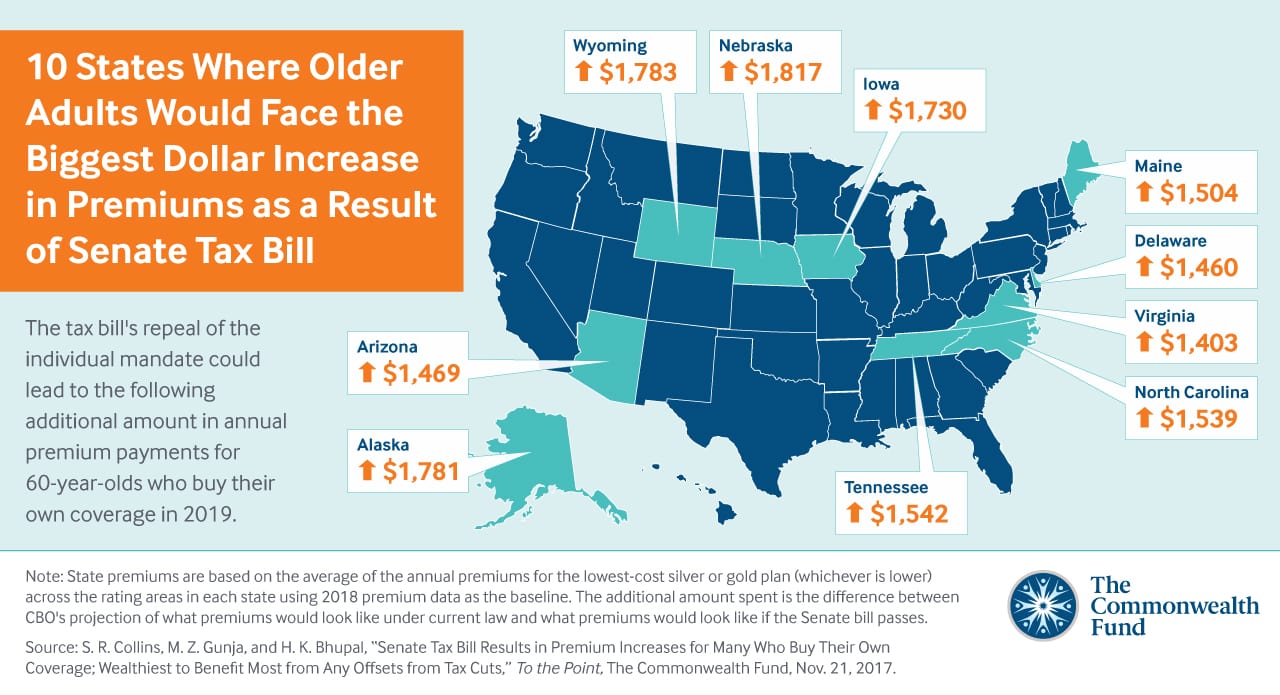 FCC Repeal Of Net Neutrality Rules Hurts Telemedicine
Telehealth doesn't work if you don't have a reliable internet connection. One of the biggest concerns among net neutrality advocates is that businesses with more money and resources will have a leg up in a market landscape with high barriers to entry and higher operating costs. Patients who can't afford the fastest internet connections may struggle to communicate telehealth providers. The growth of the healthtech sector and apps like Teladoc and CareClix have been credited with increasing healthcare access among underserved groups and people living in rural areas. The repeal of net neutrality threatens that progress and will stymie ongoing efforts to make healthcare more equitable.
Get a Free Health Insurance Quote
Get an instant quote for health insurance plans
Compare prices from over 300 carriers
Find a plan that fits your budget