Even to an experienced broker, Medicare's quirks can be surprising. So after 11 years as a Medicare agent, Garrett Ball still keeps space on his desk for a Medicare cheat sheet.
"No one will know everything off the top of their head," Garrett says. "Apart from a few client folders, and photos of my kids, I always have to keep my Medigap booklet – the one Medicare publishes – within arm's reach of the phone."
In an interview with HealthCare.com, licensed Medicare expert Garrett Ball opens up about how to give Medicare help without talking someone out of the plan they want.
HC.com: Ok, Garrett. What's special about what you do?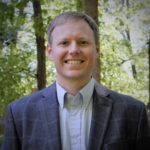 Garrett Ball: I'm an independent Medicare insurance agent. We're free from insurance companies, which lets us compare multiple options. We don't sell Medicare itself – what I actually sell is the plans people add to Medicare.
What got you involved in Medicare planning?
GB: I always have enjoyed working with older folks. My background prior to this was sales and marketing, so in that respect it was kind of an easy transition and a good fit.
Once I became an insurance agent, I initially was licensed to do a little bit of everything – you know, life insurance and other types of ancillary products – but what I enjoyed the most, and thought was most promising, was Medicare. I dropped everything else I was doing to focus on Medicare plans within my first year of being licensed.
I don't expect that to change! It's where my passion is and what I enjoy. With Medicare, there's definitely a knowledge base you get that develops over time. Once you have it, it gives you a leg up on explaining Medicare to consumers.
Is there anything surprising about Medicare today?
GB: I think there's a lot of misunderstanding about what "good health" means. Outside of guaranteed enrollment (when you're guaranteed to qualify for a Medicare Supplement plan at the lowest possible rate), a lot of people assume that they have to have to be physically fit to sign up for extra Medicare coverage. That's not the case.
Someone in relatively good health, there's something available to them. In other words, they may not be able to change plans within 2 years of a surgery or a major pre-existing condition, but it's not impossible to get new coverage again.
Health conditions would not preclude you from changing down the road, even if I can't help you at that time.
Click To Tweet
I'll say 'it looks like you aren't eligible right now, because of this or that, but we'll set an appointment to talk again in a few months."
Wait — insurance companies don't care about health?
GB: Actually, I tell people that the insurance companies usually know more about you than you know about yourself by the time we're done, because they take a look at your medical records.
Even if someone isn't in the best shape, we're usually able to place them with good plans. But generally, people really don't understand the health aspect of it.
A lot of people find that they weren't approved based on something, and they didn't realize that a condition was in their medical records. It blows their mind when it shows up.
Then again, people tell me they're in bad health and they easily qualify. I don't think there's necessarily one situation that's more prevalent than the other.
---

Medicare Broker Insights

Obviously, you see many clients. Why is Medicare Supplement Plan G so popular now? Are you already recommending it over Plan F?
GB: Yeah. I am and have been recommending it over Plan F for the past few years.
Overall, the premium differences between Plan G and F in most states now are $20-25 per month. With the Medicare deductible being over $183, you save money going with G. It makes sense just from a mathematical standpoint even without considering the future of Plan F.
But I do provide Plan F if someone comes wanting it. I help explain the 2020 date and the fact that Plan F won't be available to new people after that date. It could possibly have a negative effect on the rates.
What's your Plan F vs High-Deductible Plan F balance? Or plans that already closed, like Plan J?
GB: I've seen more High-Deductible Plan F in the last few years. I think some of that is that people are so accustomed to having high deductibles now, that the deductible for HDPF doesn't scare them that much. HDPF is still less than 5 percent of the clients that we write, which mirrors what the national percentages are.
We still have a few people that have Plan J, either because they don't want to change or can't change based on their health. Occasionally — not that frequently — we'll run across someone who has one of those expired plans who is shopping for another plan.

But Medicare Advantage (Medicare Part C) doesn't come up much?
GB: MA is a comparatively small percentage of what we do. Of new clients every given year, Medicare Advantage is around 10 percent. Our own priorities are a big part of that. What I enjoy doing is Medigap. It's an easier product to explain and compare.
What else are you asked to explain the most?
GB: The biggest part of what I do is answering questions about Original Medicare (Part A and Part B) itself. And the biggest question is "how do I sign up, what I do want to sign up for?"
There's a lot of confusion out there, because people who turn 65 get so inundated with solicitations from insurance companies – not to mention their own personal interactions with people who are on Medicare! "This is what you have to do," they'll say, "it's the best option."
What people don't realize is that if you're already receiving Social Security, you're enrolled automatically. Your Medicare card will come in the mail. Only if you're not receiving Social Security, will you have to take some action to enroll in Medicare.
You've been at this for a while. How many people can you talk with each day?
GB: Obviously, end of the year – September through December – more people are shopping for and changing plans. Looking at the first 8 and a half months, I talk to 10 or 20 people per day. That's both clients and prospective clients.
Then, during busy season, that number is probably doubled. My hours are probably doubled as well. Medicare is somewhat of a seasonal business because of that 3 month period.
Certainly from [an agent's] perspective, we have more availability during the "off-season". It is helpful that people want to talk during the off-season. The #1 best time to shop for a Medicare plan is when you turn 65. Click To Tweet That's when you have all the guaranteed enrollment rights that Medicare gives you – you can sign up for any plan without restriction – it's the first and best time.
But if you're on a Medigap plan, you can change plans at any time. That's a common misconception that people have. They think you can only change during the Annual Election Period.
So, not everyone joins a plan right away?
GB: On average, it takes 3 or 4 fairly lengthy calls or emails [before you decide]. That's enough to answer people's questions and make a decision from there.
There are definitely exceptions. People who we talk to over a couple of month period, they may not be ready to sign up for a plan for several months, and it may take 10 conversations. And there may be some people who are so defined in what they want, that we may have a 1 or 2 conversation relationship.
How many of your clients know what they want? Do they stick to their choice?
GB: Pretty close to 60 percent have in mind what they want – maybe not the company, but all the details within reason. They know what the different Medigap plans cover and the reasons for their choice.
I don't view my job as selling people on something different than what they want. I view it as helping them to get the most out of what they're getting. Like "this is what your plan is called, this is how it works". I'm making sure that insurance agent they met didn't talk them out of what it is they wanted.
All of our clients come to us from online searches. The majority have been to many websites, read a lot of information about Medicare, think they already know what they want. Most of them have educated themselves. I narrow down what makes sense to them.
You're kidding. Everyone signs up online for you, too?
GB: People aging on to Medicare now are more tech-savvy than they were even 5 years ago. They use email more and like to communicate that way.
Email is one thing that offsets our challenges … even to prospective clients. Some benefits of email for my business is that (1) email allows you to respond whenever you're ready in a more thought-out way, and (2) email allows everyone to have a written record of it. Medicare can be complex, and for a lot of people it's easy to read versus having someone explain it on the phone.
As far as trust online – some people prefer to deal with agents that are local to them, but to be frank, it's not a huge challenge because people found us. They're already selecting themselves as someone who's able to research online and find us that way. It's just like other [internet] purchases.
Get a Free Medicare Quote
Get an instant quote for Medicare plans
Compare prices from over 70 carriers
Find a plan that fits your budget
Garrett Ball and his team can be found at Secure Medicare Solutions.