The Sunshine State makes it easy to stay in good health well into your golden years. If you're in the market for a Florida Medicare Supplement insurance plan, you'll be happy to know that over 25 different Medicare companies are ready to help. That means you have plenty of competition when it comes to selecting the best plan for you.
How Much Do Florida Medicare Supplement Plans Cost?
Medicare Supplement plan types are the same, no matter which company offers them. HealthCare.com analyzed the price ranges for plans in Tallahassee as of October 2018: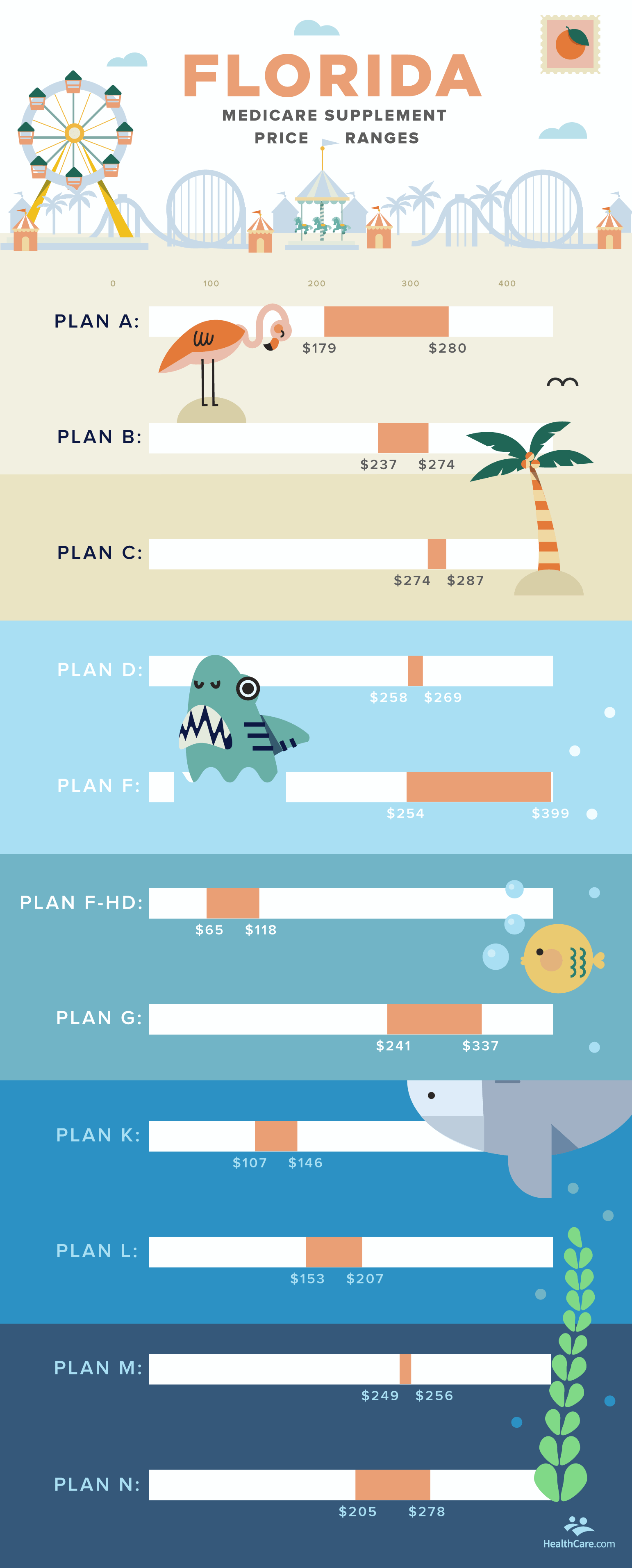 Floridians who would like Medicare Supplement insurance have the option of selecting among a range of plans, from budget-friendly to more expensive comprehensive plans.
Medigap Plan F was by far the most popular supplement plan for Sunshine State residents, although Plans C and F are phasing out after 2019, leaving Plan G and Plan N as the most likely plans on offer.
Medicare Supplement plans in Florida can cost as little as $65 per month for high-deductible Plan F, or as much as $274 monthly for a standard Plan C.
How Many Floridians Join Each Medigap Plan?
According to AHIP, a health insurance trade association, more than 834,900 Floridians were enrolled in Medicare Supplement plans as of December 2016.
Plan A: 9,900 enrollees
Plan B: 35,000
Plan C: 66,000
Plan D: 52,000
Plan F: 470,000
Plan G: 15,700
Plan J: 72,000 (closed to new members since 2010)
Plan K: 7,700
Plan L: 4,200
Plan M: 123
Plan N: 69,000
The number of Floridians enrolled in Medicare Supplement plans outpaces every other state in the country.
Who Offers Florida Medicare Supplement
There is no shortage of companies that offer Medigap insurance in Florida. You probably recognize some of the following companies:
UnitedHealthcare Insurance Company (d.b.a. AARP),
Aetna,
Florida Blue (Blue Cross Blue Shield of Florida),
Cigna Health and Life Insurance.
Many Medigap providers have smaller presences in Florida, including:
Americo Financial Life & Annuity Insurance Company, American Retirement Life Insurance, Central States Indemnity Co. of Omaha, American Retirement Life Insurance Co., Colonial Penn (formerly Conseco Direct), Connecticut General Life Insurance, Everence Association Inc., Gerber Life Insurance Co, Globe Life & Accident Insurance Company, Governmental Personnel Mutual Life Insurance Company (GPM), Hartford Life & Accident Insurance Co, HealthFirst, Humana, Liberty National, Mutual of Omaha, State Farm, State Mutual Insurance Co, Sterling Investors Life Insurance, Transamerica (formerly PFL Life Insurance Company), Transamerica Premier (formerly Monumental), United American Insurance Co, and USAA.
Some companies offer plans across the entire state, while others only offer coverage in a certain area.
Not all Florida insurers offer every type of Medicare Supplement plan. One insurer may offer Plans A through N, while another may only offer a handful of plans.
When purchasing a Medicare Supplement plan, keep in mind that the benefits are steady across plans of the same letter. That means you no matter what you pay for your plan or what insurance company you buy your plan Plan G through, you will receive the same benefits as any other Plan G nationwide.

Why Is Medicare Supplement a Good Choice for Floridians?
Issue-Age Rated: The younger you are when you join a Medigap plan in Florida, the lower the price will be. Your age will never factored in as a part of future premium cost increases.
Unlike most states, Florida Medigap plans are not attained-age-rated. Instead, the prices are as-issued, which means they do not automatically increase as you get older. Prices increase with inflation, but the rate won't increase automatically because you age.
The younger are when you buy your Medicare Supplement plan in Florida, the less you'll spend.
Click To Tweet
Location Is Key: Unlike Medicare Advantage plans, Medigap insurance works across the entire state of Florida. In fact, your coverage will still remain in effect even if you move to a different part of the country.
So many Floridians use Medicare Supplement, that most doctors are ready to handle it. All medical professionals who see Medicare patients must accept every Medicare Supplement plan and company. In other states, doctors have to make many decisions about which private Medicare Advantage plans to accept.
Which Medicare Supplement Plans Are Available in Florida?
Medicare coverage typically starts at age 65. However, some people join Medicare at a much earlier age after qualifying due to disability. All Florida Medicare Supplement carriers must offer the same plans to those under 65 as they do for those who are over 65.
If You're Under Age 65: In Florida, you can enroll in any Medicare Supplement plan on a guaranteed basis if you have Medicare Part A and Part B coverage, no matter your age! You have six months from the time your Medicare coverage begins to obtain your Medicare Supplement plan.
Even though enrollment for younger folks is guaranteed, low prices are not. If you join a Florida Medicare Supplement plan before you turn 65, the premium will likely be higher. When you turn 65 you can then apply for a new Medigap plan at a lower premium.
What is Medicare Supplement and When Do You Apply?
Medicare Supplement insurance plans, also known as Medigap insurance, provide an additional layer of insurance coverage that adds on to Original Medicare. Medigap plans are designed to fill gaps that Medicare A and B plans have, hence the name.
While Medicare is obtained through the government, you purchase Medicare Supplement plans through private insurers. If you have Medicare Part A and Medicare Part B coverage, you are eligible to apply for Medicare Supplement on the first day of the month in which you turn 65 years old.
Sample Florida Medicare Supplement Scenarios
Olga, a 65-year-old woman in Miami, could purchase Plan D on HealthCare.com for around $260 per month. The plan would cover virtually all inpatient costs and Part B copayments, so that she doesn't spend a dime beyond her premiums if she has a chronic illness or needs treatment at a hospital. She would spend $3,120 per year on this coverage.
Or, Olga could also opt for Plan N for around $205 per month. It's similar to other plans, but has a $20 copayment for doctor visits and a $50 copay for ER visits. This would cost her around $2,460 per year.
Thomas, a 70-year-old man in Daytona, choosing Medigap Plan C on HealthCare.com could spend $285 per month for comprehensive coverage. For $3,420 per year, Thomas would never have an out-of-pocket expense from doctors who are Medicare participating providers. He'd only have to pay his Medicare and Medicare Supplement premiums.
Since Thomas joined at age 70, his low rates have been locked in for life. The longer he would have waited, the longer his premium would have risen. He's only paying slightly more for joining at age 70 instead of age 65.
How to Get a Florida Medicare Supplement Plan
You can apply for Medicare Supplement at any time. Remember, the only difference between Medicare Supplement plans of the same letter is price.
Enter your ZIP code to compare local plans from competing companies, or get personalized Florida Medigap quotes by calling HealthCare.com to connect with an independent Medicare agent.