If you or a loved one has recently been diagnosed with diabetes, planning for the future can feel overwhelming. From changing your lifestyle to frequenting the doctor's office, you'll begin to understand how diabetes affects your daily routine.
By learning more about diabetes and your treatment options, you'll feel confident taking the next steps to manage your diabetes. We've created an easy-to-read guide to help you understand how your health insurance will cover your diabetes treatment.
What is Diabetes?
Over 30 million Americans live with diabetes. This chronic illness continues to impact the healthcare system on multiple levels. Symptoms can range in severity, and if left untreated diabetes can be life-threatening. It is important to speak to a doctor if you experience diabetes symptoms in order to detect and treat your illness as soon as possible.
There are three types of diabetes that you can be diagnosed with: type 1 diabetes, type 2 diabetes, and gestational diabetes. Understanding how diabetes affects your body can help you manage the disease, learn about different treatments, and find useful resources.
Type 1 Diabetes: Also known as juvenile diabetes, type 1 diabetes occurs when the body does not produce sufficient insulin. Type 1 diabetes affects about 1.25 million Americans, with young adults and children most at risk for developing this disease.
Type 2 Diabetes: Also known as hyperglycemia, type 2 diabetes occurs when the body does not effectively use insulin. Due to this insulin resistance, blood glucose levels increase more rapidly than normal. As the most common type of diabetes, type 2 diabetes accounts for over 90 percent of diabetes cases. African-Americans, Latinos, Native Americans, Asian Americans/Pacific Islanders and older adults are most at risk.
Gestational Diabetes: This type of diabetes occurs only during pregnancy when blood glucose levels increase. Gestational diabetes may not only affect the woman's well-being, but may also cause harm to her baby.
Will My Health Insurance or Medicare Cover Diabetes Treatment?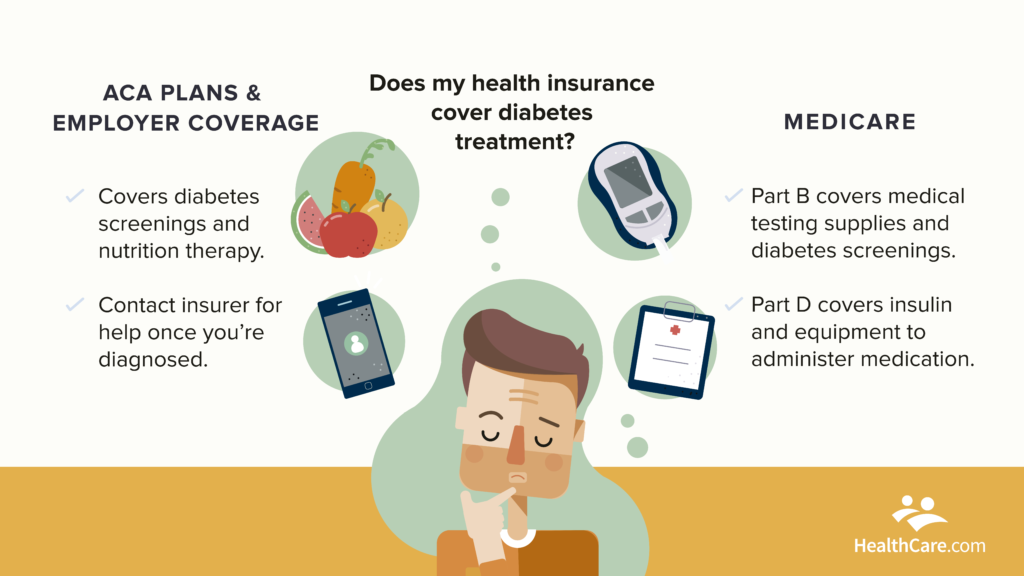 The average cost per person without health insurance for type 1 or type 2 diabetes comes to $14,856 and $9,677 per year, respectively. Since diabetes care is a continuous expense, healthcare affordability is an unmistakable challenge for people with diabetes.
Once you are prescribed a diabetes treatment, you'll count on your health insurance provider to help you afford ongoing care and medication.
Major Medical Health Insurance (Employer Coverage and ACA Plans): Your share of the bill for insulin therapy treatments will vary depending on your health insurance provider. You'll want to pay more attention to prices for everyday supplies, screenings, and routine checkups as well.
Insurance Coverage: To learn about coverage and costs, visit your insurance provider's website. There you can find information on your plan's Summary of Benefits and Coverage and drug formulary. All major medical health insurance plans are also required to cover 10 "essential health benefits," which include chronic disease management, preventive care, prescription drugs, and pediatric services.
Regardless of when you were diagnosed, Affordable Care Act (ACA) plans must cover ongoing chronic illnesses, including diabetes. Plans cannot charge you higher monthly premiums based on your health. This allows individuals to afford treatment and services for diabetes at a lower cost.
Personalized Help: It is important to contact your provider to understand the specifics of your plan, such as prescription drug coverage and diabetic services. After you've been diagnosed, reach out to your health insurance provider over the phone or online if you have any questions.
Your insurer may have a care team with experienced customer service representatives for those who have recently been diagnosed with diabetes. They can provide you with specialized guidance. Your insurance company will want you to be healthy for years to come.
Plan Purchasing Tips: If you are shopping for a new health insurance plan, it will be helpful to learn whether it covers your treatment and supplies. By taking the time to contact your insurance provider or read their Summary of Benefits, you can identify the plan's costs for your most frequent medical needs.
Medicare: Medicare has its own rules for diabetes supplies and doctor costs.
Original Medicare: (Medicare Parts A and B) does not cover insulin, but it pays for certain durable diabetes equipment and screenings. Medicare Part B also includes diabetes self-management training to help individuals stay active and reduce risks for complications.
Medicare Part C: (Medicare Advantage) plans must cover, at a minimum, everything included in Medicare Part A and Part B. You'll be able to get comprehensive diabetes help from your Medicare Advantage plan, but you will – as always – be limited to that plan's doctor network.
Medicare Part D: A standalone Medicare prescription drug plan will cover insulin as well as medical supplies for administering injections. Syringes, gauze, and alcohol swabs are all included in Medicare Part D. Make sure that you review which types of insulin your Part D plan covers, since your plan of choice may not cover your preferred brand.
Short-Term Health Insurance: Short-term insurance plans are affordable alternatives to traditional health insurance. However, short-term plans are not a sustainable way to insure yourself against diabetes.
You can continue to use short-term insurance to pay for diabetes care while you are enrolled in your plan. However, once you are diagnosed with diabetes, your short-term coverage will not renew. Unlike Affordable Care Act insurance, these plans will reject you based on your medical history.
Treatments for Diabetes
Self-managing diabetes can be difficult at first, but once you develop a routine, you can quickly feel in control.
Click To Tweet
After being diagnosed with diabetes, it's important to form a relationship with a primary care doctor to monitor your condition.
Oftentimes, doctors will recommend you test your blood glucose level periodically throughout the day to ensure proper functioning. Because treatments for diabetes are often self-managed, you are empowered to maintain your own condition and lead a healthy lifestyle.
Insulin therapy is generally prescribed to individuals with diabetes, in the form of an injection, inhalation, or pump. With more than 20 types of insulin sold in the United States, you and your physician can determine the best fit for your personal and financial needs. Individuals with type 2 diabetes may also be prescribed oral medications that can help control the release of glucose from the liver and pancreas.
Healthy Habits: While insulin treatments and medications can help maintain blood glucose levels, other lifestyle modifications can also improve your health. Eating healthy, being physically active, and reducing stress all help in managing your diabetes.
Affordable Health Insurance for Diabetes Patients:
Yes, the health insurance provider you choose can make a measurable difference in the financial support you receive for your diabetes management. Depending on the severity and type of diabetes you are diagnosed with, your most affordable plan may not be the same as someone else's. The best health insurance for people with diabetes may have more costly monthly premiums in exchange for a lower annual out-of-pocket maximum.
It's especially important for you to compare insurance through online search tools, such as HealthCare.com, to get a comprehensive view of the high-quality care available near you. Taking the time to find a plan that includes good doctors and reduces out-of-pocket costs will have a lasting impact on you and your wallet.