The healthcare Marketplace open enrollment deadline is December 15th (with exceptions for some state-run exchanges).
If you're still looking around to find healthcare coverage in 2018, don't think that you have until the beginning of 2018 to find a health insurance plan during this open enrollment for health insurance. While earlier health insurance Open Enrollment Periods lasted until the end of January, this year's open enrollment deadline has been moved to mid-December.
When Is the Deadline for Health Insurance Open Enrollment?
Final Deadline: December 15, 2017
Unlike previous open enrollment dates for Obamacare, this year's deadline for health insurance is Friday, December 15th. If you're shopping around for a health insurance plan through Healthcare.gov, then this deadline applies to you. You have until the end of that day to either:
Change your current Obamacare coverage or
Search for and find a new Obamacare plan for 2018.
While signing up for a plan takes just a few minutes, you'll need a little more time to research all of the options available to you. If you haven't started looking into your options yet, it's important to carve out at least an hour or two of your time to figure out which healthcare option works best for your needs and fits within your budget.
Extended Obamacare Enrollment Dates in Certain States
December 15th is the official deadline for health insurance if you're getting your coverage through the national Obamacare exchange. For most people looking to getting coverage under an Obamacare plan, this deadline applies to you.
If, however, you live in a state that operates its own Obamacare exchange (California, for example, runs its own exchange through Covered California), then there's a chance that the open enrollment dates for Obamacare are extended for you.
In total, eight states and Washington, D.C. have extended their open enrollment deadlines. The deadlines for each of these are different and can be found below. Connecticut, for instance, has extended its deadline by a week, to December 22; meanwhile, Washington, D.C. and the state of New York have extended their Obamacare enrollment dates all the way to the end of January.
California: November 1, 2017 – January 31, 2018
Colorado: November 1, 2017 – January 12, 2018
Connecticut: November 1, 2017 – December 22, 2017
District of Columbia: November 1, 2017 – January 31, 2018
Massachusetts: November 1, 2017 – January 23, 2018
Maryland: November 1, 2017 – December 22, 2017
Minnesota: November 1, 2017 – January 14, 2018
New York: November 1, 2017 – January 31, 2018
Rhode Island: November 1, 2017 – December 31, 2017
Washington: November 1, 2017 – January 15, 2018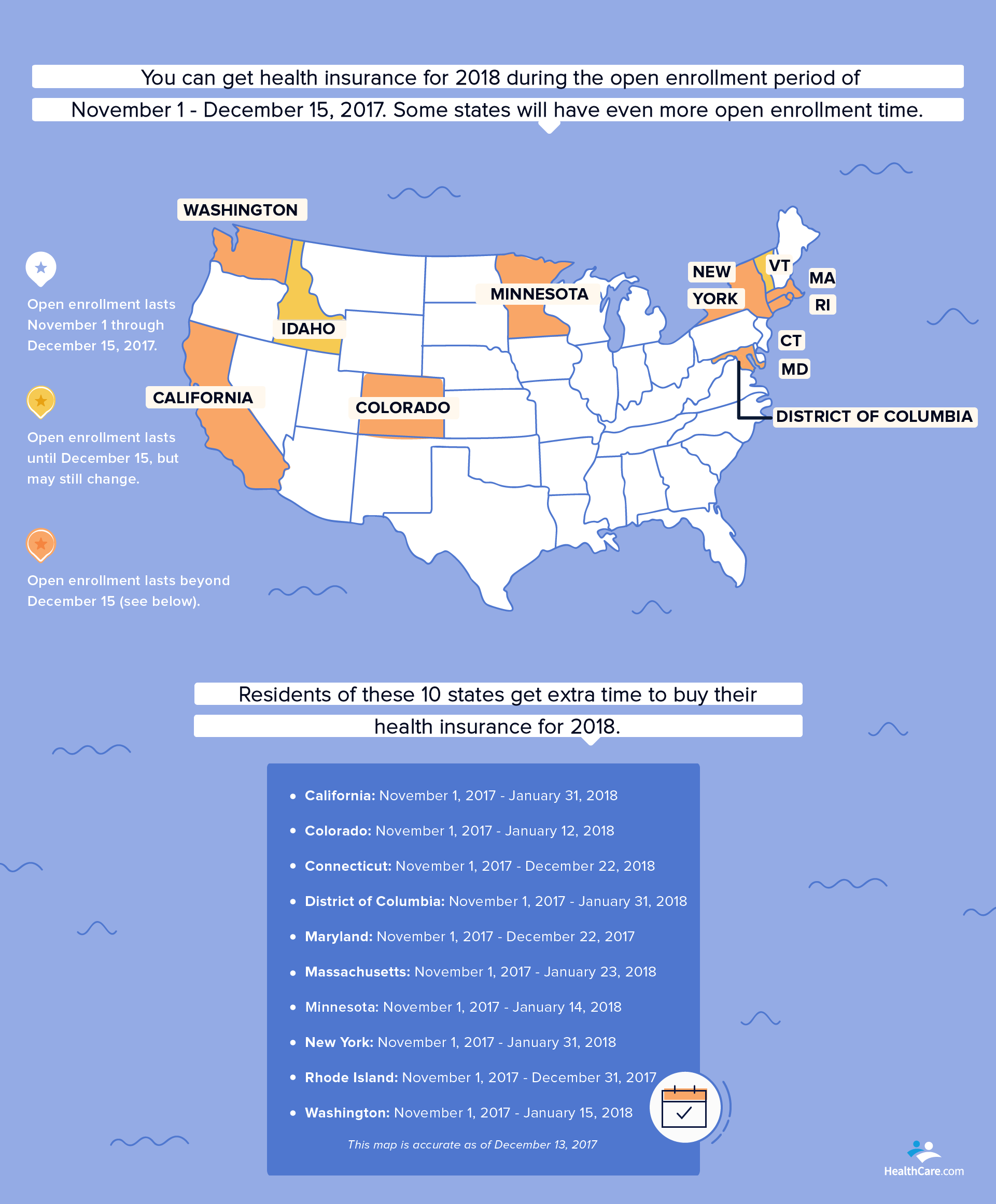 You can also read more about extended open enrollment deadlines here.
If You Were Affected by a Hurricane or Other Natural Disaster
If you were affected by Hurricanes Harvey, Irma, or Maria, you may qualify for an extended enrollment period. This is dependent on where you live though.
Known as the "Exceptional Circumstances Special Enrollment Period", those who qualify get an extra 16 days to shop around for health insurance coverage on the Obamacare Marketplace. This extends the open enrollment deadline to December 31.
To qualify, you must either 1.) have lived in one of the following counties during one of the hurricanes, or 2.) currently live in one of the listed counties.
The counties that qualify for this open enrollment extension include:
Florida: All 159 counties are eligible
Georgia: All 67 counties are eligible
Louisiana: Acadia, Allen, Assumption, Beauregard, Calcasieu, Cameron, De Soto, Iberia, Jefferson Davis, Lafayette, Lafourche, Natchitoches, Plaquemines, Rapides, Red River, Sabine, St. Charles, St. Mary, Vermilion, Vernon
Texas: Aransas, Austin, Bastrop, Bee, Brazoria, Burleson, Caldwell, Calhoun, Chambers, Colorado, Comal, Dallas, DeWitt, Fayette, Fort Bend, Galveston, Goliad, Gonzales, Grimes, Guadalupe, Hardin, Harris, Jackson, Jasper, Jefferson, Jim Wells, Karnes, Kleberg, Lavaca, Lee, Liberty, Matagorda, Milan, Montgomery, Newton, Nueces, Orange, Polk, Refugio, Robertson, Sabine, San Augustine, San Jacinto, San Patricio, Tarrant, Travis, Tyler, Victoria, Walker, Waller, Washington, Wharton
South Carolina: Allendale, Anderson, Bamberg, Barnwell, Beaufort, Berkeley, Charleston, Colleton, Dorchester, Edgefield, Georgetown, Hampton, Jasper, McCormick, Oconee, Pickens
You can read more about this special enrollment extension here, or you can visit Healthcare.gov directly.
I Already Have Healthcare Coverage. Do I Need to Do Anything During Open Enrollment?
The Open Enrollment Period is a confusing time for many people, and a common question that pops-up is "Do I need to do anything?"
If You Need or Want Obamacare Coverage
This annual open enrollment for health insurance only applies to people who need or want coverage from an Obamacare plan. Essentially, this means people who are:
Already covered by an Obamacare plan that they signed up for through the Marketplace and would like to keep or change their coverage;
Looking to switch over from an off-Marketplace healthcare plan to a Marketplace Obamacare plan; or
Not currently covered or need new coverage, and are looking into getting an Obamacare plan (or an option through a private insurer).
Currently Covered Through an Employer
If you currently get your health insurance from your employer, it's likely that you won't need to do anything during these open enrollment dates.
With employer-sponsored coverage, the dates for when you can make changes to your policy depends on when your employer's annual benefits enrollment period takes place. For many companies, changes to your benefits and health coverage happen during some other time of the year. Your employer should make sure to contact you about when this period begins and ends.
It's important to note, though, that some employers may hold their annual benefits enrollment period around the same time as this health insurance open enrollment. Make sure you're fully aware of your employer's benefits enrollment period so that you don't miss out on changing your health insurance coverage.
You can read more about what you need to do (if anything) during this open enrollment for health insurance.
I Don't Like the Available Plans I'm Seeing – Why Are My Marketplace Options So Limited?
Fewer Insurers, Fewer Plans
One of the major changes to this year's open enrollment is the exit of major insurance companies from the Marketplace. While there are options available in every county in the United States, this decrease in Marketplace participants has led some counties to have only two or even just one Obamacare plan option.
Possible Alternatives
If none of the Obamacare plans available to you fit your needs, it may be worth looking into alternatives. If you're affiliated with a specific religion, do some research on available faith-based healthcare. Short-term health insurance might also be a viable option if you're looking for temporary coverage (say, in cases where you're waiting for your employer-sponsored coverage to start). In the case of short-term insurance, though, keep in mind that it isn't ACA-compliant and, therefore, doesn't cover the essential health benefits under Obamacare.
Check If You Qualify for an Obamacare Penalty Exemption
If the issue comes down to cost, there may a chance that you can get away with not having coverage (and not have to pay the penalty for not getting insurance). Check our interactive map to see if you're likely to qualify for an Obamacare penalty exemption.
Taking the Next Steps
It's important to know all your healthcare options before deciding on your health insurance coverage – whether that's an Obamacare plan or otherwise.
For More Reading:
Get a Free Health Insurance Quote
Get an instant quote for health insurance plans
Compare prices from over 300 carriers
Find a plan that fits your budget