After a few months of debate, the D.C. Council has voted to implement a statewide version of Obamacare's "Health Insurance Requirement".
Washington, D.C. has just joined 3 other states (Massachusetts, New Jersey, and Vermont) in passing an "individual mandate" after the federal repeal of the 2014 Obamacare tax penalty. In other words, D.C. residents will still need to remain covered by a health insurance plan in the future.
Starting in 2019, everyone living in Washington, D.C. must have "minimum essential coverage" according to the budget passed by the D.C. Council on June 27, 2018. Minimum essential coverage meets the requirements of the Affordable Care Act, including coverage for essential health benefits. If individuals do not carry health insurance, they will still face a tax penalty.
The District's penalty will not be the same as the federal penalty of $695 or 2.5 percent of household income. Instead, it will be determined by September 30 of each year.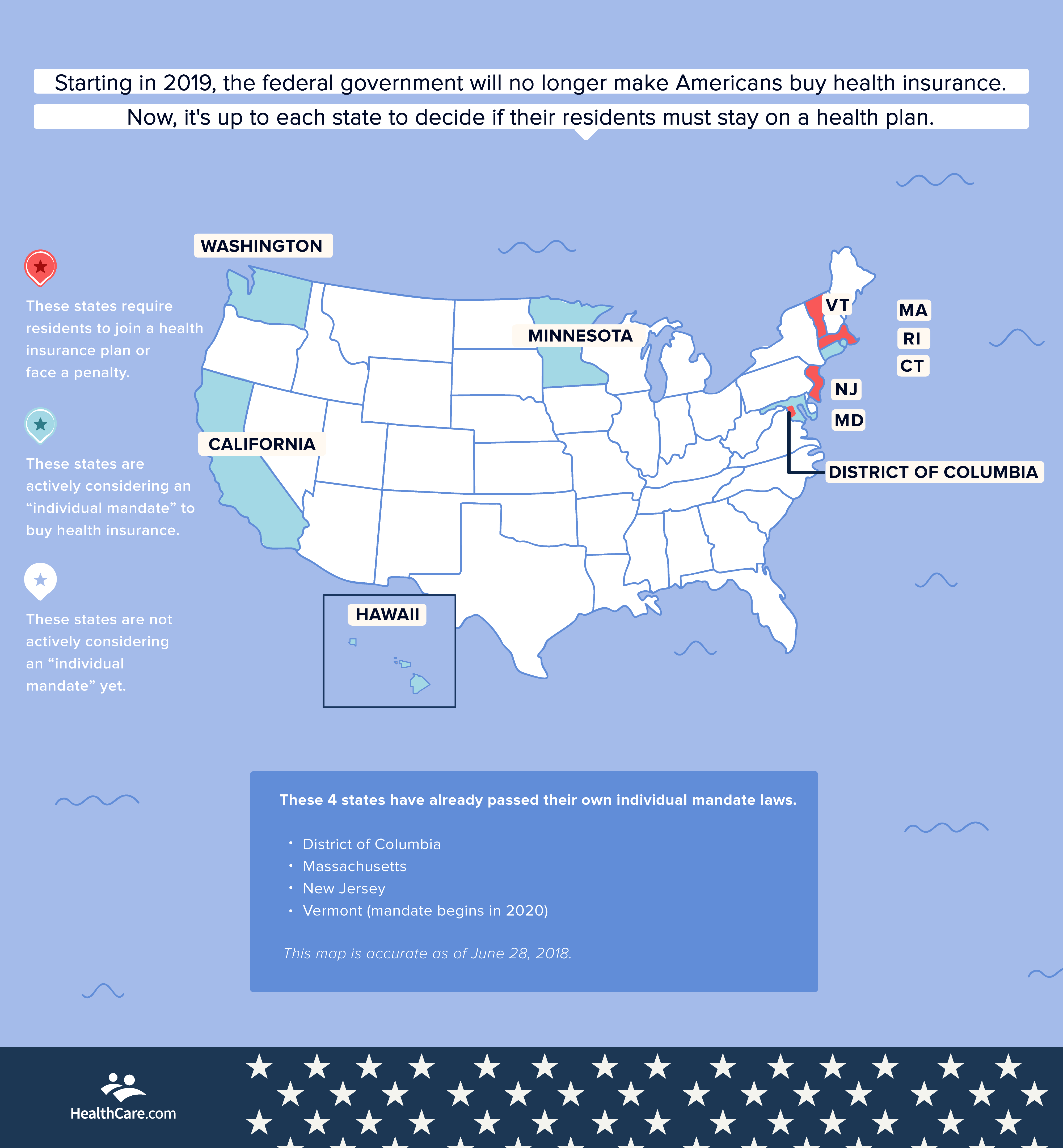 How Was D.C.'s Mandate Passed?
Beginning in 2014, the Affordable Care Act (popularly known as Obamacare) required citizens without health insurance to pay a fine. However, earlier this year, Congress repealed the penalty for 2019 onward. With this news, states have begun considering their own individual mandates to encourage residents to have health insurance.
Legislation has gained political momentum with New Jersey, Vermont, and now D.C. passing their own individual mandates.
Click To Tweet
The District's individual mandate legislation began to take shape after a recommendation from the D.C Health Benefit Exchange Authority – which manages the District's enrollment process.
In the legislative process, many noted that without a state individual mandate, enrollment numbers would significantly decrease – a hit to D.C.'s public health as well a guarantee of higher monthly premium prices. The individual mandate also stops individuals from purchasing health insurance only when they fall ill, a process which would increase premiums for everyone.
Attempted Repeal Fails: Shortly after the D.C. individual mandate passed, Republican federal legislators worked to prevent it from taking effect. The House of Representatives successfully passed a repeal of D.C.'s mandate. However, on August 1, 2018, the Senate voted 54 to 44 against moving forward with the repeal, keeping the law safe for now.
D.C.'s health insurance mandate is still set to kick in at the start of 2019. Other states thinking about their own versions of the individual mandate can expect fights to occur in the courtroom.
What Does D.C.'s Mandate Look Like?
The new legislation in D.C. resembles the federal policy, regarding exemptions and tax penalties owed to state government. The "Health Insurance Requirement" is a part of Bill 22-753, the "Fiscal Year 2019 Budget Support Act of 2018" under Title V, Health and Human Services.
Residents who are in certain tax brackets will not have to abide by the individual mandate. The following people will not be penalized if they do not carry health insurance:
Individuals who are 20-years-old or younger whose annual gross income is equal to or less than 324 percent of the federal poverty level.
Individuals who are 21-years-old or older whose annual gross income is equal to or less than 222 percent of the federal poverty level.
Individuals covered under DC Healthcare Alliance or Immigrant Children Program.
Individuals who are members of federally recognized religious groups that do not accept any insurance benefits.
DC's individual mandate doesn't apply to people who work, but do not live, in the city. Residents further down Eastern Avenue in Maryland will not have to abide by this new law just yet; however, Maryland is expected to vote on legislation regarding their own individual mandate sometime in the future.
With more states passing the individual mandate, we can expect others to jump on board the individual mandate Metro.
Get a Free Health Insurance Quote
Get an instant quote for health insurance plans
Compare prices from over 300 carriers
Find a plan that fits your budget