This last-minute change will help thousands more families protect themselves with healthcare coverage.
Health insurance enrollment helpers in two lucky states will get an extra holiday bonus.
Just days before Maryland's 2018 health plan signup period was going to end, the state announced a surprise extension of its enrollment period, moving the final enrollment deadline from December 15 to December 22. Connecticut made a similar announcement several months ago, moving its own deadline to December 22.
Open enrollment for individual health insurance plans under the Affordable Care Act (popularly known as Obamacare) lasts for a record-low six weeks in 39 states. Maryland and Connecticut – two of a just a handful of states that don't rely on the federal government to manage health insurance sign-ups – can change their enrollment deadlines freely. Extending the health insurance open enrollment period to December 22 gives consumers in both states an extra week to make better-informed decisions around their healthcare coverage for 2018.
The Open Enrollment Period is the only time when Americans can sign up for health insurance in the absence of special circumstances. Once open enrollment is gone, it's gone – you can't join another Obamacare health insurance plan until fall of next year.
Extensions in MD and CT Give Much-Needed Extra Time
Access Health CT, which helps Connecticut manage health insurance enrollments, made their own announcement in September. Connecticut was the last state to extend open enrollment until Maryland stepped in. Maryland Health Connection announced the change at the last possible moment: two days before the end of open enrollment.
Enrollment is extended wherever Marylanders and Connecticut residents buy plans: whether through HealthCare.com, HealthCare.org, Healthcare.gov, or an independent agent. The same Affordable Care Act plans that are offered earlier during open enrollment will be in play here.
Connecticut and Maryland residents must complete their applications by 11:59 PM (EST) on December 22 – it won't do any good to merely begin an application before the deadline.
In a win for consumers, the plans sold between December 16 and 22 will still take effect on January 1. Plans typically must be completed by the middle of the month to take effect in the following month, but the open enrollment period has brought extra attention to health insurance operations. Health plan providers have staffed up to handle overwhelming demand.
According to The Baltimore Sun, state officials worked amicably with Maryland's two major health insurers – CareFirst BlueCross BlueShield and Kaiser Permanente – before signing off on the extension.
Other States Extend Health Insurance Open Enrollment
It's not the first time that a state has pledged not to change its enrollment dates, only to extend them at the last minute. Maryland is the only state with a Republican governor that's extended enrollment. Other states with Democratic governors, who are generally more supportive of the Affordable Care Act, made their announcements with a bit more fanfare.
The next state with an open enrollment period is Rhode Island, which lasts through December 31. Open enrollment lasts all the way through January 31 in California, New York, and the District of Columbia.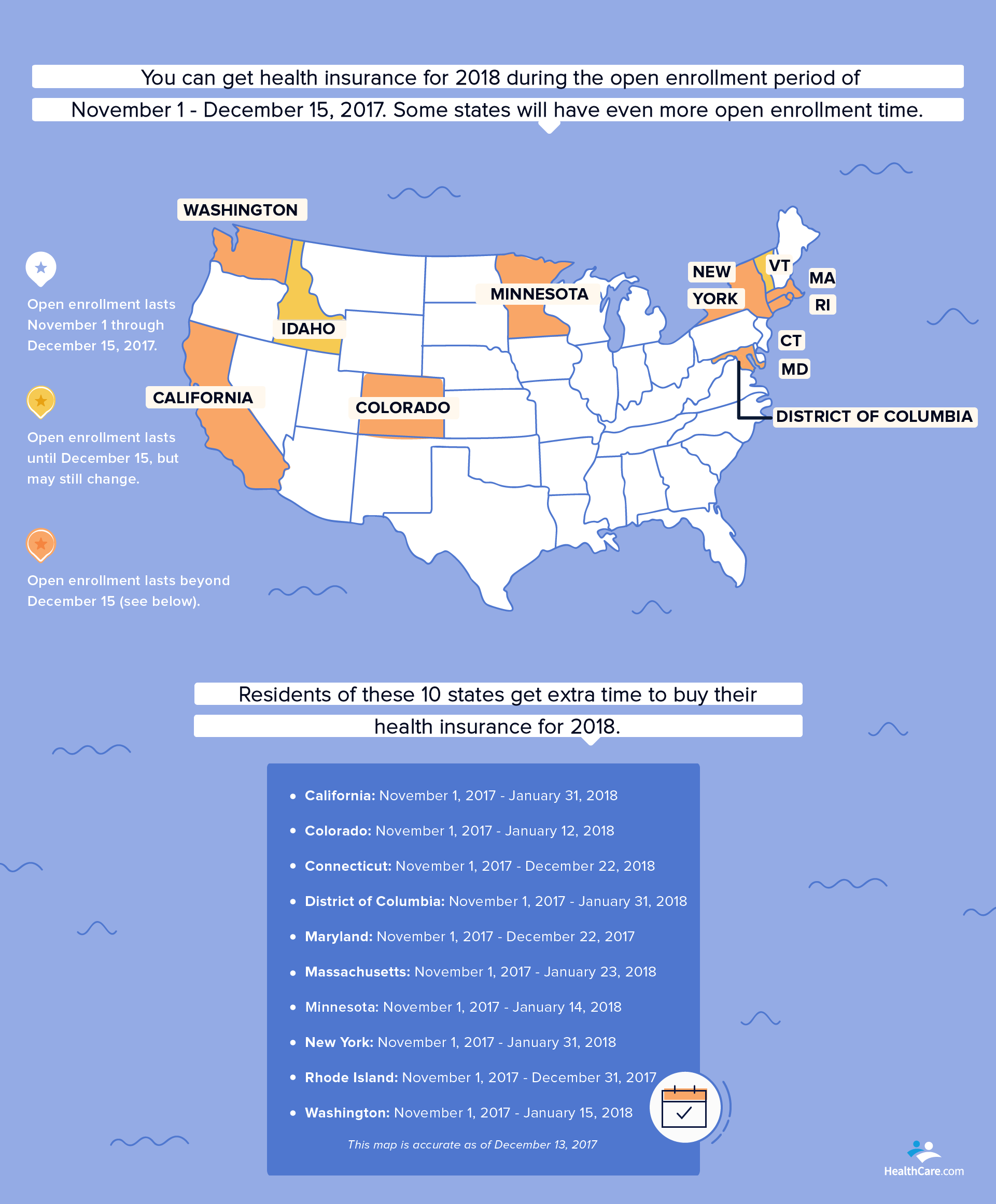 Taking the Next Steps
Approximately 20 million people will shop for health insurance during this Open Enrollment Period. If you're shopping for healthcare coverage on your own, check out HealthCare.com to see what Marketplace and off-Marketplace plans are available to you.
For More Reading:
Get a Free Health Insurance Quote
Get an instant quote for health insurance plans
Compare prices from over 300 carriers
Find a plan that fits your budget