Image: Maja / Flickr
Under Obamacare, women were granted more breastfeeding health insurance benefits. They'll likely stay under new legislation. Here's what is and isn't normally covered under your plan.
Breast milk might be free, but good pumps don't come cheap. Between the cost of bottles and milk storage bags to the tactical challenges of pumping at work, breastfeeding is more expensive than people think. There's a lot that you probably don't know about your breastfeeding health insurance benefits (if you even knew you had them).
Breastfeeding: What's Covered? What Must Be Paid for Out-Of-Pocket?
It's important for women to understand what, exactly, their health insurance plans are legally required to pay for when it comes to breastfeeding services and equipment. Barring exemptions for a small number of insurance plans which are "grandfathered-in," health insurance companies are required under the Affordable Care Act (ACA), or Obamacare, to cover breastfeeding supports and supplies without imposing cost-sharing measures such as deductibles, copayments, or coinsurance.
More granular coverage details vary from plan to plan; new parents and parents-to-be are advised to contact their health insurance provider for clarification – the National Women's Law Center (NWLC) offers a helpful guide outlining questions to ask. For instance, some health insurance plans will only reimburse women for the cost of a manual pump – rather than an electric pump (which is more efficient and less labor-intensive than the manual pump). And while breast pumps are usually covered in full by insurance, the ACA doesn't specify what kind of pump has to be covered and many plans don't pay for the cost of other pumping supplies, such as nursing bras, bottles, and milk storage bags.
A toolkit created by the NWLC called New Benefits for Breastfeeding Moms: Facts and Tools to Understand Your Coverage under the Health Care Law provides an in-depth, comprehensive guide to understanding your insurance coverage as it applies to breastfeeding. For a more general overview, refer to the chart below to determine which breastfeeding supplies and services are covered through your insurance plan: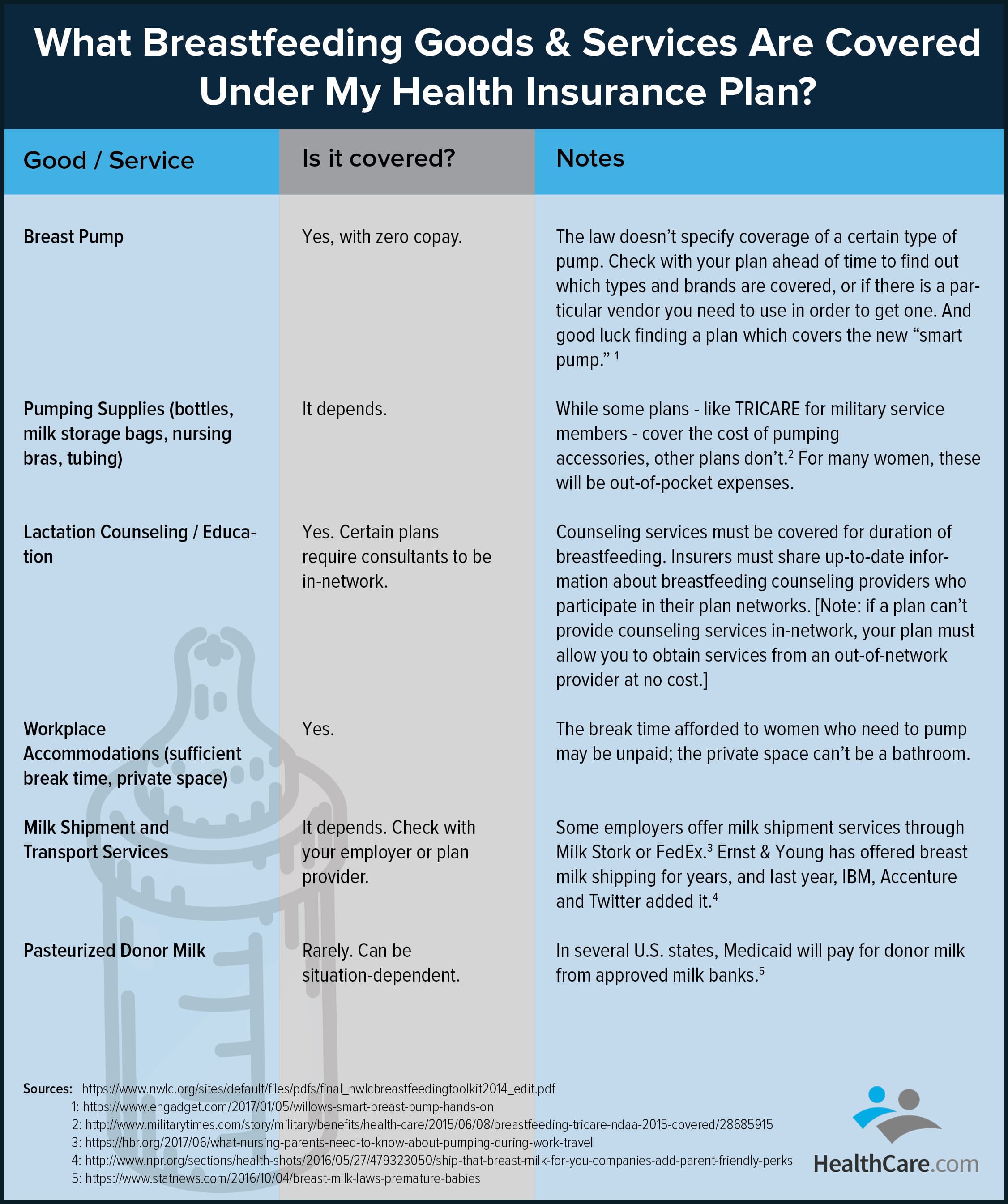 Obamacare Helped Working Moms Breastfeed
Data from the Centers for Disease Control and Protection (CDC) and recent studies published in the American Journal of Public Health show a correlation between the increase in breast pump accessibility and an increase in breastfeeding prevalence and duration rates among new parents in the United States. While those increased rates aren't necessarily correlated with breast pump accessibility, these statistics do suggest that Americans have benefitted tremendously from ACA-mandated workplace protections and health insurance coverage of breastfeeding equipment and support services.
The implementation of ACA in 2013 made breastfeeding significantly more accessible and affordable for women in the US by requiring private health insurance plans to cover the cost of pumping equipment and support services such as lactation counseling. The law also made it a requirement for employers to provide breastfeeding employees with 'reasonable break time' and private accommodations to pump milk during the workday.
Returning to Work While Nursing
A 2018 survey found that over 75 percent of expectant mothers planned to breastfeed at work. New devices have made pumping easier to manage than ever, and even more working mothers expect to breastfeed in the future.
Similarly, the survey found that a significant majority of mothers-to-be believed their that employer's maternity plan would meet their needs; were comfortable using a breast pump on the job; and hadn't had a negative interaction with a co-worker as a result of breastfeeding.
However, only half of pregnant women surveyed had discussed their breastfeeding plans with a supervisor or HR before the birth. To ensure a fully-stocked and private pump room, you may want to ask your HR representative to prepare.
Breastfeeding Health Insurance Benefits Expected to Stay in Future Legislation
Maternity care and support for nursing mothers have emerged as a key issue in the current policy debates about the future of the Affordable Care Act (ACA) and Medicaid restructuring. GOP efforts to repeal-and-replace Obamacare have led many to wonder if breastfeeding health insurance benefits are headed for the chopping block, though legal experts believe the provisions of the ACA requiring health plans to offer breastfeeding support and equipment are safe for now (the same can't be said of contraceptive coverage and other provisions affecting women's health).
That breastfeeding benefits will be unaffected by a new healthcare law is due in part to the legislative method which Senate Republicans have chosen to help pass the bill, says Janel George, director of federal reproductive rights at NWLC.
"Because the repeal bill is being moved through a process called budget reconciliation, it limits changes that can be made to the Affordable Care Act," says George.
With budget reconciliation, members of Congress "can only revise the parts that have an impact on spending or revenues (e.g. the ACA's individual/employer mandate, premium tax credits, Medicaid expansion, and so on)." In other words, provisions like the one requiring employers to give nursing mothers adequate space and time to pump can't be touched. "The provisions of the ACA that require insurers to cover the cost of breast pumps and lactation counseling fall under the preventive services portion of the law," George explains.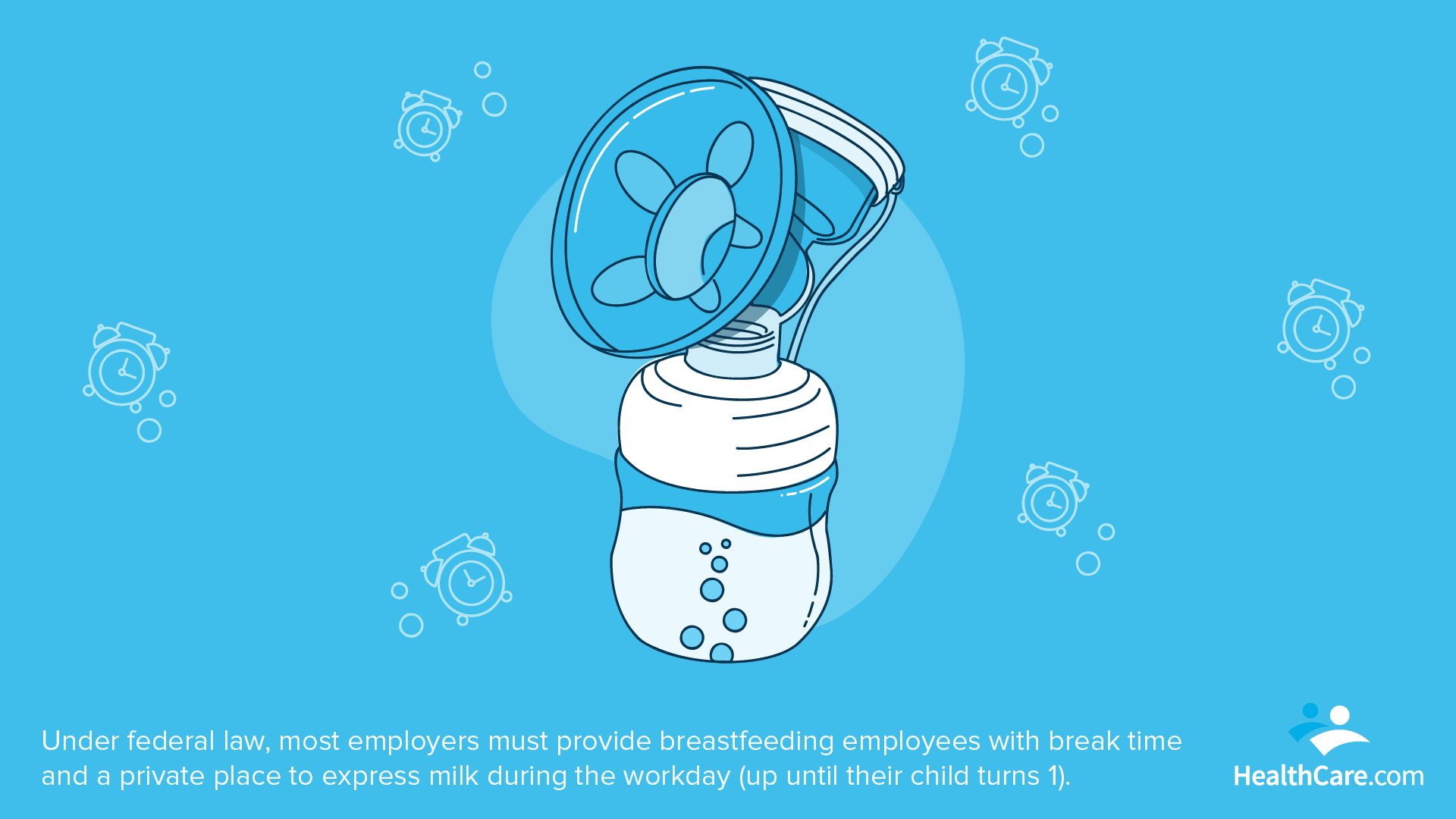 What if Insurance Companies Violate the Law?
While Obamacare's coverage of breastfeeding equipment, support, and counseling was a groundbreaking insurance benefit, breastfeeding provisions under the ACA's essential benefits requirement have not been consistently enforced. Two studies out of the NWLC found scores of cases in which insurance policies failed to comply with the ACA's breastfeeding coverage requirements, or restricted coverage in ways that undermine the intent of the law.
In other instances, as detailed in the report, "the federal guidance detailing coverage standards falls short of what women need to breastfeed successfully." So, what can you do if your plan fails to comply with legally-mandated breastfeeding health insurance benefits? Let's take a closer look at what to look out for.
Some insurance plans have put limits on coverage in violation of ACA provisions. Noncompliance took the following forms
Only covering lactation counseling within two months of delivery;
Not covering a breast pump until after the baby is born; and
Not allowing women to obtain breastfeeding services out-of-network without out-of-pocket costs when in-network services were not available.
And while not illegal, the report also found insurance companies complicating the ability of new parents to breastfeed in legally permissible, albeit ethically questionable, ways:
Only covering the cheapest, inefficient manual pumps; and
Including very few lactation consultants in their network, so as to be geographically inconvenient.
Solutions, Insurance Scorecards
Of course, if your baby is hungry, there is little time to wrangle with an insurer over payment for a breast pump or a lactation consultant. But breastfeeding — and breast pumping — isn't a luxury lifestyle choice. It's a matter of women's and children's health. If you encounter roadblocks which impede your ability to take advantage of breastfeeding benefits included in your insurance policy, this guide includes scripts and advice to help consumers navigate a range of situations, or resolve any impasses with their health insurer. The National Breastfeeding Center's Insurance Scorecard can also give plan holders an idea of what they can expect from their carrier.