You should enjoy the littlest things in life – including prescription pills. Pill bottles have been joyless for decades. Now, a high-tech American pharmacy called PillPack promises to change everything you knew about getting medication.
Take a look at the history of prescription drug delivery to see what's changed over the years.
Lesson 1: Seeing What's Inside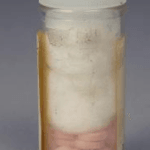 Prescription pill bottles were originally made with glass. They've been the same boring shade of plastic orange since the 1950s. The amber color helps you see what's inside, without spoiling the pill by letting too much light in. To prevent small children from sampling the delicious contents inside, pharmacies added a safety cap in the 1970s.
Lesson 2: Timing It Right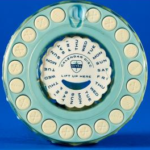 Pill bottles are found worldwide. But the circular birth control pill dispenser was an American invention[1].
At first, contraceptives were thrown together in the same bottle. However, the complicated schedule for taking these pills made it easy to lose track of the right one. Soon after birth control appeared on the market, there were more than a few missed dose scares!
One family was so frustrated with keeping track of birth control schedules on their own, they patented the first disc-shaped pack for medicine in 1964. Within several years, every birth control pill was sold this way.
Lesson 3: Looking Very Cool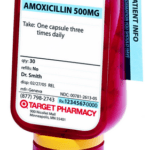 In 2005, Target re-examined every part of the traditional bottle design. They introduced pill bottles that stood upside-down for ease of storage, and sported flat sides for ease of reading. Every part of the traditional design was re-examined. The bottles were even color-coded, leading to fewer accidental mix-ups. Target won an award from Time Magazine[2] and a shoutout from the U.S. Surgeon General.
The bottles were discontinued ten years later when Target sold their pharmacy department. Customers complained, and overall sales decreased by over 1 percent. According to the Associated Press[3], customers took to digging their old bottles out of the trash.
The Best Pill Bottle Design Today?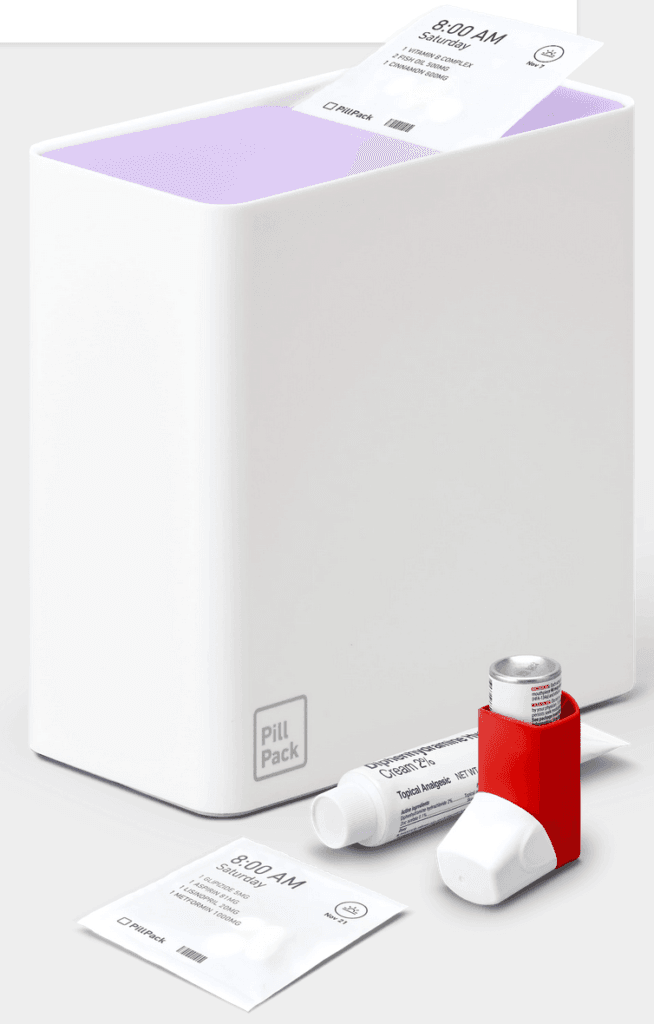 Our favorite pill bottle design today comes from a small company out of New Hampshire. PillPack, a US-based web pharmacy, takes design a few steps further than anyone before. PillPack's eponymous pack ties all these historic improvements together. Their dispenser looks good standing on its own, in the bathroom or the kitchen counter.
PillPack's innovation is a standalone dispenser with individual packets. Each packet has a time on it – like 10:00 AM Monday, or 5:30PM Saturday. Once you sign up for PillPack, their software sorts all your pills into place. Simply tear off the newest packet from your roll of pills, and you're good to go.
But modern design doesn't mean robotic design. Each of PillPack's prescriptions are reviewed by their licensed pharmacists. Everything is based in the United States, in New Hampshire. And you'll get a special note if the pill manufacturer changes their design.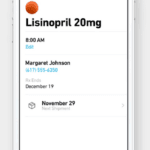 Super Convenient: It may sound obvious, but better design leads to better health. PillPack takes care of sorting your medication and orders your refills. If you don't want to wait in the pharmacy line to get safe, US-packed drugs, now you don't have to.
To use a PillPack dispenser, simply tear off the next packet or two. This takes the guesswork out of staying healthy.
You'll be hooked up with a web interface to let you know what the pharmacy sees. You can sign up for text message notifications to take pills or receive shipments. And yes – PillPack has an app that works as well.
Works With Your Insurance: PillPack generally works with existing insurance. Best of all, PillPack is free – it doesn't cost extra to use the service. Simply get in touch with this U.S. based pharmacy over the phone. PillPack isn't tied to an existing insurance company, so it depends on the enthusiastic support of its customers.
PillPack's medicine dispenser is a natural winner when it comes to your self-care. We strongly recommend using PillPack or a similar service to handle multiple medications. Medications are a part of your life, and their benefits add up over time. Why not make them fun?
Get a Free Health Insurance Quote
Get an instant quote for health insurance plans
Compare prices from over 300 carriers
Find a plan that fits your budget
References:
http://americanhistory.si.edu/blog/packaging-pill
http://content.time.com/time/magazine/article/0,9171,1129551,00.html
https://apnews.com/e4df7308887842359143aa111effec29/unhappy-target-customers-send-strong-message-pill-bottles