The BCRA offers a new approach to small business health plans, leaving association health plan (AHP) supporters and detractors in uncertainty.
Last week, almost immediately after the release of the Senate's healthcare bill, the Better Care Reconciliation Act (BCRA), politicians and industry experts took strong positions on the bill's more controversial elements.
One major issue that the bill addresses that usually elicits strong reactions is the idea of Association Health Plans (AHPs). While AHPs have been a polarizing topic in the past, almost no one is addressing them in their discussions of this bill. With the exception of Senator Rand Paul, who made the reworking of the issue a condition for an affirmative vote, most have not addressed AHPs at all. It's been a week after the bill was released and almost no group or expert has taken a significant stance in support or against the inclusion of AHPs in the Senate bill.
What Are Association Health Plans?
Association Health Plans (AHPs) are groups of small businesses and individuals who join together through trade associations and professional associations to purchase insurance for their employees.
The Argument for AHPs
Supporters of AHPs argue that it puts small businesses on equal footing with larger ones by  allowing them to group their employees into a larger pool, giving them larger negotiating power to bargain for lower premiums for their employees. The cost of insurance for small businesses and their employees is often prohibitive and these measures can help lower those costs.
The Argument Against AHPs
AHPs detractors contend that these trade associations act as unregulated insurance companies that fail to properly manage their members' healthcare, don't protect patients' health benefits and can lead to gaps in coverage.
It also allows these organizations to band together across state lines and "cherry-pick" which state's regulations they should abide by. This means that a New Yorker who is on a health plan from the national association of plumbers may be subject to Texas consumer protection laws, instead of New York's.
In addition, it could allow for fake associations to pose as health insurance companies and take advantage of the system. For instance, Jeff Smedsrud, cofounder of HealthCare.com, explains that "a national association of men under 30 who work out fives times a week," could be considered an association health plan without proper regulation.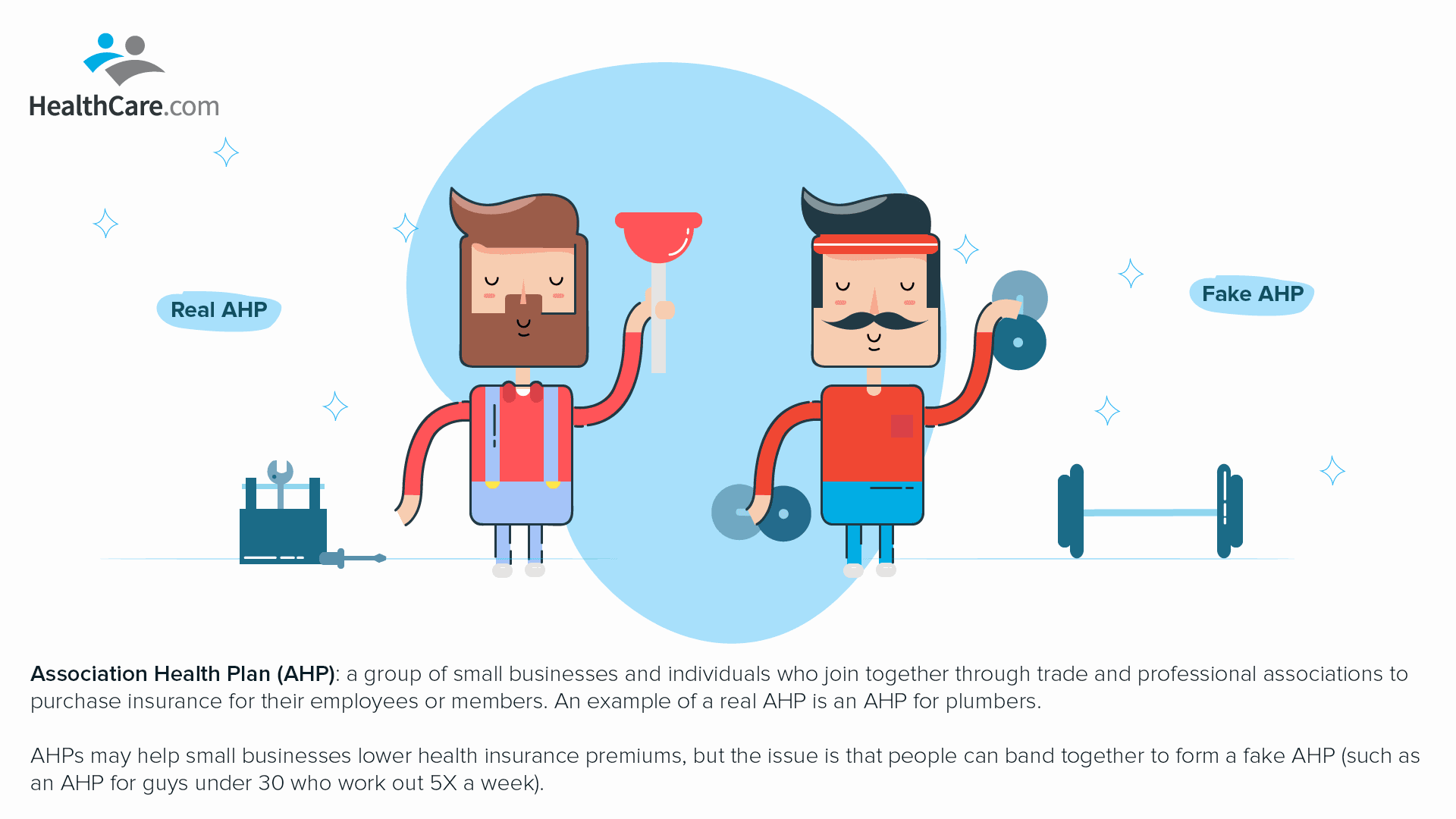 What Does the Senate Bill (BCRC) Do?
The Senate bill does a few important things with Association Health Plans. It reclassifies AHPs as Small Business Health Plans (SBHPs) and requires them to receive certification from the Secretary of Labor. It also states that they must be organized in good faith, as permanent entities, and established for purposes other than providing health benefits, such as trade associations.
Most significantly, it requires SBHPs to be fully insured through health insurance providers in the large market and doesn't allow for the association to self-insure and offer insurance themselves directly.
Some experts are worried about how this will still allow SBHPs or AHPs to cherry-pick which state's laws they wish to abide by; this is due largely to the specific language used in the bill.
"Not only would these small group associations be cherry-picking the small group market in all of the states, but they would be cherry-picking a big part of the individual market as well," says healthcare expert Robert Laszewski.
We've Seen This Act Before
The idea of Association Health Plans has been a popular Republican proposal for reforming healthcare for over a decade. The W. Bush administration first sought to use AHPs to decrease the number of uninsured Americans in 2003 with the Small Business Health Fairness Act. The bill eventually passed through the Republican-controlled House of Representatives the following year with some Democratic support but failed to ever move past the Senate.
Another bill was proposed in 2008 that dealt with AHPs, called the Small Business Health Plan Act. The bill was sponsored by Senator Enzi of Wyoming and actually had some bipartisan support. The idea was similar to the SBHP provisions of the current Senate bill in many respects with some minor differences. For instance, SBHPs in the 2008 version would have to be certified by the Secretary of Health and Human Services instead of the Secretary of Labor.
AHPs in the Age Of ObamaCare
This Small Business Health Plan Act was never even afforded a vote. By the time President Obama took office, the plan was abandoned in favor of the Patient Protection and Affordable Care Act (ACA), or "Obamacare". The ACA took different measures to make insurance affordable for small businesses. Most notably, the ACA created SHOP (Small Business Health Options) marketplace where small businesses receive tax credits to purchase more affordable health insurance. However, the bill also required plans to offer essential health benefits which many AHPs don't do. This was detrimental to many AHPs.
AHPs in the Age Of TrumpCare
Almost immediately after Donald Trump's inauguration, speculation about AHPs began again. This was partially due to the fact that Trump's Secretary of Health and Human Services, Tim Price, sponsored AHP legislation in the past. By February, the House of Representative had passed Small Business Health Fairness Act of 2017. The bill shared the name and identity with its 2003 counterpart. Also, like the 2003 version, it never was afforded a vote in the Senate. Instead, the Senate included its take on AHPs in its current healthcare reform bill.
The Evolution of Responses to AHPs
In the past, responses to legislation dealing with Association Health Plans have been swift and strong. This is especially when looking at the responses from trade associations, consumer protection groups, and insurance regulators to the 2003 and 2017 Small Business Health Fairness acts.
However, the response to the Senate's plan for AHPs in its Obamacare repeal bill has been slow and tepid in comparison. Few organizations released the sort of official statements they have for the previous bills. HealthCare.com reached out to several of these organizations to get their response on the bill's utilization of AHPs and compare it to their past comments on the issue.
Responses from Groups That Usually Support AHPs:
National Association of Realtors (NAR)
NAR's Position on the Proposed Senate Healthcare Bill: 
In an email to HealthCare.com, NAR president William E. Brown writes:
"It is critical that when all is said and done, the self-employed have access to affordable care and coverage. We believe association health plans are an important part of that conversation, and clearing the road for AHPs to take hold would offer another opportunity for the self-employed as they seek out that coverage."
NAR's Position on Past Proposed Legislation:
"America's 1 million REALTORS® look forward to working with Congress and the administration to make sure association health plan legislation is enacted this year" – NAR in 2005
National Court Reporters Association (NCRA)
NCRA's Position on the Proposed Senate Healthcare Bill: 
"We are in favor of HR1101 that passed the house," says NCRA manager of state government relations, Matthew R. Barusch. "We are not taking any position on the repeal and replace of the Affordable Care Act. We are in favor of anything that will provide our members with higher access to affordable health care and association health plans would allow us to provide that."
NCRA's Position on Past Proposed Legislation:
"The proposed legislation would eliminate problems faced by associations seeking to offer health plans and give participating small businesses the advantages of federal law currently enjoyed by larger employers and unions." – NCRA in 2005
National Retail Federation (NRF)
NRF's Position on the Proposed Senate Healthcare Bill:
"While we generally support both the House and Senate language on AHPs, there are a few elements we prefer in the House-passed bill," writes NRF vice president of health care policy, Neil Trautwein, in an email to HealthCare.com. "Namely, the House-passed bill allows AHPs to offer both fully-insured and self-insured options, while the Senate bill only allows for fully-insured plans. Second, the House plan limits who can form AHPs to just bona fide trade or professional associations, while the Senate language (which is based on Sen. Enzi's bill), would allow other entities to also form AHPs. NRF believes trade associations are uniquely positioned to form AHPs because they are blind to their members' health risk profiles."
NRF's Position on Past Proposed Legislation:
"We believe that AHPs are an important building block toward improving access to affordable health coverage for our nation's small businesses." – NRF in February 2017
Responses from Groups That Usually Oppose AHPs:
Groups that have vehemently opposed these measures in the past are now merely "concerned" and unsure about the effect they will have in their current form. Meanwhile, associations that have tended to fully advocate for these plans have not commented or "prefer" other plans.
National Association of Insurance Commissioners (NAIC)
NAIC's Position on the Proposed Senate Healthcare Bill: 
"I definitely like it better than the [House bill]," says Brian Webb, assistant director of health policy and legislation for NAIC. "At least it doesn't allow them to self-insure. We still have some concerns there. If you allow people to take them out of low risk pool and treat them differently and moves them up to a large group regulatory structure. I don't want to say it's all bad though."
NAIC's Position on Past Proposed Legislation:
"As we have already seen in the past when such plans were allowed under federal law, consumers will be left with unpaid claims and nowhere to turn when they are harmed," says Webb. "A prior law along the lines of H.R. 1101 was repealed because it was found to harm consumers; the same mistake should not be made again."
National Small Business Association (NSBA)
NSBA's Position on the Proposed Senate Healthcare Bill: 
Molly Day, VP of public affairs at the NSBA, writes in an email to HealthCare.com:
"While NSBA historically has opposed AHPs, the language in the bill is different from past iterations. The regulatory framework also is different with more rules from the federal government where before there were none and therefore AHPs could pick a state with the most lax rating rules, then sell across state lines. We're concerned with AHPs inclusion in the AHCA because it could create confusion and imbalance in the marketplace, but we still just don't really know what it means and what kind of impact it would have in today's health marketplace."
NSBA's Position on Past Proposed Legislation:
"The biggest loser from the passage of AHPs would be small businesses. AHPs are not an answer to rising health care costs and would significantly worsen the state of health care for all businesses. More and more small businesses are realizing that despite the bumper-sticker pitch in its favor, AHPs are, simply put, bad public policy" – NSBA in 2005
Consumers Union (CU)
CU's Position on the Proposed Senate Healthcare Bill:
CU has come out strongly against the Senate bill but hasn't yet come out with their fact sheet on the bill. In the meantime, Betsy Imholz, the special projects director for CU writes in an email that the organization has opposed AHPs in the past, adding:
"Any legislation that gives AHPs a pass on following the same requirements as traditional individual and small group insurance products would enable those plans to provide skimpy coverage and sidestep other state-based consumer protections, as well as harming the risk pool."
CU's Position on Past Proposed Legislation:
"[AHPs] are bogus health insurance plans [that] left tens of thousands of people without coverage and millions in unpaid medical bills," writes Imholz.
Why the Tepid Responses from Both Sides?
It's clear that the Senate's evolved take on the issue has stymied groups on how exactly AHPs will play out this time. No one understands what the current iteration of AHPs as SBHPs means or how it will affect consumers. As a result, few organizations are willing to offer any strong opinions at this time. With the rest of the debate around the BCRC being as divisive as it is, most groups appear willing to wait this one out and see what happens.
Get a Free Health Insurance Quote
Get an instant quote for health insurance plans
Compare prices from over 300 carriers
Find a plan that fits your budget