Taking an ambulance to the ER is often unnecessary and can cost you hundreds (and even thousands) of dollars.
When faced with a serious medical emergency, especially one that's life-threatening, you should always call 911, get in an ambulance, and head to the ER. But for many in the United States, this protocol is often repeated in cases of non-medical emergencies. This practice can be problematic  – with ambulance and ER costs reaching exorbitant levels.
The next time you need to visit a hospital for an "emergency", it's worth asking the question: do you really need an ambulance?
Ambulance Costs Vary by Location
So, how much are ambulance costs exactly? Well, like the entire US Healthcare system, it's complicated.
The reason for its complexity is that Emergency Medical Services (EMS) in the United States are run locally. As Dr. Robert O'Connor, board member of the American College of Emergency Physicians, told the LA Times, if you've seen one EMS system you've only seen one EMS system; no two are the same.
According to the U.S. Government Accountability Office ambulance costs can range from $224 to $2,204. Larger cities, such as Los Angeles or Houston, usually average over $1000 per ambulance ride.
In some municipalities, ambulances are covered by the local fire department. In other localities, they're covered by volunteer organizations. In many cases, ambulances are operated by private companies.
Some towns may choose to pay for EMS services with taxes, but many don't. Given all the variation, it's hard to determine the exact costs for a specific ambulance ride.
Ambulance Rides to the ER Are Expensive
But no matter whether it's covered by local government, an ambulance to the ER can often be quite expensive.
Countless cases have been reported over the years of ambulance rides costing patients hundreds, and occasionally, thousands of dollars. And, often, these rides made up just a few minutes and were used for non-threatening injuries or pain.
There's the case of Rick Santoro, whose 2-mile ambulance ride in February cost a whopping $2,691.50. His insurance covered much of it, but he was still on the hook for $770.30 out-of-pocket.
Gersh Kuntzman of the NY Daily News recounted his ambulance horror story when his daughter's high school in Brooklyn called an ambulance after she sustained a minor head injury. The journey was only 12 minutes. The bill? $2,056.95.
Kira Milas was in the ambulance for a mere 15 minutes yet her ride totaled $1,772.42, according to the The New York Times.
Does Health Insurance Cover Ambulance Costs?
Again, it depends. While some health insurance plans do cover ambulance costs, most don't, and those that do leave a large chunk to be paid. Insurance companies will likely require proof that you could not have taken alternative transportation.
This is true for Medicare, as well. Ambulance services to a hospital are covered in Medicare Part B so long as you can prove that other types of transportation would endanger your health.
Ambulance Prices Depend on Ambulance Type
Understanding ambulance pricing first requires an examination of how ambulances work. When you call 911 upon a medical emergency, your local 911 call center will attempt to determine if your emergency requires an ambulance. The 911 dispatchers usually err on the side of caution. If they do call an ambulance, then they will determine severity of the emergency and usually call the closest appropriate ambulance to take you to the closest available hospital.
This is important because not all ambulances are made the same. The cost of your ambulance trip depends on which ambulance you receive. According to CMS, there are seven types of ground ambulance categories:
Basic Life Support (BLS)

Basic Life Support (emergency)

Advance Life Support (ALS) Level one

Advance Life Support (ALS) Level one (emergency)

Advance Life Support (ALS) Level two

Special Care

Paramedic Intercept
The basic difference between Basic Life Support (BLS) and Advance Life Support (ALS) is that EMTs staff BLS ambulances while paramedics staff ALS ambulances.
As you might expect an Advanced Life Support ambulance costs more than a Basic Life Support one. Take New York City, for example. Below is the pricing difference between different types of ambulances in New York City, according to the Fire Department of New York: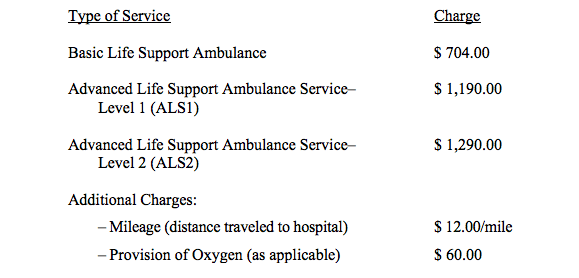 Ambulance Alternatives
The astronomical prices of ambulance rides is nothing new, and local governments have taken note. The Racine, Wisconsin Fire Department, for instance, has discussed taking steps to educate its citizens to seek out alternatives before calling 911. In Boone, Iowa, city officials are attempting to take over ambulance services that are currently operated by the local hospital.
Then there are the Americans that are skipping the ambulance altogether and going straight to ridesharing services like Uber or Lyft. While there is no concrete data to support the growing trend of Americans using Uber and Lyft to get to the hospital, there is plenty of anecdotal evidence.
The NYC Uber base fare is $2.55 with variable costs depending on the amount of time and distance of the journey. A 2-mile Uber ride in New York City will cost approximately $15. The same ride in an ambulance with just Basic Life Support will come to $728. Broken down, one ambulance ride is equal to approximately 50 Uber rides.
For their part, Uber and Lyft have responded and tried to capitalize on taking riders to medical services. Uber has agreed with MedStar Health to help patients make it to their doctors appointments when they cannot drive themselves. Lyft has come to a similar agreement with BlueCross BlueShield.
Experts are discouraging the use of ride-sharing services instead of emergency transport. Uber and Lyft seem to agree and understand that their services should not be used in cases of emergencies. On Uber and Lyft message boards, drivers often exchange horror stories of taking passengers with serious injuries to the hospital.
"We're grateful our service has helped people get to where they're going when they need it the most," an Uber Spokesperson told HealthCare.com via email. "However, it's important to note that Uber is not a substitute for law enforcement or medical professionals. In the event of any medical emergency, we encourage people to call 911."
The next time you encounter a medical emergency and prepare to call an ambulance it is worth taking a second and asking yourself; is this necessary?