Starting today and lasting until December 15th (in most states) is the 2018 Obamacare Open Enrollment Period for health insurance.
It's November 1st, which marks the start of the 2018 Open Enrollment Period for health insurance under the Affordable Care Act (or "Obamacare"). This year's open enrollment marks the fifth enrollment season for consumers. 
If you feel like you haven't heard about this year's open enrollment for health insurance compared to previous years – that it suddenly seems to have just appeared out of nowhere – well, there's a reason for that: you haven't. Unlike the previous four Obamacare open enrollment seasons, there hasn't been a concerted outreach effort by the federal government to target individual health insurance consumers.
12 Million Americans Affected by Obamacare Health Insurance
Sure, Obamacare has been covered as a political story: Republicans versus Democrats; TrumpCare versus Obamacare; and government versus private sector. But, there's another angle that is real to a lot of people: many depend on Obamacare health insurance coverage. 
Approximately 12 million Americans rely on Obamacare for their health insurance – that's a significant portion of the American population. Another 8 million Americans will either go uninsured or go outside of the ACA Marketplace to find coverage for themselves and their families.
As a result, it's important to make sure Americans get the word out to them about health insurance open enrollment. There are changes for 2018 that the individual health insurance consumer should know which we previously summarized.
Fewer Dollars to Reach More Uninsured Folks
Last year, the U.S. Department of Health and Human Services (HHS) had a reported advertising budget of $100 million, with the goal of getting more people to signed up under the Affordable Care Act. This goal was critical for making the ACA work in practice – to reduce the uninsured rate, while broadening the pool of health insurance buyers in order to make sure Obamacare could be self-sustaining.
Under the Trump administration, HHS announced in August that the outreach budget is being reduced 90 percent, down to $10 million, for 2018.
Fewer ad dollars means less outreach. And this money doesn't just affect advertising. The budget has been reduced to essentially zero for navigators (unbiased insurance guides who help people navigate the Obamacare exchanges), reducing their overall numbers for this year's open enrollment.
It's a fair question to ask whether the taxpayer-funded $100 million in ad budget was being well-spent by our government. If you think about it, we're using tax dollars to advertise a form of health care coverage that is subsidized for roughly 80 percent. In other words, taxpayers are paying on two sides: a cost to generate a demand, and then a cost to fulfill that demand.  
On top of that, reaching the target consumers of healthcare has its challenges. Mass marketing is a tough, because less than 10 percent of Americans purchase their health insurance individually (as most Americans get their coverage through work, an association, or through actual government healthcare like Medicare or Medicaid). Targeted advertising like Google search is expensive. And why should our government (which is $21 trillion in debt) be buying advertising from Google (who is, let's just say, in a better financial situation)?
The Importance of Getting the Word Out
Whatever the reasons, there will be fewer voices sharing the news about the 2018 health insurance open enrollment period this year compared to past years. So this year, it's up to others to make sure the word gets out there and fill the void left by the government.
Make Sure You Have the Right Coverage: If you buy your own health insurance, the onus will be on you to make sure you have the right coverage for 2018, factoring all of the changes, among them:
Different plan options,

Different insurers coming and going,

Price increases, and a

Shortened enrollment period.
If you know someone who buys their own health insurance, let them know that the 2018 health insurance enrollment period has started, and that it'll be much shorter this year in most states (see below). You can shop online on the government's website (HealthCare.gov), state-based exchanges (depending on your state), web-enabled brokers, or independent health insurance comparison sites like ours. If you have questions, you can speak to independent navigators, licensed agents or brokers.
So, please, get the word out about 2018 open enrollment. Sharing is caring.
2017 deadlines: CT (Dec 22), RI (Dec 31, Sunday)
2018 deadlines: CO (Jan 12); MN (Jan 14); WA (Jan 15); MA (Jan 23); CA/NY/DC (Jan 31)

— Howard Yeh (@howardsyeh) October 31, 2017
Key 2018 Health Insurance Enrollment Deadlines
Here is a summary of the 2018 Obamacare enrollment deadlines, including the states that have extended their deadlines:
November 1: 2018 Open Enrollment Period starts November 1 in ALL states.
December 15: 2018 Open Enrollment Period ends on December 15 in ALL states (with the exceptions below). Unless you live in the states listed below, open enrollment ends on this date for you.
Open enrollment end dates (state exceptions):
December 22: Open enrollment ends on December 22 for Connecticut and Maryland.
December 31: Open enrollment ends on December 31 for Rhode Island.
January 12: Open enrollment ends on January 12 for Colorado.
January 14: Open enrollment ends on January 14 of Minnesota.
January 15: Open enrollment ends on January 15 for Washington.
January 23: Open enrollment ends on January 23 for Massachusetts.
January 31: Open enrollment ends on January 31 for California, New York and Washington, D.C.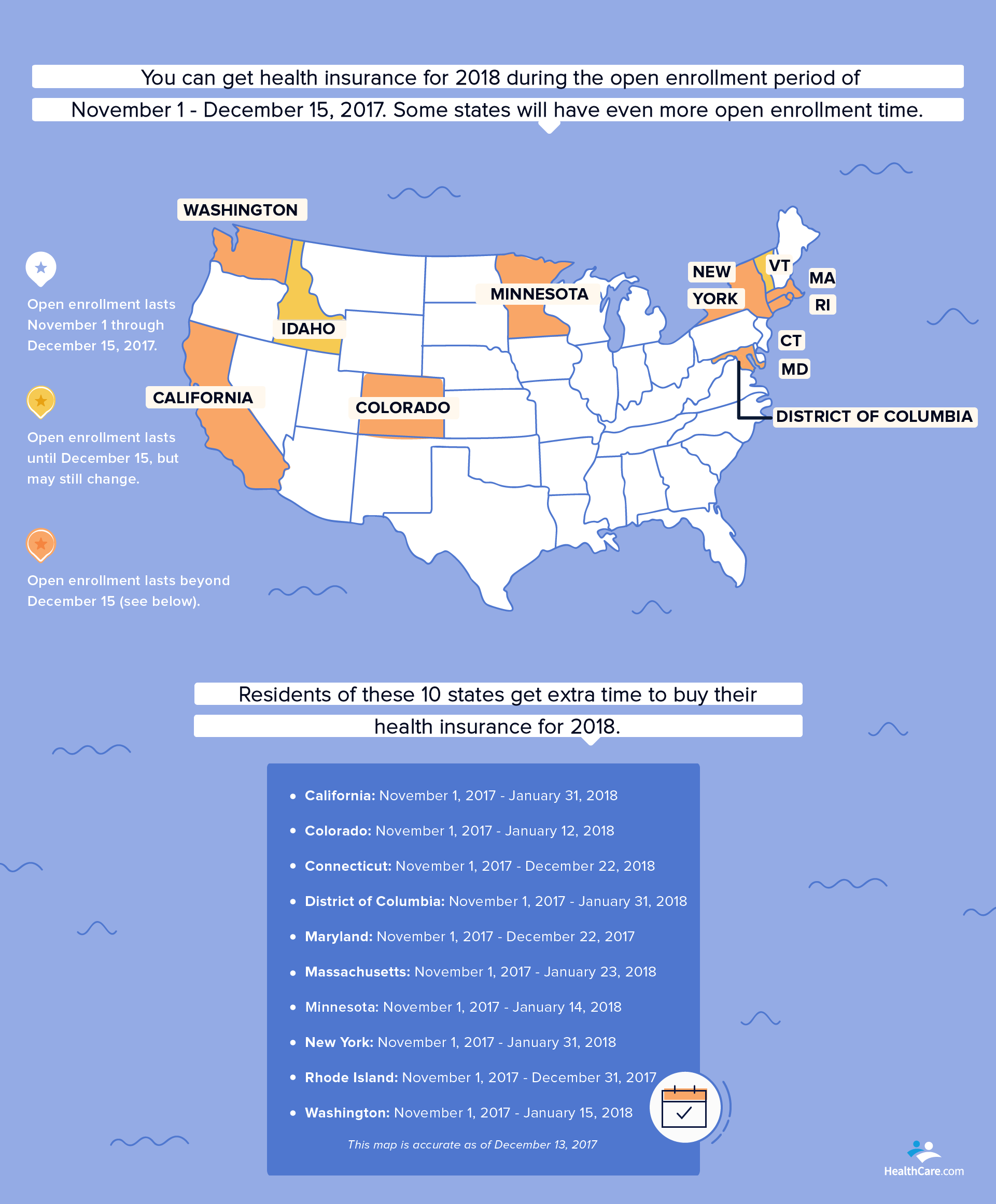 Taking the Next Steps
Approximately 20 million people will shop for health insurance during this Open Enrollment Period. If you're shopping for healthcare coverage on your own, check out HealthCare.com to see what Marketplace and off-Marketplace plans are available to you.
For More Reading:
Get a Free Health Insurance Quote
Get an instant quote for health insurance plans
Compare prices from over 300 carriers
Find a plan that fits your budget