Health Savings Accounts (HSAs) are tax-deductible savings accounts that you can use to pay for medical expenses. You'll qualify for an HSA if you have a high-deductible health plan. The best part about HSAs? Save now and you can use the account for unexpected health-related services and items in the future.
"Qualified expenses" refer to the supplies you can buy with your HSA. The federal government publishes a list of qualifying and non-qualifying expenses every year, so you can learn when to use funds from this account.
A similar program known as Flexible Spending Accounts (FSAs) are offered on certain employer plans, while HSAs are tied to individual coverage – you won't have to worry about the money in your HSA even if you switch jobs.
What Can Your HSA Pay For?
In order for to qualify as an HSA or FSA expense, items and services need to be "medically necessary", meaning a doctor has written a prescription for them. In short, they'll have to:
Prevent disease,
Alleviate symptoms of illnesses, or
Treat affected parts or functions of the body.
Funds in your HSA don't expire – they'll stay with you for life! It's in your best interest to learn about the household medical items that you can pay with this account.
Popular HSA Qualified Expenses
Most medically-necessary items can be paid for by an HSA or FSA. Here are 13 you might find especially interesting.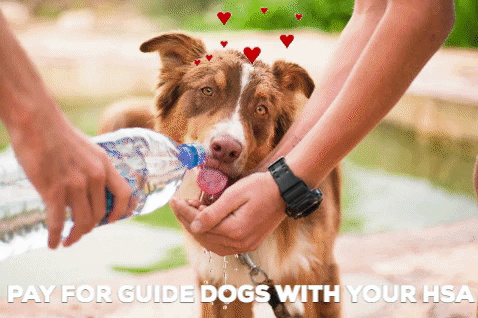 Guide dogs or animals.
If you have a visual impairment, service animals are a qualifying expense.
Air conditioning
When authorized by a physician, portable units can qualify as an expense to treat certain health conditions.
Braille books/magazines
Braille reading materials are qualifying expenses for visually impaired individuals.
Contact lens solution
Chiropractors
Copayments and coinsurance
Diabetic equipment and supplies
Alcohol swabs, insulin, test strips, and other supplies for patients with diabetes qualify for HSA spending.
Flu shots and other vaccinations
Hypnosis
Hypnosis must be prescribed by a physician to qualify as an HSA expense.
Transportation
You can use your HSA for transportation costs to and from medical care.
X-ray fees
What Services or Items Aren't HSA-Qualified?
A purchase that only serves to improve your general health won't count towards a qualifying expense.
Babysitting or childcare for healthy babies
CPR classes
Dancing or swimming lessons
Family counseling or support counseling
You can't use your HSA to learn how to cope with someone else's illness.
Gym memberships, spa, or health club dues
However, this law may change in the future.
Marijuana
Federal law prevents this from counting as a qualified expense, even if prescribed by a way cool doctor.
Maternity clothes
Nonprescription drugs and medicine.
Aspirin won't qualify as an HSA expense even if your doctor recommends the nonprescription drug.
Teeth whitening or bleaching
Cosmetic services are not qualified expenses.
You can learn more about qualifying and non-qualifying items in Publication 502 [PDF] from the Internal Revenue Service.
HSAs During Tax Time
When you file taxes after using your HSA, you'll need evidence in order to claim qualifying expenses to the IRS. This means you'll have to save paperwork. You probably won't need to look at the paperwork again or send it in, but you never know.
Keep your physician's prescription and keep your purchase receipt. If you're under 65-years-old and use your HSA to pay for non-qualifying items, you'll be financially penalized.
HSAs allow you to set aside money for health-related services and equipment. Learning about which supplies and equipment qualify as a medical expenses gives you a better way to face with medical bills. By saving money for your HSA, you'll be better prepared to make purchases to better your health.
Get a Free Health Insurance Quote
Get an instant quote for health insurance plans
Compare prices from over 300 carriers
Find a plan that fits your budget